It can be hard to convince my 77-year-old father to break his routine to go get coffee, much less board a plane. So when he invited himself along on my trip to the Southwest's Four Corners region, I was shocked. Happily so.
It turns out my father, a Utah native, was as curious as I was about parts of the West that neither of us had seen before. Together we set out to explore the unknown in our own backyard.
And so one cloudless afternoon, as Navajo-language radio played in the background, we found ourselves at the Four Corners Monument watching a woman with one foot in Utah and the other in Arizona do a backbend to put one hand in New Mexico and the other in Colorado. Her companion took a picture. "That's kind of silly," I said.
"I think it's transfixing," my father said, keeping a steady gaze.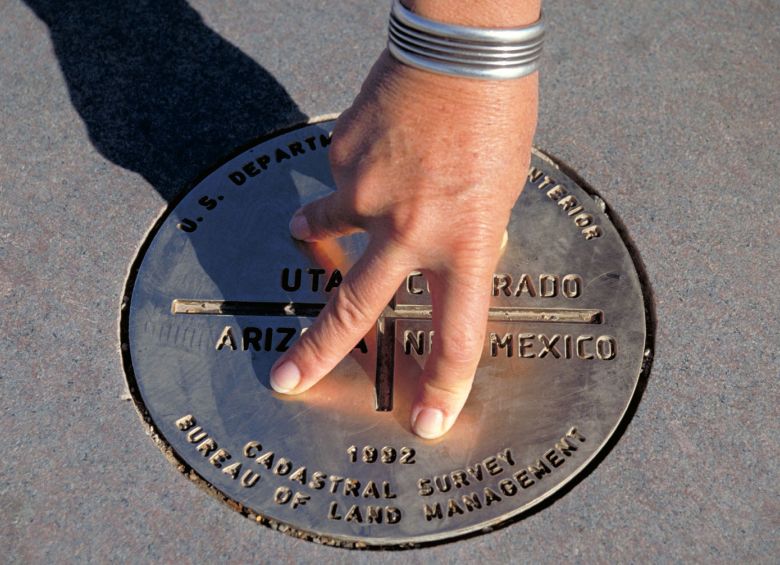 We were both right. The plaque that marks the intersection of four state borders was intrinsically unremarkable, but conceptually mind-boggling. A geographically significant spot that you can touch with a fingertip sits in the middle of a courtyard in the middle of the desert, surrounded by stalls where Native artisans sell jewelry.
Four Corners wasn't our destination; it was our launching point, the bull's-eye in a circular journey through the homeland of the Ancestral Puebloan people, whose civilization blossomed here between a.d. 550 and 1300. They farmed, raised turkeys, made exquisite pottery, and built extensive stone villages, often in the sides of cliffs, before their homes were deserted, perhaps following a prolonged drought.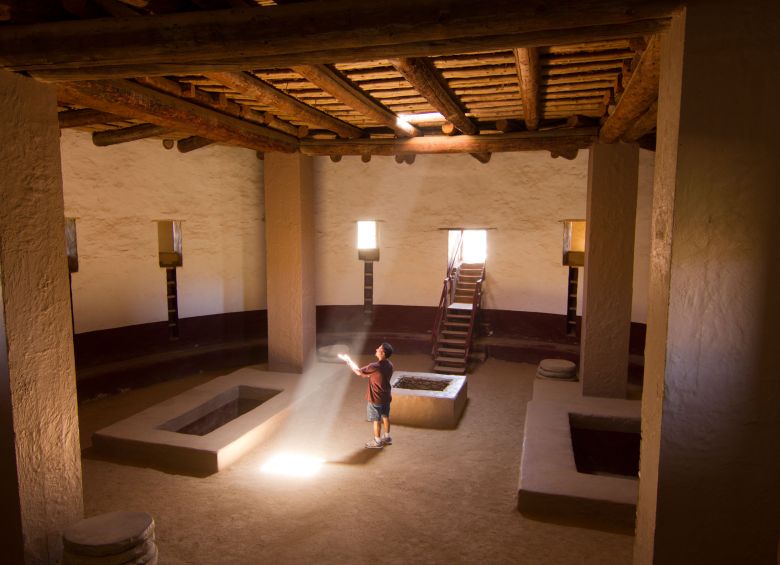 Already, the trip had surpassed our expectations. We'd driven from Durango, Colorado, that morning and spent an hour traipsing around Aztec Ruins National Monument near Farmington, New Mexico (Aztec is a misnomer; early European settlers mistakenly identified the builders of the Ancestral Puebloan town.) This sprawling 400-room sandstone complex was once a busy trading center, but we had only some rabbits for company. Many rooms were almost perfectly intact, cool, dark chambers where people had slept and cooked 900 years ago. "I feel stupid that I had no idea anything like this existed in North America," said my father.
I felt stupid an hour later when I realized my expectations for local food were way too low. Pulling over in the town of Shiprock, I saw signs advertising mutton tacos. Vendors had set up portable stoves, and we watched a woman stretch a ball of dough into a Frisbee shape and drop it into a pot of bubbling oil. She plucked the bread out when it was dimpled and golden, wrapped it around warm meat, and slathered the whole thing in fiery green salsa. It was elemental and delicious. I handed the taco to my father to try while I drove. When I glanced over a minute later, the taco was gone.
The next morning we sailed northwest into Monument Valley, where red monoliths loomed out of the mist on all sides, rock outcroppings carved by wind and water over millions of years. Monument Valley is the backdrop for many westerns, but nothing prepares you for the reality of this engulfing landscape of finger-shaped spires and flat-topped mesas, some as tall as San Francisco's Transamerica Pyramid. "This is very spiritual," said my father, who does not normally throw that word around.
At the Twin Rocks Trading Post in Bluff, Utah, north of Monument Valley, we saw turquoise earrings, geometric-patterned rugs, and the baskets of Elsie Holiday, a Navajo artist whose work has been displayed at New York City's Museum of Arts and Design. A gorgeous blue and yellow basket depicting a glaring bull cost $3,250. Expensive, and rightly so.
But the loveliest, most priceless art was behind glass. The unforgettable collection at Edge of the Cedars State Park's museum in Blanding, Utah, includes ancient black-on-white pottery, as well as a stunning 900-year-old sash made from the vivid feathers of the scarlet macaw, a bird native to Central and South America. This was powerful evidence that, far from isolated in their desert stronghold, the Ancestral Puebloans actively traded with cultures throughout the larger pre-Columbian world.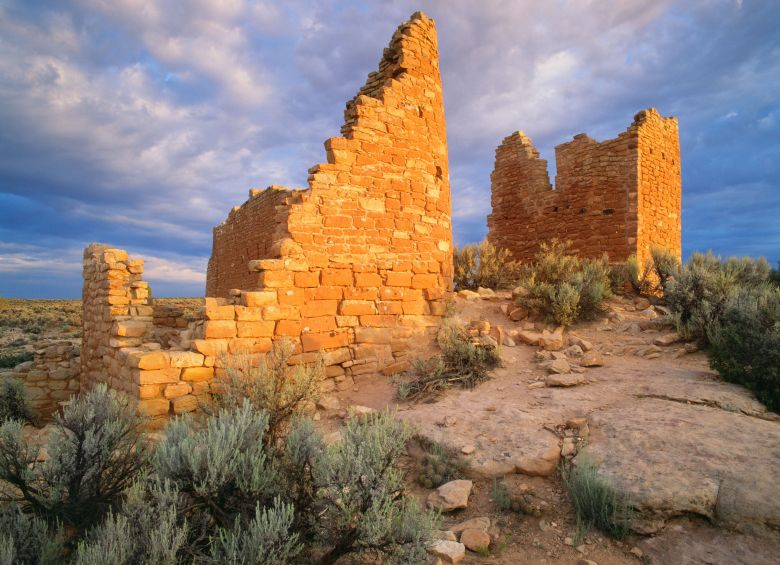 At Hovenweep National Monument on the Colorado border, we followed an easy trail that skirted the lip of a canyon where a community of 400 to 600 Ancestral Puebloans had once lived, raising corn and harvesting pine nuts. I'd assumed you only found castles in Europe, but the mighty multistory round towers here were proof to the contrary.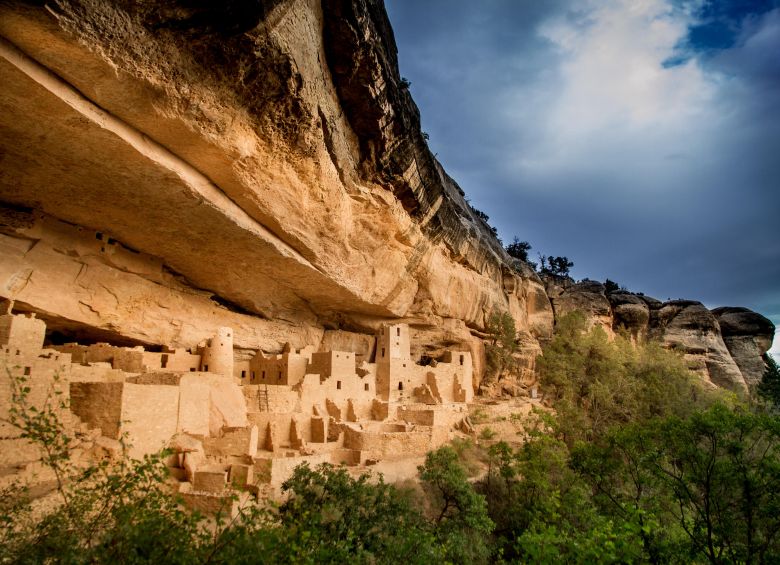 Our last stop was Mesa Verde National Park, home of the Cliff Palace, an intricate, tidy complex of cylindrical and rectangular buildings stacked up under the protective overhang of a massive cliff. Would our own houses look this sturdy and orderly after being abandoned for 700 years? That's when it really hit me: Without ever leaving the western U.S., we'd seen things we hadn't realized existed anywhere in the world, let alone in the part of the world we know best.