Many people have seen Monument Valley, the vast, iconic desert on the Arizona-Utah border that's gorgeously interrupted by colossal sandstone monoliths, like bulky ships sailing an ocean of sand. Most often they've seen it in the context of a Hollywood shoot-'em-up with cowboys like John Wayne twirling six-shooters and dodging arrows. But few people know that 40 miles up the road there is another monumental valley—a geological Mini-Me known as the Valley of the Gods. A quarter the size of its famed neighbor, it has dozens of equally spectacular sandstone sculptures and spires, but on a smaller scale. What they lack in size, they make up for in brilliant color and variety. And best of all, you're unlikely to see a single tourist bus here.
Dusted with fine red dirt and punctuated with silver-green brush, the valley lies at the base of a 1,200-foot bluff called Cedar Mesa that was formed when a sea invaded from the northwest 250 million years ago. The area's jagged towers, gravelly washes, and tortured sandstone formations line Valley of the Gods Road, a 17-mile dirt route that links Highways 163 and 261, forming a scenic loop. Each bend in the road reveals a surprise, a slightly different shade of red or a new rock contortion, many of which are described in Navajo legend as ancient warriors frozen in time. There are places to pull over and hike, have a picnic, or, if you're so inclined, do some bouldering. But don't expect restrooms or a snack bar.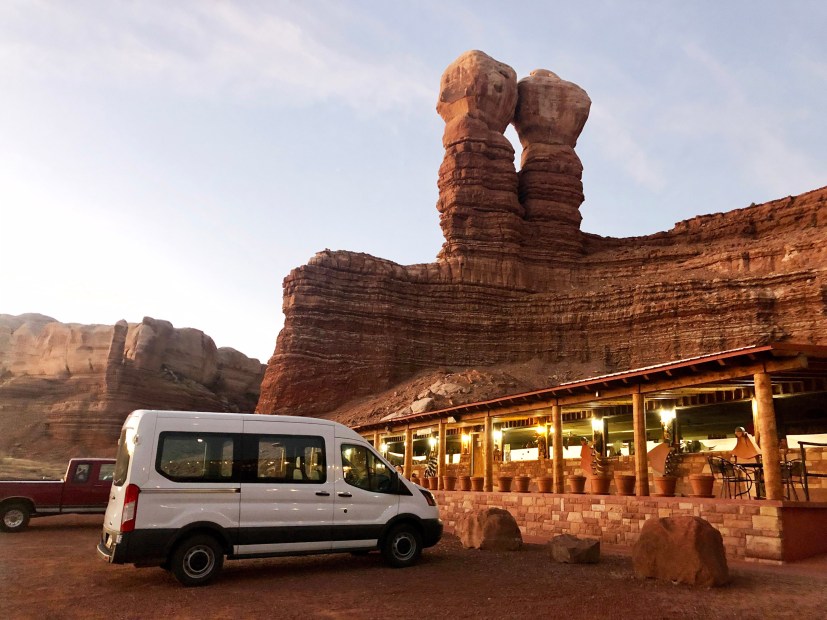 The area's remote beauty spoke to Gary and Claire Dorgan, who moved here from Flagstaff, Arizona, in 1996 to open the solar- and wind-powered Valley of the Gods Bed and Breakfast, the only lodging place for miles. The Dorgans offer up local history, hearty breakfasts, and friendly advice on the best ways to experience the valley.
Your next best bet for accommodations is 30 minutes away in Bluff, a charming if somewhat weathered town of 300 in the shade of the cottonwood trees along the San Juan River. Settled in the 1880s by Mormon pilgrims, it's now home to a mixture of artists, river-rafting guides, and back-to-nature types. A visit here isn't complete without a stop at Twin Rocks Cafe, at the foot of a pair of natural sandstone towers, for a Navajo taco—chili, lettuce, and cheese served on fry bread. It's a little like eating taco fixings slathered on a doughnut, and it's surprisingly tasty.