On the southeast edge of the Colorado Plateau, a wind gust rattles the sagebrush shrubs, stirs up swirls of red dust, and pushes splintered clouds through the lavender sky. My husband and I are alone out here with our campervan, sketching the crumbling rock formations and writing love letters to the earth from our remote campsite.
This vast 240,000-square-mile region is centered on the Four Corners, where Arizona, Utah, Colorado, and New Mexico meet at a single point. For centuries, Hopi, Navajo, Havasupai, Hualapai, White Mountain Apache, and Kaibab Paiute people have called it home, stewarding the land and preserving their cultures.
It's an enchanting place that's unlike anywhere else in the United States. Every shade of the rainbow is contained within the sedimentary layers of canyons, mountains, plateaus, and buttes. You could spend years exploring the crevasses and peaks and still have more to discover. Here are five excellent places to start.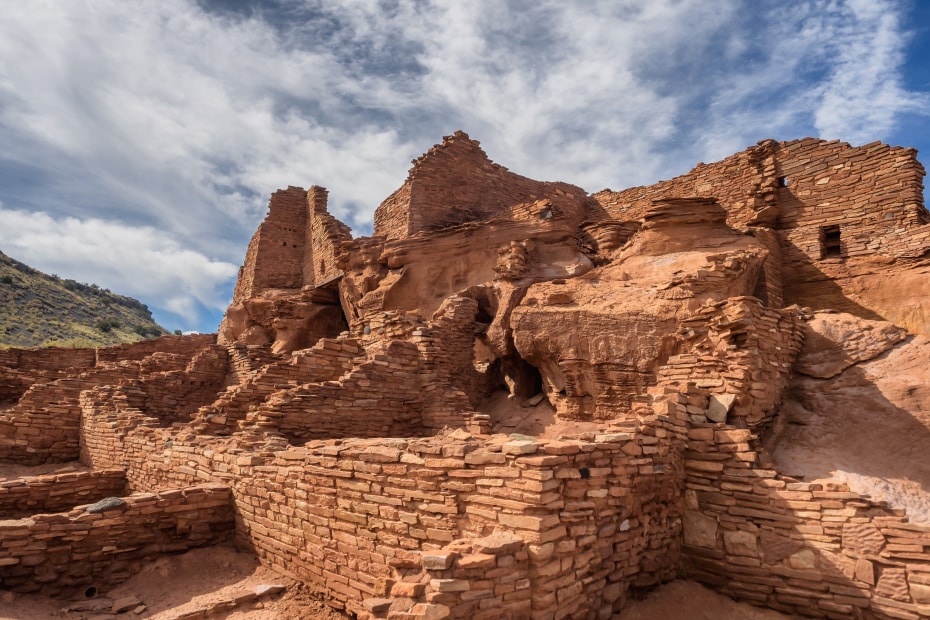 Experience history at Wupatki and Sunset Crater Volcano National Monuments in Arizona.
Every mountain in Arizona is evidence of the area's volcanic past. Just north of what is now Flagstaff, the ground likely shook for weeks a thousand years ago, creating a fissure nearly 6 miles long and prompting a violent volcanic eruption, according to the National Park Service (NPS).
Lava cooled as it flowed out of the fissure, leaving behind a jagged landscape that you can see today at Sunset Crater Volcano National Monument. Ponderosa pine forests cast shadows over the Bonito Lava Flow that is as deep as a 10-story building in some places. Visitors can immerse themselves in the rugged terrain by way of a few pathways: the Lava Flow Trail is 1 mile long, and the Bonito Vista Trail is 0.3 miles. Both have paved portions, and Bonito Vista Trail is accessible for wheelchairs, walkers, and strollers.
Along the same 34-mile scenic loop, nearly 2,000 feet lower than the forest in the Painted Desert, is Wupatki National Monument. Northern Sinagua, Cohonina, Kayenta, and Hohokam people built homes out of sandstone and limestone, according to the NPS. Some of these structures are still standing today, and you can delicately explore them via routes like the Wukoki Pueblo Trail and the Wupatki Pueblo Trail, both less than a half-mile long.
Touch four states simultaneously at the Four Corners Monument.
It might not look like much: flags surround a cement pad with a dinner plate-sized brass designation marking the spot. But consider the significance of standing in four states—Arizona, Utah, Colorado, and New Mexico—at once.
After years of territorial bickering, the current borders were finally drawn in 1912. Once you take your obligatory picture, see Navajo cultural demonstrations and support vendors selling handmade Navajo jewelry, crafts, and food around the visitor center. The monument is open daily year round and is accessible from U.S. Route 160. Entry costs $5 per person.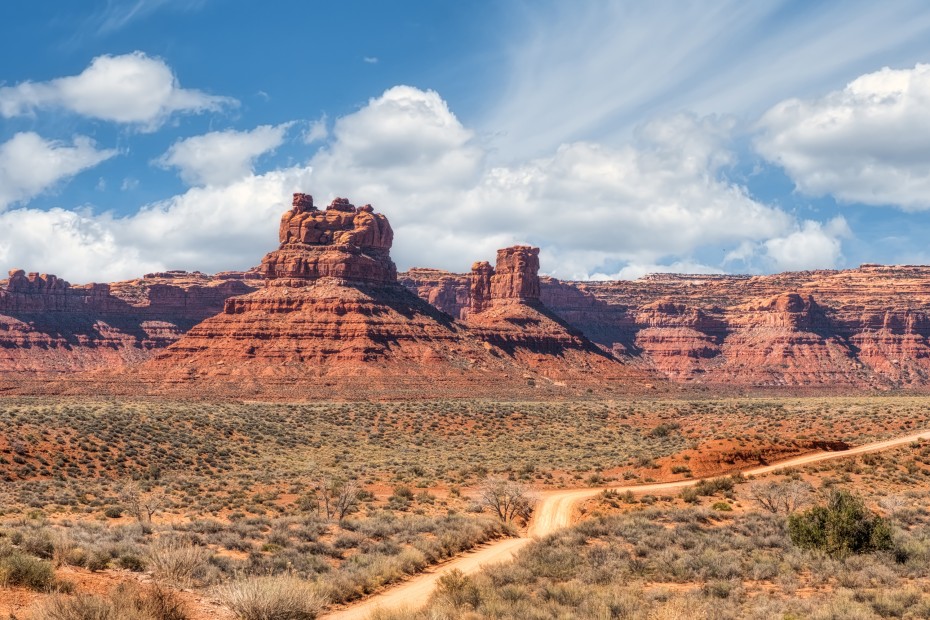 Drive the scenic byways through remote Monument Valley and Valley of the Gods, Utah.
On the Arizona-Utah border, rust-red sandstone masterpieces mark one of the most photographed destinations in the United States. Just off Highway 163, Monument Valley Navajo Tribal Park's* 17-mile loop road snakes around towers and buttes formed by erosion, deposits, and a shifting surface. Guided tours from Navajo operators take visitors to landmarks not seen from the road, like Ear of the Wind. *Editor's note: Monument Valley is currently only admitting two vehicles per hour, due to a 50 percent occupancy limit. Visitors should be prepared for long wait times and inclement weather. There is no guaranteed entry; Navajo Tribal Parks close once they hit capacity limit.
An hour north is a similar landscape in Valley of the Gods, maintained by the Bureau of Land Management. State Route 216 leads to the Moki Dugway, a switchbacking scenic gravel drive that climbs (or falls, depending on your direction) 1,200 feet over three miles. This road was built in the 1950s as a route for hauling uranium and vanadium from Cedar Mesa to Mexican Hat, Utah.
The drive is safe for most cars, with the exception of long vehicles and vehicles pulling trailers. The panoramic views of the valley can be admired at several overlooks along the steep road.
Explore one or all of the area's National Parks.
Within the sweeping Colorado Plateau region, there are nine national parks: Zion, Bryce, Capitol Reef, Canyonlands, Arches, Petrified Forest, Grand Canyon, Mesa Verde, and Chaco Culture National Historical Park. Each offers an entirely different experience from the next.
Of these, Mesa Verde National Park in Colorado was the first established in 1906, and it's known for well-preserved Ancestral Puebloan cliff and mesa dwellings. Arches and Capitol Reef in Utah were established the most recently in 1971. Arches has more than 2,000 natural stone arches, while Capitol Reef features the Waterpocket Fold, a geologic monocline—essentially a wrinkle on the earth—that stretches for almost 100 miles.
Smart Tip: To plan your visit, download the NPS app on your phone to access maps, activities, and news.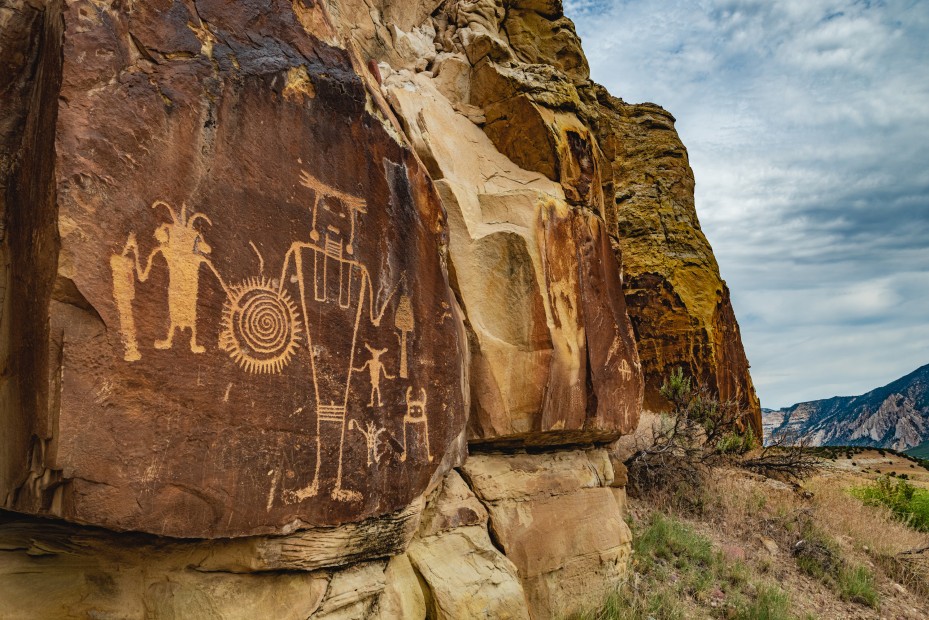 Discover petroglyphs at Dinosaur National Monument in Colorado and Utah.
Across the west, petroglyphs decorate rock faces, evidence of the area's early history. These prehistoric drawings and messages carved into stone by native people tell their ancient stories while also leaving many questions about the art's meaning. At Dinosaur National Monument, you can see dinosaur fossils as well as petroglyphs—from dots to lizards—up close. Please remember, these fragile pieces of the past are not meant to be touched or recreated on other rocks.
Spread throughout the park, five areas contain petroglyphs: Swelter Shelter, Cub Creek, Deluge Shelter, McKee Spring, and Pool Creek. Most of the walks to the sites are easy and short, and at the Visitor Center, you can learn more about the Fremont people who called the area home roughly 700 to 1,700 years ago.