Trying to get your head around the Grand Circle tour can be a bit like trying to get your arms around a grand piano—impossible. Portions of five states (Arizona, New Mexico, Colorado, Utah, and Nevada) fall within its boundaries, not to mention 20 scenic byways, 11 national parks, 16 national monuments, and 45 state parks. You simply cannot see all that the Grand Circle has to offer on a weekend road trip or even a two-week vacation.
But, the Grand Circle hasn't always been so, well, grand.
Although its history is a bit hazy by some accounts, the Grand Circle evolved out of an itinerary offered by Utah Parks Company that bussed Union Pacific Railroad passengers on a circular tour of Bryce Canyon, Zion, and Grand Canyon national parks, as well as Cedars Break National Monument from the 1920s to 1972.
Re-creating this route takes you to the heart of the Grand Circle and serves as a great introduction to some of the most scenic landscapes of the Southwest.
Grand Canyon
The Utah Parks Company based its tours out of Cedar City, Utah, and took visitors to the North Rim of the Grand Canyon, but the South Rim has advantages over its northern counterpart. From Phoenix, the South Rim is roughly three hours closer. Plus, it has more lodging, dining, and recreational options. The downside is the crowds, but tour experts agree if you hike five minutes into the canyon, venturing beyond the major overlooks and Grand Canyon Village, the crowds all but disappear.
It takes at least two days to truly appreciate the canyon. Depending on the time of day and the lighting, the colors shift from purple to pink to orange across its 18-mile expanse and into the deepest crevices 1 mile below. Every time you look at it, you see something new.
Mule rides and river rafting offer a different perspective, but they need to be scheduled well in advance. Instead, explore by bike, four-wheel through the surrounding Kanab National Forest, or soar overhead on a narrated airplane tour.
Lake Powell
Although not part of the original itinerary (after all, Lake Powell and its nearly 2,000 miles of shoreline didn't exist before the completion of the Glen Canyon Dam in 1963), Lake Powell is well worth a visit today. Take U.S. Highway 89 instead of U.S. Highway 89A to Page. The city was created to house workers during the dam's construction.
You can take a boat tour of the sparkling blue water-filled canyons that make up Lake Powell—96 of those canyons are named. Be sure to explore Rainbow Bridge Canyon, where you'll find the largest natural bridge in the world.
While in Page, tour the 25-foot-wide (at its crest) Glen Canyon Dam, or hire a Navajo guide to take you into Upper Antelope Canyon, the much-photographed, red-walled canyon nearby. For another iconic shot, just south of Page, on U.S. 89, hike three-quarters of a mile for a view of Horseshoe Bend.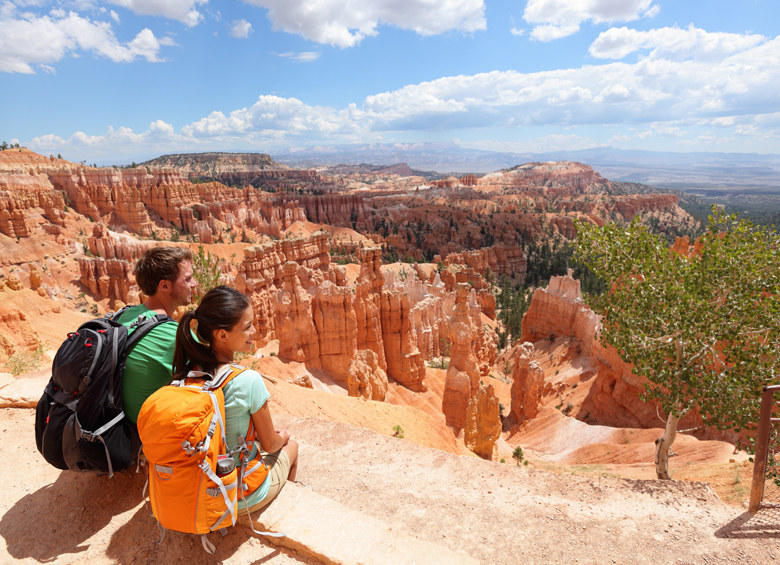 Bryce Canyon
Leaving Page, head west on U.S. 89 through Kanab, Utah, affectionately known as "Little Hollywood" for its role in more than 100 movies and television shows. As you turn on east Utah state Route 12, you enter Red Canyon, featuring spectacular vermilion-colored walls. Nine miles away, the real show starts with the pastel-colored ocean of hoodoos and spires that make up Bryce Canyon. Despite its name, Bryce Canyon isn't a canyon at all. It's a collection of more than a dozen giant natural amphitheaters.
Hiking into Bryce Canyon is the best way to gain an appreciation of its unique geology. Inexperienced hikers should stick to the 1.8-mile Queens Garden Trail, which descends into the amphitheater. More adventurous (and fit) hikers will be rewarded with views of China Wall and Tower Bridge on the 8-mile Fairyland Loop. Or, see the canyon's stone spires, columns, arches, and pinnacles on horseback.
For a different perspective, time your visit with the full moon. The park's popular full moon hikes now are only available through a lottery system but definitely are worth the extra effort if you can score a spot for yourself and up to six others. Plan to at least stay overnight here to give yourself time to truly appreciate the views.
Cedar Breaks National Monument 
With its bright amphitheater walls, spires, and arches, Cedar Breaks National Monument resembles a miniature Bryce Canyon, but don't think you can skip one because you've already visited the other, especially if you are traveling during the fall. You easily can see the highlights here in a few hours.
Cedar Breaks is surrounded by Dixie National Forest and groves of aspen that turn golden in September and October. You can take in the fall colors by driving the 6-mile scenic drive or exploring the Alpine Pond Nature Trail. To get to Cedar Breaks from Bryce, return to U.S. 89 and go south to Utah state Route 14 W and turn right. Then turn right at Utah state Route 148 N.
Zion National Park 
After visiting Cedar Breaks, take U.S. 89 south to Utah state Route 9 W to Zion National Park, Utah's first national park. Most visitors stick to the scenic overlooks leading up to the visitor center and don't venture much beyond the shuttle into the heart of the park. View the Altar of Sacrifice, Court of the Patriarchs, and other rock formations from a different angle on the gentle, 1.2-mile, round-trip Lower Emerald Pool Trail or the challenging, four- to five-hour trek to Angels Landing. Hiking to, and through, the rushing river waters of The Narrows also is popular.
You also can horseback ride through the park, scale the 2,000-foot sandstone cliffs, or kayak with a wilderness permit. Depending on how far you want to venture into the 229-square-mile park, expect to spend at least two days exploring its high plateaus, sandstone canyons, and Virgin River waters.
It doesn't necessarily matter how you choose to explore Zion or any of the Grand Circle's national parks, national monuments, or state parks, though, according to Laurie Frantz, executive director of the Grand Circle Association. The important thing is that you set aside the time and go. "We have geological features here you don't see anywhere else in the country," she explains.