Arizona's Grand Canyon National Park receives millions of visitors annually, many of whom hike to the bottom of the canyon on the park's popular Bright Angel, South Kaibab, and North Kaibab trails. These guests get a glimpse of the wild Colorado River, which winds through this natural wonder, but only a fraction of the park's visitors—about 30,000 each year—hop on a boat to raft it.
With trips ranging from two-day motorized rafting excursions to full canyon oar trips lasting several weeks, there are many options for exploring the canyon by water.
A Different View
A 187-mile, weeklong motorized rafting trip is a good middle ground for travelers interested in getting a solid water-based canyon experience without exerting themselves too strenuously. Trips leave from Lees Ferry, and within only a few miles, rafters are plunged into the chilly river.
At mile 8, you'll pass through Badger Creek Rapid, the first legitimate rapid of the trip with a 15-foot drop. Five miles later is another thrilling 16-foot drop at Soap Creek Rapids, and then again just past mile 14 at Shear Wall Rapids. And that's just in the first hour!
For seven days, rafters take in the Grand Canyon's spectacular scenery between drenching runs through dozens of the river's whitewater rapids. Days aren't entirely confined to boats, however, as guides pull over for lunch every day and occasionally for side excursions. At the Unkar Delta at mile 74, for example, rafters can visit abandoned pueblo dwellings, and at mile 133, a short hike to a waterfall offers a refreshing, natural shower after days without bathing.
Prepping for Adventure
Each night, trip leaders decide which river camp will serve as a temporary home. Most companies provide cots, sleeping bags, pillows, and tents, though the majority of rafters forgo the tents and sleep with a blanket of stars instead. Baggage allowance varies by boating company, and it's important to travel light.
After booking a trip, participants receive detailed packing lists that have been refined over years of experience, so take this advice seriously. Layering clothing for a day of big rapids can mean the difference between being wet, cold, and miserable, and being slightly damp but comfortable and still enjoying the ride. Long underwear, quick-dry pants, long-sleeved wool shirts, and rain suits are absolute essentials, and neoprene socks are strongly recommended.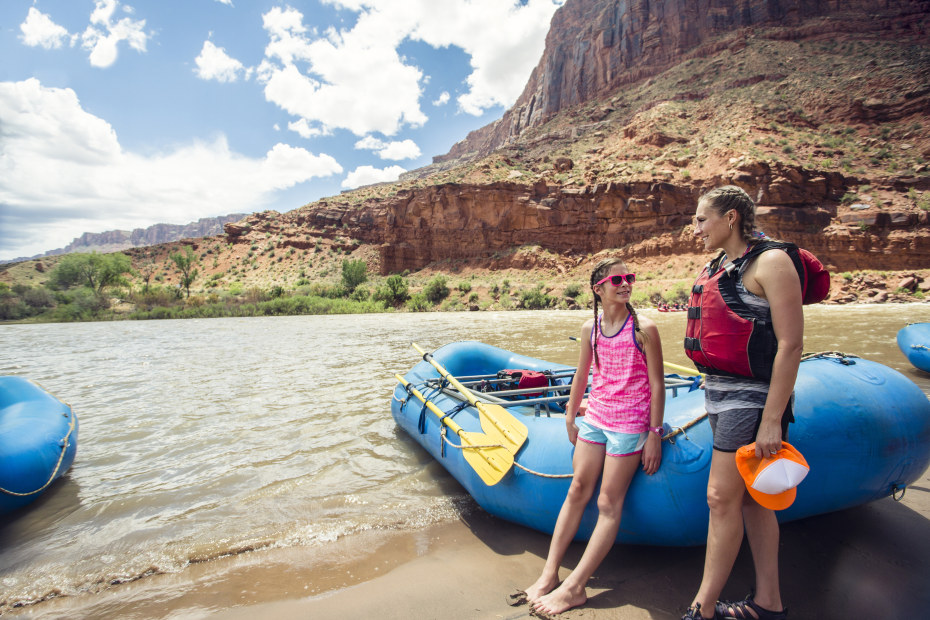 Boat Buddies = Fast Friends
Once a boat starts moving forward, there's no getting out until it reaches the end of the journey, and since cellphone service is nonexistent at the bottom of the Grand Canyon, travelers should be prepared to be completely disconnected from life above the canyon's rim for the duration of the trip.
Rafters are far from being alone, however. With so much time spent in close quarters during the day and over delicious crew-cooked meals in the evening, tripmates get to know each other very well in a very short amount of time. Travelers come from around the world, and don't be surprised to find people ranging in age from 16 to 76 on vacation with friends or partners, in families, and even going solo.
Age requirements differ for each company, but 8 or 10 years old is generally the minimum age for a motorized trip. Beyond age, however, it's important to note that rafting the unforgiving Colorado River is difficult, even in a motorized boat. Travelers balance adrenaline rushes and moments of complete bliss with stinging cold and aching muscles. That said, this experience fosters a unique sense of camaraderie that only veterans of the Colorado River rapids will ever fully understand and appreciate.