Rafting through Grand Canyon National Park on the mighty Colorado River under the shadow of ancient ochre cliffs, along the waters that formed the 5-million-year-old canyon, is an adventure that tops many a bucket list. But did you know that you can also experience many of our other national parks by water? Here are our favorite aquatic activities in the West's national parks, from paddleboarding Glacier National Park's largest lake to surfing in Redwood National Park.
Riding the boat to Wizard Island in Crater Lake National Park, Oregon
Standing on the rim above Crater Lake, gazing down and losing yourself in its sapphire-blue brilliance, you'll sense the lake's irresistible pull. In that instant, you'll feel the need to get closer, to touch the waters of this southern Oregon icon. The good news? You can get a much closer look at one of North America's deepest lakes—in fact, you can skim across its surface on one of the park's boat tours, which return this July after a two-year pandemic pause.
Make a reservation before you visit—the tour is a hot ticket—and hike down the 1.1-mile trail to Cleetwood Cove, where your water chariot awaits. Crater Lake Hospitality runs three different trips; for maximum exploration time, opt for the Wizard Island Tour. This ride whisks passengers around the lake's perimeter while a park ranger recounts the details of the caldera's fiery, dramatic birth and explains just why the lake is so blue. The boat then deposits travelers on Wizard Island for three hours—plenty of time to cast a line for kokanee salmon, enjoy a brisk swim in the clear water, or hike the trail to the island's 763-foot summit. From here, you can look out across the lake's cerulean surface at the white gulls bobbing gently on the waves, and glance high above at the caldera rim, where, just hours ago, you pictured yourself right here.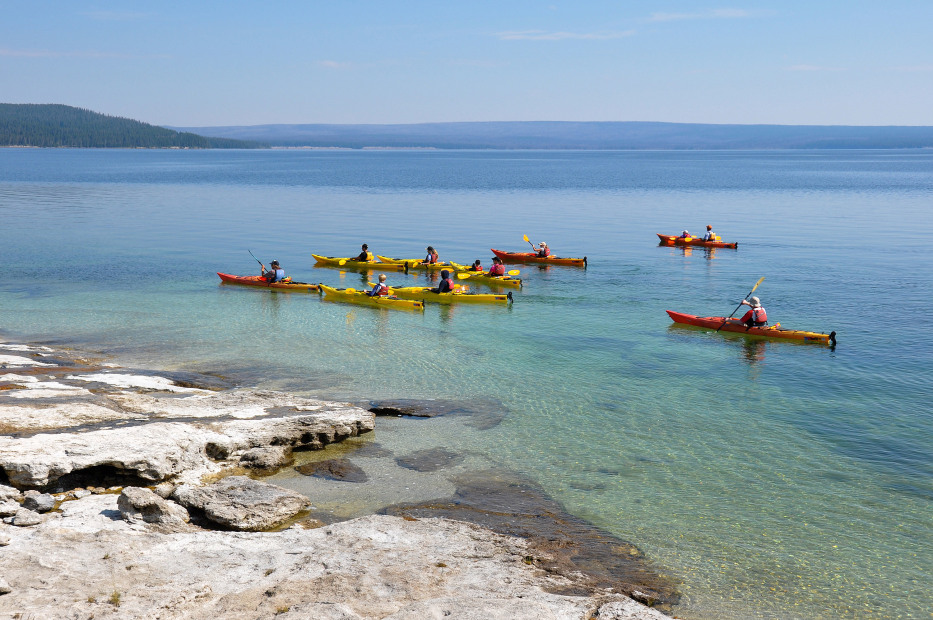 Backcountry Kayaking in Yellowstone National Park, Wyoming
Editor's Note: Yellowstone was impacted by heavy flooding and rockslides in June 2022. Visitors should check the park's website for alerts and closures before visiting.
With basins full of exploding geysers and a concentration of animals that has spurred comparisons to the Serengeti, Yellowstone is a beloved icon. But that rock star status also brings serious attention: Last year, the park saw 4.86 million visitors, with more than 2 million arriving in the summer months alone. 
Want to see the park's treasures in summer, but with a little more breathing room? Take to the water. Yellowstone is laced with rivers and lakes, and some 10 outfitters guide kayaking trips here, ranging from single-day paddles to multiday backcountry camping adventures. Longtime local Aaron Pruzan and his Jackson-based crew at Rendezvous River Sports have been guiding overnight trips on Yellowstone Lake and Lewis Lake/Shoshone Lake for years. Join one of these excursions, and you'll gain a whole new perspective on the park as you glide beneath massive peaks and past hot springs and geysers. If you keep your eyes peeled, you might spot an osprey diving for fish or a moose browsing the willows along the lakeshore. Just how magical is this watery backcountry? "This is our 28th season," says Pruzan, "and we all still paddle on our days off."   
Fishing on Baker Creek in Great Basin National Park, Nevada
While the eastern Nevada park is chiefly known for its high, lonesome landscapes and millennia-old bristlecone pines with their gnarled fingers twisting skyward, Great Basin is also home to six lakes and 10 streams. Like the "sagebrush sea" at lower elevations, these riparian areas shelter an incredible variety of life—from woodpeckers in the ponderosas to frogs and toads along the shore, mayflies in the shallows to snails in the mud. Perhaps the most surprising creatures you'll find in some of Great Basin's waterways? Fish!
The park has Bonneville cutthroat trout, a native species which originated in Lake Bonneville, an ancient water basin that once spilled across the Utah-Nevada border before shrinking around the end of the last Ice Age to become the Great Salt Lake. Buy a Nevada fishing license before your visit, and you can cast a line for the Bonneville cutthroat trout—as well as rainbow, brook, and brown trout—along Lehman Creek and in Johnson Lake. If it's your first time out, or you'd simply rather hook a fish than a willow branch, park spokesperson Nichole Andler recommends Pole Canyon and Baker Creek, where there's more open space. Since the Bonneville cutthroat trout are native, the National Park Service requests that anyone who catches one release it—except in Johnson Lake, where catch-and-release is required; all other trout you catch are yours to keep. But whether or not a fish tugs your line, you'll take away an unparalleled memory: the day you fished in the desert.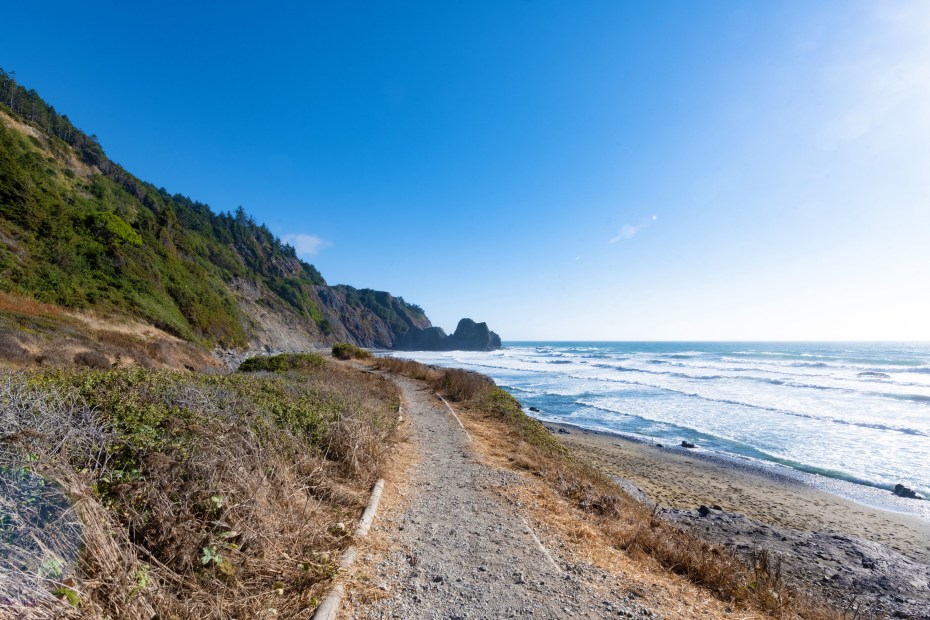 Surfing Enderts Beach in Redwood National Park, California
When you hear the words "surf scene," you probably picture a sepia-hued photograph of old-school surfers in Waikiki, plying the waves on giant wooden boards. Or maybe you picture sun-bleached Southern California, legions of surfers bobbing just off the coast, awaiting the perfect break. But surprisingly, the north coast of California has excellent, consistent surf. "It's different here. Obviously, it's where the forest meets the beach. A lot of our surf places are remote and isolated, and there's always something to surf," says Keven Harder, supervising ranger for the North Coast Redwoods District of the California State Parks and a longtime local surfer.
Enderts Beach, a C-shaped stretch of coast in the northern reaches of Redwood National Park near Crescent City, has a nice sand break, and when a northwest swell combines with wind from offshore, conditions can be prime. And Enderts is not alone: There's pretty good surfing all along the Humboldt Coast. So amazing that, Sue-meg State Park, just south of Redwood, is launching Saturday surf school this year. To participate, book a spot through Reserve California. Participants don't even need to BYOB—the park provides boards and wetsuits for the class. Prefer to hit the coast on your own? Visit The Shop in Arcata or Salty's Supply in Trinidad to rent a board. Do some research to determine a surf spot suited to your skill level, and remember to respect local surfers. 
Want more?
In addition to access to the ocean, you'll find in Redwood National and State Parks the Klamath River, Redwood Creek, and what Harder calls "the jewel of all jewels": the Smith River. California's only wild river, the Smith flows through the north part of the park, its waters just the right temperature for swimming and wading. "It's absolutely beautiful," Harder says. "There are parts of it that are rocky canyons with very, very clear water. It's just a magical river."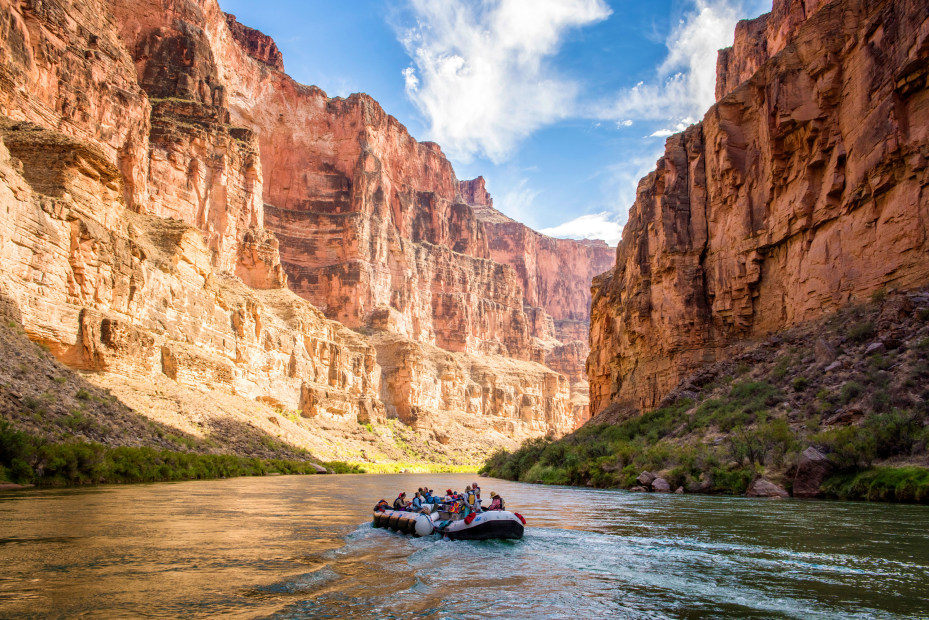 Rafting the Colorado River in Grand Canyon National Park, Arizona
Before you start planning, be warned: One trip might be enough to check "raft the Grand Canyon" off your bucket list, or it might be the beginning of an ongoing relationship. Steve Markle, VP of Sales & Marketing for the rafting outfitter OARS, notes that the company gets hundreds of guests who return to run the Grand Canyon once, twice, three times. "We have guests who come almost every year, if they can," he says. In fact, demand is so high, the park limits every guest to one trip per year.
And no wonder. Each year, approximately 30,000 people from around the country and the globe descend on the park to raft through the 277-mile-long, 5-million-year-old canyon. Fifteen commercial outfitters run motorized and paddle-powered whitewater trips down the Colorado, from three-day jaunts to 18-day explorations. Motorized boats cover ground more quickly, but if you'd prefer more time to soak up the wonders of the canyon—and want to savor the natural sounds surrounding you—choose a paddle-powered option. Founded by avid paddler and dedicated conservationist George Wendt, OARS has been running these human-powered trips down the canyon since the 1960s.
To secure a spot with any outfitter, you'll need to make reservations well in advance, but you'll forget all about past logistics once you're on the water. Crane your neck, and you'll see the world-famous rust-red walls stretching thousands of feet above you, framing the pale blue desert sky. As Markle explains, "It just puts the world in perspective. How small we are compared to not just the size, but the geologic scale of the Grand Canyon." Without the distractions of cell service and internet, you'll find more time to appreciate the hidden side canyons, ancestral Puebloan sites, and secret waterfalls along the way. Markle says that, on the trips he has taken, he has loved that distance from emails and workloads and schedules. "When you're in Grand Canyon," he notes, "it just erases all that from your memory. Within two or three nights, it's ancient history, and you just kind of fall into the rhythm of the river. Nothing is more peaceful."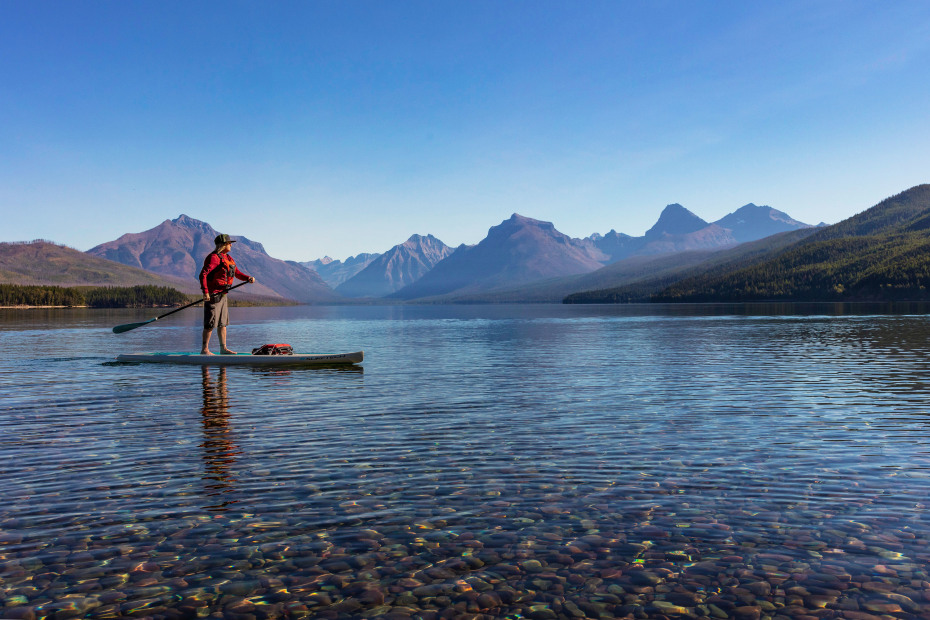 Paddleboarding on Lake McDonald in Glacier National Park, Montana
Millions of years ago, massive glaciers carved up a huge slice of what we call northwest Montana, forming craggy peaks, striking cirques, and U-shaped valleys that would later house long, deep lakes. Eventually, this stretch of wilderness became Glacier National Park: a living testament to the power of ice and time. In that way, you might think of Glacier's 700-odd lakes, nestled, jewel-like, amidst the peaks, as souvenirs from the last Ice Age. Of all the lakes, perhaps none is more stunning than Lake McDonald. Even on the Montana scale, Lake McDonald is massive, with a shoreline nearly 10 miles long, water 464 feet deep, and a surface area of 6,823 acres—over six times the size of San Francisco's Golden Gate Park.
Apgar Rentals, on McDonald's south shore, rents out paddleboards. Rent a board, don a life jacket, and you can paddle directly into a postcard-perfect scene where lilac peaks ring the clear water and verdant expanses of ponderosa pine and western red cedar trace the shoreline. Love what you see? Look down, and you'll view the whole splendid scene reflected in the glass-smooth water beneath your toes.
Want more?
Would you rather sit back and drink in the scenery from aboard a historic boat? Good news! The family-owned Glacier Park Boat Company operates daily tours on Lake McDonald plus Two Medicine and St. Mary Lake at Rising Sun. You might catch the DeSmet, a cheery white vessel built in 1930, for an hour-long ride on Lake McDonald, or board the 94 year-old Sinopah to glide across Two Medicine Lake, where you'll learn about Blackfeet history en route to a waterfall hike.  
Floating the Snake River in Grand Teton National Park, Wyoming
Wyoming is, in many ways, quintessentially Western. It's the Cowboy State, after all, home to Cheyenne Frontier Days, Butch Cassidy's one-time hideout, and the town founded by Buffalo Bill Cody himself. So it seems apt that Grand Teton National Park offers an activity that ticks a lot of "quintessential West" boxes: floating down the Snake River.
The Snake, which takes its name from the Snake (or Shoshone) tribe, originates within Yellowstone along the Continental Divide and, after leaving the park, winds across Wyoming, Idaho, and Washington, feeding into another of the West's great waterways: the mighty Columbia. Eight outfitters run float trips along a placid stretch of the Snake between Deadman's Bar and Moose. For peak Western-ness, reserve a spot on Triangle X's special dinner float, which kicks off with a hearty chuckwagon-style meal waterside. Once you're aboard the raft, the real magic begins, as you glide beneath the craggy Tetons—they look close enough to touch!—and the brilliant golden-hour sky. Just remember to tear your eyes away from the peaks now and then; this area shelters moose and elk, bison and bald eagles: all the West's best, all at once, before you.
Want more?
If you'd like to play captain for an afternoon, head to Signal Mountain Marina on the shore of Jackson Lake. You'll need to do a bit of advance footwork (calling to reserve a boat, purchasing a boat permit from Recreation.gov), but it will all pay off when you feel the wind in your hair as you fly across Jackson Lake on your own runabout or pontoon boat. Like the Snake River, Jackson Lake draws lots of wildlife, from elk on—yes, Elk Island—to pelicans savoring fresh-caught fish. It's a wild place, agrees Marina Manager Chris Plum. "Every once in a while, we'll see a bear swimming to and from the island across from us."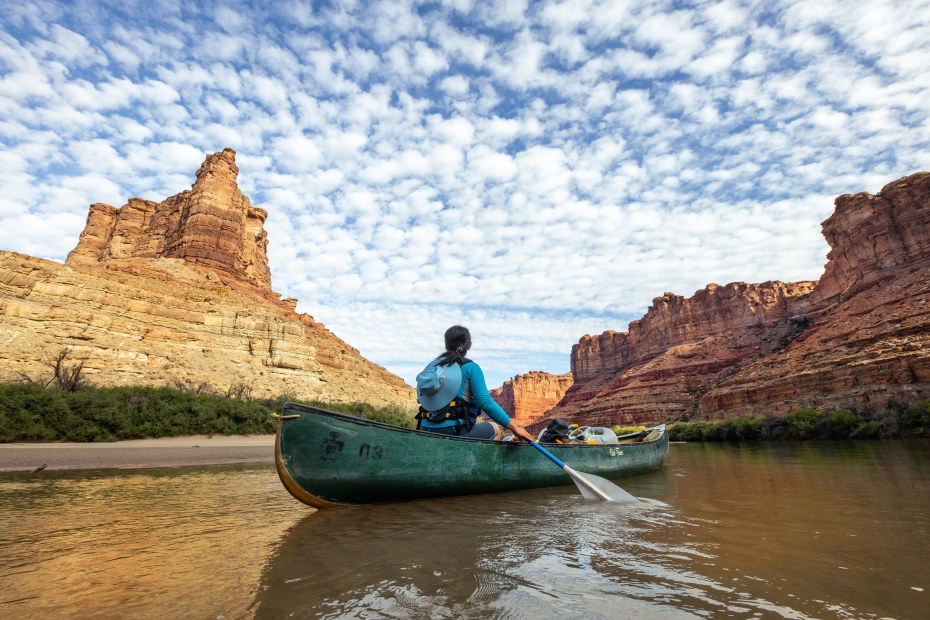 Canoeing on the Green River in Canyonlands National Park
When you're in Canyonlands' high country—hiking a rim trail, camping atop a mesa, or, simply, standing and taking in the seemingly infinite landscape of jigsawed red rock—it can be easy to forget what forged this wild desert landscape: water. Over millions of years, the Colorado and Green Rivers have etched these shapes in the solid sandstone. (And they're not done yet!)
For an up-close look at the forces that created the Canyonlands, you'll want a canoe. Both the Green and Colorado Rivers enter the park remarkably calm, and they don't hit rapids until they converge at the confluence—allowing boaters plenty of calm water to paddle. Two concessions, Tex's Riverways and Canyonlands by Night & Day, rent canoes and provide transportation to the river. (Given the popularity of these flatwater trips, the National Park Services recommends travelers book their canoe shuttle first, before procuring a permit to boat in the park.)
Once you've got those logistics squared away, though, you can turn off your cell phone (it won't work here, anyway!), and hit the water for a two- to 30-day backcountry canoeing and camping trip. As you paddle along, you'll start to tune out the frequencies of workaday life, and tune into the calls of songbirds in the cottonwood trees along the banks, the sound of wind whispering in the willows. You'll notice beavers in the shallows and desert bighorn sheep high on the cliffs. As your eyes adjust, the sandstone around you, which once seemed simply, rust-red, resolves into a million different hues—pinks and maroons and tans and grays, even the occasional teal. 
When deciding how long to spend in the park, plan more time that you think you might need. Ari Lowe, of Tex's Riverways, notes, "There's just endless exploring to be done." During dry weather, she recommends camping near the mouth of a canyon, as that will open up options for hiking along the riverside and up onto the canyon rims. And don't forget your star chart: Canyonlands is an International Dark Sky Park, a phenomenal place to see the Milky Way at full brilliance.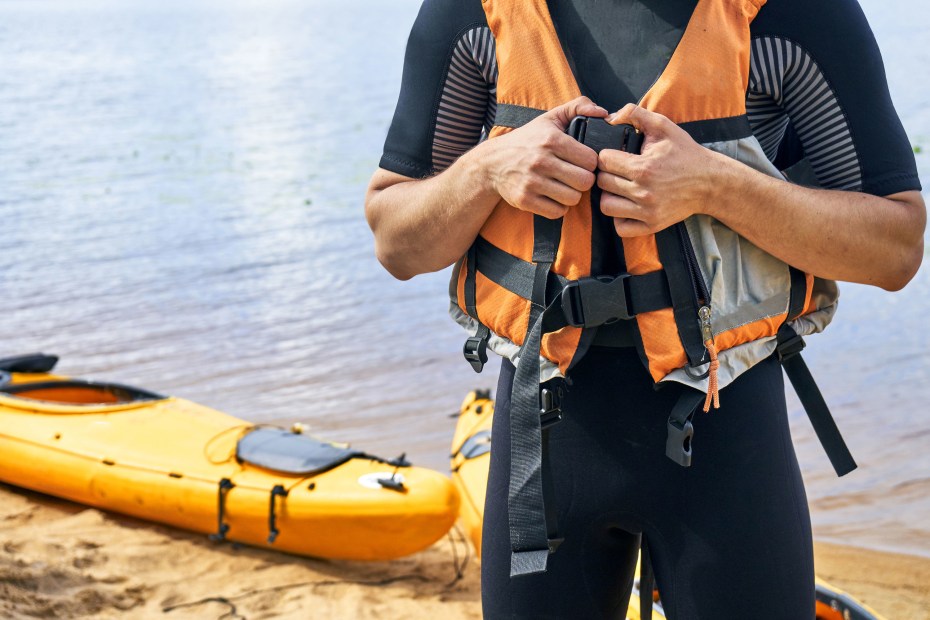 How to Stay Safe
When on the coast, be aware of wind, currents, and sneaker waves. Never turn your back on the ocean. 
Submerged rocks and logs in streams, rivers, and lakes can be very slippery. Always wear sturdy footwear, and tread carefully in and around bodies of water. 
When riding on a canoe, raft, paddleboard, or other watercraft, always wear a life jacket. 
When on any guided boat trip, always follow crew members' safety instructions. 
Never swim alone. 
Check the weather, and be aware of high winds, afternoon thunderstorms, monsoons, and other severe weather conditions. 
The water in many of the parks can be extremely cold, and hypothermia is a risk, even in the summer. Monitor the amount of time you spend in the water, and always have a towel, a change of clothes, and warm layers with you. 
Be prepared for cold weather, rain, and rapid changes in weather. Always bring warm clothing layers and rain gear with you, no matter where you're traveling.
Before visiting these or any other parks, familiarize yourself with any water safety instructions that park has shared.