As temperatures climb, a lazy river float or swim is the perfect way to cool off. Enjoy relaxing, calm waters at these eight prime spots across the West.
Russian River in Forestville, California
Flowing more than 100 miles through California's Mendocino and Sonoma counties, Russian River is a perennial favorite for tubers: particularly between Steelhead Beach and Sunset Beach in Forestville, a tiny, laid-back town within Sonoma's Russian River Valley. Floating along this scenic, two-mile stretch can take more than 4 hours, thanks to the river's extremely slow-moving waters. For a quicker float (about 2.5 hours), start your journey a little further downstream at Forestville River Access (locals call it "Mom's Beach"). There's limited parking at all three locations, and the Regional Parks River Shuttle ($5 for an all-day pass) runs between Santa Rosa's Tom Schopflin Fields and Steelhead and Sunset beaches on summer weekends through Labor Day to bring you back to your car. 
Lower American River in Sacramento, California 
Fed with the cool waters of the Sierra Mountains, the Lower American River is a choice spot for a relaxed float, especially on summer's hottest days. Many tubers (both DIY and those joining local river companies such as American River Raft Rentals) head to the downtown Sacramento section of river, between either Sacramento Bar Park or Sunrise Recreation Area (just below the Sunrise Boulevard Bridge), and float to River Bend Park or William B. Pond Recreation Area. Both excursions last roughly 3-4 hours and meander past tree-lined banks and the occasional great blue heron. The river is mostly flat, save for a small section of easy-to-maneuver whitewater known as the San Juan Rapids about a quarter of the way between Sacramento Bar Park and River Bend Park. Along the way, stop for a picnic at Ancil Hoffman Park where ancient oak trees offer refreshing shade.
Truckee River in Reno, Nevada 
While this 140-mile river runs from North Lake Tahoe to Nevada's Pyramid Lake, it's the Reno portion that locals and visitors descend upon each summer to float the refreshing and generally tranquil waters. Most tubers put in at Mayberry Park and continue onto Wingfield Park. It takes roughly 2.5 hours to complete the stretch, depending on water levels, which tend to lessen as the season stretches on. Pick up a tube for the day or by the hour from Sierra Adventures, or join one of their tubing excursions complete with a shuttle ride back. Looking for a little excitement? Take on a series of drop pools and rapids at Truckee River Whitewater Park. 
Salt River in Mesa, Arizona
The lower Salt River runs through Arizona's Tonto National Forest, gliding past Saguaro cacti, towering bluffs, and occasionally wild horses that roam the area. The river's cool mountain waters alternate between mellow stretches and pockets of quick-moving currents, and the best stretch for tubing is the 10 miles between Water Users and Granite Reef recreation sites. With various parking lot–equipped stops along the way, both BYO tubers and those on shuttled float trips (such as Mesa's Salt River Tubing Company) have a pick of river excursions that can last from 2 to more than 4 hours. Most of the sites feature picnic facilities as well.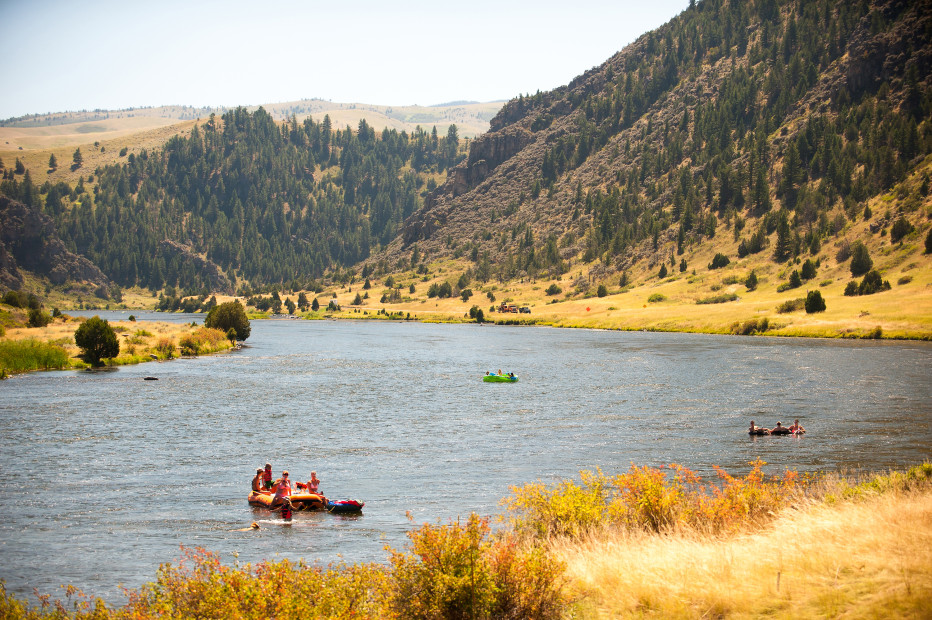 Madison River in Bozeman, Montana 
Expect stellar mountain vistas and big sky views while floating the Madison River, a river with delightfully warm water (it runs through one of the country's most thermally active regions) that flows for 180-plus miles from Yellowstone National Park to the Missouri River. Tubers prefer the river's lower section between Ennis Dam and the Missouri headwaters in Three Forks, Montana, specifically the 6.5 mile float from Warm Springs to Black's Ford. Along with access points every few miles, this section of the river is both calm and wide, running among forested slopes and rugged cliff sides where wildlife like moose and eagles make regular appearances. 
There are several places in Bozeman to rent or buy tubes, including Big Boys Toys and Round House. Another option: Embark on a tubing adventure with Montana Whitewater, which provides shuttle services and also rents out extras, including ice, floats for coolers, and waterproof speakers.
Provo River in Provo, Utah
It takes between 1.5 and 2 hours for a lazy float along the Provo River from just below Deer Creek Reservoir to Vivian Park, 11 miles north of Provo. Whether you'll encounter rapids or low-lying rocks is dependent on water levels, though stellar views of Provo Canyon and 11,753-foot-tall Mt. Timpanogos, the second highest mountain in Utah's Wasatch Range, are guaranteed either way. Keep an eye out for the Heber Valley Railroad's steam-engine passenger trains, which run alongside the river multiple times daily.
Local outfitters High Country Adventure rents out heavy-duty river tubes, as well as double tubes—ideal for couples and/or adults with children—and wetsuits for the river's chilly waters, which hover between 52 and 55 degrees year-round.
A note to BYO tubers: Be sure and get out of the water before the wooden Heber Creeper bridge. It tends to collect hazardous debris around its support structures. Walk on land to relaunch on the other side.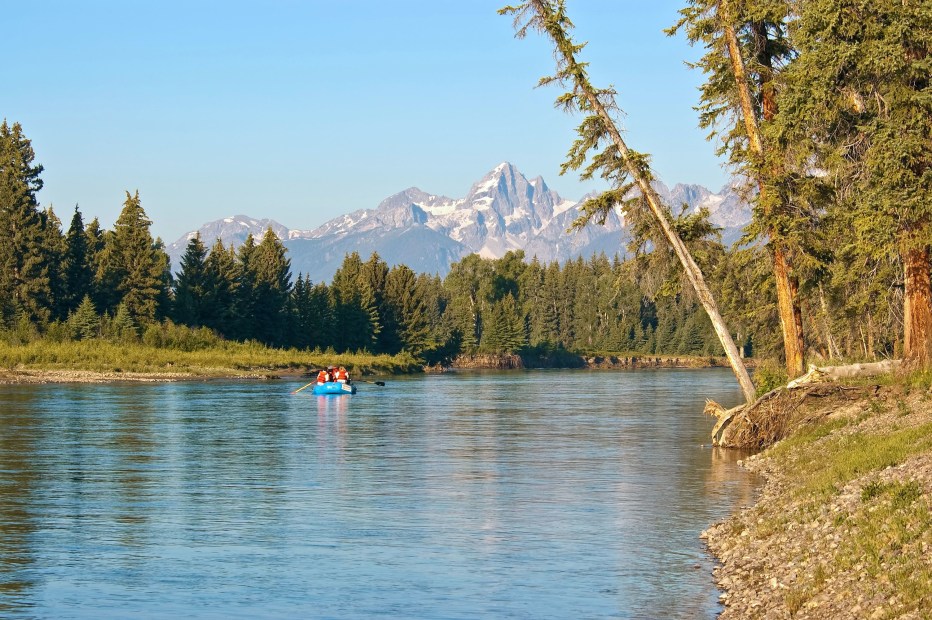 Snake River in Grand Teton National Park, Wyoming
Not all river floating requires getting wet. National Park Float Trips hosts scenic excursions along the Snake River, straight through the heart of Grand Teton National Park. Guides share the area's rich wildlife, geology, human and natural history while passing among sagebrush plateaus, cottonwood and spruce forests, and staggering peaks. Each journey takes place aboard a custom-made inflatable raft that fits approximately 12 passengers, and you can choose between multiple lengths and trips—including a 10-mile dinner float that takes place at dusk, the perfect time for spotting roaming elk and bison.
Deschutes River in Bend, Oregon
Central Oregon's Deschutes River flows down from the eastern side of the Cascade Mountains and right through the city, where it's a popular spot among swimmers and floaters. Head to Farewell Bend Park for calm and easy-to-access waters. For those needing a lift, Bend's Ride the River transports tubers to and from the Deschutes River throughout the day with the purchase of a five-dollar wristband. This shuttle service leaves from the Park & Float in Bend's Old Mill District with stops at Riverbend Park and Drake Park, which generally takes roughly 2 hours to float between the two. Once in the water, tubers have an opportunity to experience the free Bend Whitewater Park for an extra rapids adventure (for a more mellow float, you can bypass it at the Colorado Avenue Bridge). If you're looking for a full service option, Tumalo Creek runs two-hour floats with tubes and shuttle service included. 
Before You Go
Some preparation will go a long way to assuring you have the most relaxing experience on the water. To avoid crowds, traffic, and harmful UV rays, start your float either early in the day or in the late afternoon. Many (but not all) float companies will allow groups to tie their tubes together as a way of keeping everyone in the same place. Others don't allow alcohol and/or have age restrictions for children. Ask ahead of time. 
If you're bringing your own tube, we recommend something heavy duty that can withstand sharp boulders and shallow waters and that has a cup holder. Pack a portable air pump (or swing by a gas station and use their air compressor) to assure your tube is adequately buoyant before launching. Also important: a hat, sunglasses, water shoes for navigating mud and rocks, a dry bag for holding belongings such as sunscreen and cell phone, and a trash bag. Consider packing a floatable cooler with lunch and a waterproof speaker for enjoying tunes as you go. 
A paddle for pushing away from rocks and tree branches comes in handy on some rivers, and remember: personal floatation devices (PFDs) for both floating and swimming are essential for safety and may be required in certain areas. 
Now that you've got the logistics down, it's time to hit the water!