Though the California coast dazzles throughout the state, its most striking displays seem to cluster in Mendocino County. Mist-shrouded sea stacks, sweeping coastal prairies, and unspoiled beach coves provide the inspiring backdrop for quaint fishing hamlets. Follow the sweet, salt-tinged air and discover scenic gems sculpted by the churning Pacific.
Jug Handle State Natural Reserve
The Ecological Staircase Trail offers a rare peek at the formation of Mendocino's unique landscape via a succession of stepped sandstone terraces that have raised up, layer by layer, over millennia. The first half-mile forms a stand-alone loop that traverses tranquil headlands with knockout ocean views before dropping down to a secluded, sandy cove. Along the way, visitors marvel at the fantastical krummholz forest, a tangle of twisted spruce and pine trees misshapen by salt-laden winds.
Russian Gulch State Park
It's tough to find a ho-hum spot in Russian Gulch State Park with an enticingly diverse landscape to explore. Past fragrant pines that teeter over swirling turquoise waters, cliffside trails lead to Devil's Punchbowl, a massive, collapsed sea cave that reverberates with the crash of the waves within. And the aptly named Fern Canyon Trail skirts a rippling, overgrown creek that flows from an inland waterfall out to a sheltered bay spanned by a magnificent concrete arch bridge.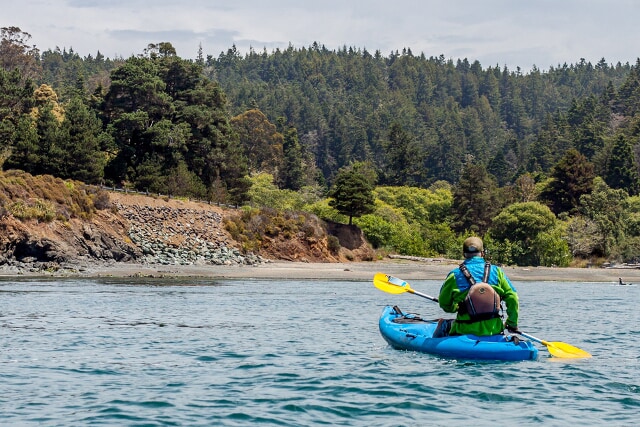 Kayak Mendocino
Former professional surfer Craig Comen traded his board for paddles when he began leading tours of the region's vibrant offshore ecosystem. Floating above otherworldly kelp forests, through enchanting sea caves, and past craggy outcrops adorned with bat stars, sea palms, and giant green anemones, kayakers keep their eyes peeled across the glassy waters for ghostly lion's-mane jellyfish and the heads of curious harbor seals.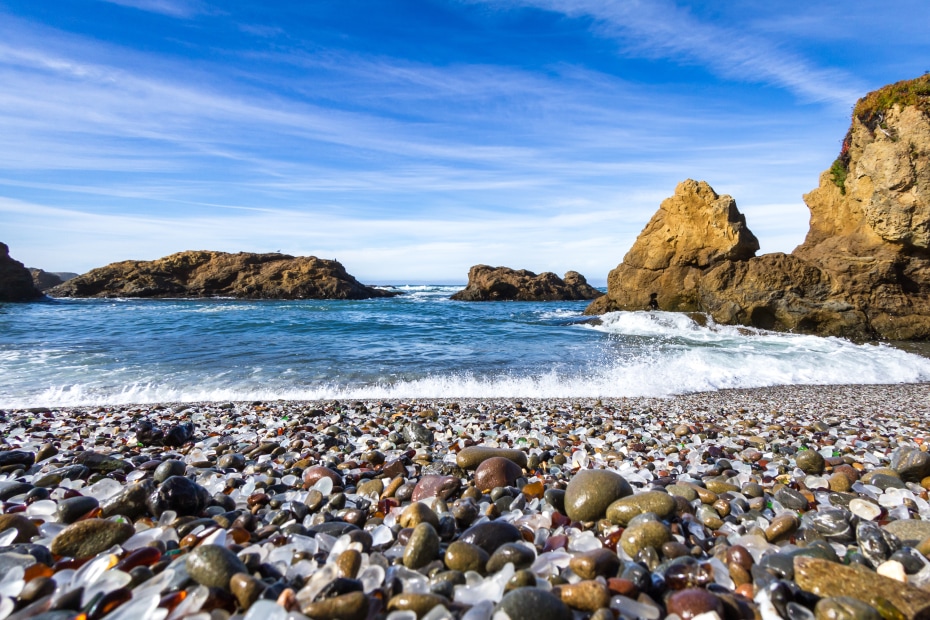 Glass Beach
Decades of pounding surf transformed this early 20th-century coastal dump into a kaleidoscopic vision. Apothecary bottles, marbles, perfume stoppers, and automobile taillights have become the colorful, smooth gemstones that blanket the shore at Glass Beach. The bluff-top Coastal Trail has opened up previously inaccessible areas, including an especially scenic cove with a handy staircase. There are also tide pools formed by lava-like slag embedded with unexpected remnants such as old spark plugs and porcelain plates.
Ricochet Ridge Ranch
At an unhurried pace with an easy sway, horseback tours of the shoreline put riders in touch with the natural rhythm of the coast. Guides lead one-hour equestrian treks into MacKerricher State Park, clopping along a forested trail, over dunes covered with beach grass, and onto the wet sand expanse of beautiful Ten Mile Beach.