Where Highway 1 ends in California's northern Mendocino County, the Lost Coast begins: a wild and secluded stretch of largely undeveloped coastline that's also the only coastal wilderness left in the state. A residential exodus in the 1930s brought on by the declining lumber industry spurred the area's name. (That and a terrain too asperous for roadways.) But the curious moniker well embodies the qualities of this removed land: towering coastal redwoods, low-lying fog, tree-covered mountains, and the craggy shoreline dotted by sheltered beaches that brim with tide-pools.
Home to only a handful of small towns and a few winding roads, the Lost Coast is the perfect getaway for anyone seeking backcountry adventures or a simple respite from the norm. Ready to get lost?
What to See Along California's Lost Coast
Shelter Cove sits on the Lost Coast's southern edge, a tiny town sandwiched between the Pacific Ocean and the towering peaks of King Range National Conservation Area. It's home to the relocated 43-foot-tall tower of the Cape Mendocino Lighthouse—its Fresnel lens is up north in Ferndale—as well as Black Sands Beach, an extraordinary driftwood-strewn stretch of pitch-black pebbles and tide pools rich with sea-life.
Marking the Lost Coast's northern-most terminus, Ferndale is a stunning Victorian town filled with postcard-perfect Queen Anne- and Italianate-style structures and colorful bungalows. Its most lavish homes have earned the name Butterfat Palaces, showcasing the wealth of a pioneering dairy industry that especially thrived in the late 1800s. Swing by the town's Golden Gait Mercantile, an old-time general store chock-full of everything from jars of Humboldt honey to Bay Rum aftershave. There's an old-fashioned candy counter for satisfying your sweet tooth, and upstairs discover a museum of rediscovered stock (think Victorian-era soaps and tonics).
Ferndale is also home to Artisan Alley, a stretch of open studios where you can browse, shop, and watch local artisans create ceramics, cabinetry, wooden ship models, and more. For a deeper delve into local history, don't miss the Ferndale Museum, a hodgepodge of exhibits that include artifacts from the California Gold Rush and the country's oldest working seismograph. (The Lost Coast is California's most seismically active area.)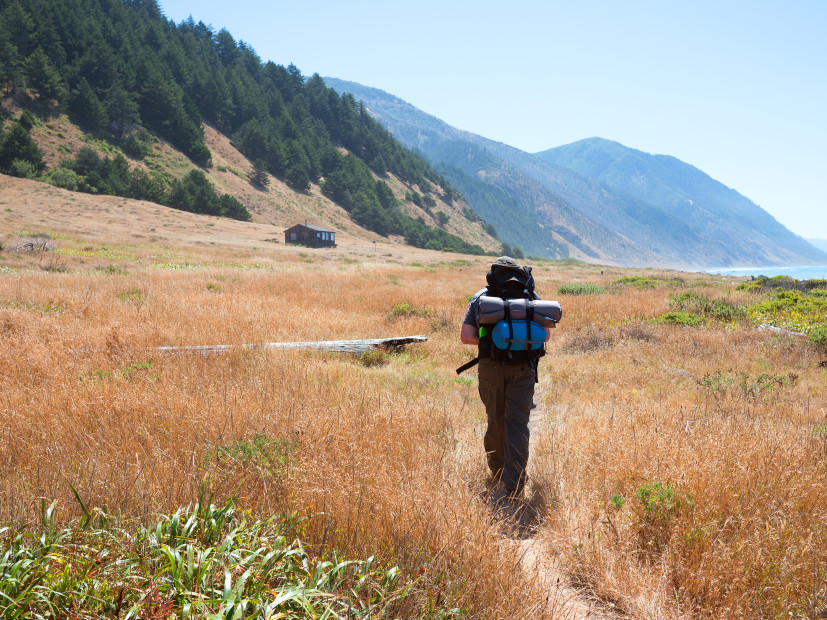 What to Do
Bird-lovers flock to Ferndale's 105-acre Russ Park to seek out hummingbirds, grosbeaks, and warblers among a canopy of Sitka spruce and fir trees, while beachcombers head to Centerville Beach County Park—five miles west of town—keeping an eye out for migrating gray whales during spring and fall.
Embark on an oh-so-scenic (albeit sometimes harrowing) drive along Mattole Road, suitably dubbed "the wildcat." Winding south from Ferndale, the road travels through forested coastal mountains and rolling farmlands before dropping down to the Pacific at Cape Mendocino—California's westernmost point—for spectacular ocean views. Mattole Road continues south where you can stop in Petrolia—a small town that gets its name from being the site of California's first drilled oil well—before continuing on to Honeydew.
Hiking and Biking
The Lost Coast's remote terrain makes for some exquisite hiking and mountain biking opportunities, most notably within the 68,000-acre King Range National Conservation Area. The Douglas fir–covered peaks tower upwards of 4,000 feet and stretch 35 miles along the Pacific, from Mendocino County's Sinkyone Wilderness State Park north to the mouth of the Mattole River. King Range's more than 70 miles of hiking trails traverse cliff sides, twist-and-turn among chaparral and grasslands, and meander along beaches.
The area's most iconic hike is along the Lost Coast Trail, a 24.6-mile trek from Black Sands Beach north to Mattole Beach. Plan a few days to complete the mostly level tramp, which journeys along beaches (watch for rogue waves and high tides) and across boulders, and is surrounded by vibrant wildflower displays during spring. Sea lions and black bears sometimes visit.
Day hikes include the 4.2-mile (one way) Horse Mountain Creek Trail, connecting the King Range mountains and the beach with a 1,700-foot descent; and the aptly-named Lighting Trail, a 2.6-mile (one way), 1,900-foot climb to the top of King Peak through old-coast forests, resulting in remarkable ocean and mountain views.
The Punta Gorda Lighthouse Trail offers a moderate 2.7-mile (one way) path that stems off the Lost Coast Trail near Petrolia and ends at the Punta Gorda Lighthouse—a deactivated beacon known as the Alcatraz of Lighthouses, due to its relative inaccessibility.
For mountain bikers, King Range's Paradise Royale offers a 23-mile system of trails that winds through backcountry, crossing forested ridges and descending into verdant river valleys with various levels of difficulty.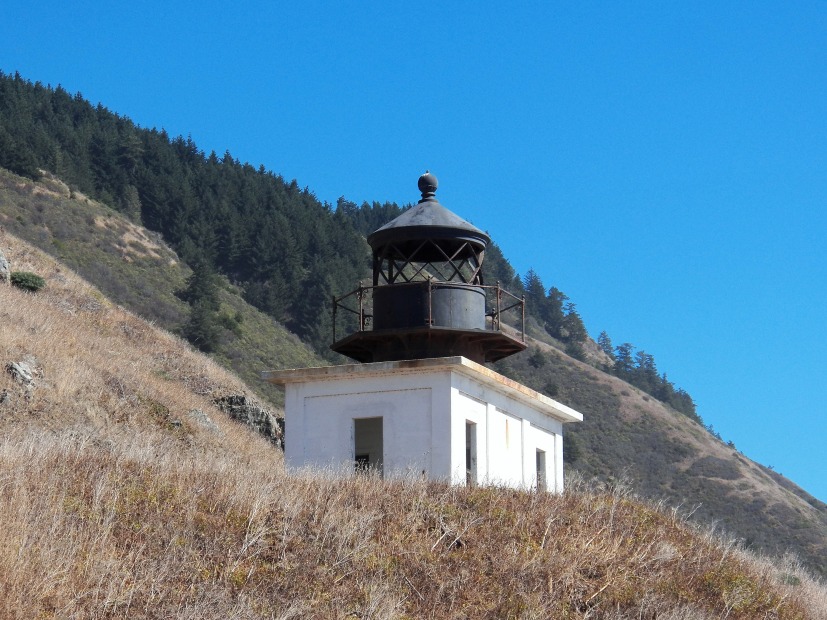 Camping
There are plenty of spots for camping across the Lost Coast, including primitive (though comfortable) sites such as the eight-tent King Range's Nadelos Campground—just a few miles from the coast—and Mattole Campground, at King Range's north end, home to 14 tent and trailer sites. BYO water at both.
Midway between Petrolia and Honeydew, A.W. Way County Park hosts walk-in camp sites—from open to shaded—for both tents and RVs, with coin-operated showers and nearby swimming holes.
Where to Eat Near the Lost Coast
Sip easy-drinking pilsners and hoppy IPAs made in-house at Shelter Cove's Gyppo Ale Mill, a brewery, taproom, and restaurant named for the independent, non-union "gyppo" loggers that gained traction after WWII. Dishes run the gamut from fish and chips to pan-roasted chicken with spiced fennel rub, depending on the day.
Ferndale's Farmhouse on Main incorporates the surrounding Eel River Valley's rich natural bounty into its menu. Expect entrées like grilled eggplant lasagna and pan-fried pork cutlet with creamy polenta. The Ferndale Pizza Company serves up delicious thick-crust pizzas—heavy on the cheese—in a casual, no-frills setting.