Whether you enter Wyoming's Grand Teton National Park from Yellowstone to the north or from Jackson to the south, you'll reach a point on the road where the snowy, toothy Teton Range explodes into view, rising to 13,775 feet without so much as a foothill. At that instant, as at many others, a camera starts to feel like a necessity.
Want your own version of Ansel Adams's beloved 1942 photograph The Tetons and the Snake River? Drive through the park, turn off at the Snake River Overlook (four miles north of the town of Moose), then point toward the mountains and shoot. Chances are you won't even have to get out of your car. That, of course, is the classic way to see the park: You tour the 43 miles of road that form a loop in the valley, pulling over for highlights—Jackson Lake Lodge, Jenny Lake, the Cathedral Group Turnout. It's a great trip. You'll love the scenery.
But the roads also lead to special spots that locals—like me—tend to share only with friends and family. Here's one: In 2009 the park opened an eight-mile path from Moose to South Jenny Lake for cyclists and joggers. It's gentle, it's paved, and you're all but guaranteed wildlife sightings and great views. For $12 an hour, you can rent a bike and roll to your heart's content. I've got more. Here, north to south, are six classic Grand Teton stops and the special pleasures right near them.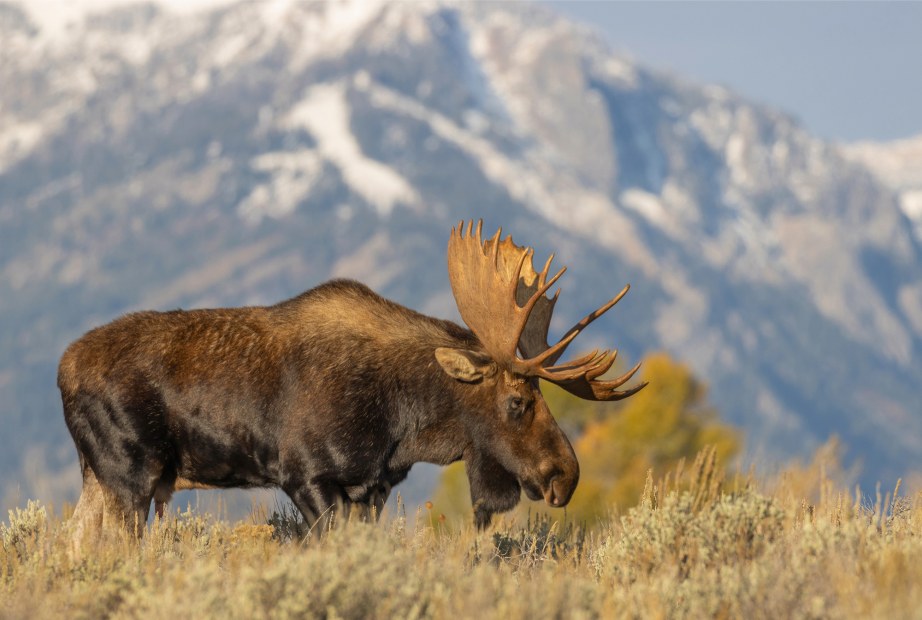 Colter Bay Visitor Center
Ranger-naturalist, Shoshone elder, and master beadworker Laine Thom has been helping welcome visitors to the center's spectacular Indian Arts Museum since he arrived in 1978. The 1,400-piece collection—one of the nation's finest—includes a Hopi men's dance sash, a Crow buffalo-hide shield, a Chippewa war club, and other 19th-century artifacts. Open May 11 through October 8; admission is free.
Insider's Tip: From Jackson Lake's Colter Bay Marina, a 30- to 45-minute boat ride takes you to Elk Island, the largest island in Wyoming. The only other way to get this close to 12,605-foot Mount Moran is a strenuous backcountry hike—which doesn't come with trout or steak served alfresco in a meadow. Breakfast and dinner cruises typically run June to September, lake levels permitting.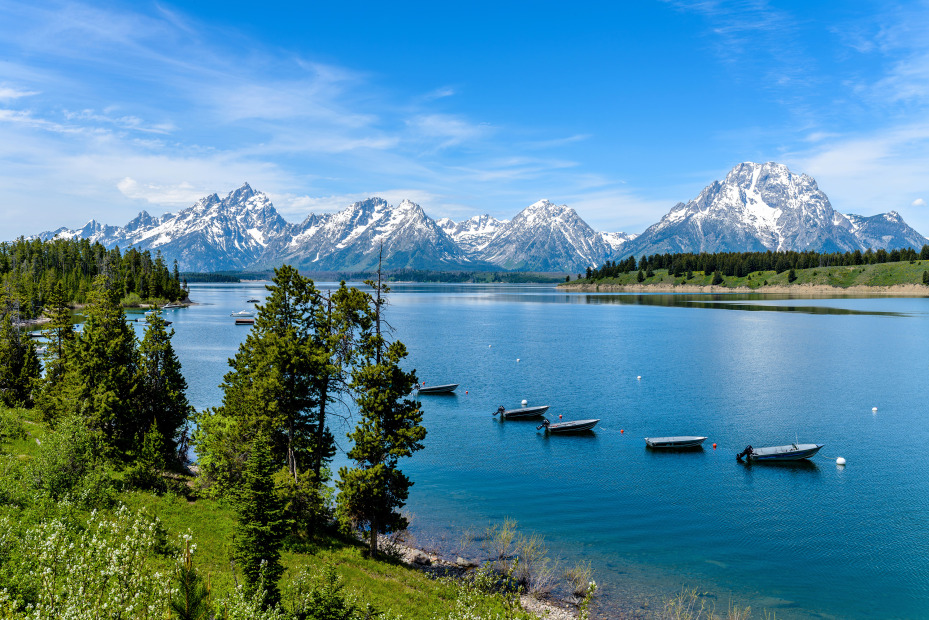 Jackson Lake Lodge
With grazing moose, Mount Moran, and Jackson Lake framed in tall windows and 80 feet of Carl Roters paintings of fur traders and trappers gracing other walls, the Mural Room is so stunning that it's hard to remember you came for a meal. Yet its chefs win applause for such entrées as buffalo prime rib and elk loin with Southwest spices. Don't think the moose-shaped pat of butter is too cute to use. Typically open May to October; closed early in 2020 due to Covid-19.
Insider's Tip: Roters's murals, Plains Indian artifacts, historic photos, tools from pioneer life, and eight reproductions of Carl Rungius paintings line the walls. Take it all in while you walk to dinner or between other activities. (The originals are at the National Museum of Wildlife Art in Jackson and Whitney Gallery of Western Art in Cody, Wyoming.)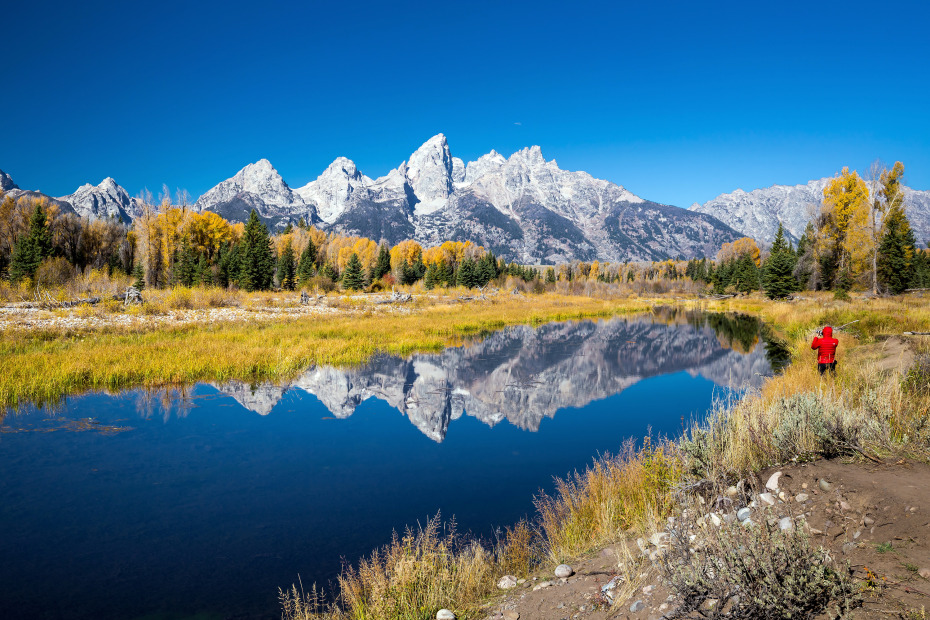 Oxbow Bend
When you take the two-mile detour off Teton Park Road to Oxbow Bend and spy the park's northern peaks reflected in the Snake River, you might think Walt Disney had a hand in it all. Front and center is massive Mount Moran and its distinctive Skillet Glacier, which, impossibly steep as it looks, lures extreme skiers. Take time to spot some of the eagles, moose, elk, and ospreys that can complete a perfect scene.
Insider's tip: A half century ago, as rare trumpeter swans began a comeback in the lower 48, Christian Pond was one of their early nesting places. The huge snow-white swans—their skins made excellent powder puffs—have gathered here ever since. But see them now; the pond is evolving into a meadow. Find the trail between Oxbow Bend and Jackson Lake Lodge.
Signal Mountain
The five-mile road up 7,720-foot Signal Mountain is narrow and winding, but at the top you'll find views of four mountain ranges: the Tetons, Gros Ventres, Wind Rivers, and Absarokas. In summer, the sights may also include grizzly and black bears foraging by the road about halfway up.
Insider's tip: Tent sites dot the shore of 40-square-mile Jackson Lake, and you might think hotel rooms would be just as plentiful. But if you want a roof and a comfy bed, your sole lakeside option is Signal Mountain Lodge. Two-room suites with patios sit just 150 feet from the shore and only slightly farther from killer nachos at the lodge's Trapper Grill. The lodge is typically open mid May to mid October; Trappers Grill is closed for the rest of the 2020 season.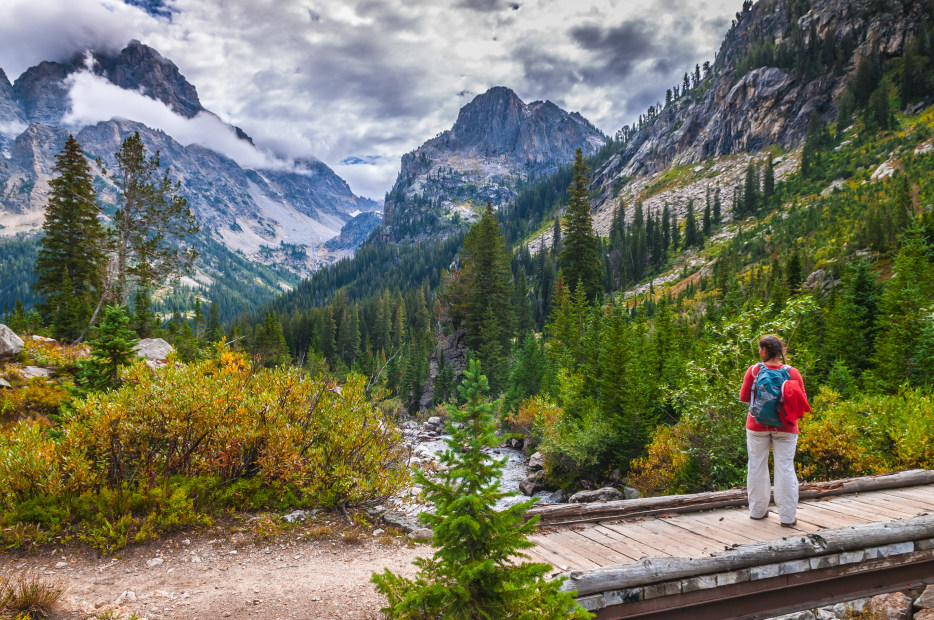 Jenny Lake
Surveyors in 1872 named what they deemed the loveliest of the Tetons' seven morainal lakes after their guide's Shoshone wife. Jenny Lake looks its best from pontoon boats ferrying hikers to the western shore, and also from Inspiration Point, a one-mile hike from the western boat dock. Open mid- to late-May through Sept. Adults $18 round-trip.
Insider's tip: Can't afford $759 a night? Jenny Lake Lodge's all-you-can-eat breakfast is worth every cent (it was $34 in the 2019 season). The orange juice is fresh-squeezed, the eggs Benedict are served over crab cakes, and the pancakes are dotted with wild huckleberries. Pocket a buttery pastry for the hike to String and Leigh lakes, along a lovely three-mile loop that starts a few hundred yards from the lodge. Typically open June through Oct.
Visitor Center in Moose
Grand Teton National Park was created in 1929 and expanded in 1950, but not until the Craig Thomas Discovery and Visitor Center opened in 2007 could a human addition to the park be called grand. Now nine video screens in the floor showcase local sights to the sound of rippling rivers, birdsong, and Indian chants; a relief map pinpoints wildlife sightings and glacier movements; a film narrated by actor Harrison Ford recounts local mountaineering history; and 30-foot-high windows offer even better views than those from the deck at nearby Dornans (although you can't order a margarita at the visitor center).
Insider's tip: A few minutes' drive down Moose–Wilson Road lies 1,106-acre Laurance S. Rockefeller Preserve, where eight miles of uncrowded trails wind through four ecosystems. At its heart is peaceful Phelps Lake, once a Rockefeller family retreat. If fresh bear claw scars on trees give you shivers, you can relax on the visitor center's porch or in its reading room. The center opens in early June and closes in late September.