Canyon Lodge & Cabins in Wyoming's Yellowstone National Park replaced its outmoded "frontier" cabins with five new multistory lodges featuring 400-plus rooms. The $96 million ecofriendly redevelopment—one of the largest in the park's history—has finally delivered comfort worthy of the surroundings. Open May 17–Oct. 13.
Capitol Reef Resort, within sight of the red rock cliffs of Capitol Reef National Park in Utah, underwent a major overhaul in 2015, and it's still improving. As of 2017, you can stargaze from the private deck of a luxury cabin or sleep outside in the summer in a new Conestoga wagon—Western hospitality on wheels.
The historic charms of Glacier National Park's Many Glacier Hotel remain, but as of 2017 guests to the Montana chalet will also enjoy new king and queen beds in deluxe rooms, new Western-style furniture in public areas, and a remake of the double helix staircase that graced the lobby in its early decades. Open June 7–Sept. 17.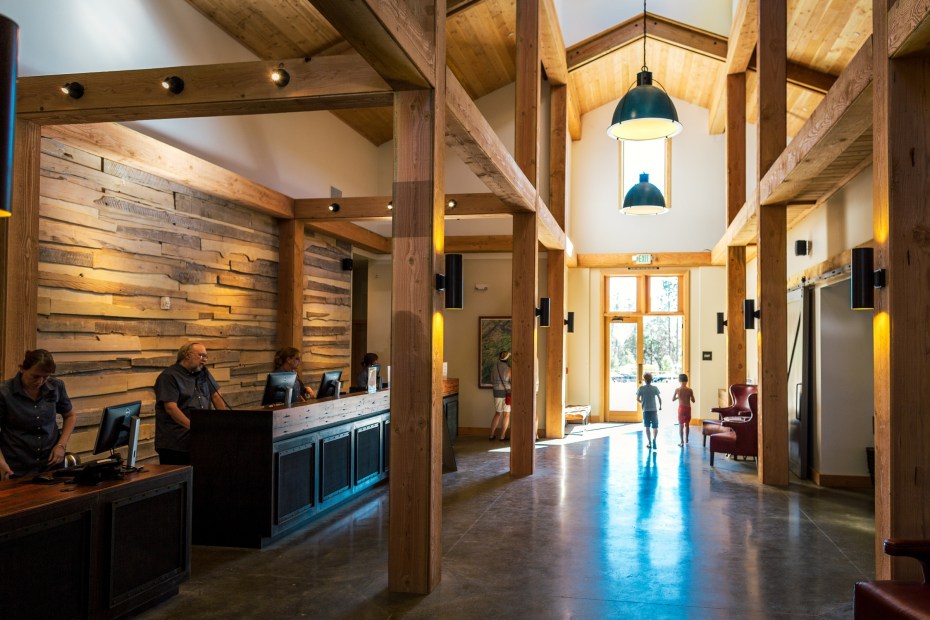 Rush Creek Lodge at Yosemite, the first new lodge in this popular California area in more than 25 years, opened in 2016. The accommodation is already winning over guests with a saltwater pool, two hot tubs (one for adults only, one for families), and a restaurant serving giant prawns and porterhouse steaks. Since 2017: a reflection pond and gold-panning stream.
Thanks to a $3 million rebuild, guests at the Big Island's historic Volcano House hotel, the only accommodations within Hawaii Volcanoes National Park, can take in the other-worldly scenery from newly upgraded rooms, some with views of Mount Kilauea. A revamped dining room serves local ahi tuna, aged rib eye, and coffee-rubbed lamb with macadamia nuts.
The short drive from Washington's Alta Crystal Resort at Mt. Rainier to the park's Sunrise Visitor Center was already perfect. The resort itself now benefits from recent improvements. Guests enjoy a year-round heated pool and renovated rooms equipped with fireplaces and small kitchens. The two-story "honeymoon" log cabin—no kids allowed—offers upscale solitude.
With stone fireplaces, handmade hickory furniture, and Western artwork, the Landing at Estes Park near the most popular entrance to Colorado's Rocky Mountain National Park has kept its old-style appeal throughout a complete renovation. Guests can stay in the European-style lodge or cabins along the Big Thompson River, a watering hole for native elk.
More than 200 renovated rooms have given a boost to McKinley Chalet Resort, a forest retreat along Alaska's Nenana River at the doorstep to Denali National Park. Other major additions include Denali Square, a new outdoor gathering spot, and Karstens Public House, where you can enjoy a caribou burger along with impressive views. Open May to September.