Like children growing up with movie-star parents, the towns in the shadow of our Western national parks face an identity crisis: Does anyone ever love them for themselves? Most trade on their proximity to major attractions—GATEWAY TO YOSEMITE, reads the wooden sign as you roll into Groveland in California's Sierra foothills—yet in the process they tend to sell themselves short.
A gateway is for passing through; by definition, it is not a destination. But Groveland most certainly is one. This hilly Gold Rush town has a rollicking biography all its own, and a lot to offer a traveler—scenic beauty, charming inns, a historic tavern—even if you never make it up the highway to Half Dome.
Likewise, though the sheer sandstone cliffs of Utah's Zion National Park are memorable, so is an afternoon spent exploring the funky rock shops and galleries of achingly lovely Springdale next door. Montana's Glacier park preserves thousands of square miles of epic wilderness; right alongside it, Whitefish treats visitors to boating, theater, and spas.
The national parks deserve the attention they get, and their gateway towns merit their own time in the spotlight.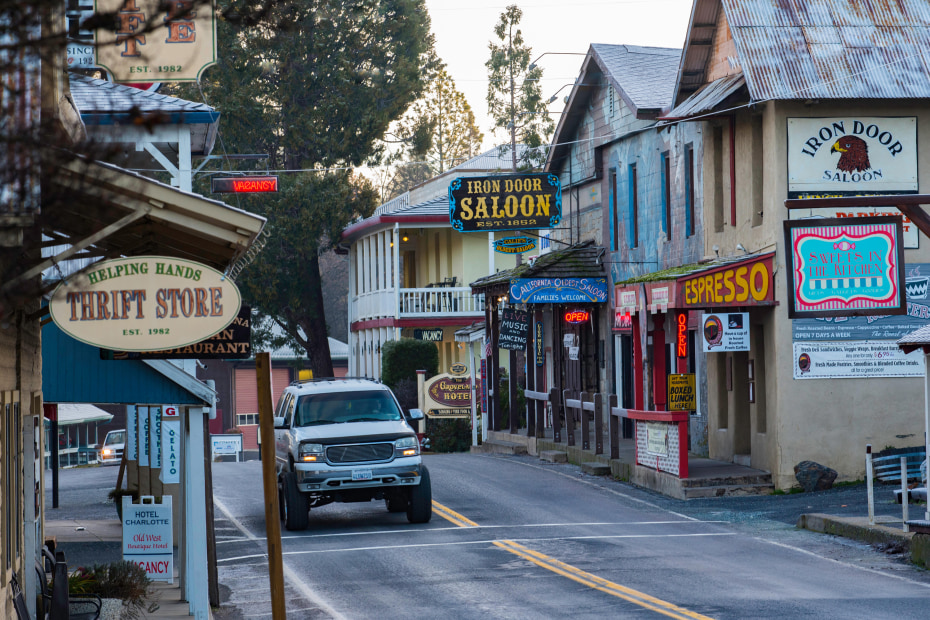 Groveland, California: Yosemite National Park
During the peak of summer, nearly 9,000 cars a day cruise the two-lane main street of Groveland en route to Yosemite National Park 30 miles to the east. Most never stop. This is a mistake.
A spirited Gold Rush town, Groveland was first known as Garrote after miners hanged two thieves from an oak tree in the 1850s. Upstanding citizens changed the name, but they couldn't change their town's rowdy character. Drunks reeling out of the Iron Door Saloon—which claims to be California's oldest continuously operating bar—were dragged down the street to the one-room jail, which is preserved, complete with stuffed effigies of prisoners sprawled on the moldering cots.
You can still get a whiskey at the Iron Door, and then stay the night at the adobe and wooden Groveland Hotel. If you do, bear in mind that the establishment is haunted by the cantankerous ghost of a miner named Lyle who has been known to sweep cosmetics off "his" bureau. Down the street, the Groveland's sister hotel, the Hotel Charlotte, has its own resident ghost—a kindly one who arranges the covers around you when you're in bed.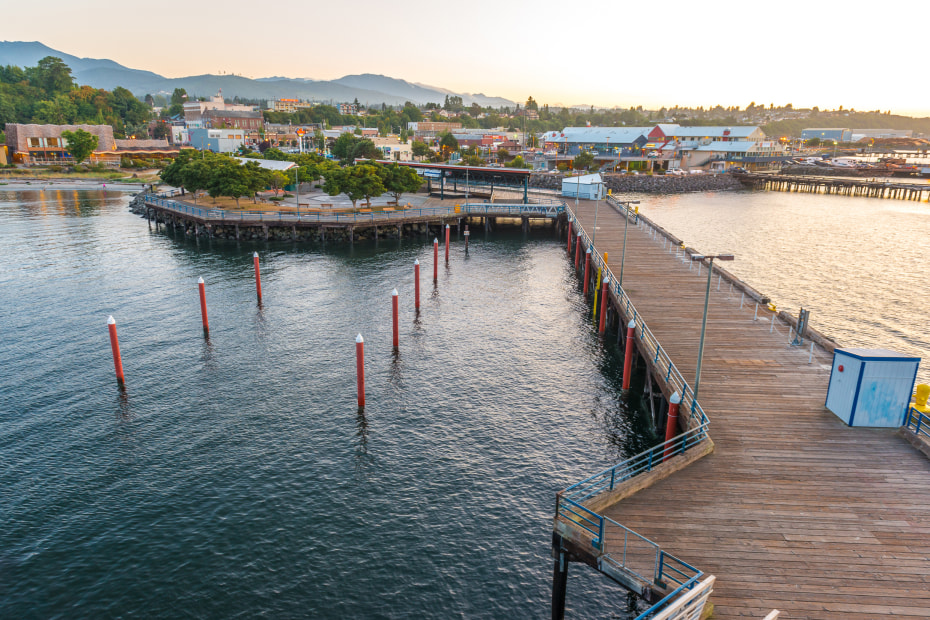 Port Angeles, Washington: Olympic National Park
Sandwiched between the Olympic mountains and the Juan de Fuca Strait, Port Angeles is a hub for travelers heading to Olympic National Park, the ferry to Vancouver, B.C., and a visit to nearby Forks, the town where Stephenie Meyer's Twilight series unfolds. In their comings and goings people sometimes overlook this 149-year-old town with a beautiful beach and a quirky history.
First stop: a visit to the Museum at the Carnegie to view pioneers' hand-painted china and handmade clothing and to hear extraordinary recordings of local American Indian stories in their original languages with English translations.
After this, an underground walking tour of downtown. Port Angeles regularly flooded during its early years, and in 1914 the city decided to lift its streets and sidewalks above the plain, elevating them to the second-story height of its downtown edifices. As former Deputy Mayor Don Perry puts it, "The old sidewalks are now tunnels, and at one time you could walk from one end of Port Angeles to the other without poking your head out." Some of the tunnels have been filled in, but you can take daily tours of the surviving subterranean sidewalks. Up a level you'll find Bella Italia, the restaurant where Bella and Edward enjoyed their first date in Twilight. (For the record, Bella ordered the mushroom ravioli.)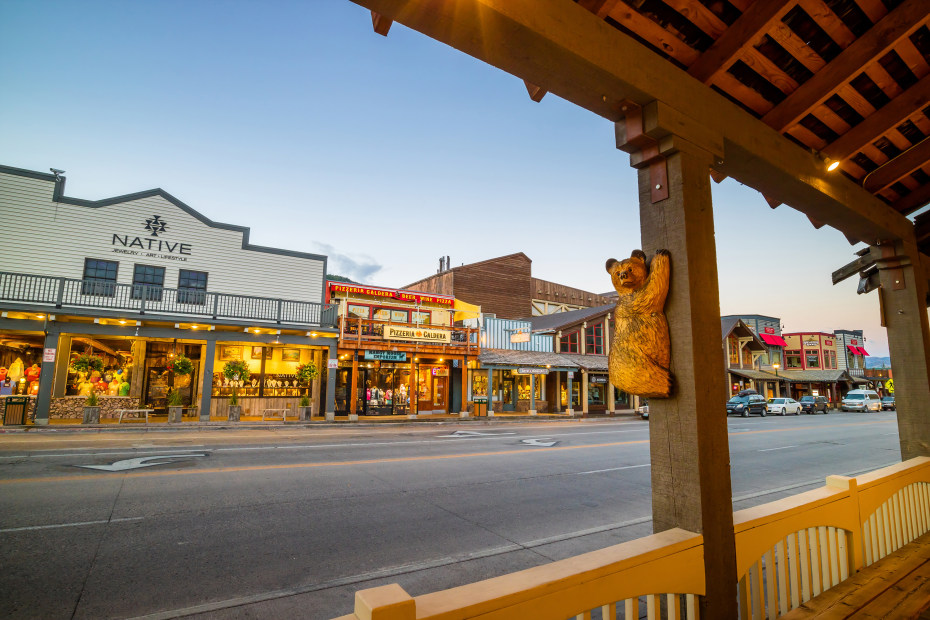 Jackson, Wyoming: Grand Teton National Park
Long on natural beauty, national parks tend to be short on boutiques, wine lists, and spas. That's where Jackson comes in. Founded in 1894 on the boundaries of what would become Grand Teton National Park, Jackson has blossomed into a glamorous all-season resort. It makes an ideal base camp for rugged outdoor adventures—rafting on the Snake River, rock climbing, crosscountry skiing. But when you're done for the day, you can clean up and go for a grilled beef skirt steak at the Silver Dollar Bar & Grill, or a mesquite-grilled elk chop at the Gun Barrel.
Heck, you can skip the outdoor activities entirely. Jackson is a stellar shopping town, with stores for all tastes and budgets. Beaver Creek Hats & Leather sells every imaginable variety of Stetson and cowboy boot—pink? flowered?—and at Elkhorn Industries you can buy a majestic antler candelabra or a more modest buffalo nickel necklace. Every town needs a great book shop, and in Jackson that's the Valley Bookstore, which stocks an enticing selection of volumes about the region. "This is as close to Paradise as I ever expect to get," sighs the narrator of Maude Parker's 1955 Murder in Jackson Hole. A half century later, that still rings true.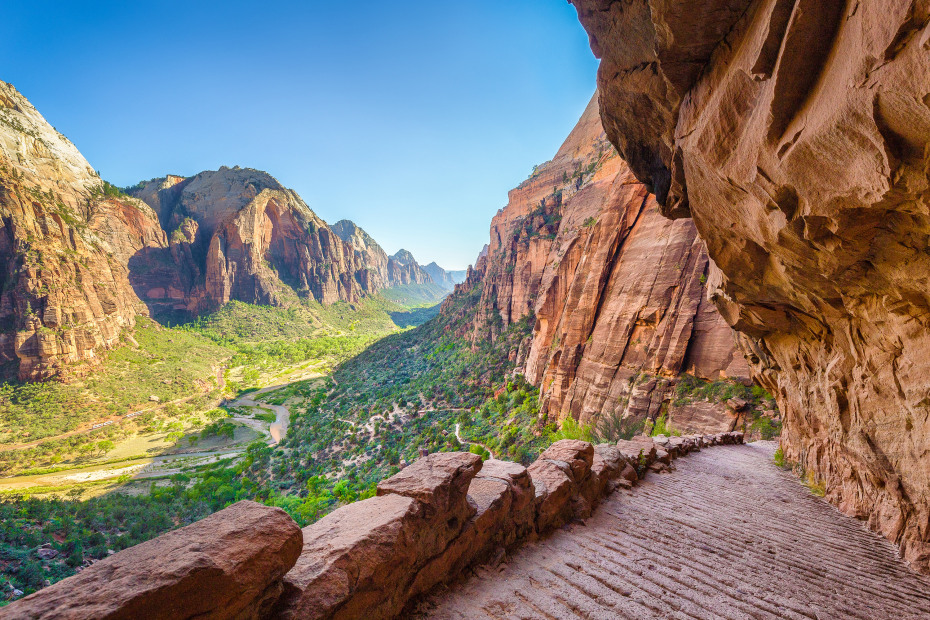 Springdale, Utah: Zion National Park
At Zion National Park's southern entrance, tiny Springdale inhabits a canyon of crenellated red cliffs so majestic that you'll have a hard time believing you're not in the park already. How do people who live here ever get anything done? "I think in most instances we take for granted the beauty that surrounds us, no matter where we live," says Marion Callister, who works at Silver Bear, one of several rock shops in town. Callister's ancestors were among the Mormon settlers to populate the area during the 1850s.
Springdale still retains a rural flavor. Pecan trees and cattle pastures are interspersed with hotels, restaurants (Oscar's is renowned for its green chile enchiladas), and shops such as the DeZion Gallery. Here you'll find diverse works from garden sculpture to mantel-worthy landscapes by local artists. At the Zion Prospector, look for local septarian geodes. The chocolate-and-ivory-hued wonders are dramatic and unique, like the surrounding mountains where they're found.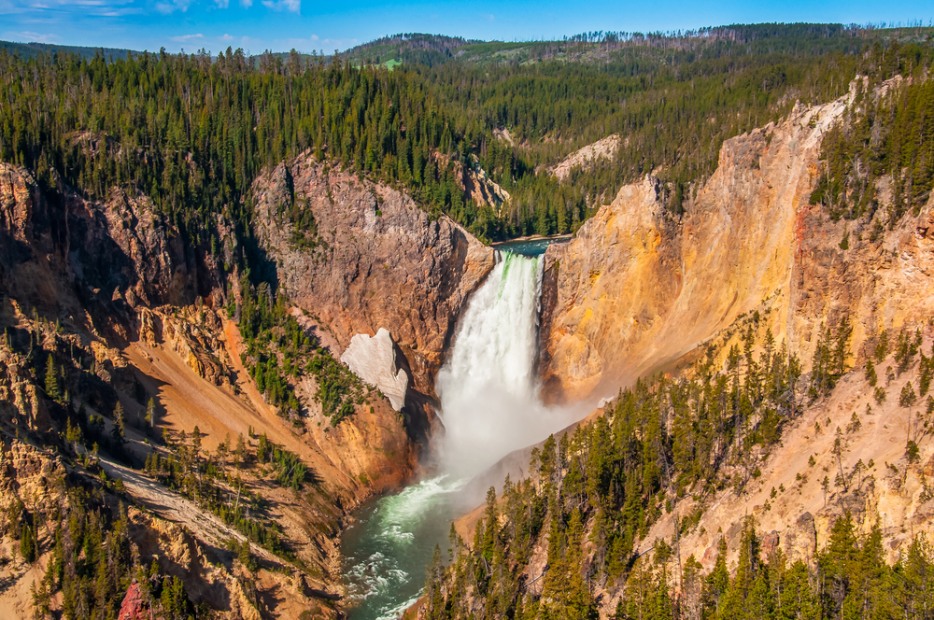 West Yellowstone, Montana: Yellowstone National Park
Soon after Yellowstone was established in 1872 as the world's first national park, visitors began to arrive and the town of West Yellowstone sprouted around the rail terminus. The 1909 depot, built of local pink rhyolite, now houses the Yellowstone Historic Center's refurbished trains as well as vintage postcards and the remains of Old Snaggletooth, a notorious Dumpster-diving grizzly bear.
A block away, living snaggletooths hold court at the Grizzly and Wolf Discovery Center, where rescued bears reside in a meticulous re-creation of their natural habitat. No trip to the area is complete without a close encounter with a grizzly, and this is where you want that to happen, with a sturdy barrier between you.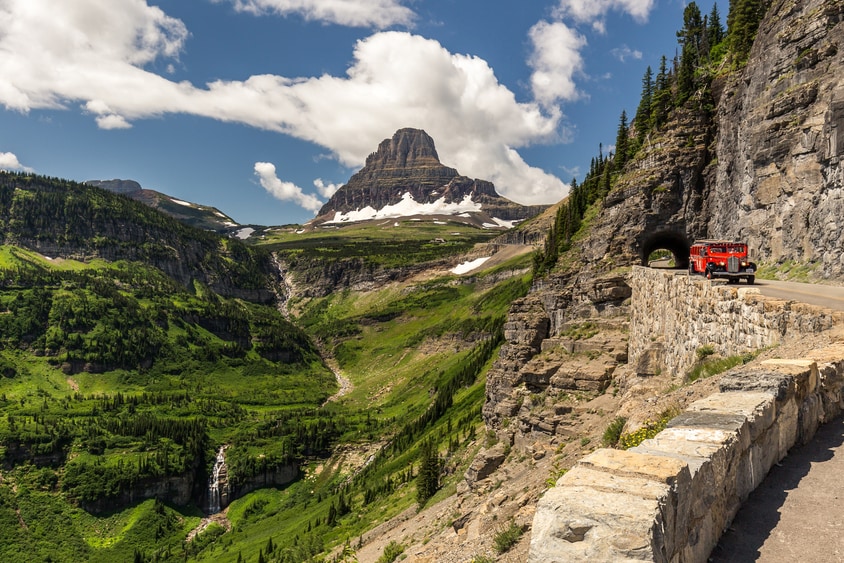 Whitefish, Montana: Glacier National Park
Would whitefish have become the celebrated resort town it is today if it went by its frumpy nickname, Stumptown? Oh, probably. Situated at the base of a 2,500-foot-high ski mountain and on the shores of a seven-mile lake flanked by white sand beaches, Whitefish would be a choice vacation destination even if Glacier National Park weren't just up the road.
Those looking to get away from it all book a room at the Lodge at Whitefish Lake, which has a spa, a private beach, and a marina that rents speedboats, canoes, and kayaks. For an entirely different, more urban vacation, visitors stay downtown at the cozy Garden Wall Inn within walking distance of the town's theater, restaurants, abundant shops (such as Whitefish Pottery, full of colorful local stoneware), and the roasty-yet-drinkable Fred's Black Lager at the Black Star Draught House at the Great Northern Brewing Company.
Either way, no visit is complete without a stop at the Whitefish Museum. Housed in the 1927 Tudor-style Great Northern Railway depot, the museum exhibits scads of railroad memorabilia, antique quilts, the beloved taxidermy "fur fish," and photographs of Whitefish as it was a century ago, stumps and all.