Nearly surrounded by wildlands, the town of West Yellowstone (simply "West" to the locals) seems made for outdoor play. Here in the busiest gateway to Yellowstone National Park, springtime means fluctuating weather, but also fewer tourists and plenty of wildlife.
To Do and See
Sam and Ida Eagle founded Eagle's Store, the ancestor of West Yellowstone's tourist shops, in 1908. Buy moccasins, huckleberry jam, or a chocolate malt from the tiled original soda fountain.
Earthquake Lake Visitor Center is devoted to the magnitude 7.5 Hebgen Lake earthquake of 1959, which created a lake punctuated by pale, eerie treetops. From the Vista Room, gape at the Madison landslide scar, then head out to drive the 16-mile self-guided tour. 
Hear Sam the 1,050-pound grizzly snuffle up his "bear popsicle," or watch Shasta the wolf munch a deer carcass at the Grizzly & Wolf Discovery Center. Amid rescued bears, wolves, and raptors, children can help staff with simpler feedings.
The depot where beanery queens (waitresses from the neighboring dining hall) once sang for disembarking dudes is now a museum, the Yellowstone Historic Center. Check out a the stagecoach and learn about how the 1988 fires reshaped the park.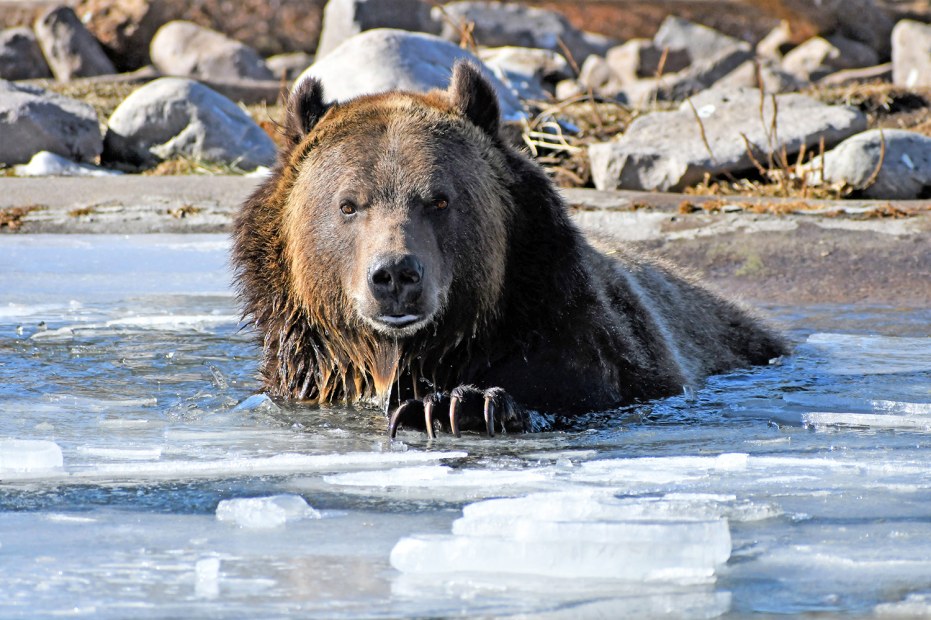 Outdoors
Before and after it allows cars inside, Yellowstone opens to cyclists (as well as walkers, joggers, and in-line skaters). 
Locals go around "the Block"—a 64-mile loop that circumnavigates Hebgen, Earthquake, and Henrys Lakes—by bike or car. 
Freeheel and Wheel is a favorite for gear, information, and strong coffee, as well as mountain bike and skate ski rentals.
Bob Jacklin offers rods, reels, and over 50 years of fly-fishing experience at Jacklin's Fly Shop.
Cross paths with biathletes in training on Rendezvous Ski Trails's 21 heavenly miles of cross-country loops for skiers of all abilities.
Eats
In a nook at the back of a friendly bookstore, the Book Peddler, the owners run a tiny café selling homemade soup and breakfast burritos.
Serenity Bistro serves Montana cuisine like elk tenderloin and twice-cooked quail in a snug but elegant setting, with outside seating as the weather permits.
Enjoy abundant cilantro on the tacos of your choice and the pollo al ajo (garlic chicken dinner), served inside the "taco bus" or outside on picnic tables at Taquería Las Palmitas.