When spring dawns and the sun's rays begin to thaw frozen landscapes, you can be certain of one thing: mud. While some might wait to resume outdoor activities until drier conditions prevail and the main roads open, the mud season can be a great time to explore Yellowstone National Park with alternative modes of transportation. When the snow begins to melt in March and April, before the crowds descend on the iconic park, its 2.2 million acres become a muddy paradise for adventurous travelers who are willing to leave their cars behind.
Every March, after snowplows clear the interior byways, Yellowstone dedicates several roads to nonmotorized traffic, chiefly in the northern areas of the park. Plan to see some of the most beautiful scenery in the world on foot, snowshoe, or ski: vast vistas and steamy thermal features with colors even more brilliant against the moody gray sky.
But take heed—temperatures can range from just below freezing to 60 degrees in a 24-hour period. March adventures are likely to be cold and snowy. Around mid-March, snowplows usually clear the park's roads; in April, the ground starts to thaw, wildlife reappears, and plants spring back to life.
Since many areas in the park don't provide any services until mid-May, your pack should contain not only waterproof gear, food, water, and extra clothing, but a first aid kit. Always watch out for over-snow vehicles such as snow coaches and snowmobiles—as well as snowplows and park employees' vehicles—on the roads.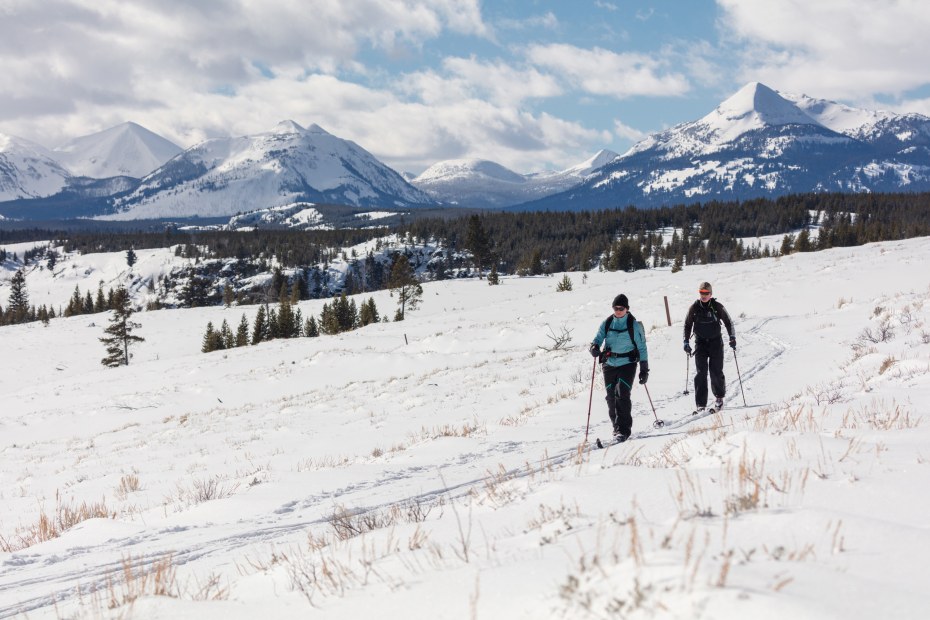 Biking and pedal-assisted electric bikes are both allowed when the roads are closed to motor vehicles, and make an excellent alternative to traveling on foot. Seasoned bikers enjoy entering the park from the North Entrance to the Northeast Entrance through Mammoth Hot Springs (where camping is available) and Tower-Roosevelt, where the roads stay open most of the year, or enter from the West Entrance and travel northeast. Note: The route from the South Entrance to West Thumb is no longer open for bicycles due to hazards.
Some visitors park their cars at the West Yellowstone Visitor Information Center and spend several days biking through the park. (Contact the center first to inquire about parking.) The 49-mile road from Yellowstone's West Entrance to Mammoth Hot Springs usually opens up to nonmotorized traffic in early April after snowplows make travel manageable. Head south at Madison for a detour to Old Faithful geyser later in April; the route is closed until then for spring bear activity, so maintain your distance. 
Since the elevation of the roads ranges from about 5,300 to 8,860 feet above sea level, and services in the park interior are not available in the off-season, be sure you have the training and expertise for high-elevation riding, and that you know how to perform any maintenance that may be needed on your bike. Always use caution near potentially unstable high snowbanks alongside the roads.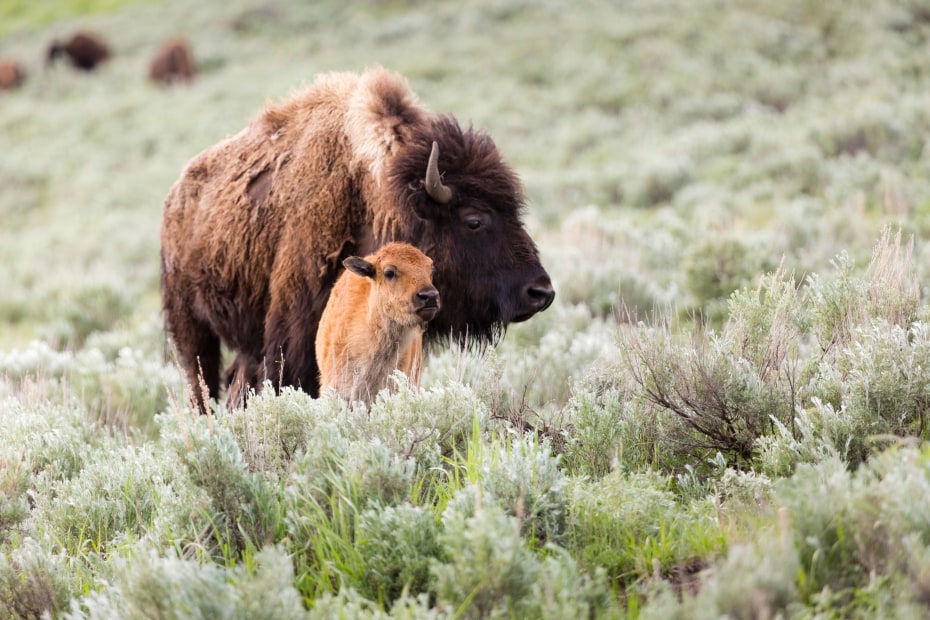 If a highlight of your backcountry adventures is wildlife viewing, head to the lower elevations, where animals gather in greater concentrations in snowy months. Look for bison roaming the frosty plains, black and grizzly bears emerging from hibernation, plus bighorn sheep, elk, mule deer, pronghorn, and moose in various areas of the park. Bison calves and bear cubs begin to appear in the Lamar Valley in May. Stay at least 100 yards from bears and wolves, and at least 25 yards from bison, elk, and other large animals.
When the weather doesn't cooperate for biking, snow sports are still possible until the end of the season. Yellowstone's website has a list of approved providers of guided nature trips to explore remote areas on snowshoes or skis.
A late March or early April day might bring "skiing in the morning and biking in the afternoon," says Wendy Swenson, marketing director of West Yellowstone Chamber of Commerce. Experienced cross-country skiers can wake up at the crack of dawn for "crust-cruising," or gliding on the icy layer that forms overnight atop snow—which disappears by noon, when conditions are perfect for hopping on a bike to explore.
Completely snowed in? Visit park wildlife at the Grizzly and Wolf Discovery Center in West Yellowstone after a hearty breakfast spread at Euro Café, which stays open all year long.