Celebrate the West's National Parks by exploring their natural wonders. From navigating towering forests to spotting endangered species and even sleeping outdoors beneath a meteor shower, these are the can't-miss adventures that get our hearts pumping.
Catch a Condor
Pinnacles National Park, located south of Hollister and known for its towering volcanic rock spires, is both the newest national park and one of only two that's a release site for the endangered California condor. With wingspans of nearly 10 feet, the prehistoric-looking raptors are easiest to spot in the early morning or early evening from the Balconies and High Peaks trails, or from Pinnacles campground, which has two spotting scopes. Pinnacles also houses a large colony of Townsend's big-eared bats in Bear Gulch cave, half of which is open for exploring starting in mid-July, after the bats have raised their young. Summer is a slower season, due to scorching temps, so if you're set on cave exploring, plan a trip for October or March, when the entire Bear Gulch is open for the last week of each month.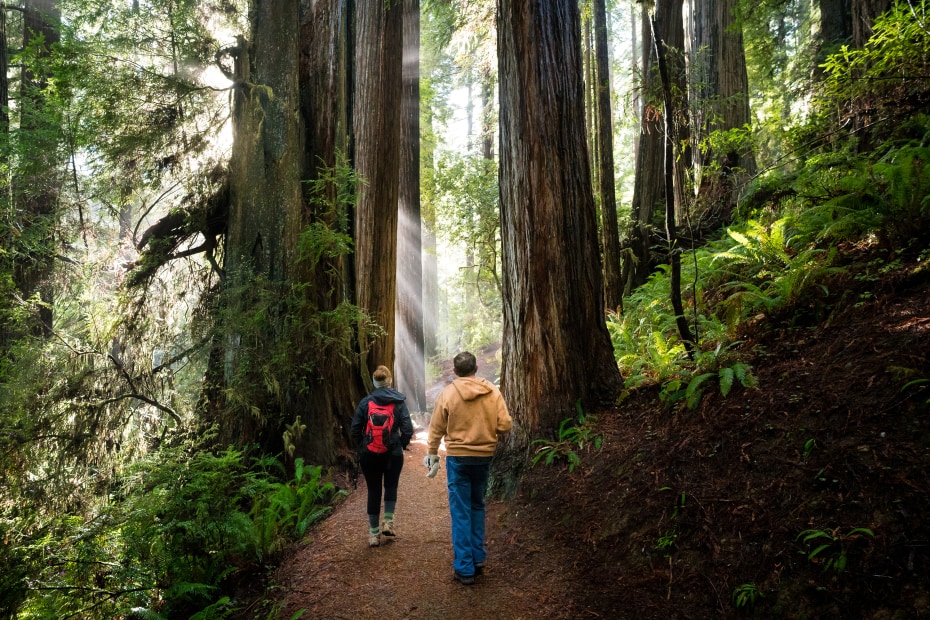 Drive Among Giants
Redwood National and State Parks, a collection of parks scattered just south of the Oregon border, contain 45 percent of the remaining protected old-growth redwoods in California⎯and there's no better place to explore the towering trees than the 10-mile Newton B. Drury Scenic Parkway in Prairie Creek Redwoods State Park. This picturesque alternative to 101 winds south through ancient redwoods to the visitor center, where you can follow marked paths to Big Tree—which boasts a circumference of 68 feet—and Corkscrew Tree, made up of four intertwined trunks. Also, keep an eye out for giant Roosevelt elk, which are frequently seen off nearby Elk Prairie Trail. From August to October, you can hear the calls of the bulls as they vie for a mate. You may also get a thrill knowing that parts of Redwood National and State Parks served as backdrops for Star Wars: Return of the Jedi and The Lost World: Jurassic Park.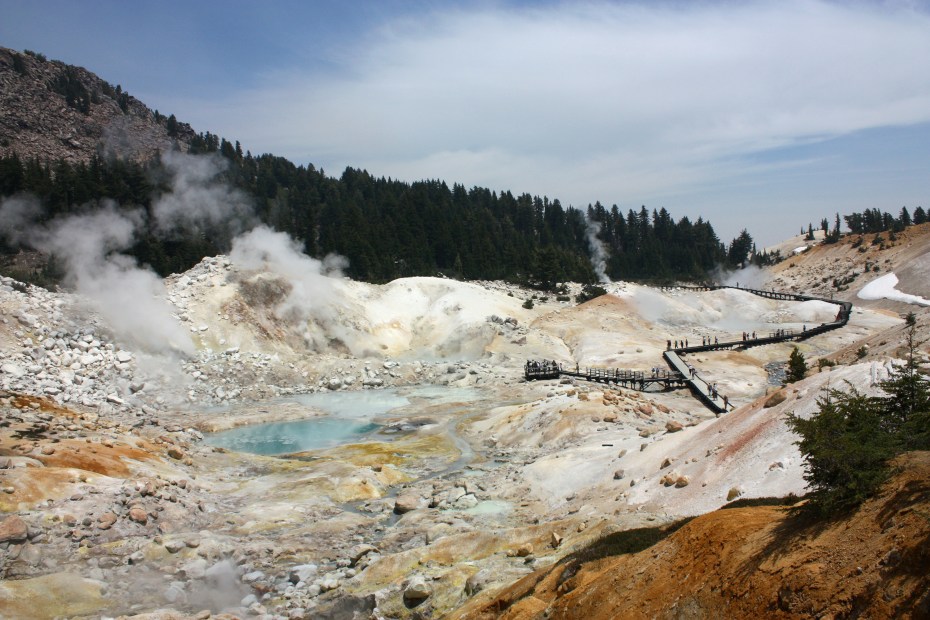 Hike to Hell
You'll pass boiling, belching mud pots and sulfur-emitting crevasses on the Bumpass Hell trail in Lassen Volcanic National Park. The three-mile round-trip hike, which typically opens in early July, when the snow melts, affords striking views of the active volcano's landscape, especially in early August, when the lupines are blooming. But the best vistas come after the 100-foot drop from the overlook into the basin, where a boardwalk lets you see—and smell—the park's hydrothermal features up close. Steam from Big Boiler, the largest fumarole in the park, floats over the vibrant green and blue mineral pools, and mud pots belch and bubble from beneath the surface. Just don't wander off the marked path: Bumpass takes its name from an early settler who severely burned his leg after falling into a boiling pool.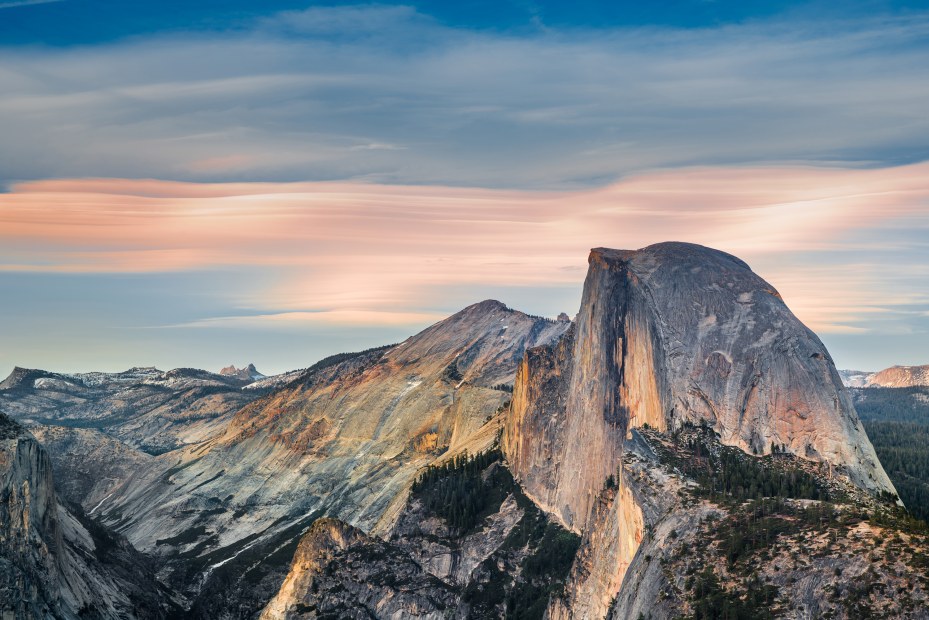 Conquer a Mountain
Summiting Yosemite National Park's Half Dome is a bucket list–worthy feat that can be checked off with a little preparation—and a lot of luck. You can take the Mist Trail or Muir Trail to the subdome (Mist Trail is shorter, Muir Trail less steep), but to scale those harrowing last 400 feet of cables to the top, you'll need a permit. If you miss the preseason lottery in March, roll the dice and enter the daily lottery two days prior to your date with Half Dome. Going on a weekday significantly increases your chances of scoring one. If Lady Luck isn't on your side, Clouds Rest—15 miles round-trip—offers an equal challenge and plenty of views, minus the cables. If that hike sounds too intense, the 2.2-mile round-trip Sentinel Dome trail, accessible from Glacier Point Road, rewards with a 360-degree view that includes Half Dome, El Capitan, and Yosemite Falls.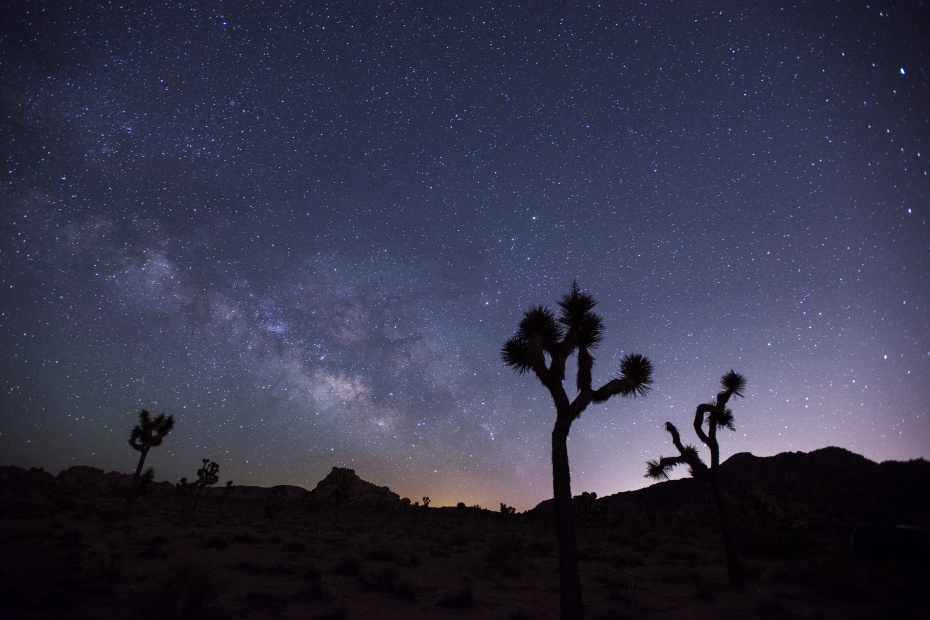 Sleep Under Stars
As the convergence point of the Colorado and Mojave deserts and more than two hours from the nearest metropolis, Southern California's Joshua Tree National Park offers ideal stargazing opportunities. Cottonwood campground, at an elevation of 3,000 feet in the southern part of the park, is your best bet for unobstructed views of the night sky. Look for the Milky Way, which puts on its most brilliant display on a moonless summer night. To spot it, find its three brightest stars, which start in the east at dusk and wheel through the sky. For a truly unforgettable evening, plan a trip around the Perseid meteor shower, one of the most consistently reliable, which should peak around August 12.