See the Planet as a Work in Progress: Lassen Volcanic to Crater Lake
245 miles, 2 days, best June through September
The route between Lassen Volcanic and Crater Lake National Parks crosses the California-Oregon border and showcases a land that bubbles, steams, gushes, and shimmers. At Lassen Peak—a volcano still deemed active—the three-square-mile Devastated Area is a mosaic of pink, black, gray, and speckled chunks of lava that lie where they fell after a 1915 eruption. The hot magma that remains deep underground gives rise to the boiling pools, steamy fumaroles, and burping mud pots of an area called Bumpass Hell, which is closed through December 2018 for rehabilitation.
The drive north on the Volcanic Legacy Scenic Byway reveals more signs of the living earth. Subway Cave formed when a stream of lava hardened at the surface while its molten middle kept flowing, leaving a smooth, spacious tunnel. McArthur–Burney Falls Memorial State Park stars a wide, spring-fed waterfall that gushes year-round. Neighboring Lake Britton is a big draw in the summertime; its temperate waters are far nicer for swimming than the park's icy creeks.
The drive hooks around the snowcapped cone of 14,162-foot Mount Shasta (also volcanic, but dormant) and into Oregon. Below the ragged rim of the route's third major volcano (this one collapsed) lies Crater Lake, the deepest lake in the country and possibly the bluest—a good topic to ponder as you stare transfixed at its crystalline water.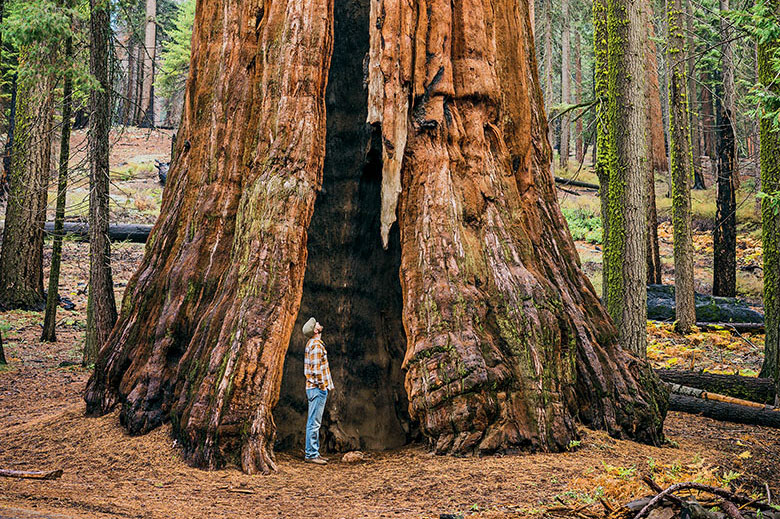 Hit a High Sierra Trifecta: Yosemite, Sequoia, and Kings Canyon
235 miles, 3 days, best spring through fall
Every year 4 million people visit California's Yosemite National Park to marvel at its soaring granite walls. But far fewer make it to Sequoia and Kings Canyon National Parks, the other jewels of the central Sierra. All three parks are linked by the Majestic Mountain Loop.
The route starts at the Giant Forest Museum in Sequoia. After a brief drive and stroll to General Sherman (the most massive living tree in the world), a huff-and-puff up the 400 steps carved into 6,725-foot Moro Rock nearby earns you a spectacular view of the craggy Great Western Divide. Crystal Cave makes a refreshing detour on a warm afternoon. (Tours run from mid-May through November.) From there, it's a 40-minute trip to stylish Wuksachi Lodge, where the sheets are crisp and the breakfasts hearty.
In the morning, take the Kings Canyon Scenic Byway into its namesake park. You'll zigzag to Grant Grove—a stand of sequoias thought to be 2,000 to 3,000 years old—and then down to Cedar Grove at the bottom of one of the nation's deepest canyons. (That last stretch is closed November to April.) A 1.5-mile trail circles lush Zumwalt Meadow beneath monumental North Dome.
Up from the canyon, it's a few hours to Tenaya Lodge, just outside Yosemite's south entrance. A quick drive the next morning gets you to Glacier Point (closed by snow until late spring), with its dizzying vista of Half Dome and Yosemite Falls. Heading down into the valley, you'll have plenty of time for a bike ride, a hike, or just a gaze up at the heights where your day began.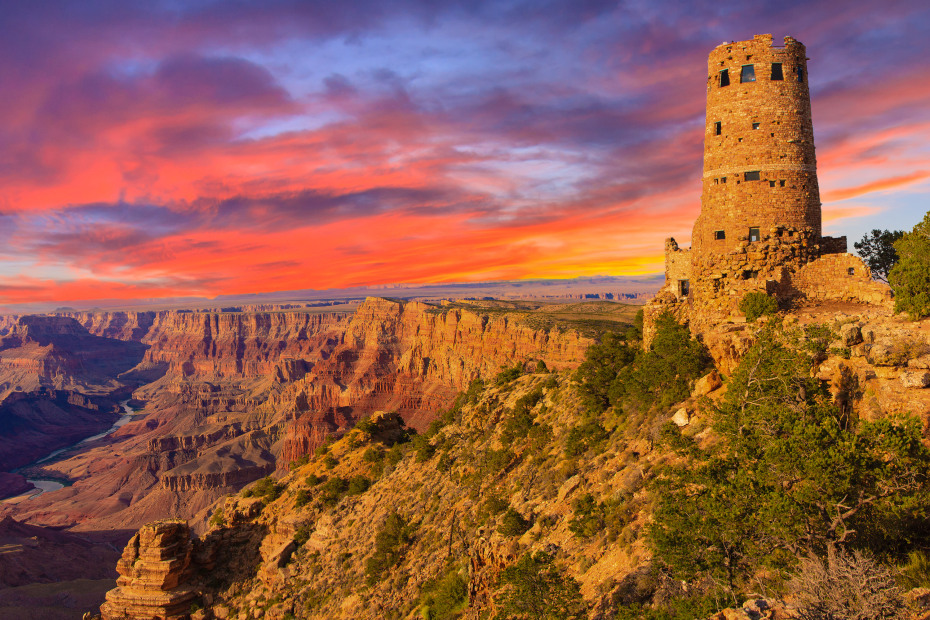 Absorb It at Your Own Pace: Grand Canyon
25 miles, 2 hours, best in spring and fall
Epic scenery is guaranteed at any overlook in Grand Canyon National Park. But getting to those vista-points in your own car can be a hassle, because most South Rim roads are dominated by shuttle buses. You can avoid that traffic on Desert View Drive, a 25-mile run from the less traveled East Entrance, where the shuttles don't go. Cruise it at your leisure, stopping whenever you want.
Start near the entrance with a visit to Desert View Watchtower, architect Mary Colter's 1932 homage to the ancient stone towers of the Anasazi, perched on the canyon's lip. As you circle upward on its spiral staircase, peekaboo windows grant one-of-a-kind glimpses of the park.
From there, the road skirts the canyon, with plenty of pullouts where you can gape at the gorge more or less by yourself. You might have more company on the footpath to Moran Point, but you'll hardly notice. From this promontory, the chasm is a forbidding maze of red ridges, crumbling pyramids, and layered rock. It's eight miles as the crow flies from here to the North Rim. But at sunset, or under gathering clouds, that expanse can seem endless.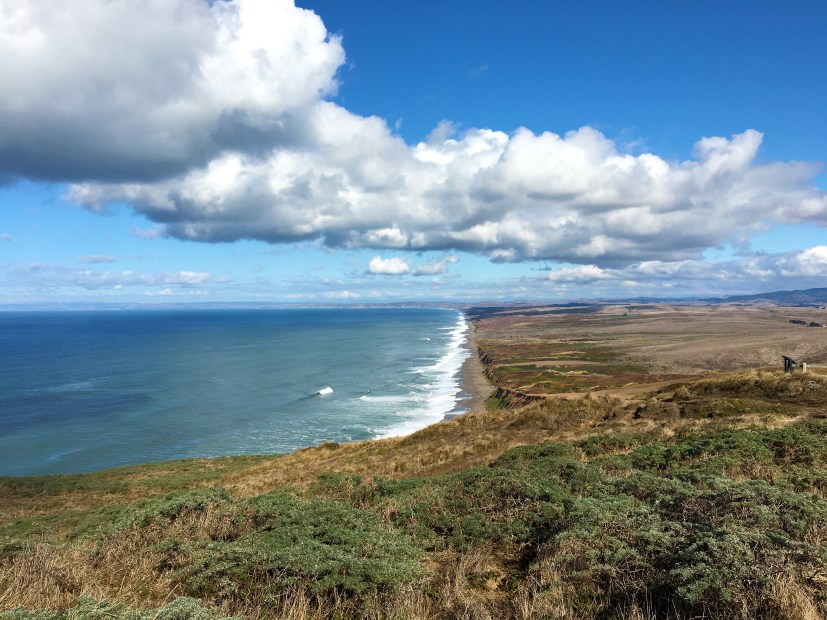 Find the Coast's Wilder Side: Point Reyes
18 miles, 30 minutes plus stops, good year-round
A day's ramble through Point Reyes National Seashore, an hour north of San Francisco, yields timeless pleasures.
The town of Point Reyes Station is a great staging area. You can pick up organic pastries and coffee at the Bovine Bakery.
The park itself is a 71,000-acre wedge of protected forest and coastal grasslands, punctuated by legacy ranches where cows still roam. The road into it from Point Reyes Station loops around reedy wetlands at the southern tip of Tomales Bay—the perfect spot to launch a kayak rented from Blue Waters Kayaking in Inverness. Just up the road, local favorite Chicken Ranch Beach offers glassy water that in summer and early fall can be warm enough for swimming.
Ten minutes further on, you can get to a wildly different beach: At Abbotts Lagoon, a half-hour walk leads through a seaside meadow to a windy, virtually deserted strand. If you detour over to Point Reyes Lighthouse in winter or spring, you might spy the spouts of migrating gray whales.
At Pierce Point Ranch, a preserved 19th-century dairy farm, hikers set out for Tomales Point, a 9.8-mile round-trip hike through an elk reserve. Several hundred handsome tule elk—vestiges of the 500,000 that once ranged widely in California—roam a finger of land between Tomales Bay and the Pacific. And though it's natural to feel you're an intruder on their turf, it's just as natural to be in no big rush to leave.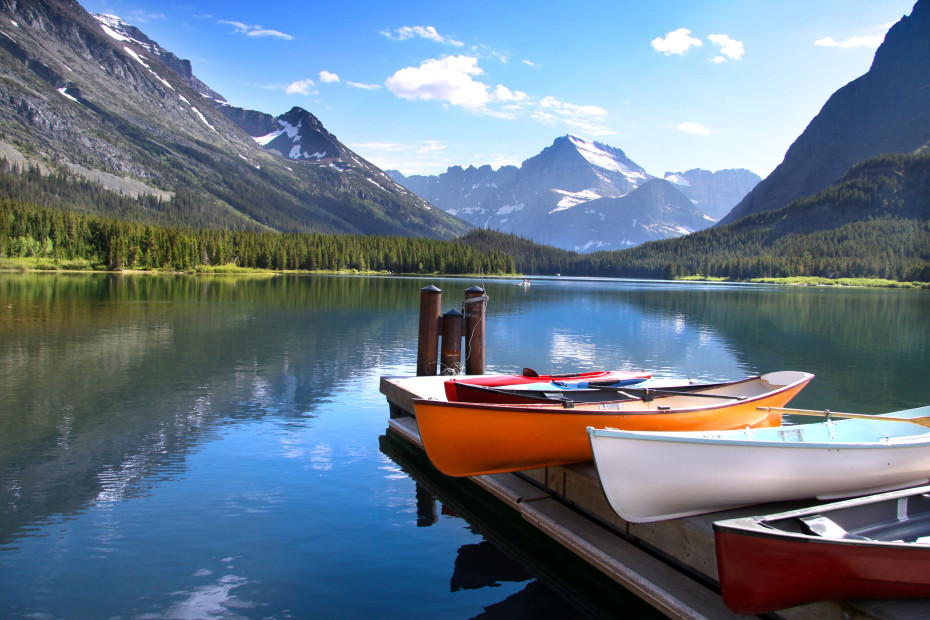 Climb to the Top of the World: Glacier
50 miles, 2 hours or all day with stops, best July through September
Montana's Going-to-the-Sun Road definitely earns its poetic name. It's a crazy climb from the west gate of Glacier National Park with stops up, up, up and over the Continental Divide. Miles of the roadway were explosively chiseled into the cliffs in the 1930s, giving drivers wide vistas of jagged green-gray peaks that glisten with silvery waterfalls and sparkling lakes.
Though it reaches for the sky, the road (which typically closes for the winter in October) begins and ends by water. At its western end, wooden boats ply the green depths of 10-mile-long Lake McDonald. At its eastern terminus, the road skirts the north shore of St. Mary Lake; pull over for classic views of Little Chief and Citadel Mountains.
Between those lakes, you'll pass by Trail of the Cedars (an easy stroll on a boardwalk through old-growth forest) and Weeping Wall (a cliffside torrent of snow-melt that provides a thrilling, impromptu car wash). The timing of the latter is perfect: You'll want clean windows for the run to 6,646-foot Logan Pass, where you may spot herds of bighorn sheep and where the big skies stretch to infinity.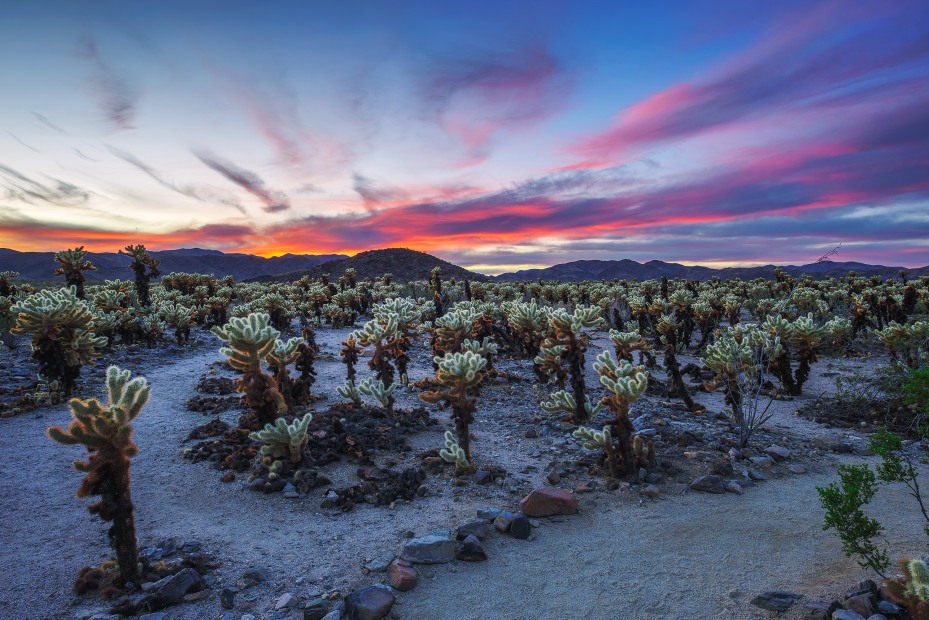 Admire Two Deserts at Once: Joshua Tree
55 miles, 4 hours with stops, best October through April
Joshua Tree National Park—nearly 800,000 acres of desert east of Los Angeles—rewards travelers with a full range of peculiar treasures: spiky yuccas, spiny cacti, spindly ocotillos, gangly Joshua trees, and dramatic geological formations, including Skull Rock and the elephantine Jumbo Rocks. And they're all easy to see in a half-day's drive.
Arch Rock, 30 minutes from the park's north entrance at Twentynine Palms, offers a fine opportunity to pose for a photo with one of those geologic marvels. An even bigger wow can be had at Keys View on the crest of the Little San Bernardino Mountains. To the west, distant San Gorgonio Mountain and San Jacinto Peak— both topping 10,000 feet—scrape the sky. Looking south, you can spy the Salton Sea and, on a clear day, Mexico.
As you drive down Pinto Basin Road, past the Cholla Cactus Garden, you cross the transition zone between two major desert ecosystems: The higher Mojave Desert merges into the lower Colorado, and Joshua trees give way to ocotillos.
From Cottonwood Visitor Center on the park's south boundary, it's a short walk to Cottonwood Spring, where American Indians collected water and used bedrock mortars to grind seeds. Savvy travelers linger as the evening gathers. After sunset, the park's dark skies provide a perfect view of the glittering Milky Way.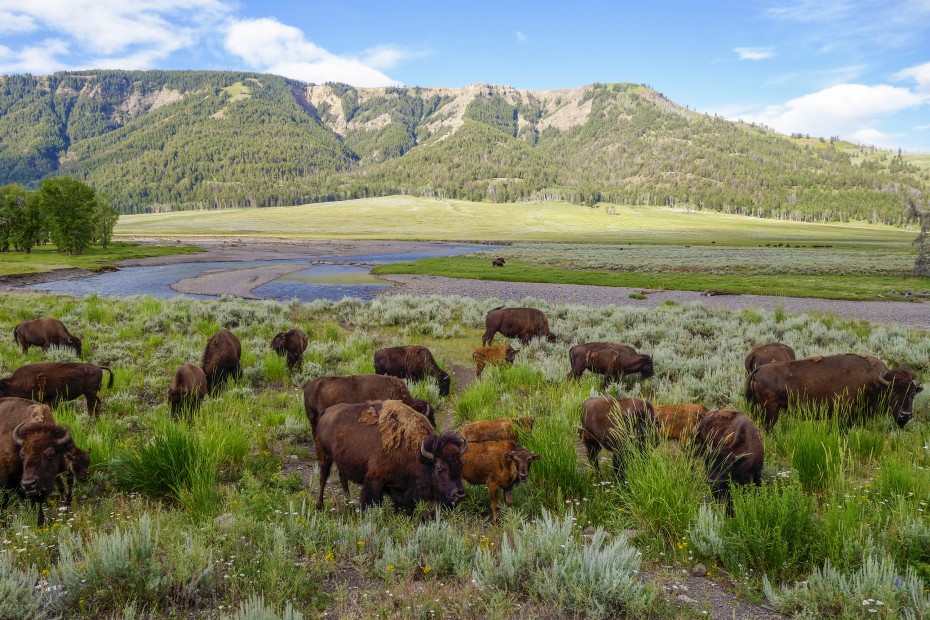 Head Up Into the High Country: Yellowstone
82 miles, 3 hours, best June though October
Yellowstone National Park is undoubtedly thrilling, but the drama doesn't stop at its borders. Those who venture just outside the park into Montana and Wyoming can find even more magic along the Beartooth Highway, an insanely scenic road that snakes above the tree line, then down again.
Before hitting the highway proper, start the drive in Yellowstone's grassy Lamar Valley, a fruitful place to look for bison, bears, eagles, coyotes, and wolves. Outside the park's northeast gate, the road (closed in winter) winds so high into the Beartooth Mountains that you might be able to pull over for a snowball fight in summer. The highway tops out at 10,947 feet before plunging down through an alpine landscape dotted with lakes, pines, and wildflowers.
At the end of this adventure lies the old mining town of Red Lodge, Montana, population 2,125, where the stoplight-free main drag invites a stroll. Shops and cafés housed in the historic buildings along Broadway make this just the place to buy a hand-tied trout fly or elk-antler hat rack or to rustle up a burger and a beer.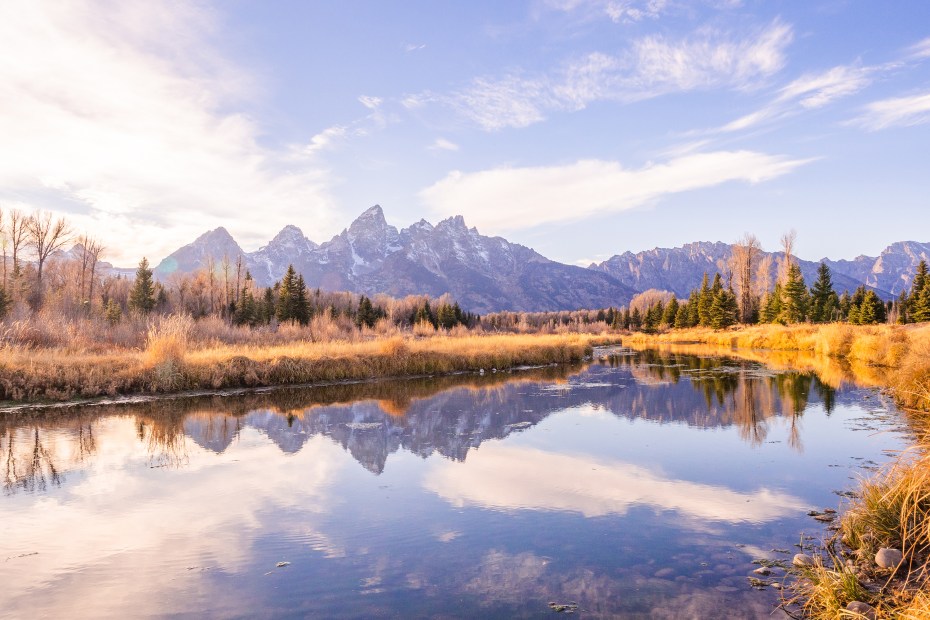 Take a Secret Route to a Mountain Paradise: Grand Teton
15 miles, 1 hour or all day with stops, best May through October
There's a fuss-free way into Wyoming's Grand Teton National Park: The Moose-Wilson Road west of Jackson is well known to skiers, who use it to access the Bridger Gondola at Jackson Hole Mountain Resort. But that snow-season amenity also runs in summer, making possible one of the best happy-hour deals anywhere. Starting at 4:30 p.m., the gondola will swoop you up the mountain for drinks at Piste Mountain Bistro. The ride and the views are free.
Just past Teton Village, the route hits the park's Granite Canyon entrance. (The road from there is closed November through April.) You should watch out for the occasional "bear jam," when drivers brake to watch black bears scavenging for berries or grizzlies lumbering by. Close to the entrance lies the peaceful Laurance S. Rockefeller Preserve. It's a three-mile round-trip hike to Phelps Lake's indigo-blue and very chilly waters; only the truly intrepid brave a swim.
A left turn at Teton Park Road takes you along the base of the mountains to gorgeous Jenny Lake and the ferry to Cascade Canyon Trail. Some passengers climb only as far as Hidden Falls, less than a mile from the dock. But if you go instead from the dock to Inspiration Point, a stunning view opens. At your feet lies Jenny Lake, while behind you looms the Cathedral Group, including Teewinot Mountain and Grand Teton itself.