Summers in far northern California look much different than they do in the rest of the Golden State: Picture refreshingly cool and foggy days on the Trinidad Coast, where the rocky coastline promises long walks through massive redwoods and views of offshore sea stacks. Spending the day at Sue-meg State Park in Trinidad, California, located about 30 miles north of Eureka, allows visitors to experience all that, as well as to explore up close a cherished cultural site for local Yurok community members who are raising awareness of Indigenous peoples in groundbreaking ways.  
Formerly known as Patrick's Point State Park, the one-square-mile spread was officially renamed in September 2021, the first project of the California legislature's antiracism Reexamining Our Past Initiative. When announcing the change to the traditional Yurok name for this area (pronounced "soo-may"), California State Parks Director Armando Quintero called it "a momentous step to heal relationships with Native Americans and work together in recognition and honor of Indigenous cultural and linguistic relationships." 
Though the park name is new, cultural representation has been alive and well for visitors to the park for many years. Sumêg Village—a set of traditional Yurok buildings including plank house lodgings, a sweathouse, and a dance house with guest seating—was re-created on-site by Yurok craftspeople working with California State Park staff in the 1990s. It's very much worth a five-minute wander from the visitor center to admire the architecture of the redwood plank houses, built with wood from fallen trees in nearby forests, as well as the adjacent native plant garden. 
In summer, Yurok tribe members host ceremonial events in the park and guides offer free, open-to-all interpretive walks of the village multiple times a week. (See the California State Parks North Coast Facebook page for the most recent schedule.) Park interpreter Skip Lowry, who serves as the steward of the village, says these tours present "a fresh start to authentic and appropriate cultural, historical, and contemporary interpretation experiences" in the village and its surrounding area.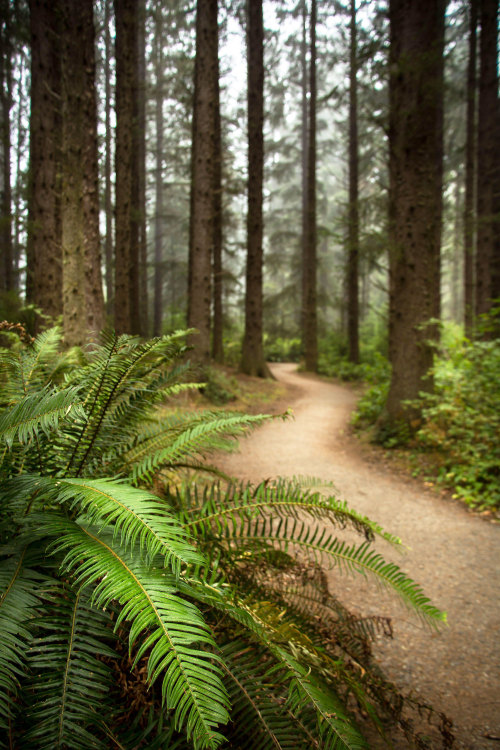 Hikers can enjoy six miles of trails that circle and crisscross the park, offering views of the ocean and sea stacks offshore, as well as walls of lush greenery from spruce, alder, and ferns. On the Rim Trail—which traverses the outer rim of the park on the ocean side—visitors can enjoy late spring and early summer wildflowers and look out for seals, sea lions, and migrating whales. For the more adventurous, short but steep spur trails head down to the beach for a chance to find agates, jade, and jasper. Agate Beach, a sandy spit accessible by a half-mile trail from Agate Campground off Park Entrance Road, is studded with the semiprecious stones. 
At Palmer's Point Beach on the south end of the park, explore tide pools and all manner of marine creatures. Stay aware—watch for unexpected "sleeper waves," which can be larger than typical waves. Need some help identifying urchins or sea stars? Ask at the Visitor Center for the brochure on tidepool and intertidal zone life. Remember that it is always prohibited to take home anything found here.
For a home base when exploring the region, settle into the lovely town of Trinidad, where you can stay at one of several family-run hotels, or camp at one of Sue-meg's 120 campsites. 
And be sure to fuel up on local delicacies when in town. For fresh-from-the-boat seafood and hearty breakfasts or lunches in a casual setting, try Seascape Restaurant, owned and operated by the Cher-Ae Heights Indian Community of the Trinidad Rancheria. Located near the pier in Trinidad's harbor, the restaurant offers great views of the harbor and Fisherman's Wharf, plus delicious blackberry hot cakes, locally smoked ham and salmon, and Dungeness crab caught in the surrounding waters. You can walk off your meal on nearby sandy Trinidad State Beach after dining. (Take-out and outdoor dining are available in season.)
To find out more about the Yurok tribe—and enjoy the vistas of a gorgeous coastal lagoon and marshland—be sure to stop at Humboldt Lagoons State Park just north of Sue-meg. The Chah-pekw O' Ket'-toh "Stone Lagoon" Visitor Center, the first project of its kind jointly managed by the Yurok tribe and California State Parks, reopened as a renovated and renamed welcoming facility in April 2022, offering displays about Yurok culture and weekly guided tours.