One autumn evening, as the sun sank over the sleepy seaside town of Jenner, California, my wife and I sat down for dinner and a show.
Dinner was lamb burgers and beet salad. The show starred squadrons of pelicans and cormorants winging low over the waves. We watched them from our table on the deck at River's End Restaurant & Inn, which overlooks the coastal junction where the Russian River spills into the Pacific, roughly two hours north of San Francisco.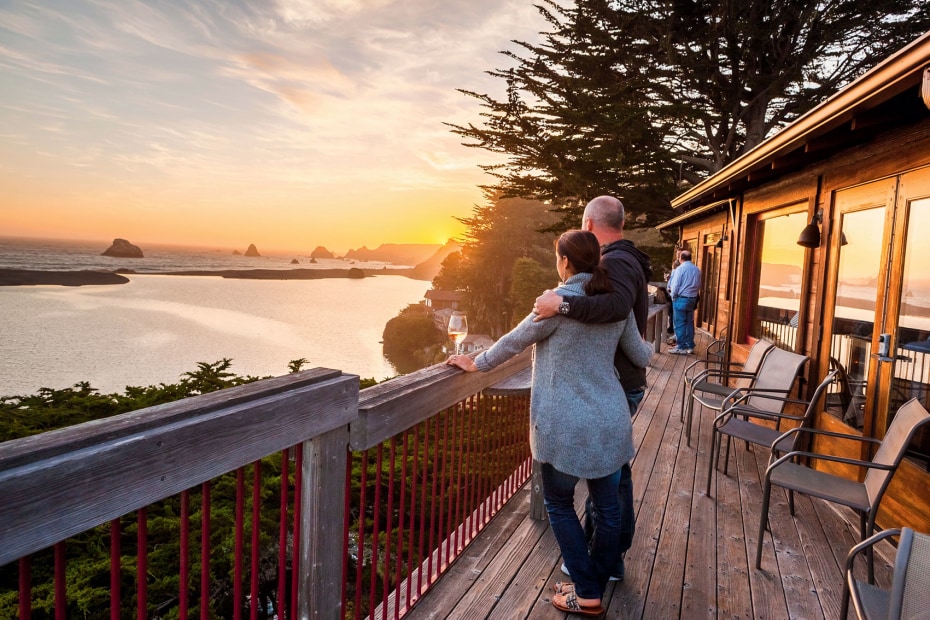 The birds seemed in a hurry, zipping across the pink horizon, but we were in no rush. We were at the start of a three-day road trip up Highway 1, along an unspoiled stretch of Northern California that blends off-the-grid beauty with touches of wine country chic. The route we had mapped, from tiny Jenner (population 136) to the just about-as-tiny community of Elk, was barely 70 miles. Leisurely is the best way to travel this western fringe of Sonoma County, and fall is the ideal time. The fog has mostly disappeared, and the crowds of summer are mostly gone too.
The only plan we had was not to do much planning. We figured we would stop when inspiration struck, and we knew it would do so often, at scenic lookouts, lonely beaches, wooded trails, historic landmarks, and restaurants serving superb seasonal cuisine.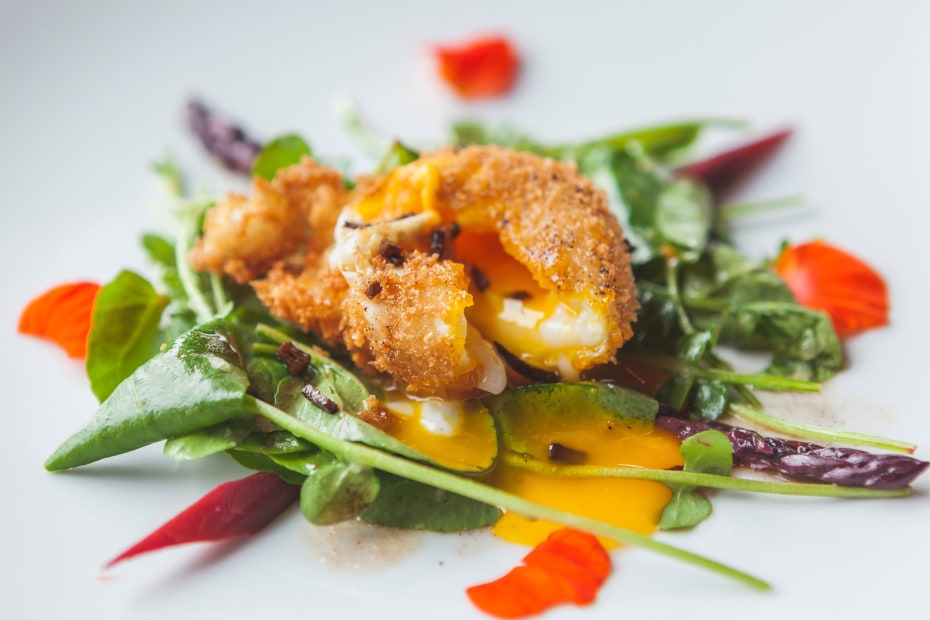 SIGN UP NOW FOR SEAWEED HARVESTING CLASSES! read a posted note I came across the next morning when we fueled up in downtown Jenner—though calling it a downtown might be a bit of an exaggeration. A small cluster of wood-shingled, waterfront buildings, it's anchored by a visitor center, a wine shop, a gas station, and a caffeination hot spot called Cafe Aquatica, where we grabbed cappuccinos and fresh-baked berry scones before heading out.
It was just past daybreak, and we owned the road. You know those car commercials that show a solo vehicle snaking up a dreamy-looking highway? That was us on our serpentine path. To the left, a craggy, foam-kissed coastline with wildly sculpted rock outcrops rising just offshore. To the right, maritime chaparral interspersed with stands of redwood, oak, and Douglas fir.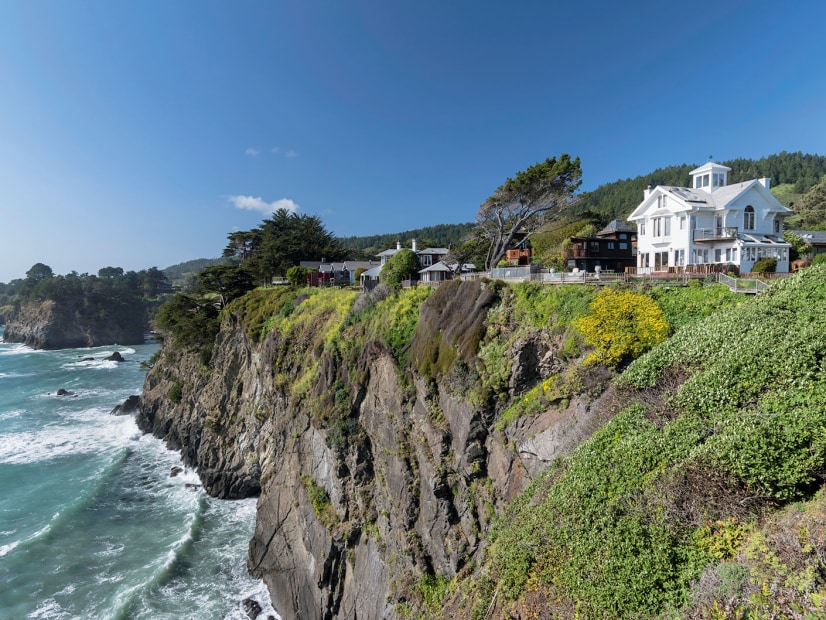 Just north of Jenner in the shadow of Pole Mountain, the highest peak on the Sonoma coast, we pulled into an empty parking lot. A sign marked the start of the Sea to Sky Trail, which climbs into the headlands and lives up to its billing with the panoramas it commands. Though the trail extends for 15 miles up and back, we only had to hoof it a few hundred feet to enjoy an eyeful of hills and ocean, and to see a herd of "Oreo cows"—belted Galloways, known for their distinctive black-and-white sandwich pattern—grazing in the grassy folds nearby.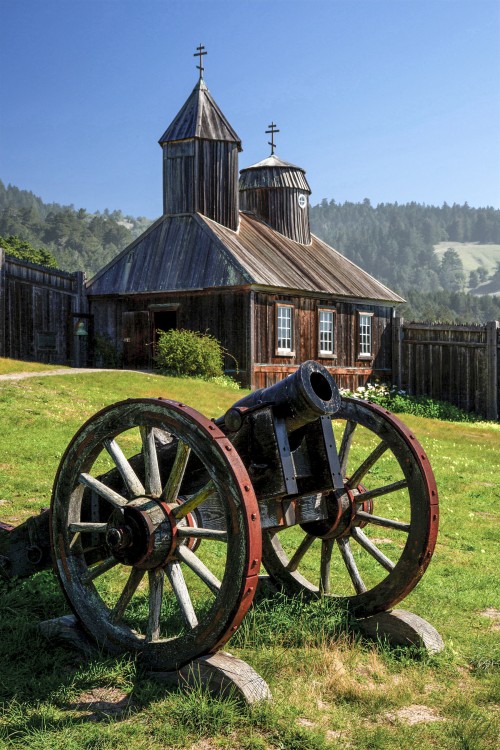 Ranching was not a way of life for the earliest known inhabitants of the region, the Kashia Pomo people, who hunted and gathered in the inland hills and along the coast. Their first sustained contact with outsiders came in the early 1800s, when Russian seafarers sailed down from Alaska and established a settlement at what is now Fort Ross State Historic Park. Though protected by cannons and a palisade, Fort Ross was a commercial outpost, focused on farming, manufacturing, and fur trading. It was also where the first windmill in California was built.
Of the original structures here, only one—Rotchev House, home of the fort's last manager—remains. But over time a number of others have been faithfully rebuilt. Inside the walls of the fort, we admired the chapel and stockade, then toured the officers' quarters, with their creaky floorboards and sparse furnishings. Life at the fort was rustic, to say the least.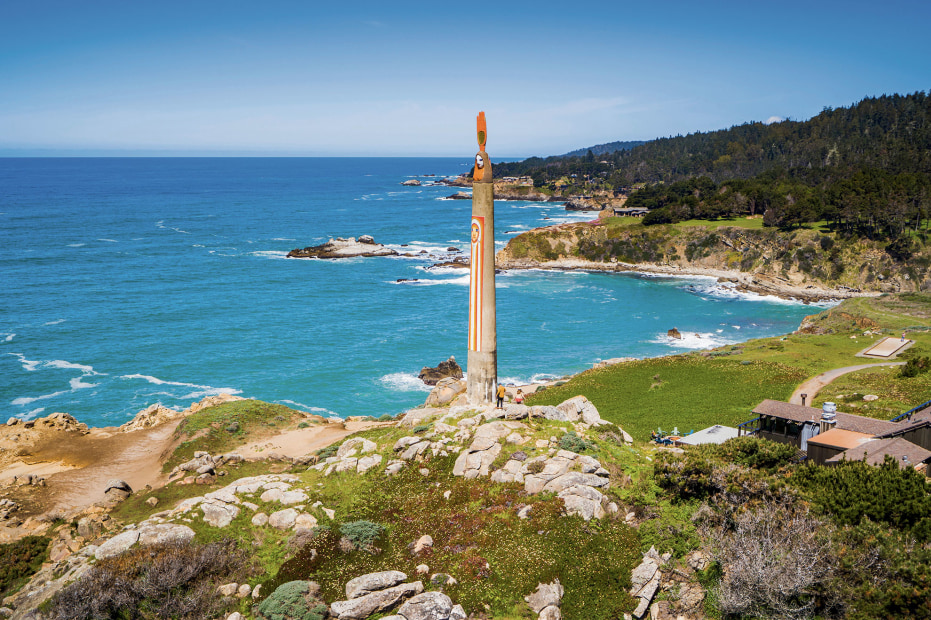 These days there are comfier spots to stay. Three miles farther north, we paused for a respite at Timber Cove Resort. After a snack at Coast Kitchen, we strolled along the bluffs in back, following a walking trail to a striking landmark: a 93-foot-tall obelisk with a large open hand rising from its top. Titled The Expanding Universe, the towering sculpture was created in the 1960s by artist Benny Bufano as a symbol of peace.
Of course, nothing conveys serenity quite like nature, which displayed its splendor everywhere we turned. The spectacle was especially stunning at Salt Point State Park, where more than 20 miles of hiking trails lattice the area, from wind-lashed headlands to woodsy ridges. Here we took a short, steep uphill walk to a pygmy forest of pine and cypress. Below us, sandstone bluffs tumbled toward tidal pools and kelp beds so abundant with life, they're protected as the Gerstle Cove State Marine Reserve.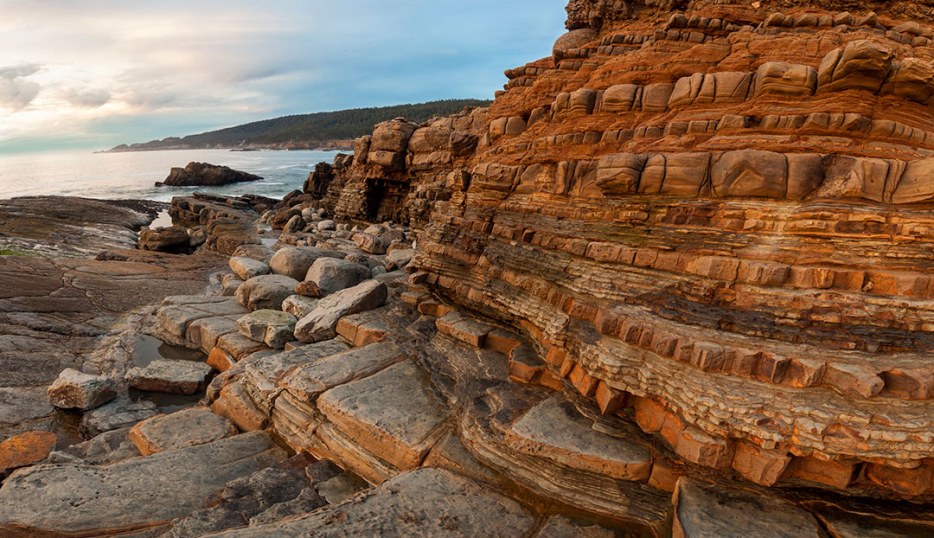 Sustainability is a constant theme along the coast. It was part of the founding ethos of Sea Ranch, a residential community set on 10 miles of shoreline just shy of the Mendocino County border. Designed and built in the 1960s, Sea Ranch reflects the idealism of that decade, with shared open spaces and unpainted wooden homes meant to blend harmoniously with their surroundings. Several public roads cut through the development, granting easy access to the rocky coast.
We turned inland instead, to the Sea Ranch Chapel. It's an architectural marvel: a one-room nondenominational sanctuary with a swooping roof that calls to mind an ornate shell and an interior of stained glass, iron, and stone. Stepping inside, we sat quietly on smooth redwood benches, taking deep, meditative breaths. Sunlight played through the windows, splashing in kaleidoscopic colors on the mosaic floor.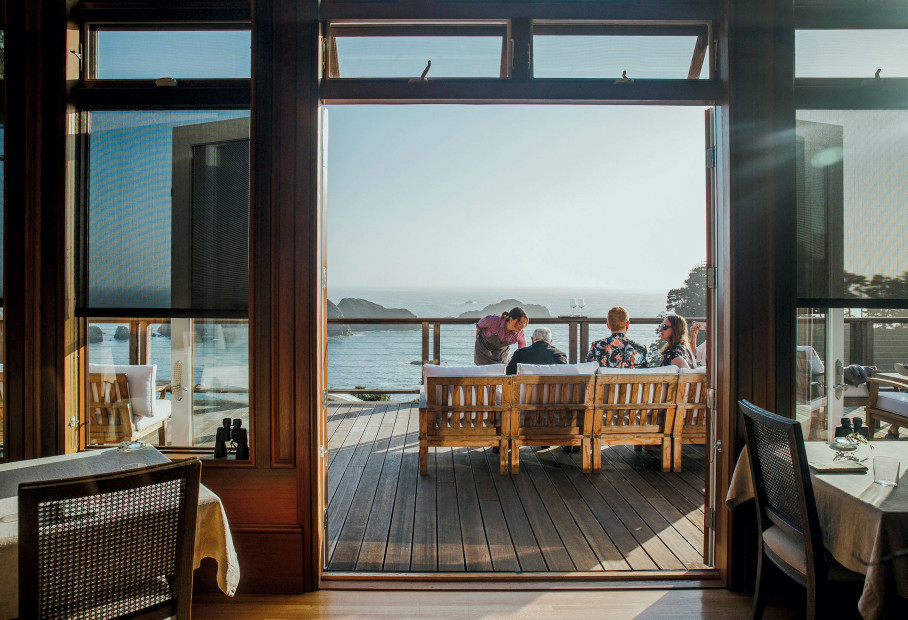 I was still feeling relaxed and mindful later that afternoon when we pulled into Point Arena for a glimpse of another notable structure. Set on a promontory at the northwest edge of the small coastal city, the Point Arena Light Station rises 115 feet, tying with the lighthouse at Pigeon Point south of San Francisco for the honor of tallest such beacon in California. November through January, the bluffs around the lighthouse become prime whale-watching grounds, as gray whales work their way south toward warmer waters.
If you arrive at Point Arena at low tide, as we did, make a beeline for Bowling Ball Beach, where the receding waters reveal the large round rocks just offshore that give the beach its name.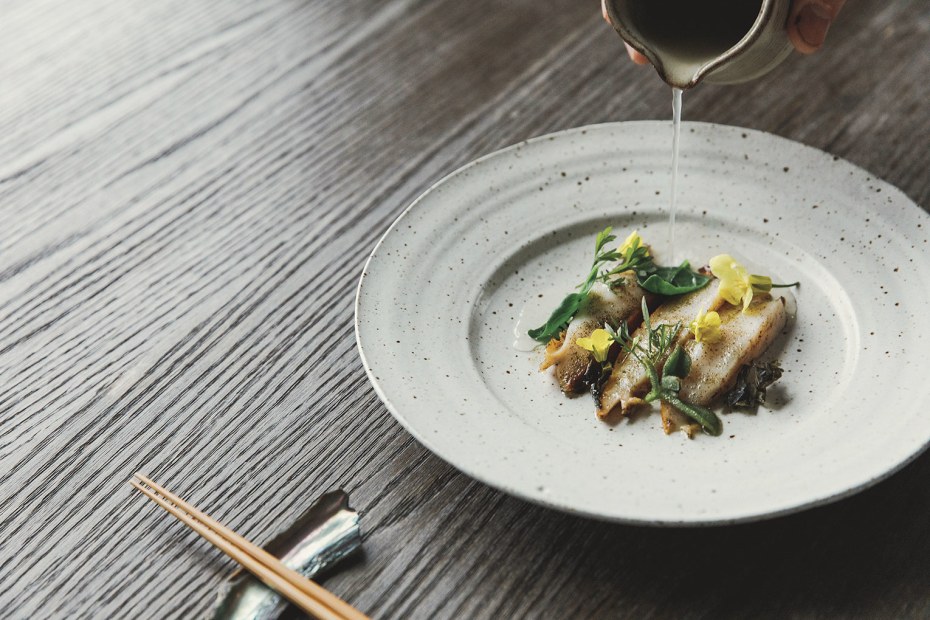 The next day, we eased north from Point Arena to Elk. First settled by homesteaders in the 1800s, the town boomed a century ago, thanks to the lumber industry. Back then, its population was about 20 times what it is today. The vibe has changed. These days, visitors come for the quietude and comfort. Many come for Harbor House Inn, a graceful 11-room retreat that is home to the only Michelin-starred kitchen on this stretch of the coast. We opted instead for the Elk Store, which specializes in classic sandwiches done California style, with local beer and wine to wash them down.
With a tuna melt for my wife, and a house-smoked pork belly banh mi for me, we ambled across the road and down a trail for a picnic lunch on driftwood-dotted Greenwood State Beach. The sun was still high, but we were in no hurry. We lingered for a few hours in that blissful setting, watching as the daylight waned, and waiting for another sunset show to begin.