For some mysterious reason, Arizona remains an under-the-radar foodie destination. Yet the Grand Canyon State boasts the country's first UNESCO City of Gastronomy, a slew of James Beard award nominees, a world-renowned pizza scene, and three increasingly celebrated wine regions. The following epicurean escapes are jam-packed with fantastic restaurants, tasty tours, and cooking classes that are sure to leave you singing the praises of Arizona cuisine.
Tucson
Thanks to its 4,000-year-old agricultural history and rich American Indian and Latino culinary traditions, Tucson was named a UNESCO City of Gastronomy in 2015. Southwestern flavors shine in the Old Pueblo, and many eateries pay homage to the desert's surprising abundance. 
At industrial-sexy Bata, 90 percent of the ingredients are sourced from within 400 miles of Tucson, and some element of every dish is kissed by an oak-fueled fire. The veggie-centric menu may feature grilled eggplant and fermented potato bread panzanella, tepary beans with smoked tomato and black garlic, chile butter-poached cod with Sonoran grains, and cucumber-hazelnut sorbet. Meanwhile, Cruda Mariscos & Oyster Bar brings the beaches of Baja to Tucson. Whet your appetite with oysters topped with shrimp, avocado, and serrano pepper. Then satisfy your senses with a sizzling molcajete mixto of red snapper and octopus soused in fire-roasted salsa. For a low-key lunch, plant-based Tumerico dishes up Latin-inspired indulgences like jackfruit and mushrooms simmered in green chiles. 
Get a whistlestop introduction to the south side's Mexican joints and Sonoran hotdog hotspots on a taco-centric ride with Tucson Bike Tours. Looking to amp up your culinary prowess? The Garden Kitchen at the University of Arizona's Cooperative Extension offers classes on topics such as knife skills and sauce-making. With so much to explore, you may want to bed down at the Downtown Clifton hotel, which offers discounts at several eateries. But rise early to pick up a piping hot jalapeño cheddar or desert durum wheat loaf from James Beard award-winning Barrio Bread. 
Sedona
Most people assume that when it comes to foraging, Arizona is, well, a desert. But Indigenous communities and savvy foodies know these landscapes provide a cornucopia of wild foods. After spending years creating foraging-focused pop-up events, chefs Brett Vibber and Jaren Bates have turned The Table at Junipine Resort into a celebration of Arizona cuisine. For their frequently changing menu, they might fold mesquite flour into hush puppies sweetened with cactus fruit syrup, or spruce up Navajo winter squash with watercress from Oak Creek, or match venison with Tohono rainbow corn stew and cactus seed sauce. If you're overnighting at the resort, pair your meal with a local wine, beer, or cider, and look for occasional dinner collaborations with Arizona winemakers.
Chef Jeff Smedstad also honors the bounty of Arizona—and Mexico—at Elote Cafe, and he's been known to mix foraged prickly pear or mushrooms into his usual melange of locally grown ingredients. The sumptuous menu includes favorites such as a salad of heirloom tomatoes with housemade Oaxacan cheese, buffalo short ribs bathed in chocolatey mole poblano, and braised pork cheeks spiked with cascabel chile sauce.
For a quintessential Sedona dining experience, brunch on the banks of Oak Creek at Cress in L'Auberge resort. Bourbon-glazed brioche French toast tastes divine while sitting under the sycamores and listening to a soundtrack of trickling water. And for a unique educational adventure, Cobalt Escapes hosts private gourmet cooking classes in a luxury home with views of the red rocks.
Verde Valley
Where vineyards are planted, foodie culture will follow. After a handful of wineries put down roots in this lush river valley, the charming historic towns of Cottonwood, Jerome, and Clarkdale grew into a smorgasbord of delectable experiences. Naturally, if you want to indulge, it's best to make a weekend of it and stay in Cottonwood at the casual-chic Tavern Hotel or Iron Horse Inn. And with AZ Wine Crawler's hop-on, hop-off bus service, you won't have to drive between tastings. Don't miss the friendly, award-winning Chateau Tumbleweed; D.A. Ranch Estate Vineyards' gorgeous log cabin tasting room next to a willow-draped pond; and Page Springs Cellars, where you can savor a gourmet picnic, estate wine, and a massage on Oak Creek.
Set yourself up for the day with breakfast tacos or egg-topped chilaquiles at Crema Craft Kitchen + Bar, a colorful Cottonwood gathering spot with a bright orange bar crafted from shipping containers. Blend the great outdoors with a tasting on Verde Adventures' kayaking, standup paddleboarding, or e-biking tours to riverside Alcantara Vineyards. Shop for oils and balsamic vinegars at Verde Valley Olive Oil Traders in Cottonwood. Then relish Cajun-spiced shrimp and parmesan grits or a chevre-topped wood-fired cauliflower "burger" at the Clinkscale in historic Jerome.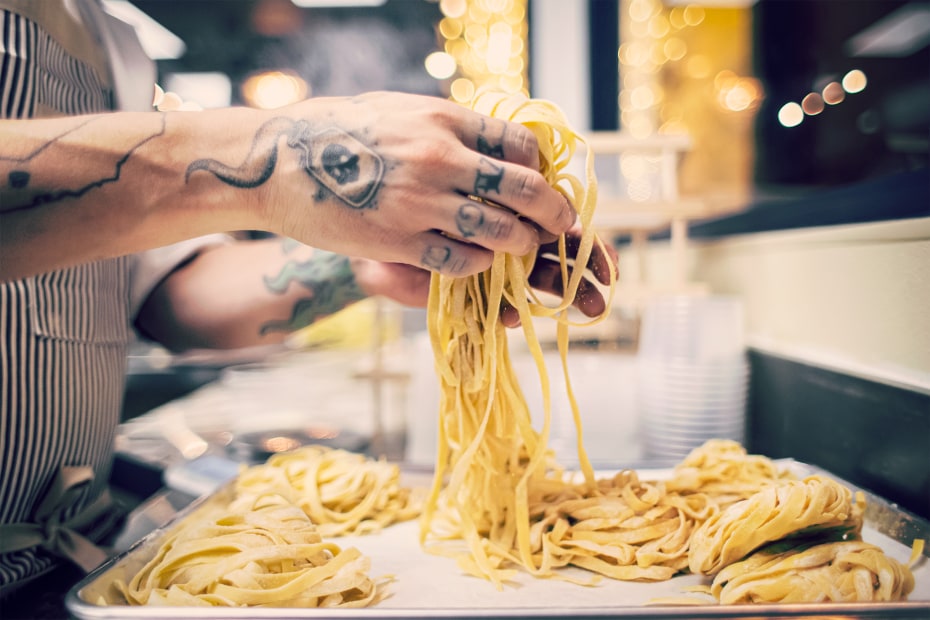 Flagstaff 
Long known as a university town with a food scene focused on post-hike beers and burgers, Flagstaff has transformed itself into a sophisticated restaurant hotspot. In recent years, favorites such as Tinderbox, Brix, and Pizzicletta have been joined by a slate of newcomers, making this city an ideal base for a few days of feasting. 
As the name suggests, Shift aims to nudge diners away from notions of normal mountain town fare. Owner Dara Wong and James Beard-nominated Chef Christian Lowe dream up a frequently shifting menu of shareable or solo dishes like savory sorbet, pickled french fries, rye linguini with homemade sausage, and cheesecake zinged with jalapeño. At Atria, the atmosphere is as bright white and fresh as aspen bark, but the food gets its flair and char from fire. Chef and partner Rochelle Daniel—whose skill on the grill earned her a James Beard nomination—turns succulent steak sublime with mushrooms, hazelnuts, port, and spruce crumble. She even smolders vegetarian dishes like coal-roasted beets or squash with pepitas. Last year, the team behind Tinderbox debuted Teatro in a converted theater. The stars of this restaurant's show are unexpected riffs on upscale Italian, such as filet mignon carpaccio with arugula, grana padano, citronette and truffle aioli. 
The Sunday morning Flagstaff Community Market is a great place to soak up the convivial vibe while noshing on crepes or prickly pear popsicles while stocking up on freshly roasted chiles. At night, hang your hat at High Country Motor Lodge, where you can work up an appetite toggling between the Nordic sauna, the alfresco plunge pool, and the couch by your private fire pit. 
Bonus Destinations
The state serves up such a bounty that many delicious destinations couldn't fit into our four-course menu of road trips. But if you have the time, these are all worth the drive on their own:
Terra Farm + Manor near Prescott earns rave reviews for its culinary wellness retreats and workshops focused on traditional Italian fare, heritage French recipes, and more. 
Cloth & Flame creates artistic, alfresco dinners at places like a plateau in Sedona or a saguaro forest in the Superstition Mountains. 
John Slattery leads foraging courses for wild edible and medicinal plants in Tucson, Phoenix, Sedona, the White Mountains, and the Chiricahua Mountains.