At first blush, Arizona's landscape doesn't look like a viticultural paradise. But that hasn't stopped adventurous souls from experimenting.
In the 1600s, missionaries brought grapevines to the prairies south of Tucson to make communion wine. Some 200 years later, Henry Schuerman established the state's first known commercial winery near Sedona. Schuerman was arrested during Prohibition, putting a temporary halt to Arizona wine-making. But then in the 1970s, soil scientist Gordon Dutt got a grant to study water retention and happened to learn, along the way, that grapes grow incredibly well in Sonoita. Dutt founded Sonoita Vineyards, then helped change state laws to allow vintners to sell on a large scale.
Fast-forward 40 years. Today, Arizona's 83 licensed wineries rake in $56 million per year, and their wines have been poured everywhere from the White House to the James Beard House. It turns out that the climate in Arizona's high-elevation regions—where sunbaked days give way to chilly nights—yields fruit with character.
Explore Arizona wine country, and you'll find lots to love. Near Sonoita, golden fields stretch as far as the eye can see. In the Verde Valley, offbeat galleries sit alongside home-style eateries. Towering rock spires fill Chiricahua National Monument outside Willcox. Along the way, you can also meet the vintners who are celebrating the classic varietals that flourish here—while breaking ground with lesser-known grapes. Ready to start dreaming? Here's your guide to weekend adventures in Sonoita, Willcox, and the Verde Valley.
Sonoita
A vast, champagne-colored savanna ripples toward the Mustang and Huachuca Mountains in the state's oldest wine-growing region. This speck of a town in southern Arizona's ranching country—and its neighbor Elgin—landed on the national wine map thanks to Callaghan Vineyards and Dos Cabezas WineWorks, whose creations have been served to presidents. The rugged, stunning setting continues to lure travelers and vintners looking for a casual spot with a cowboy twang.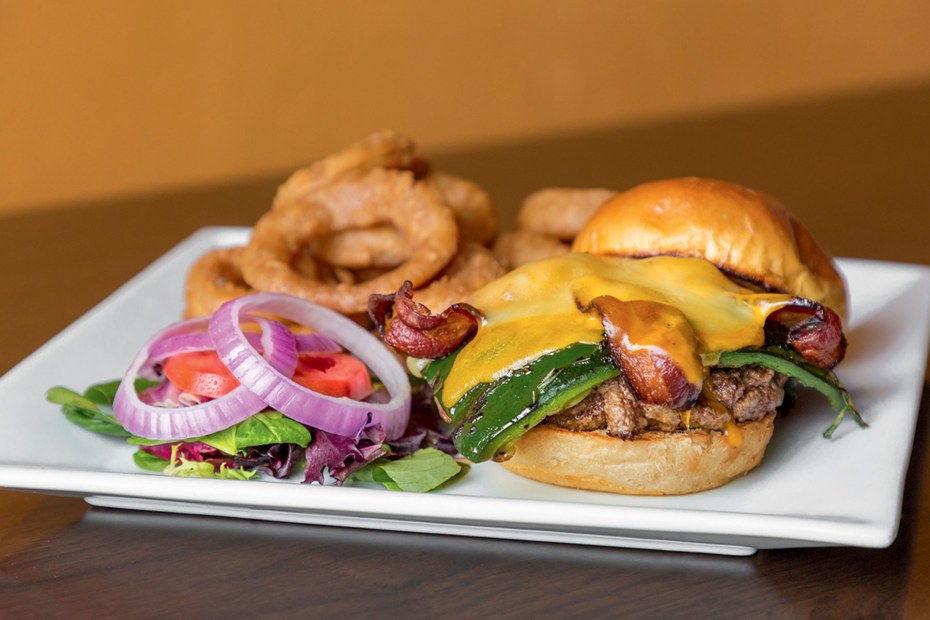 With its high-quality homey fare, patio seating, and friendly service, the Cafe is the hangout for locals. The burger, topped with fresh-roasted green chiles and crisscrossed with crunchy bacon, will fortify you for the Sonoita-heavy wine list, which includes offerings from Rune Wines and Lightning Ridge Cellars. Visit on a Thursday night, and you could sip to the strumming of a wandering cowboy.
Rummage through the salon-style rooms at Heart of Gold Antiques, and you might stumble upon vintage Elvis Presley photos, brass singing bowls, a covered wagon–shaped cookie jar, or any number of other treasures. Can't find what you seek? Owner Pat Rorex, a recent transplant from Florida, will be happy to help.
Visitors approaching Lightning Ridge Cellars, in nearby Elgin, are greeted by Monte, an easygoing Great Dane named for owner Ann Roncone's best known wine: the light-bodied, plummy montepulciano. Both Roncone and her wines have Italian roots. "A lot of Italian [grapes] are warm-weather varietals, and man, they love it here," the former engineer says. She adds that Sonoita's 5,000- foot elevation can bring April frosts, so late-budding montepulciano translates well to the area—as does aglianico, which Roncone uses in an aromatic single varietal.
Perched at the edge of the wildlands east of town, Rune Wines is pure Sonoita: In its outdoor tasting room, shade sails cover a wine-barrel bar, where you can kick back to mellow music and gaze out at the golden Mustang Mountains. Rune's winemaker James Callahan is still developing the vines on his 100 percent solar-powered estate, so for now, he's sourcing fruit from Willcox to craft his sensuous lemon and honey-kissed viognier and jammy, wild-fermented syrah.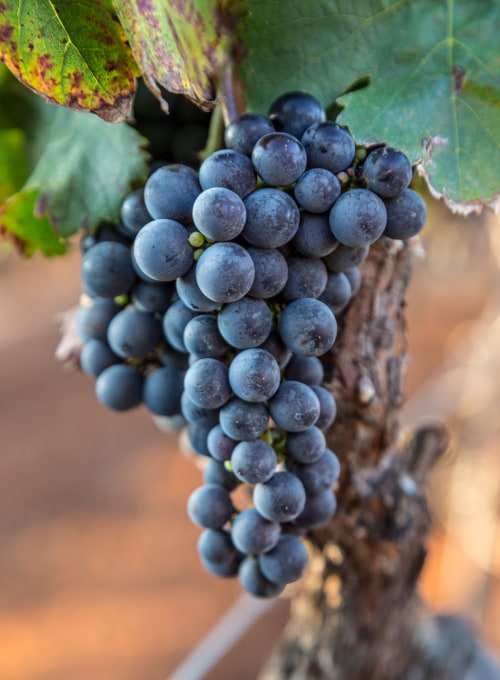 Grape Spotlight: Graciano
Southern Arizona winegrowers are having great success with this varietal, which produces a purple wine packed with blackberry flavor. Rune makes a smoky wine using only the graciano grape, while Callaghan Vineyards combines graciano with smooth cabernet sauvignon to create Junior, a blend with notes of hazelnut.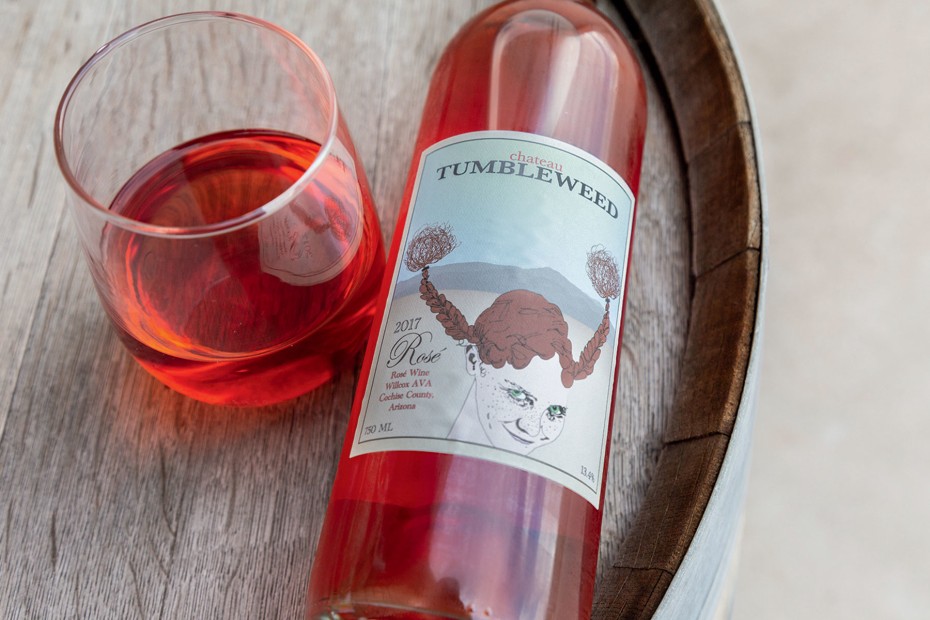 Verde Valley
Ribboned by creeks and rivers, this fertile valley just south of Sedona is the state's up-and-coming wine region. Vineyards stripe steep, volcanic slopes that concentrate the grapes and often infuse them with spice. Tasting rooms are scattered throughout the valley. You'll find them in the artsy former mining town of Jerome and in foodie-friendly Cottonwood, in the riverside hamlet of Cornville and in Clarkdale, the home of the Southwest Wine Center, a teaching (and tasting) winery.
Chateau Tumbleweed in Clarkdale is the kind of easygoing place where you could spend hours sitting at the simple wood bar, chatting with the barkeep about how mischievous the woman on the hand-drawn labels looks, and how the rosé tastes remarkably like a red Jolly Rancher. "We don't take ourselves that seriously," says co-owner Kris Pothier. "Well, we take the wine seriously. We try to just let nature speak for itself, to bottle what happens in nature to make delicious wines."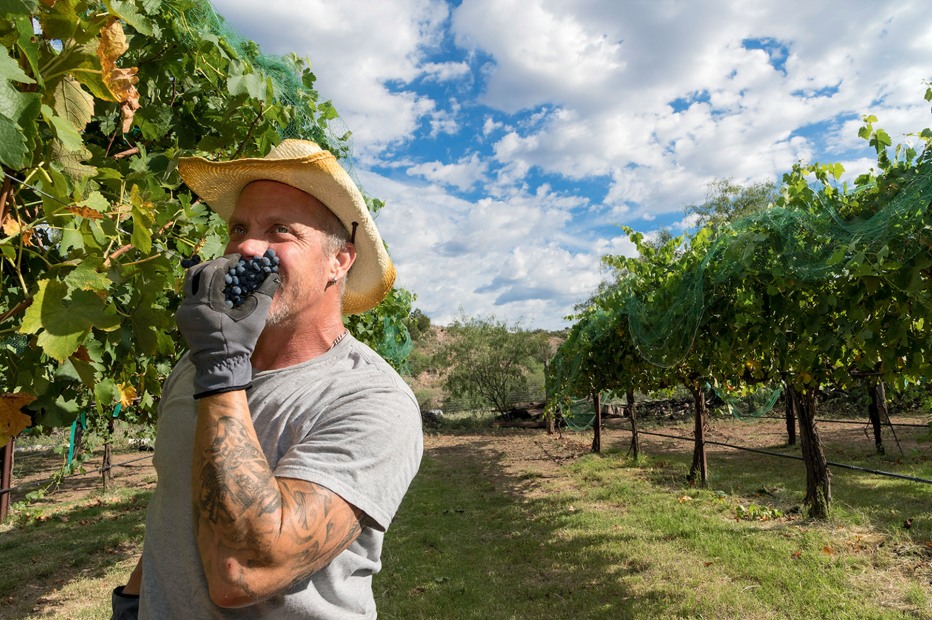 At D.A. Ranch, a 130 year-old retreat in the tiny town of Cornville, giant grandfatherly cottonwoods gather round the lodge, and a graceful willow sways over a pond. All the wines are made from grapes grown right here, in the 250-acre estate's spring-fed soil, making it an ideal place to taste the Verde Valley's terroir. The tasting room is typically open Wednesday through Saturday, but the bucolic backdrop attracts many events, so call ahead to confirm that it's open.
At Dead Horse Ranch State Park in Cottonwood, three lagoons fringed by cattails and cottonwoods invite leisurely strolls. Turtles laze on warm logs, while deer wander in the forest. The area is also a bird-watcher's paradise, home to more than 100 species including great blue herons and red-winged blackbirds.
In funky, hilltop Jerome, the Raku Gallery and Jerome Artists Cooperative showcase paintings, ceramics, jewelry, and glasswork by Southwestern creatives. On Saturdays, artist Tracy Weisel sometimes drops in at Raku to blow glass and shape it into perfume bottles and wineglasses.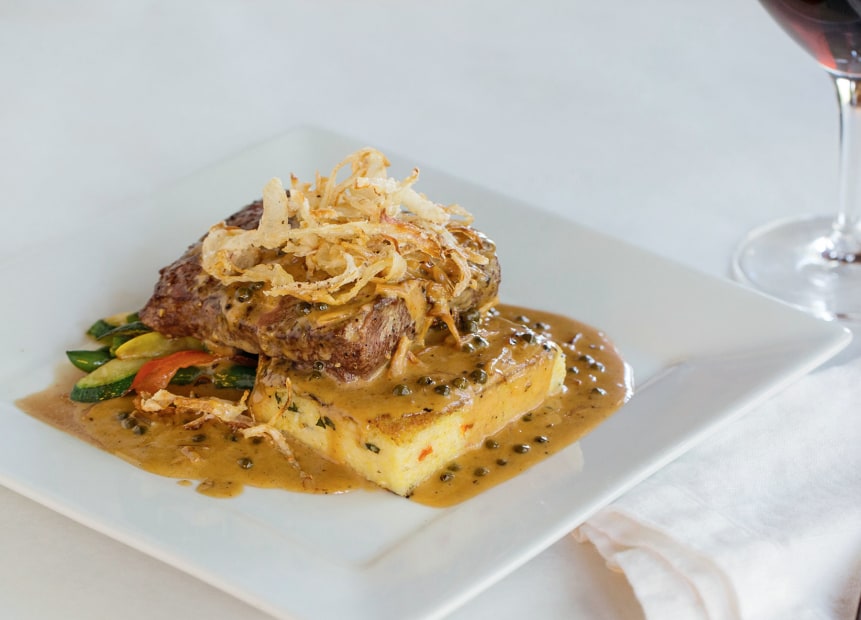 Over the years, Up the Creek Bistro & Wine Bar in Cornville has evolved from a 1956 store and gas station into a wood-paneled hangout run by a sommelier chef. Today, diners can look out on sycamore-shaded Oak Creek while tucking into green chile–spiked chicken sandwiches or cabernet-rubbed ribs. Want to pair your dish? The wine-savvy staff can help you design a customized flight from the extensive wine list, which stars sips from multiple Arizona wineries.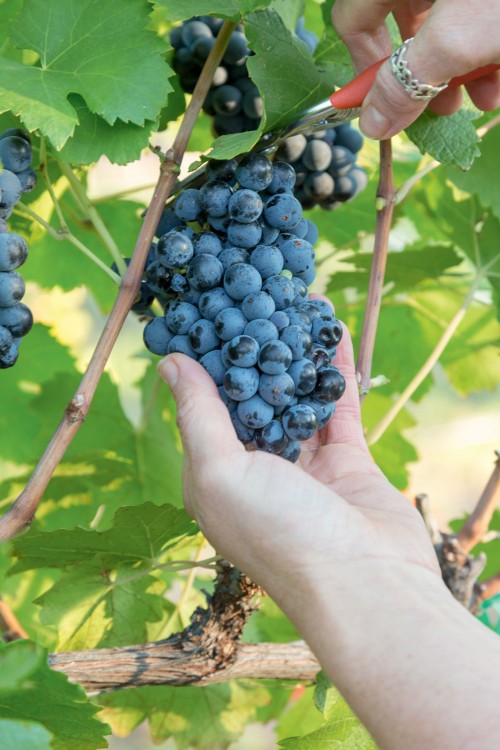 Grape Spotlight: Tannat
This grape, Uruguay's most popular, is flourishing all over Arizona. The wines it produces are tannic and intense, marked by dark fruit flavors mingled with smoke and spice. D.A. Ranch turns tannat into bold, cocoa-tinged reds—such as the 2015 and 2017 Capra—and the Mae Rosé, bursting with juicy strawberry.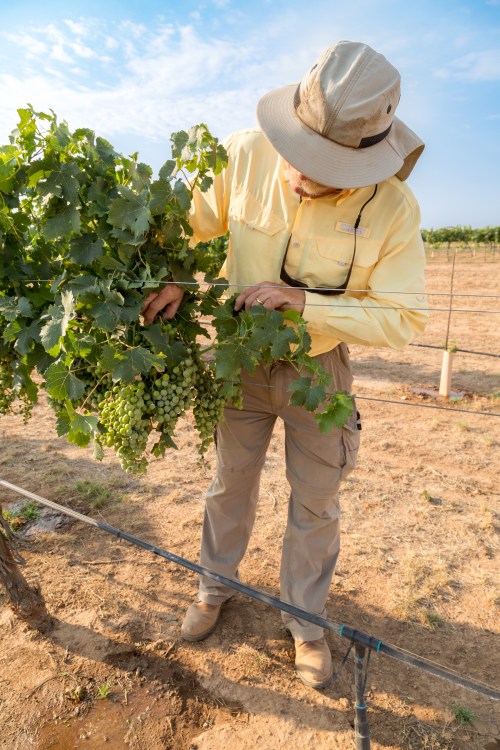 Willcox
This sleepy outpost is best known for its brushes with Old West historical figures: It's where the singing cowboy Rex Allen was born, Apache leader Geronimo shopped, and Wyatt Earp's brother Warren was shot. These days, the small town buzzes each May and October, when visiting oenophiles converge to sip samples from 20 Arizona wineries at the Willcox Wine Country Festival. It's an appropriate venue, since some 75 percent of Arizona's grapes are grown nearby. The grapevines thrive in the loamy soil left behind by an ancient lake, in an area called the Willcox Bench.
When he was in his 50s, Dan Pierce quit his job in advertising design and illustration to become a winemaker. He earned two degrees in viticulture and worked at vineyards in Oregon and Washington before founding Bodega Pierce with his wife and son. The Pierces grow 18 grape varietals from around the world, so prepare to experience an array of fascinating flavors in their tasting room.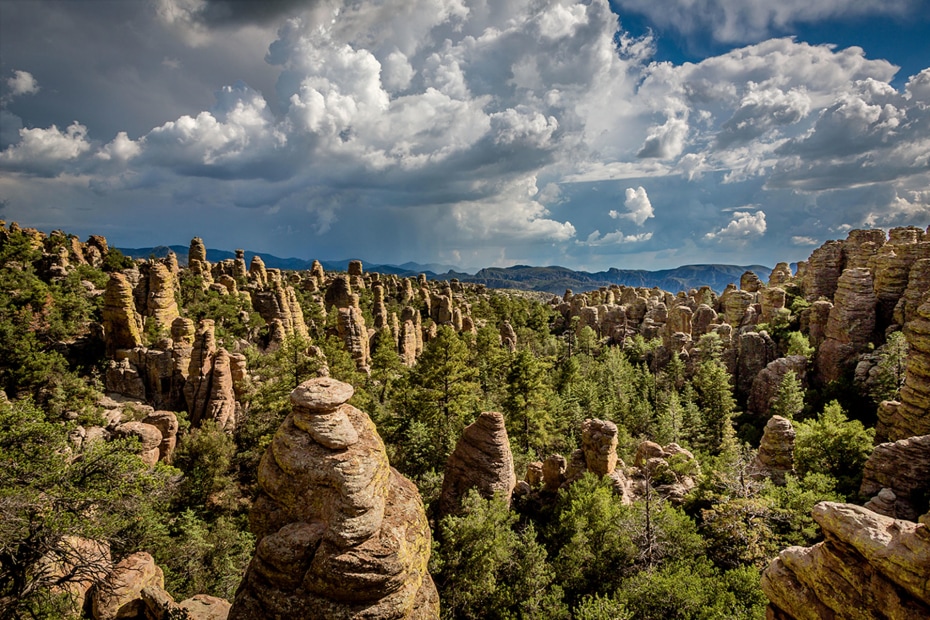 Studded with hundreds of lichen-speckled rock pinnacles, Chiricahua National Monument feels like another world. Get a closer look at the delicately balanced rocks by hiking one of the trails, such as the three-mile Echo Canyon Loop.
The Rex Allen Museum pays tribute to the hometown boy turned Hollywood star. Exhibits showcase his glittery costumes, his hand-stitched boots, and his Autoharp, a gift from June Carter Cash. Don't miss the homespun Willcox Cowboy Hall of Fame, filled with photos and paintings of over 100 local cowpokes.
In downtown Willcox, La Unica is popular with locals and travelers alike thanks to its handmade tortilla chips, fresh salsa and guacamole, and hearty Sonoran fare. Bring your appetite: The sizzling steak molcajete is to die for.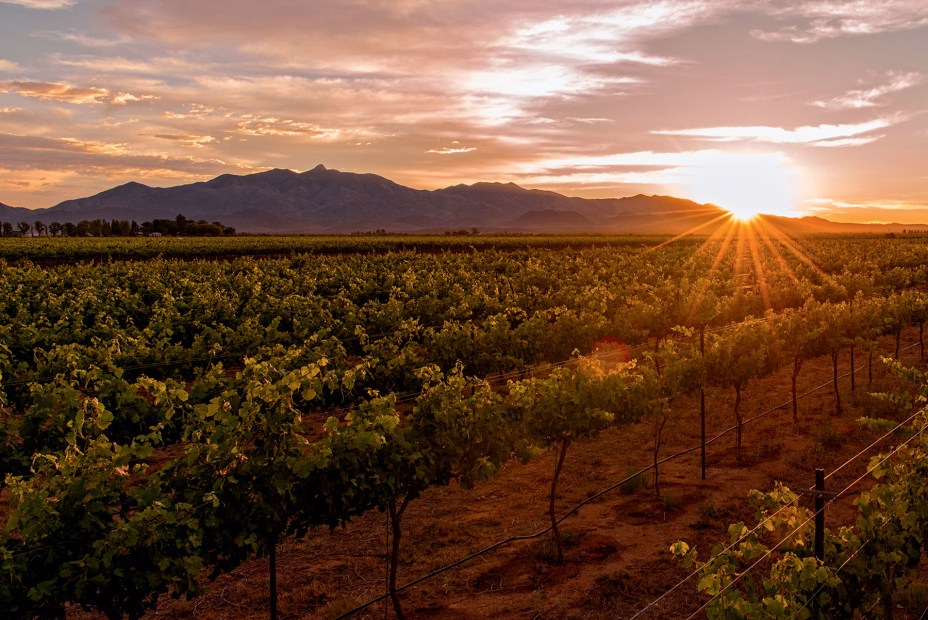 "The soil is almost too good" on the Willcox Bench, says Mark Jorve, co-owner of Zarpara Vineyard. Jorve and his wife, Rhona MacMillan, are corporate fugitives who cultivate wines using traditional methods. Visitors can sip their fruity, chocolaty sangiovese and spicy Spanish blends in a tasting room that feels like the family kitchen—because it is.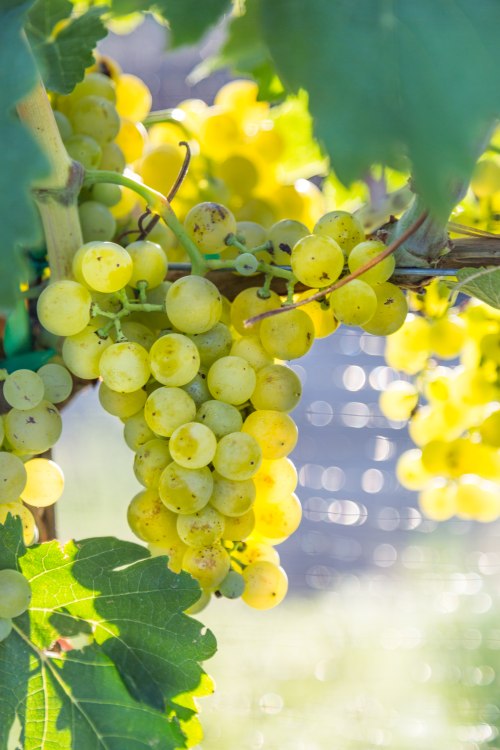 Grape Spotlight: Malvasia Bianca
Unquestionably the state's characteristic white grape, this Mediterranean fruit makes for wine that tastes like a bouquet of flowers mixed with citrus. Bodega Pierce uses the grapes to make a wine that is redolent of grapefruit.