Burger aficionados have been known to drive miles to get their fix. When it comes to a perfectly juicy patty, who can blame them? A bodacious burger, whether no frills or full-on fancy, is hard to beat. Here are a few favorites worth a detour.
Arizona
Check yourself into Rehab Burger Therapy in Scottsdale, where the creative burgers are sure to cure any craving. They feature a custom blend of sirloin, brisket, and chuck. Enjoy the beef patty smothered in Southwest chili in the hatch burger, draped with barbecued pulled pork in the porkster burger, or blanketed in ghost-pepper cheese in the inferno ghost burger. Each choice comes in two sizes: the 10-ounce "rehab" and the five-ounce "relapse."
Idaho
Owners Amanda and Cameron Lumsden pride themselves on the loyal-to-local pledge at their Fork Restaurant in Boise. It means they go out of their way to source as many ingredients as possible from farmers and producers near their eatery. That extends to the urban burger, a custom blend of local Wagyu and ground chuck, garnished with white cheddar made by Ballard Family Dairy in nearby Gooding and lettuce and tomato grown in the area, all snuggled inside a toasted ACME Bakery bun.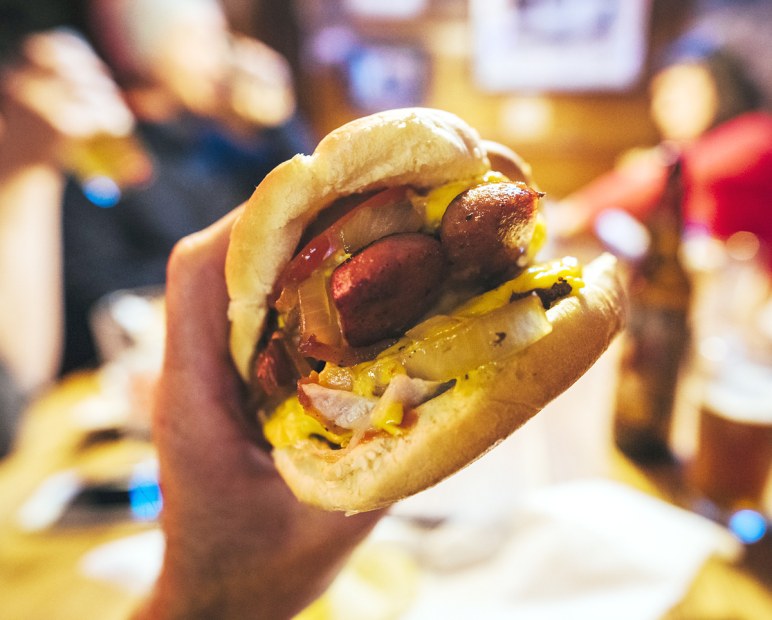 Utah
When you can't decide between a burger and a sausage, why not get both in one bun? At the Shooting Star Saloon in Huntsville, you can. Opened in 1879, it's the oldest continuously operating watering hole in Utah. The star burger features two beef patties with melted cheese and a Polish knackwurst stacked on top. The place is cash-only: A good reminder is on the ceiling—which is covered with dollar bills.
Montana
It's hard to argue with a burger that was crowned champion at the Food Network South Beach Wine and Food Festival's Burger Bash. The victorious best of the Bash burger at The Burger Dive in Billings is a flavor bomb. It starts with blackened seasoning on the beef patty and explodes with goat cheese, bacon, onion rings, garlic-basil mayonnaise, and Sriracha sauce. For more heat, enjoy it with a cinnamon-bear milkshake made with Hot Tamales candies.