Perched on the Sonoma coast where the Russian River empties into the Pacific, Jenner offers a ringside seat for a wildlife extravaganza starring river otters, harbor seals, great blue herons, and ospreys. You can contemplate the watery vistas while paddling in a kayak, standing on beaches and bluffs, or dining in a restaurant. It's quite a show.
Gaze at the Russian River at Cafe Aquatica, a cozy coffeehouse that dishes up freshly baked apple scones and focaccia, as well as creamy chowder crowded with clams and organic veggies. 
Inside the old Jenner Boathouse, the Sonoma Coast State Park Visitors Center includes an education center and a bookshop, with puzzles, trail maps, and exhibits for kids on river ecology. 
Take a guided kayak outing with WaterTreks EcoTours and learn about the flora, fauna, and American Indian history of mid-river Penny Island.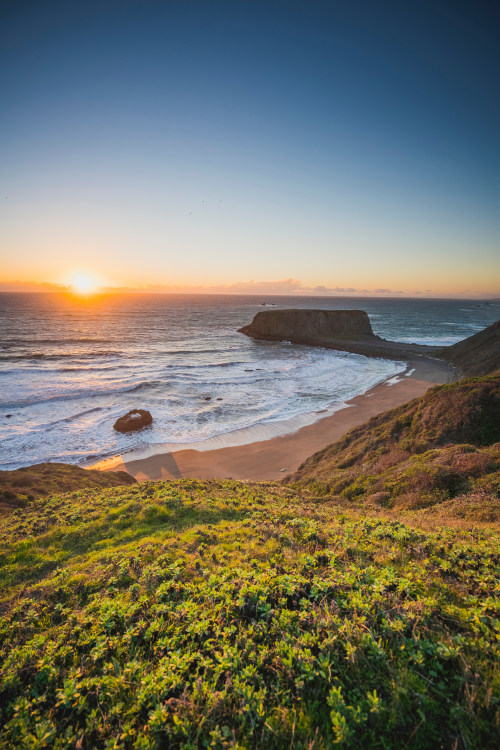 Fly kites over craggy sea stacks or watch a colony of harbor seals at easily accessible Goat Rock Beach, one in a 17-mile strip of beaches and bluffs comprising Sonoma Coast State Park. Linked bluff trails go on for miles.
Smoked trout chowder, grilled salmon wings, and seafood fettucine are just a few of the offerings at Coast Kitchen inside Timber Cove Inn. Dine on the outdoor patio or indoors, where the river rock hearth and floor-to-ceiling windows face the untamed ocean.
Just north of the village proper on a ridge with dynamic views, you can sample complex, estate-grown pinot noirs, zesty chardonnays, and the lush pinotage at Fort Ross Vineyard Tasting Room. 
Indulge in a sunset feast at the intimate River's End Restaurant, overlooking the river's mouth and endless beaches. Pair a Russian River gewürztraminer with local oysters and wasabi tobiko (flying fish roe), followed by Petaluma duck fixed two ways.