Take the High Road from Santa Fe to Taos
Connecting Santa Fe to Taos, the High Road reveals northern New Mexico's subcultural diversity.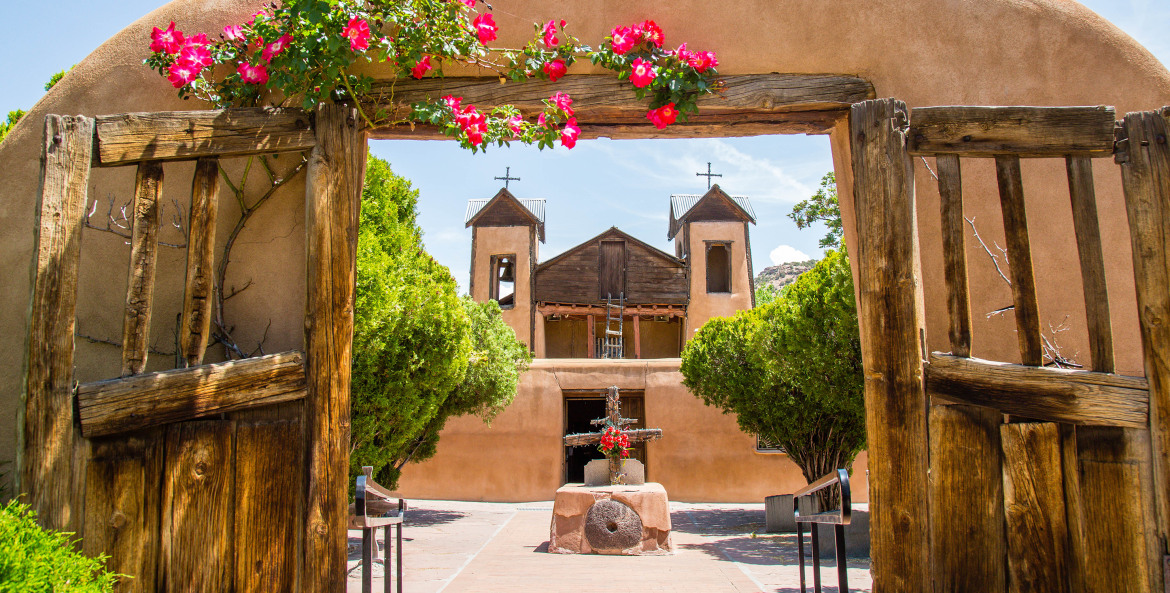 The 1969 cult classic Easy Rider brought the counterculture of Taos to the silver screen, but Taos was counterculture even before it was cool.
The High Road to Taos, a scenic byway that connects Santa Fe to Taos, reveals northern New Mexico's intriguing subcultural diversity — from offbeat towns with curious names that speak to long Spanish legacies, to the ancient roots of many pueblos, some still inhabited by tribal people today.
Check Out Chimayó
Begin your journey 27 miles north of New Mexico's capital city, in Chimayó at the famous Rancho de Chimayó Restaurante. Here it's easy to order a traditional New Mexican specialty (there's a delicious variety on the menu), but it's difficult to choose between fiery red or savory green chile to top your order. If you can't decide, order like a local and say, "Christmas," which means both.
Depart the restaurant on County Road 98 (Juan Medina Road), head half a mile southeast, and turn left on Santuario Drive to El Santuario de Chimayó. Take a step back in time as you push open the heavy doors, smell the burning candles, and admire the colorful retablos (devotional paintings) and bultos (religious figures carved out of wood). These forms of artistic expression were popular in Spain, and early Spanish conquistadors brought their religious practices to New Mexico in the 1600s.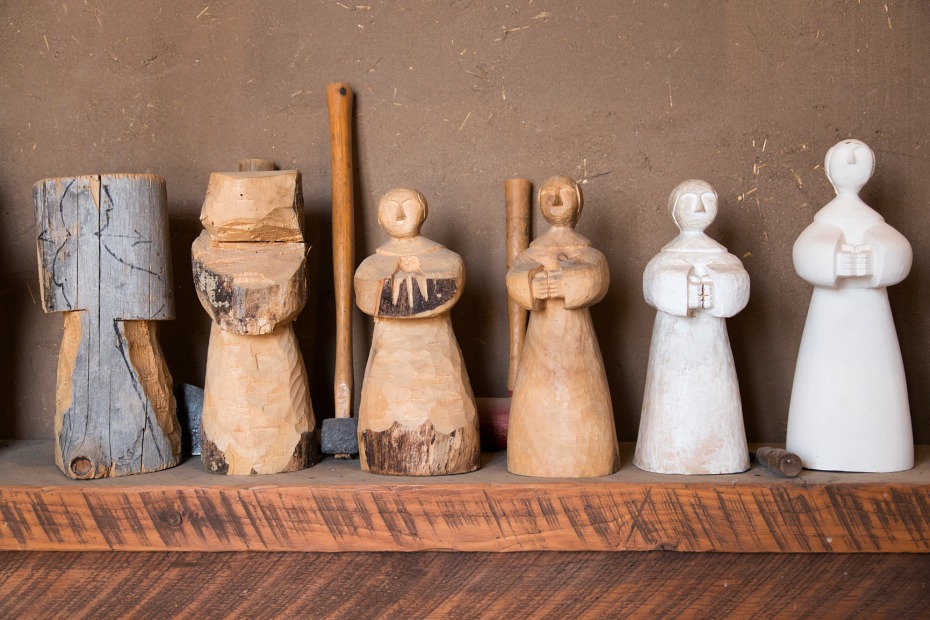 From El Santuario, backtrack on Santuario Drive to Highway 98. After about a mile, turn right onto State Highway 76 and drive east for just over 2.4 miles to Oviedo Carvings and Bronze. Many art galleries dot the High Road to Taos, but here you'll have the opportunity to tour the gallery and studio and meet the artist, Marco Oviedo, and (if you're lucky) chat with his wife, Pat, whose family has lived in these parts for more than three centuries. 
Scenic Side Streets
When you return to Highway 76, drive just over two miles northeast to County Road 80. Here you can decide to stop in Cordova or continue on, as this is a town of tangled, narrow, medieval-like streets and alleyways, where even the 1832 adobe Iglesia de San Antonio is difficult to find. But if you're adventurous, this Quemado Valley community, known for its santeros — carvers who fashion saintly figures from piñon wood — is reminiscent of villages in Spain. However, if you are not so daring or are driving a long vehicle, skip this stop and continue on.
Country Road 80 stretches 2.4 miles before reuniting with Highway 76, and less than three miles from this point you'll reach Truchas (Spanish for trout). It was here that Robert Redford filmed key scenes of The Milagro Beanfield War, a story about the struggle to preserve New Mexican culture. This village is known for traditional crafts, including weaving and local pueblo pottery.
Driving through the countryside you'll pass small villages, including Las Trampas. Stop by the San José de Gracia Church—the 18th century adobe's buttresses and wooden belfries make perfect photo ops against mountainous skyline.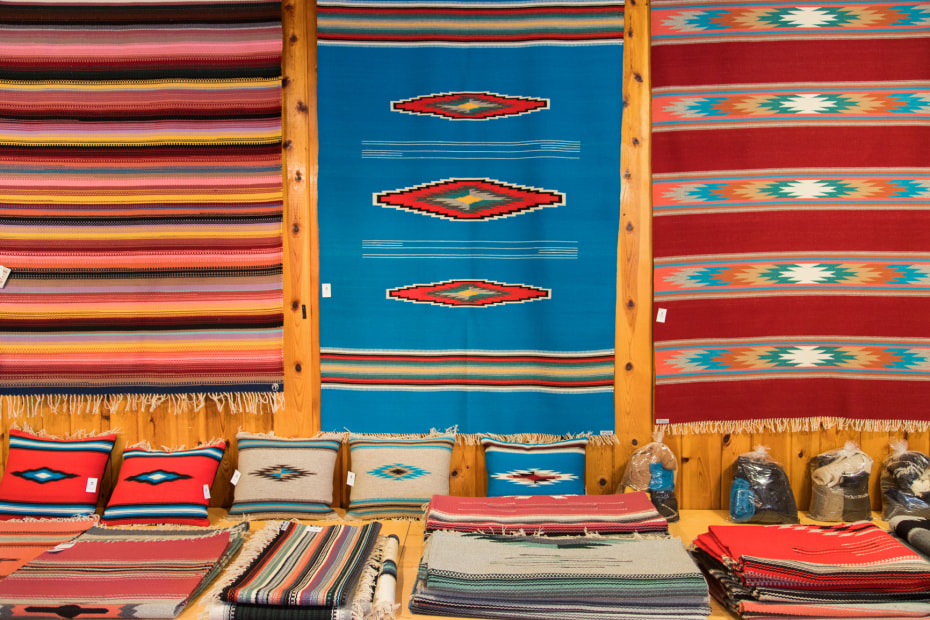 Living Landmarks
The next turn you'll make, six miles beyond Las Trampas, is a left onto New Mexico 75. Then, in half a mile, turn right onto Pueblo Road (which turns into Indian Service Road 201), and continue onto the Picuris Pueblo tribal offices for self-guided tours of the old pueblo and church. Native leaders from Picuris and Taos pueblos helped lead the province-wide Pueblo Revolt of 1680.
Retrace your steps back to the New Mexico 75 and watch for elk as you drive 7.5 miles southeast to New Mexico 518. Heading north, and climbing nearly 16 miles into high country, the trails of Carson National Forest (named for the Taos rabble-rouser Kit Carson) branch off into tall pines and scenic overlooks reveal Wheeler Peak (New Mexico's highest) to the northeast.
A sign indicates the end of the High Road to Taos, but you'll diverge from the mainstream and continue your counterculture quest with a left turn onto Highway 68 and another left onto St. Francis Plaza. Here sits San Francisco de Asis Church, renowned for inspiring more photographers than any other New Mexican church. The sculpted adobe buttresses around the back have attracted many artists, including Georgia O'Keeffe. This colonial-era church still holds masses for the surrounding Ranchos de Taos community.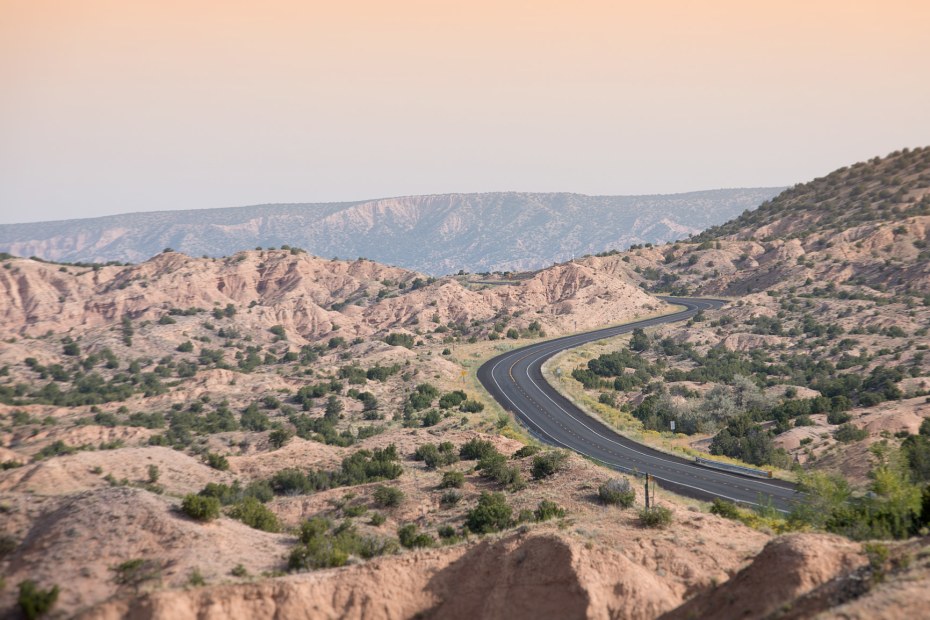 Taos
Upon your return to Highway 68, follow it north for four miles, where it becomes Highway 64 (or Paseo Del Pueblo Norte). While this is officially modern-day Taos, your journey isn't complete without a visit to Taos Pueblo.
Keep driving for half a mile and turn left onto Highway to the Town of Taos, and drive two miles to the famous pueblo that has been continuously inhabited for more than 1,000 years. Home to the Red Willow People, this is the only Native American community with both UNESCO and National Historic Landmark designations. Today more than 1,900 Taos Indians live on the pueblo land.
After your visit, backtrack into Taos and, on the left side of Highway 64, you'll find Kit Carson State Park — the final resting place of Carson and other prominent locals — and Kit Carson Home and Museum.
Just outside the park, also on Highway 64, you'll find the historic Taos Inn. Home to the High Road's best margarita, this registered historic landmark is the place locals go for live music and Doc's chile rellenos. Stay the night, but be sure to explore surrounding galleries — don't miss the Harwood Museum of Art, which exhibited Easy Rider Dennis Hopper's art — as well as other counterculture projects before heading back home to the mainstream.
If You Go
In total, the distance between Santa Fe and Taos Pueblo, N.M., is about 73 miles. While visiting these sites, remember to be respectful of the people who inhabit them as well as their historic significance.