A new year means an opportunity for new adventures. But with so many options throughout the West, it's hard to decide where to begin. Here are 16 road trips for epic outings in every season, from wildflower sightings in Arizona to foggy forest hikes in Northern California. 
Spring: Wow'd by Wildflowers 
Loop along Highways 70, 32, and 99, Northern California
Thanks to its sun and snowmelt, Northern California becomes a giant wildflower bouquet come spring, with plenty of ways to stop and smell the scarlet fritillaries. A 320-mile road trip loop out of Sacramento on Highways 70*, 32, and 99 will take you through some of the best of it. Start your journey at the North Table Mountain Ecological Reserve, a 3,300-acre carpet of owl's clover and fairy lanterns blossoming along rare vernal pools. From there, point the car into the Feather River Canyon, where numerous side canyons weep with waterfalls and poppies. Make a stop at the Pulga Bridges for great views of historic bridges and passing trains before checking out the rare carnivorous plants at the Butterfly Valley Botanical Area. Lake Almanor makes for a fragrant stop full of penstemons and lilies. Stop by the Kopper Kettle Café in Chester for chicken fried steak and lemonade. Rest your weary eyes at the historic Saint Bernard Lodge 10 miles from Chester, which offers seven cabin-like rooms with lots of wood and quilts. —TN
*Editor's Note: Highway 70 through the Feather River Canyon, from the Pulga area to State Route 89 junction, is closed indefinitely due to rock slides. Check conditions before hitting the road.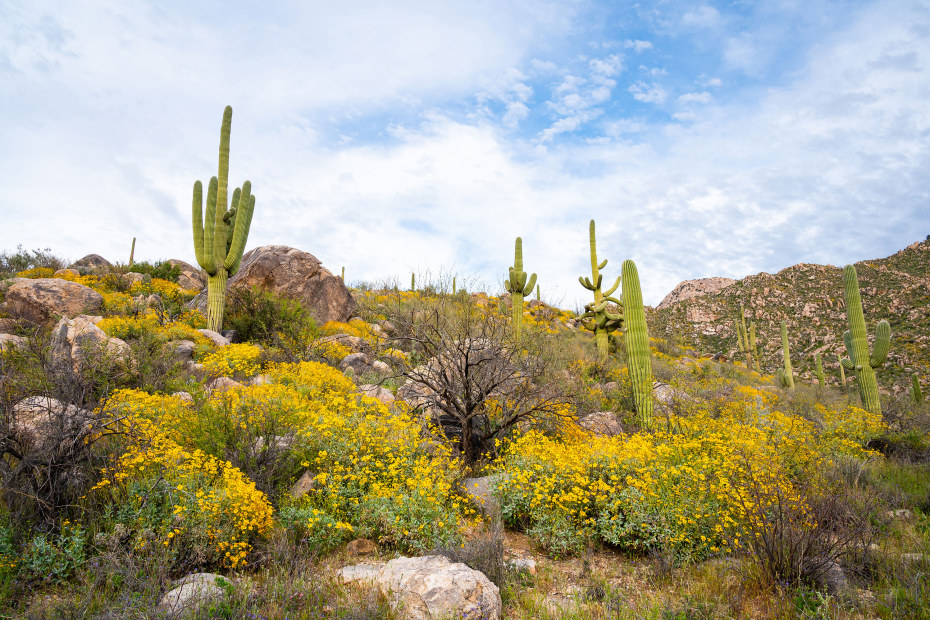 Highway 79 from Florence to Oracle Junction, Arizona
Every March and April, wildflowers and butterflies beckon travelers to take the leisurely backroads between Phoenix and Tucson. Along the 43 miles of Highway 79 from Florence to Oracle Junction, nature paints a veritable Monet's garden along the roadside: citrus-colored poppies, violet lupine, lavender owl's clover, and globemallow in shades of rainbow sherbet. From Oracle Junction, drive another 10 miles on SR 77 to Catalina State Park, where you can frolic with more wildflowers and crisscross a creek on the two-mile Canyon Loop Trail. Head to Hacienda del Sol Guest Ranch Resort, tucked into the Catalina Foothills, to nosh on tacos as the mountains around you blush in the sunset. At night, you can fall asleep in class: The resort is a converted 1920s boarding school. —KC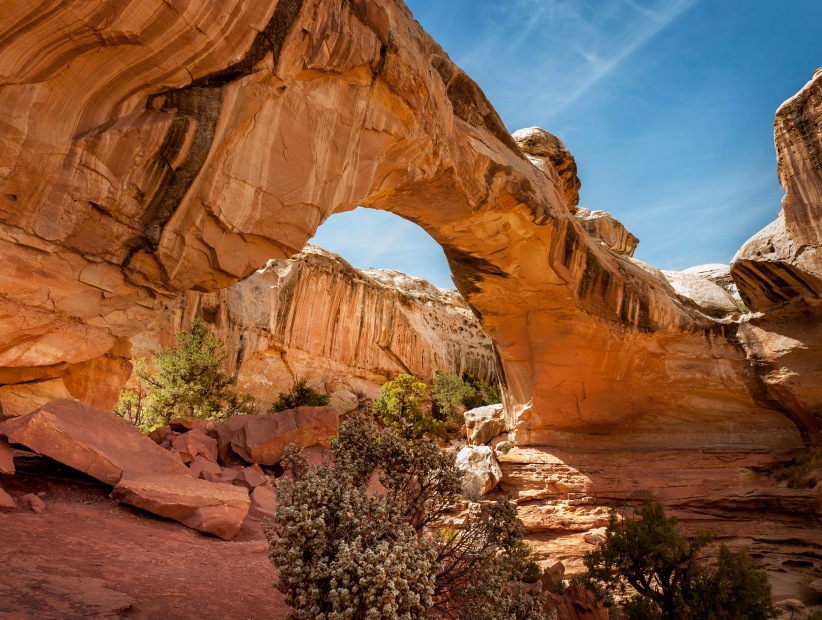 Scenic Byway 12 and Capitol Reef Scenic Byway, Utah
Coral, ochre, paprika, peach, rust, and dusty rose: The sandstone color palette along Scenic Byway 12 rivals a wildflower meadow, and in April and May it's amped up by actual blooms. This 120-mile journey begins in Panguitch, where the Panguitch House B&B kick-starts your day with hearty helpings of hospitality and egg casserole. Next, foray into the hoodoo forest at Bryce Canyon National Park. At Grand Staircase–Escalante National Monument, squeeze into slot canyons and meander six miles to mossy, mineral-striped Calf Creek Falls. In Boulder, dine on farm- and ranch-fresh fare such as juniper lamb posole at Hell's Backbone Grill & Farm. Then cap off the adventure in Capitol Reef National Park on the eight-mile scenic drive and two-mile hike to Hickman Bridge natural arch. Along the way, you'll be charmed by orange globemallow, magenta penstemon, and papaya-hued desert Indian paintbrush. —KC
Snowy Range Scenic Byway, Wyoming
Windswept, rugged, and full of history, Wyoming never disappoints, especially in wildflower season. And while there's even a "wildflower trail" to hike at Jackson Hole Mountain Resort, head to southeast Wyoming near Laramie to take advantage of roads only drivable a few months of the year. The 29-mile Snowy Range Scenic Byway typically opens in late spring and bursts with flowers such as alpine forget-me-nots, blue columbines, and shooting stars. The folks at the visitor center near the town of Centennial can help point you to patches and give you maps. The Old Corral Hotel and Steakhouse in town has 35 rustic rooms and giant steaks; the Bear Trap Cafe in Riverside does comfort food such as hot subs and pizza. Extend the drive by picking up Interstate 80, and stop by Vedauwoo, a popular rock-climbing area where you'll find Wyoming Townsend daisies, bluebells and lupines blossoming among the crags. —TN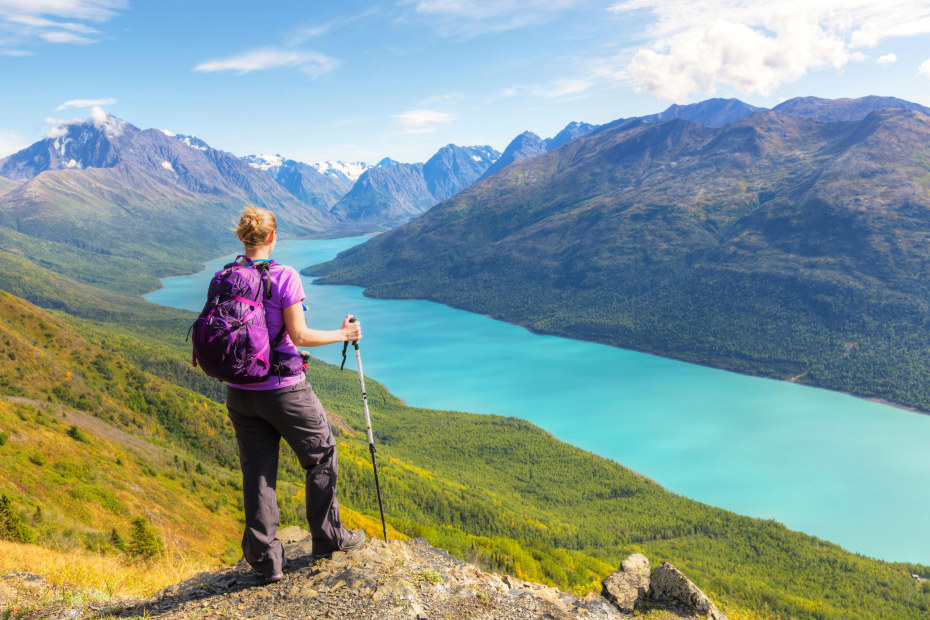 Summer: Cool Trips for Hot Days
Eklutna Lake Area Scenic Drive, Alaska
Summer in the Last Frontier state means every living thing must hustle to make the most of mild temperatures and long days—and so should you. Anchorage serves as a jumping-off point for several superb road trips that take in creaking glaciers and stunning peaks, but you won't want to miss the Eklutna Lake Area Scenic Drive. The route follows the Old Glenn Highway out of Anchorage to Eklutna Lake Road to reach the lake itself, about 40 miles northeast of downtown. There, cool off with a leisurely guided paddle across the seven-mile-long lake deep in the Chugach Mountains, or hike the steep 2.6-mile Twin Peaks Trail for sweeping views of 495,204-acre Chugach State Park. You can rent cabins or camp near the Eklutna Visitor Center, but it's worth driving another 30 miles to reach the Alaska Glacier Lodge, with cozy cabins overlooking the Knik River. The Raven's Perch Restaurant on site serves fresh Alaska-caught salmon with a wild berry sauce. —TN
Forest Road 300 (Rim Road), Arizona
Ah, the Mogollon Rim. That vast escarpment where overheated Arizonans escape to breathe pine-crisp air and gaze at endless forests that grow ever bluer as they blend with the horizon. The Rim's signature motorway begins east of Payson at the Mogollon Rim Visitor Center and weaves 45 miles west, mostly on well-maintained dirt. At the Rim Lakes Vista overlook, perch on a rocky precipice and catch your first glimpse of undulating ponderosa forests patched with cloud shadows. Detour to Woods Canyon Lake to rent canoes or circumnavigate the water on a five-mile, wildflower-festooned trail. Back on Forest Road 300, you'll see numerous places to pull over and peer across the Rim before the journey ends north of Strawberry and Pine. Toast your trip at THAT Brewery in Pine with an elk burger and a nut-brown ale infused with local pinecones. Then snooze among the ponderosas at the Cabins at Strawberry Hill. —KC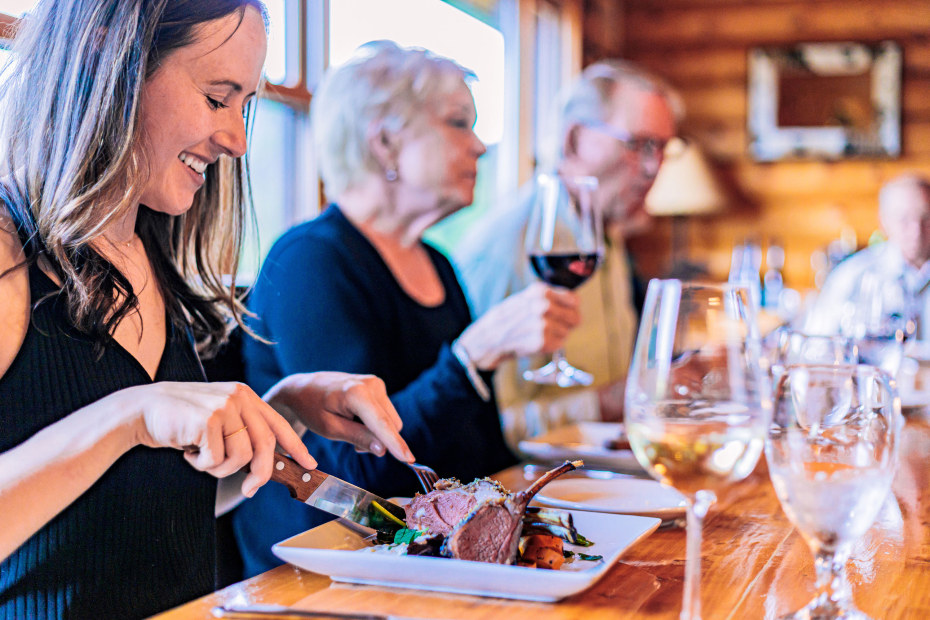 Pioneer Mountains Scenic Byway, Montana
The 49-mile-long Pioneer Mountains Scenic Byway between Wise River and Dillon may count as one of Montana's most scenic ways to beat the summer heat. The route wanders under the 12,000-foot Pioneer Mountains, past lakes and the tumbling Wise River, a tributary to the mighty Big Hole, where you can cool off while casting for hefty rainbow trout. It's worth making a five-mile gravel detour off the byway to visit the ghost town of Coolidge, a settlement that sprang up around the state's largest silver mine before going bust in 1923. The Big Hole Lodge on the Wise River is a popular spot for anglers, with cabins for no more than ten people at a time. Make a loop out of the drive by picking up the Big Hole Valley Scenic Drive that follows the Big Hole from Wise River for about 55 miles back to Highway 278 in Jackson. There you'll find the Jackson Hot Springs Lodge, home to hot springs noted by William Clark of Lewis and Clark in 1806, and an awesome dining room lined with stuffed ungulates. Order the steak, of course. —TN
Rubies Route, Nevada
In summer, vacationers vamoose to sapphire Lake Tahoe, most unaware of the treasure trove of alpine lakes, shivery-cool streams, and serrated peaks secluded in northeastern Nevada. The Rubies Route consists of three out-and-back jaunts, ranging from 60 to 200 miles. All start in Elko, where cowboy culture meets funky murals and the area's Basque heritage shines at the Star Hotel restaurant, with dishes such as lamb topped with roasted red pimientos. The shortest trip weaves along a scenic byway to glacier-carved Lamoille Canyon and the Ruby Mountains, where you can saunter along the creek in Thomas Canyon and cool your feet in the beaver ponds. The second spoke leads to aspen-fringed Angel Lake and Ruby Lake National Wildlife Refuge, where 220 species of birds flutter and wade around the marshes and meadows. Finally, a remote dirt road rises to the Old West town of Jarbidge, gateway to the rugged, wildflower-strewn Jarbidge Wilderness Area. —KC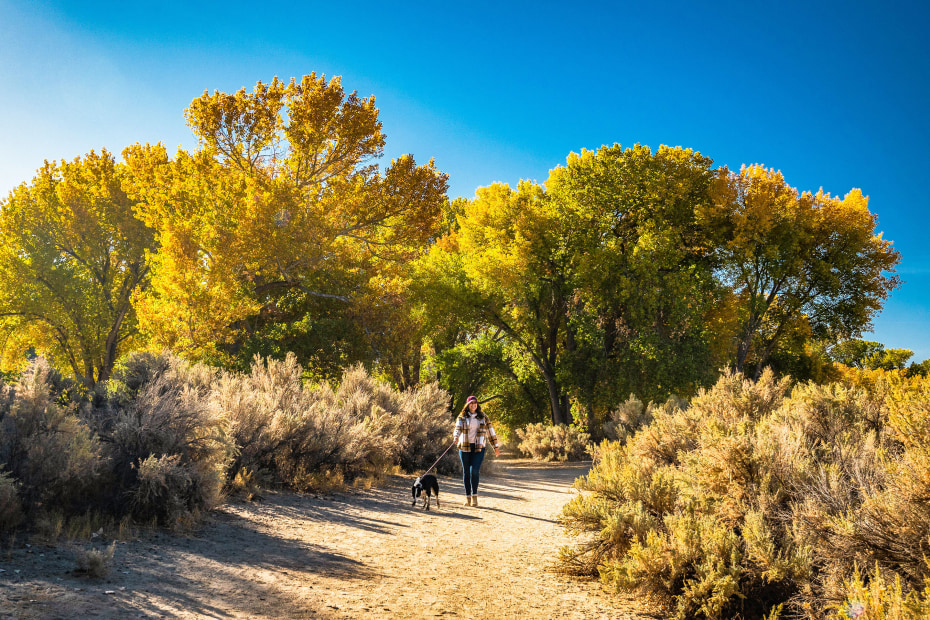 Fall: Frolic Among the Foliage
Carson City to Silver Springs, Nevada
Highway 50 may be known as the Loneliest Road in America, but set off in October to commune with golden cottonwoods and say hello to wild horses, and you'll be lonesome no more. In Carson City, pick up picnic fare such as a ginger-spiked chicken panini at Comma Coffee, then drive northeast to Dayton State Park to stroll beneath stately yellow cottonwoods and graceful golden willows clustered along Carson River. Continuing northeast, loop into Lahontan State Recreation Area, a reservoir home to wild horses, bobcats, pelicans, and egrets. Saunter along some of the 69 miles of shoreline amid the lemony light of fall foliage. Back in Carson City, banish the autumn chill in a steamy outdoor pool at Carson Hot Springs resort. —KC
Swan Valley from Bigfork to Clearwater, Montana
Tucked off the well-traveled path between Missoula and Glacier National Park sits the Swan Valley, a near-magical place in the fall, even by Montana standards. Highway 83 runs for about 90 miles through the glowing heart of this region from Bigfork to the hamlet of Clearwater, about 30 miles east of Missoula, taking you along the spectacular Mission and Swan mountain ranges. Ten-mile-long Swan Lake comes garlanded in golden tamaracks. The Sprunger-Whitney Nature Trail near the Point Pleasant Campground on the Swan River runs for about two miles through an old-growth forest and past interpretive signs that explain some of the flora and fauna you'll see. Tamaracks Resort backs up against the Bob Marshall Wilderness and offers cabins and canoe rentals right on colorful Seeley Lake. In the town of Seeley Lake, swing by Pop's Place Family Restaurant for hearty half-pound burgers and pie. —TN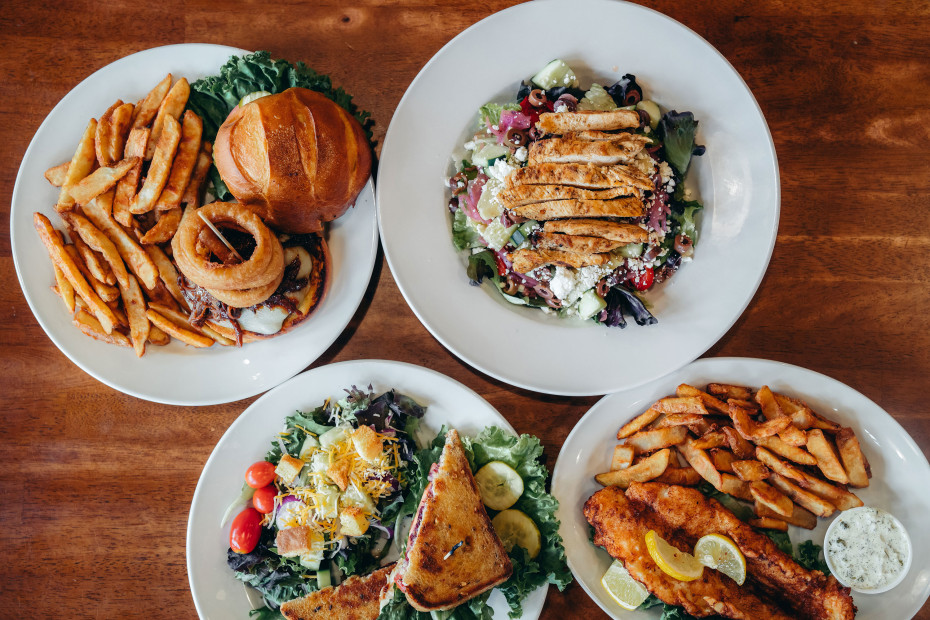 Centennial Scenic Byway, Wyoming
The Cowboy State lights up in the fall as stands of aspen, larch, and willows gear up for winter. One of the most jaw-dropping displays happens in late September near Grand Teton National Park at Oxbow Bend on the Snake River off Highway 191. From there you can pick up the 163-mile Wyoming Centennial Scenic Byway and either head over 9,659-foot Togwotee Pass on the Continental Divide, about 30 miles northwest of Dubois, or loop 130 miles south along the Hoback River to the cute town of Pinedale, ogling copses of yellows and reds along the way. There you'll find the Wind River Brewing Company and a pint of Rocky Mountain Ghost IPA to go with a plate of housemade mac and cheese and a smoked beef brisket. The historic Log Cabin Motel in Pinedale has private, saddle-notched log cabins first built in 1929. If you're continuing south toward Laramie, don't miss "Aspen Alley" off Highway 70 near Encampment to witness 50-foot-high aspens, with branches of flittering yellow leaves reaching over the road. —TN
Nebo Loop Scenic Byway, Utah
This 38-mile route strings together a series of scenic gems: waterfalls, mountain vistas, lakes, and trees in shades of topaz and carnelian. Heading north from Nephi, you'll slalom between overlooks of the autumnal forests surrounding Salt Creek, Bryce Canyon–esque Devil's Kitchen, and majestic Mount Nebo. At Payson Lakes, muse upon the visual poetry of gold and silver aspen mirrored in the water. Continuing up the byway, you'll find two turnoffs for half-mile hikes to charming cascades: Double Falls and Grotto Falls. Though the byway ends in Payson, cruise another 15 miles to Provo to indulge in a Navajo-influenced bleu cheese burger at Black Sheep Cafe. Finally, cozy up in the Victorian parlor at Hines Mansion Bed & Breakfast.  —KC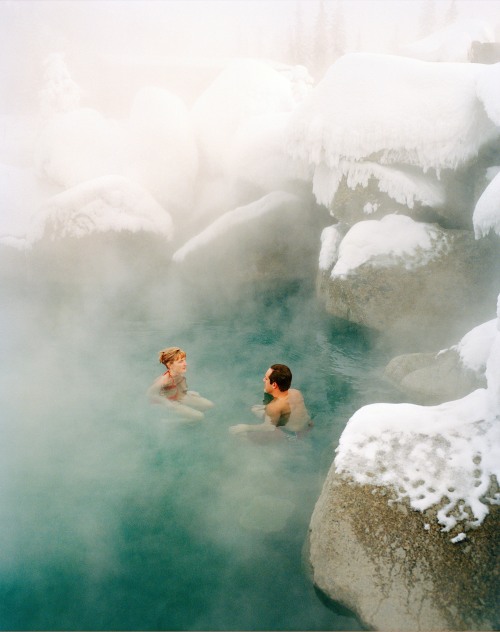 Winter: Warm Up When the Temps Drop
Fairbanks to Anchorage, Alaska
Seeing a place at its most extreme time of year can leave a lifelong impression, especially if that place is Alaska with the northern lights aglow. The main roads are generally well maintained in winter, but you should still give yourself about a week to lollygag along the 360-mile drive from Fairbanks to Anchorage, going right past Denali National Park along the way. En route you can stay and soak at the light-pollution-free Chena Hot Springs Resort, where staff will give you a wake-up call if the northern lights are happening. In Talkeetna, you'll often find locals packed into Mountain High Pizza Pie devouring flatbreads. Companies such as Alaska Tours can plan a self-driving trip for you including a four-wheel-drive rental, accommodations, and recommendations on how best to see the lights.  —TN
Benson to Chiricahua National Monument, Arizona
Bizarre boulders, flocks of birds, and flights of wines await wintertime travelers to this quiet corner of Southeastern Arizona. Heading east on I-10 from Benson, you'll pass buckskin-colored boulders scattered atop hills and perched around the Amerind Museum, which showcases Native American art and archaeology. In Willcox, stop at the crane observatory to point your binoculars at thousands of sandhill cranes stiltwalking in the lakes and filling the air with trilling vocals. Each January, the Wings Over Willcox festival honors the birds, which overwinter here from November to February. Next, cruise to Chiricahua National Monument's Bonita Canyon Drive, which weaves through a forest of rock spires freckled with chartreuse lichen. Back in Willcox, refuel with chiles rellenos at Isabel's South of the Border and sip wines from three local vineyards at Willcox Commercial, where Geronimo used to shop. Then slumber among grapevines in a quonset hut at Rhumb Line Vineyard & Lavender Farm. —KC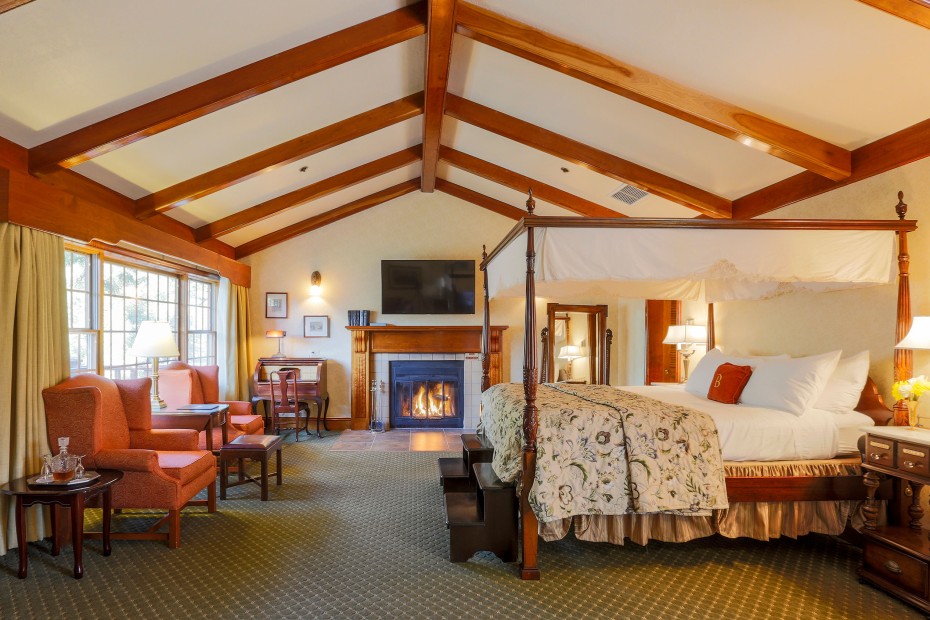 Crescent City to Mendocino, Northern California
With craggy shorelines, towering forests, and friendly, cozy towns bursting with myriad ways to warm up, the Northern California Coast takes on an even wilder appeal in winter. The 230-mile route from Crescent City to Mendocino on Highway 101 and Highway 1 takes you by must-stops like Del Norte Coast Redwoods State Park, Prairie Creek Redwoods State Park and Redwoods National and State Parks, where you'll find the giants often shrouded in mist. Stars such as Spencer Tracy and Clark Gable used to carouse at the Benbow Historic Inn about three miles south of Garberville, where a collection of gorgeous suites make you feel like you've stepped back into the 1920s. Traveling without kids? Patterson's Pub in Mendocino, once a church, today has 26 beers on tap, giant Reuben sandwiches, and heart-warming vibes straight out of Ireland. —TN
Death Valley Rally/Spring Mountain Loop, Nevada
This 400-ish-mile odyssey from sand dunes to snowy peaks feels like it fast-forwards through several seasons. Leaving Las Vegas, choose your adventure on the drive to Death Valley National Park via Highway 160. Maybe stretch your legs on the two-mile Moenkopi Trail in Red Rock Canyon National Conservation Area. Perhaps overnight in Pahrump to sample Nevada's vino at Artesian Cellars Winery & Restaurant. In Death Valley, take a spin on nine-mile Artists Drive to marvel at rocks stained teal, turmeric, mauve, and mulberry. Then rock up to Rhyolite, one of the West's most photographed ghost towns. In nearby Beatty, get toasty with the signature stew at classic saloon Happy Burro Chili & Beer. Looping back toward Las Vegas, swing up the 50-mile Spring Mountains Scenic Drive, which climbs from creosote-studded desert to conifer forests with views of snow-capped Mount Charleston. —KC