Located just 90 minutes from Phoenix is the hamlet of Payson, nestled below the breathtaking Mogollon Rim and sitting within the world's most prominent strand of virgin ponderosa pines. No matter where you kick off your exploration, you'll find spectacular views of the 200-mile-long cliff that rises to elevations of 7,000 feet and drops down 2,000 feet to the valley below—and enjoy clean, crisp forest air. 
Things to Do
In addition to its mountain backdrop, Payson offers quick access to seven sparkling lakes. The stunning Green Valley Lake is actually three lakes within the 45-acre Green Valley Park, a central point for family-friendly entertainment and community-driven events throughout the year. Looking for something active? The lakes are prime spots for casting a fishing line. Rainbow trout are stocked here from mid-October to mid-May as part of the Arizona Game and Fish Department's community fishing program. 
This fall, the State Championship Fiddlers Contest makes its return to Green Valley Park (September 23–25). Listen to fiddlers from all over Arizona playing to earn a spot in the National Oldtime Fiddlers' Contest. On October 31, Trunk or Treat will bring out the local ghouls and goblins front and center for a family-friendly spook-tacular.
Get a history lesson while exploring the park at the Rim Country Museum and Zane Grey Cabin. The museum pays homage to Payson's most famed residents, including Western novelist Zane Grey, highlighting his work and the importance he holds for the town. You'll find a replica of his cabin before the Dude Fire, one of the most destructive forest fires in modern history.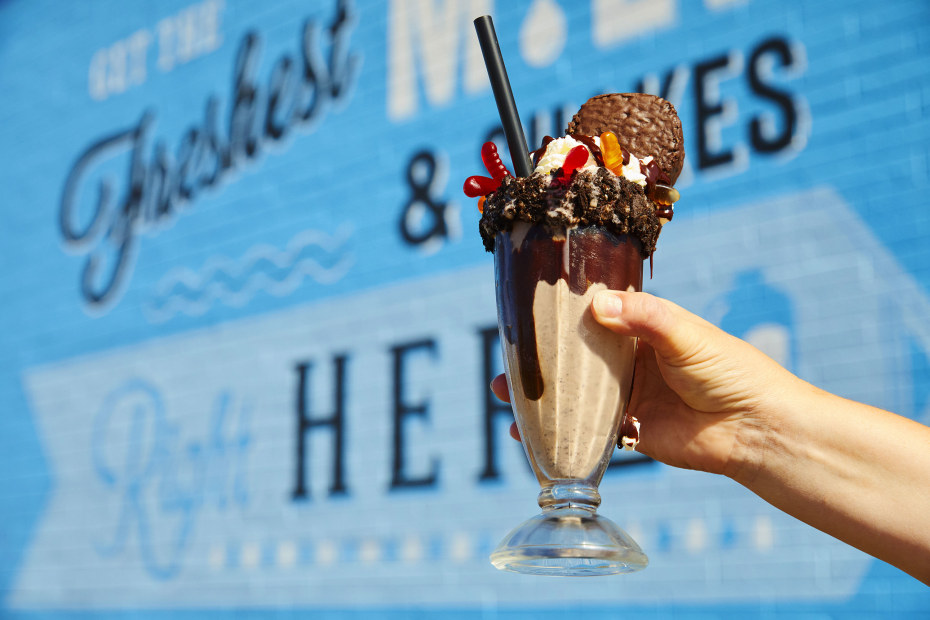 Where to Eat
Payson may be considered a small town, but that doesn't mean it's short on flavor. Start the day with a cup of joe from Common Ground Coffee. This neighborhood favorite puts an emphasis on "local." Its beverages use honey and spices sourced nearby, and regulars can write their name on a mug, hang it on the wall in the "local corner," and drink from it the next time they stop by. Order the Local Bee Latte, a lavender latte sweetened with local honey, and pair it with a pastry baked fresh by the manager. 
The eclectic Duzas Kitchen serves up innovative dishes that highlight the many flavors of the Southwest. A not-to-miss favorite, the arepas—traditional cornmeal cakes—are topped with fresh salsa, vegetables, and a dollop of sour cream. And don't pass on the fresh-squeezed juices. 
Pamper your sweet tooth at Danzeisen Dairy Creamery Store. No matter what flavor you order, the fresh and creamy ice cream might be the best you've ever had. For a true indulgence, choose one of five Stack Shakes, a classic milkshake loaded to the brim with toppings and syrup. Not sure which shake to choose? Go for the sampler, which offers four 8-ounce versions of the frozen treats.
Where to Shop
Five minutes into town along Route 87—also known as the Beeline Highway—you come to the Payson Candle Factory. This is far from your typical candle shop, offering uniquely shaped candles with quirky titles and self-affirmations, as well as trinkets and collectibles. Sign up for a candle-making class and score a fun memento of your visit. 
For tasty items to bring home, head to Payson Olive Oil Company, which offers unique combinations of oil and vinegar. But don't be overwhelmed: The friendly and knowledgeable staff can teach you how to pair and cook with these flavor-bursting ingredients. 
Feel like a local when you stop by Explore the Attic, where you can peruse vintage items while chatting about what's going on around town. The store is full of knickknacks offered by many vendors, from jewelry and sewing machines to home goods and records. The unique and versatile finds at this antique shop just might restore your passion for antiquing.
Outdoor Fun
Payson is the perfect escape for outdoor-adventure seekers of all ages, offering activities from horseback riding and fly-fishing to hiking. Begin your hiking adventures on the Payson Area Trail System, a community-wide trail network created in partnership between the town of Payson and the U.S. Forest Service. The trails are designed to keep outdoor activities safe and easy, and the system map informs you of the level of difficulty, the distance, and trail type. Pick one up at the Payson Visitor Center before hitting the trails.
Make a visit to Water Wheel Falls one of your first stops in Payson. This family-friendly day use area is popular year-round, but visiting in autumn gives you a glimpse of the foliage in all their fall glory. Get an early start on this 1.6-mile hike to enjoy views of the deep valleys, cascading terrain, and dazzling waterfall with fewer crowds. If you're up for it, continue another quarter mile along the trail, past the Verde River, to check out the stunning Ellison Creek Falls.
Tonto Natural Bridge State Park, in nearby Pine, is small but mighty, offering the world's largest natural travertine bridge and four hiking trails of varying difficulty. Allow an hour to complete the Anna Mae Trail to see unique rock formations and desert flora and fauna before connecting to Pine Creek Trail, which leads you to the natural bridge.