Thanks to Arizona's varied terrain, the state's symphony of seasonal color begins on the aspen-covered alpine peaks in late September and extends into December in riparian canyons. These easy drives and hikes take you to leafy wine country, maple-fringed mountain roads, and a secret golden wilderness.
Sedona Area
Arizona's most famous fall drive is Highway 89A between Sedona and Flagstaff, which winds through Oak Creek Canyon's flaming red maples, sumacs, and gambel oaks. The only problem? It's over too soon. 
To lengthen your leaf-peeping jaunt, take a detour through bucolic Page Springs on the way to Sedona. From the Phoenix area, drive north on I-17 and take exit 293 after you pass Camp Verde, then wend your way through kernel-sized Cornville. Turn right onto Page Springs Road, which is spangled with fallen yellow leaves as it winds past wineries. Consider stretching your legs at D.A.Ranch, a sprawling estate vineyard with a willow-draped lake and a swing dangling from a golden, grandfatherly cottonwood. Continue on Page Springs Road to Highway 89A, then head northeast through Sedona and spectacular Oak Creek Canyon. 
Best time to go: Mid-October to mid-November. Check the LEAF-ometer for Sedona and Flagstaff foliage updates.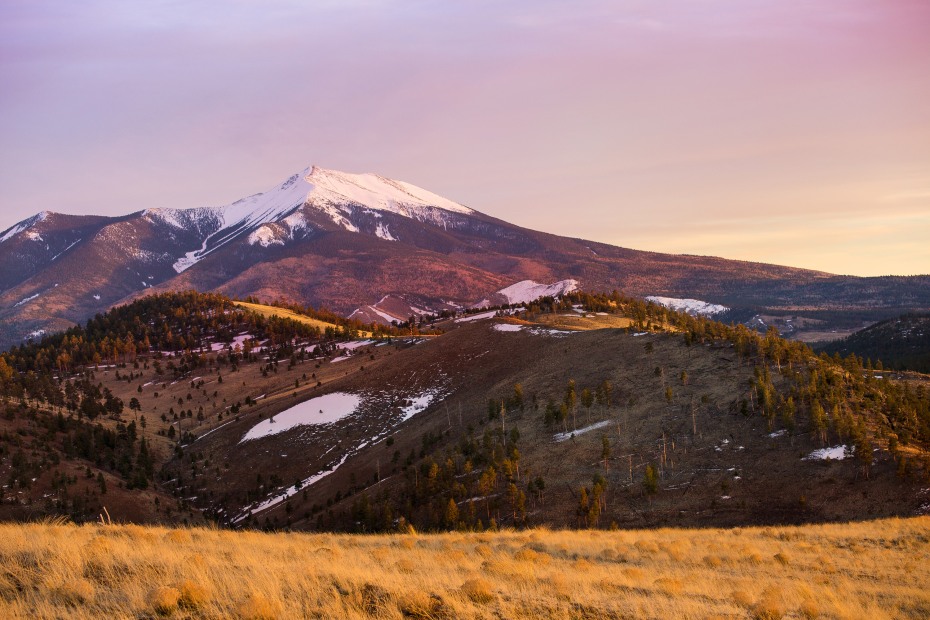 Flagstaff Area
A chairlift ride at Arizona Snowbowl offers stunning views of the San Francisco Peaks in their autumnal glory. But if you prefer to skip the crowds—and the vertigo—the 50-mile Around the Peaks Loop lets you take in all the color from the comfort of your car. 
From Flagstaff, drive northeast on Highway 89 for 15 miles to Forest Road 552. (Turn left at the "Forest Access" sign at mile 430.4.) From FR 552, turn right at the "T" intersection toward FR 418. Continue on 418 for about 13 miles, past photo-ops of 12,633-foot Humphreys Peak (the highest point in the state) and stands of aspen with silvery trunks and yellow leaves fluttering against a turquoise sky. Fun fact: The trees you stand before are self-made clones, which means the Aspen groves are genetically identical and share a root matrix. When you reach FR 151, turn left to meander through Hart Prairie, where trees the color of turmeric cluster in a cloud-shaped grove. 
Best time to go: October.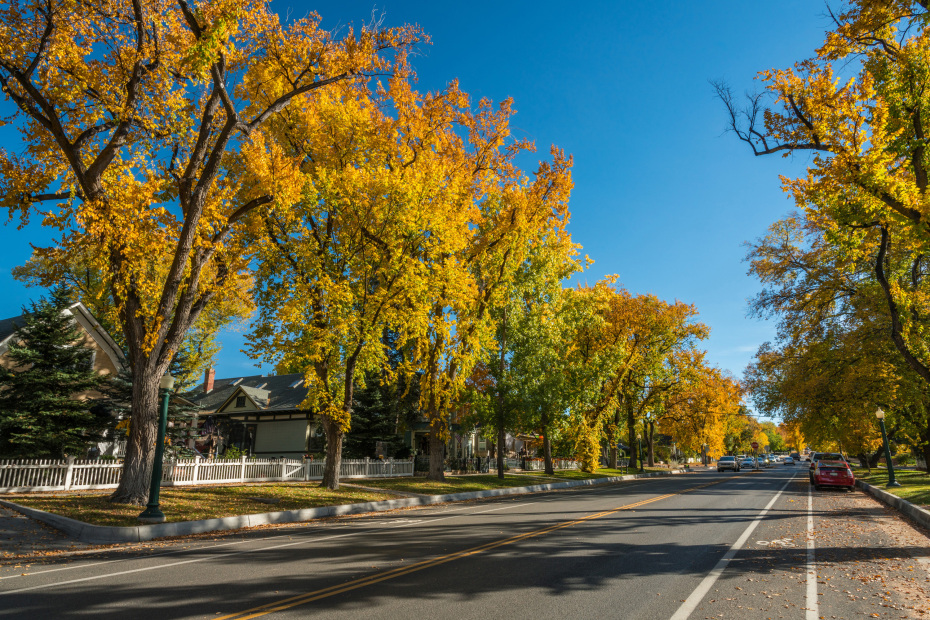 Prescott Area
The drive from Prescott to Clarkdale is a gold rush of autumnal color, mining history, and small-town charm. Begin in historic downtown Prescott with a cruise down Mt. Vernon street, where the oak trees are dressed in copper leaves and the Victorian homes are decked out for Halloween or Thanksgiving. Then drive east on Gurley Street and head north on Highway 89. Next, venture east on 89A, a vertiginous road that's splashed with yellow ash and oak trees as it spirals up Mingus Mountain. At Jerome—a former mining boomtown-turned-quirky enclave for artists and motorcyclists—you can drink in the views of the Verde Valley rippling toward Sedona's red rocks. 
Continue down the mountain on 89A toward Clarkdale, a 1912 company town for copper smelters. From here, you can travel to Tuzigoot National Monument, a 1,000-year-old hilltop Sinagua village overlooking golden cottonwoods along the Verde River. Or drive to Dead Horse Ranch State Park, where colorful cottonwoods encircle a trio of lakes. 
Best time to go: Late October to late November.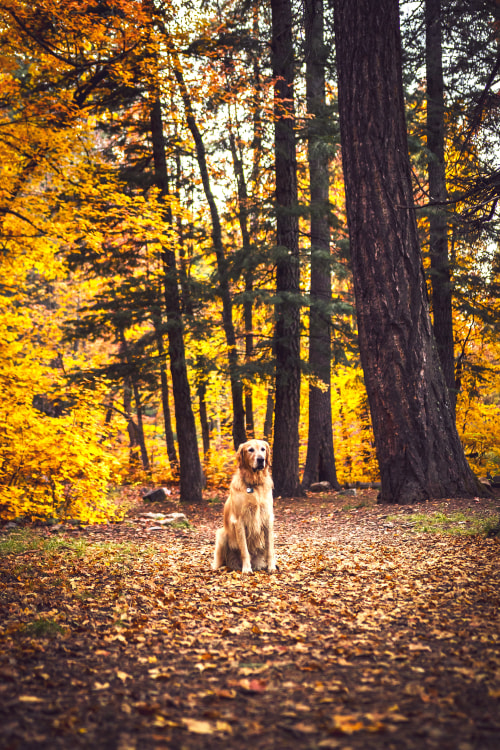 Tucson Area
At 9,100-feet, Mt. Lemmon is home to a surprising variety of flora. As you cruise up the Catalina Highway, you'll be surrounded by saguaros, then conifer forests splashed with canary-colored aspen and scarlet maples. Sadly, this summer the Bighorn Fire blazed through the Catalina Mountains, burning parts of Mt. Lemmon. But many areas were spared, including the mountaintop village of Summerhaven. A drive up the byway in late fall may be bittersweet, but it should still be blessed with elements of fall beauty. From Tucson, travel east on Tanque Verde Road, then head northeast on the Catalina Highway for 30 miles to Summerhaven. 
Alternatively, opt for a hike in Madera Canyon, a birdwatching refuge about 30 miles south of Tucson. The easy 1.8-mile Nature Trail meanders alongside a creek shaded with amber-leafed sycamores.
Best time to go: Mt. Lemmon and Madera Canyon are best visited in late October to early November. Check the Forest Service site for Mt. Lemmon trail and road closures as a result of this summer's fire before you go.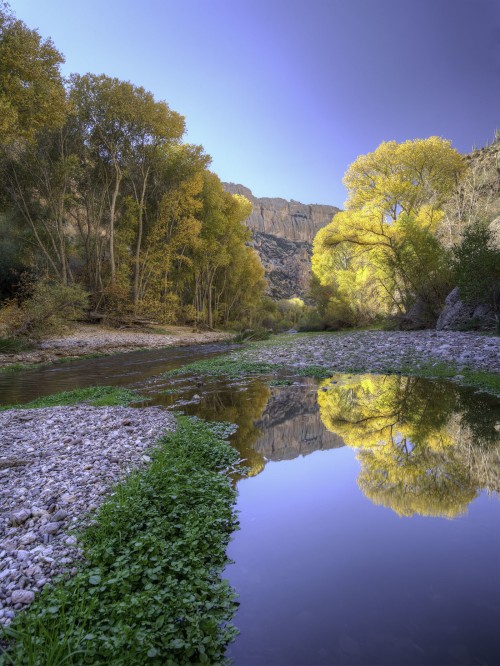 Phoenix Area
Aravaipa Canyon is a wonderland where a cottonwood- and sycamore-shaded creek is secreted away amidst saguaro-striped cliffs. In late fall, the trees turn shades of butterscotch and pumpkin, echoing the hues of the surrounding rocks. Bring shoes you don't mind getting wet, because Aravaipa Creek is the trail, and the magic of a hike here is splashing through the shallow water like a kid. You may also want walking sticks to help stabilize you on occasional slippery stones. The water should be refreshing in October and November, but if you visit in December, neoprene socks can help keep your feet comfortable.
You need to purchase a permit ahead of time, and the Bureau of Land Management limits entry to 30 people per day from the West Trailhead, so it's easy to practice social distancing. The dramatic road to the west entrance is dirt for 9 miles, and though it's a bit bumpy, you don't need four-wheel drive or a high-clearance vehicle in dry weather.
Best time to go: Mid-November to early December.