To hear New England tell it, you'd think that glorious fall foliage only happens there. But we in the West respectfully disagree.
Veteran western leaf-peepers know that we can experience spectacular explosions of color, though their timing and hue depend more on tree species and elevation than latitude, as in the Northeast. Looking to do some peeping yourself? Keeping in mind that peak viewing dates can vary year to year, even at the same location, here are a handful of top spots near metro areas to get you started.
Northern California
Ed Z'berg Sugar Pine Point State Park
2 hours from Sacramento; 1 hour from Reno
At Lake Tahoe's Ed Z'berg Sugar Pine Point State Park, mid-October is often prime time for a saffron-hued display of quaking aspens and black cottonwoods along the General Creek Trail. Fifteen miles south near Emerald Bay, the Taylor Creek Loop delights South Lake Tahoe visitors. Elsewhere in the Sierra Nevada, the riot of color starts in late September along many Plumas County roads, including the Feather River National Scenic Byway.
Wine Country
1-2 hours from San Francisco
Look to the vineyards, not the trees, for some of the area's most spectacular autumn leaves. Along Napa's Silverado Trail, for example, vineyards are ablaze in red, amber, and gold. Because each grape varietal changes color at a different time, the spectacle can last from mid-October all the way through November. In Mendocino County, Ukiah offers an in-town bonus to the surrounding vineyards: eye-popping oranges and reds that start in September and last through October on the Chinese pistache trees lining School Street in the historic downtown.
Gold Country
1 hour from Sacramento; 2.5 hours from San Francisco
Come autumn, Highway 49 through the Gold Country is paved in its namesake color—and others—thanks to stands of aspen and other deciduous trees mixed in with the evergreen pines. But from early October and sometimes into late November you'll find some of the most concentrated displays of color in the twin towns of Grass Valley and Nevada City, where the maples and liquidambars (sweetgums) light up historic districts, especially along Nevada Street in Nevada City and Grass Valley's Neal Street.
Smart Tip: For state-wide leaf reports, check the website California Fall Color.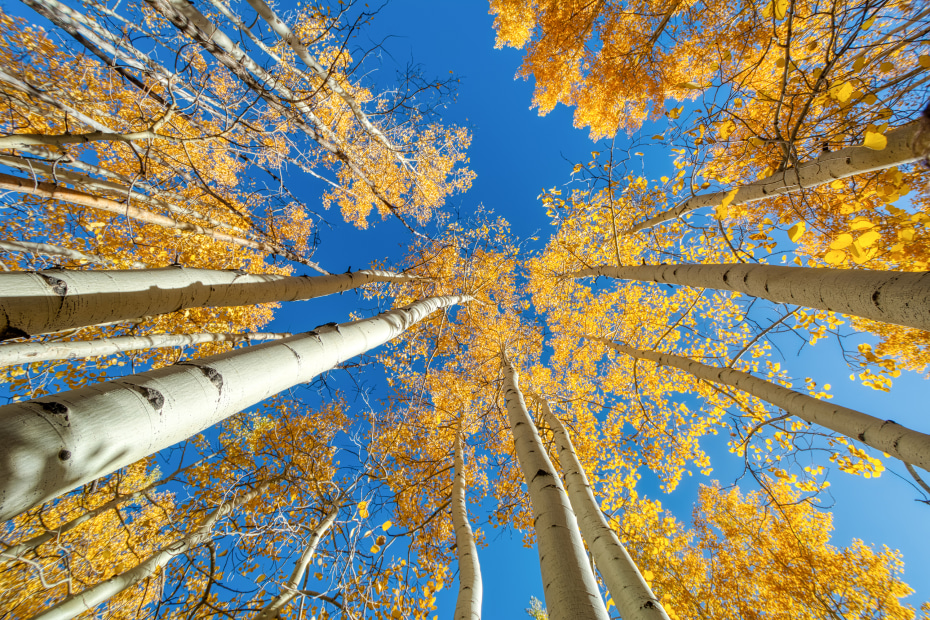 Arizona
Flagstaff
Brilliant, golden-leafed aspens are the fall foliage stars of Flagstaff, Arizona's capital of autumn. Starting in September, large stands shimmer in the San Francisco Peaks above the city; hike the easy, 1.8-mile Aspen Nature Loop about 20 minutes outside downtown to get an eyeful. Later, the display descends into Flagstaff itself, where it's joined by the scarlet, yellow, and bronze leaves of maples, poplars, and oaks.
Nevada
Lake Tahoe Nevada State Park
45 minutes from Reno
Each October in the Spooner Backcountry area of Lake Tahoe Nevada State Park, aspens and deciduous shrubs dazzle in tones of gold, orange, and red along the easy, 2.1-mile Spooner Lake Loop trail. For more intense leaf-peeping, make the five-mile hike along North Canyon to Marlette Lake, where even denser stands of aspens ring the southeast edge of the water.
Spring Mountains National Recreation Area
45 minutes from Las Vegas
In the Spring Mountains National Recreation Area—aka Mt. Charleston to the locals—aspens light up the canyons beginning around the third week of September. If you'd like to take a drive to see the show, which is often over by mid-October, make a loop off U.S. 95 by driving up Kyle Canyon Road, along Deer Creek Road, and back down Lee Canyon Road.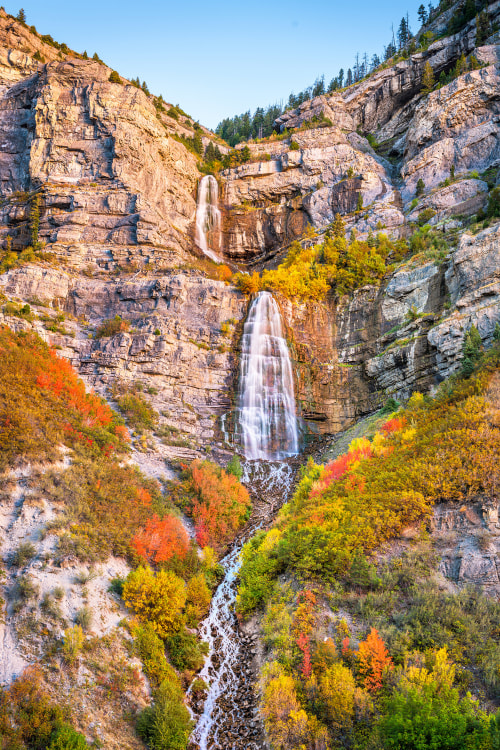 Utah
About 40 miles south of Salt Lake City via I-15, the aspens, maples, and oaks of Provo Canyon are at their showiest for two weeks between late September and late October. Enjoy the canyon's color while driving the 20-mile Alpine Loop Scenic Byway through the Uinta-Wasatch-Cache National Forest—with a stop for an easy walk to Cascade Springs—or while riding on the Heber Valley Railroad.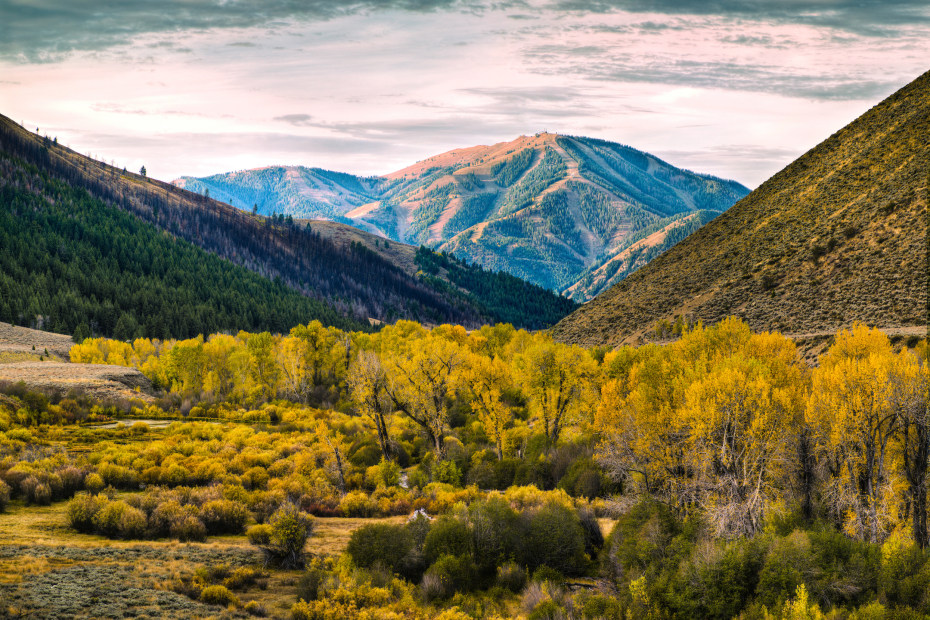 Idaho
Boise River Greenbelt
Boise lives up to its nickname—The City of Trees—in a big way each fall along the Boise River Greenbelt. Walk or bike along virtually any part of the 25-mile path for vibrant shades that typically peak in the latter half of October, or check out hot-spots like Marianne Williams Park, Veterans Memorial Park, or Esther Simplot Park.
Sun Valley
2 hours and 40 minutes from Boise
During the fall, aspens and cottonwoods erupt in color all around Sun Valley and its neighboring communities. Around September, you'll enjoy a concentrated dose of them on the easy, 2.5-mile Sunnyside-Lane's Trail in the Adams Gulch area of Sawtooth National Forest.
Smart Tip: Visit Idaho has a helpful map of other leaf-peeping suggestions.
If you're going:
Wildfires have aversely affected parks and forests across the West this season. Be sure to call ahead to check current closures and conditions. During your visit, heed any posted warning signs.
Check out the National Fall Foliage Map to see when the leaves are expected to change all across the country.