In the wake of the discovery of gold in 1848 at Sutter's Mill, the wilderness that was the Sierra Nevada foothills transformed into a constellation of boomtowns. Though many towns, hotels, saloons, and houses of ill repute were abandoned as quickly as they were built, the frontier soul of the Gold Rush remains—and there's no better way to experience it than to take a drive from Nevada City to Coloma along California's historic Highway 49. From its switchbacks through pines to the American River's white waters and canopied canyon, signs of the Gold Rush dot the highway's route.
California Highway 49 Stops
National Hotel Nevada City (undergoing restoration and set to open summer 2019) and Grass Valley aren't far off Highway 49, and either would make a great home base for your ventures into Gold Country. The National, on Nevada City's main drag, was the oldest continually operating hotel west of the Rocky Mountains, and is in the process of being returned to its former glory. 211 Broad St., Nevada City.
A few blocks away stands the Emma Nevada House, a six-room historic bed-and-breakfast. Weather permitting, breakfast is served on the patio. 528 E. Broad St., Nevada City.
As you head south on Highway 49, there's not much to see beyond the tree-lined horizon for about 25 miles, but keep your eyes peeled for Elm Avenue. Turn left and watch as strip malls give way to a one-lane road that plummets like a tightly wound spring into a quintessentially Northern California landscape of oak woodland and pine trees. Here the real Highway 49 begins. In the valley, trees surround the churning waters of the American River. For the next few miles, popular hiking trails crisscross the road in the Auburn State Recreation Area, a spectacular 42,000 acres of parkland along the North and Middle Forks of the American River.
Within the Auburn SRA, two and a half miles from Elm Avenue you'll see a trailhead at Gate 131, a local favorite, not only for its quick entrée to the river, but for its parking price. (It's free.) (Gate 151 also offers easy access for kids and pets, but take heed of warning signs and stay on the high path in case the river rises.) Look for the green or yellow numbered gates. The Old Limestone Quarry trail, across the street, offers the easiest access. Day use is $10.
From the State Recreation Area, the road narrows. Up the hills, fluorescent green moss clings to the rocks in the shade of young pines as you make your way past an enormous working quarry that looks both picturesque and postapocalyptic. About halfway to Coloma you pass the ironically named one-strip-mall town of Cool. But soon the road straightens to a tawny landscape of horse stables and panoramas of snow-peaked mountains.
About four miles from Cool a roadside plaque in Pilot Hill marks California's first Grange Hall (Pilot Hill Grange No. 1), a designated California Historical Landmark. Dedicated in 1889, the hall was created as a support center for farmers to share harvest bounties and help them get better prices. Pilot Hill's Grange Hall is no longer there, having been replaced with a firehouse. Nearby is Bayley House, the former residence of the founder of the Grange charter, which looks rather haunted now that it's boarded up, awaiting funding for its restoration.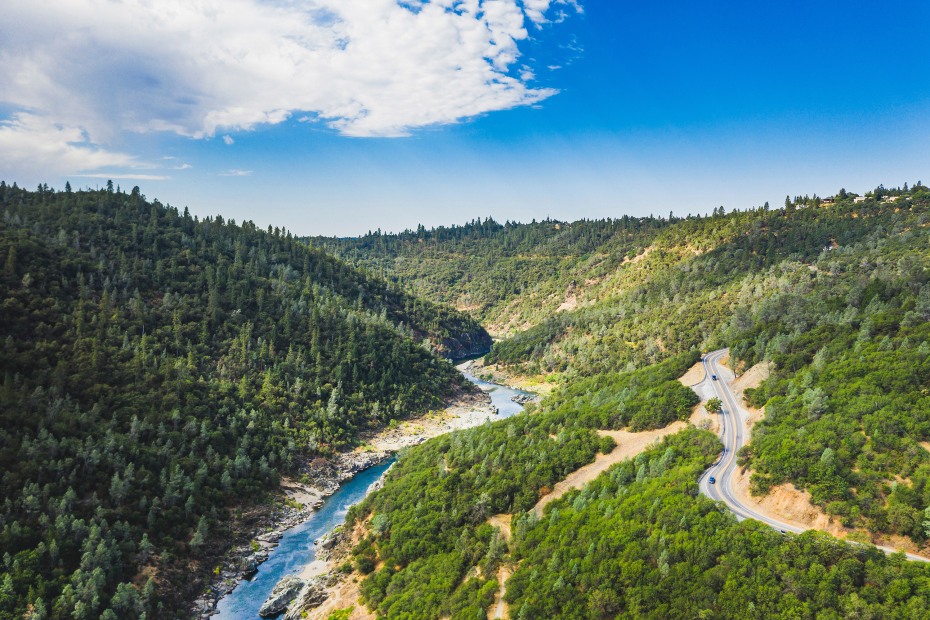 Keep following Highway 49 east to Coloma. Soon you'll see dozens of signs for white-water tour operators, and for good reason. The American River rapids are the most popular in California. Though summertime is the most active season, diehards hit the uncrowded, clear, and freezing waters year-round. Mother Lode River Center, a popular option, offers half- and multiday package trips at various bends on the American. With 29 years experience, Action Whitewater Adventures specializes in half- to multiday teen and youth trips. All-Outdoors California offers trips along the American and eight other rivers throughout California.
Hit the Marshall Gold Discovery State Historic Park in Coloma and . . . Eureka! You've found it. This park is ground zero for the California Gold Rush and a history buff's Disneyland. Historic buildings and sites by the dozens, gold-mining machinery, and historic mechanical doodads such as buggies and farming equipment line a web of walking trails and grassy knolls in this picturesque park. It's a great place for a picnic, whether or not you're interested in gold. If you've come foodless, the area hosts several history-themed cafes and restaurants, but check ahead because some are closed during winter months. Don't miss the Visitor's Center ($8 per vehicle), which is filled with artifacts and dioramas depicting Gold Rush and American Indian scenes. The often heartbreaking facts about the Gold Rush's impact on Native cultures add a deeper context to the search for riches.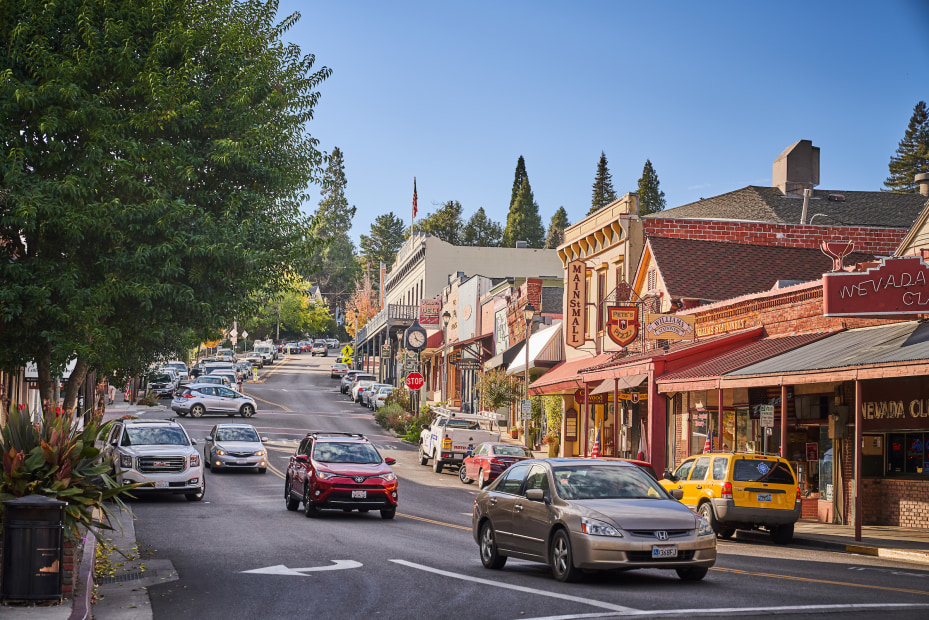 Continue to James Marshall Monument on Highway 153—the state's shortest highway. It's also narrow, winding, and less than half a mile long; few have wished it longer. Take Highway 153 back down the hill and turn left on Highway 49, slowly passing the Olde Coloma Theatre and its Old West facade. On your way, you could stay the night in quaint downtown Grass Valley at the historic Holbrooke Hotel. Established in 1851 (and rebuilt in 1862 after a fire), this 28-room boutique hotel exudes character, offering luxurious-size rooms with sometimes funky period details. Each room is named after a "citizen of note" who stayed at the hotel within the last 150 years, including authors such as Bret Harte and a slew of folks whose claim to fame is buried in the dustbin of history.
A refreshing escape from the boutique restaurants of Nevada City and Grass Valley can be found a few miles north on Highway 49 at the Willo Steakhouse, where meals are served in a park service−style dining room with wood paneling, broad tables, and no-nonsense service. The assortment of whimsical-verging-on-weird lacquered clocks on the wall depicts everything from kittens to Jesus. But the real attraction at the Willo (named after husband-and-wife founders William and Lola) is the huge flaming grill at center of the dining area, where servers prepare catfish, chicken, New York steaks, and rib-eye, all out in the open.