Progress takes its time in Cochise County, where nature has carved a wonderland out of stone, and wee towns form a gateway to traditional arts and culture.
The beginning of winter is a good time to make Benson, Arizona (45 miles southeast of Tucson), your headquarters for seasonal treasure hunts. Plan a few days to tour the backroads around this town, founded when the Southern Pacific Railroad came through in the 1880s to serve the booming mining towns and rich ranch country.
Turn Back in Time
Let the fun begin, far removed from tourist bustle. From Benson, head 14 miles east on Interstate 10 to exit 318, turning right onto Dragoon Road. Check in at Amerind Museum—a beacon for Native American archaeology, arts, geology, and history. Here you can walk among Texas Canyon's spectacular rock formations, view exhibits, and shop for pueblo jewelry, pottery, and baskets. You even can get some holiday shopping done with handcrafted ornaments and original music. If there's time, stop at the cemetery at the entrance, where the area's earliest settlers are buried. And don't miss the Triangle T Guest Historic Ranch next door, a film location for many movies including those starring John Wayne and Glenn Ford. The ranch's Rock Saloon & Grill is open to the public on Saturdays.
Handicrafts and History
Follow Dragoon Road into town about 3 miles, turning left onto Johnson Road to visit the Dragoon What-Not Shoppe. Donnett Adams' family has ranched the region for generations, and she'll direct you to the area's crafts, farmers markets, and historic sites. Browse her shop's locally made, mesquite-copper items and midcentury collectibles before heading out to see the Leonidas Thompson House, one of the oldest wooden structures in Cochise County.
To get there, drive over the railroad tracks and east along Dragoon Road about 8 miles, passing a winery as well as a farm shop with local pistachios, relishes, and gourds. Turn right onto Cochise Stronghold Road, where in less than 4 miles, you'll come upon the leaning, but lovingly conserved homestead decorated with photos and furniture of the period. The owners will be happy to share their research on the Thompson family and Cochise ranching. 
Small-Town Treasures
A few miles farther south, a right onto Ironwood Road takes you to rocky Forest Road 84. Head south 4 miles to find the Cochise Stronghold Campground where, in the heart of the Dragoon Mountains, legendary Apache Chief Cochise is said to be buried. Or, motor east on Ironwood Road and continue about 9 miles to Route 191 and south into Sunsites. Here you'll find a tiny boardwalk of shops, a cafe, bakery, and farmers market held every Saturday from 8 a.m. to noon. This quaint blip of a town is a good place to refresh before heading farther south.
Go less than a mile and you'll make a right turn to Pearce, the 1894 gold- and silver-rush ghost town still rich in historic architecture and handmade treasures. At the nearby cemetery, you'll see the burial sites of several Civil War soldiers and other colorful characters. And be sure to visit Marcia's Garden Soap Shop to admire assorted soaps infused with local botanicals.
You're sure to find plenty of side adventures as you explore the Benson area, with treasures tucked away in unlikely places. Savor the essence of a different era in this place where no one stays a stranger.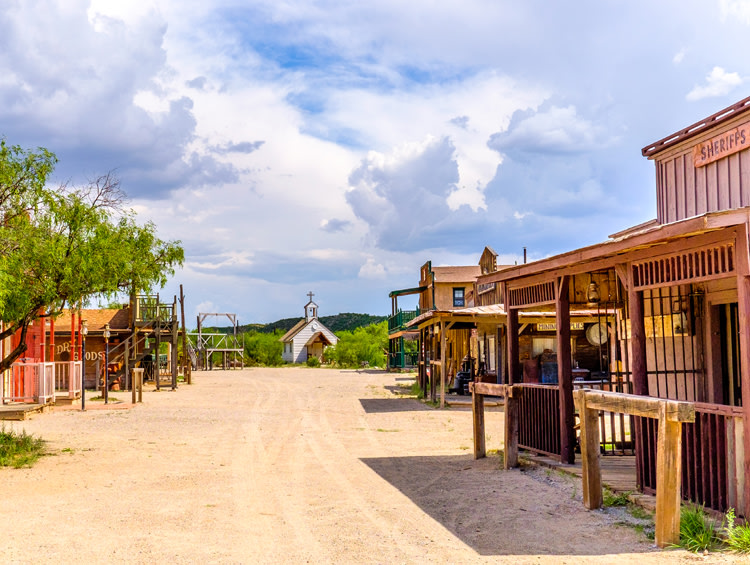 Benson Side Trips
Ghost Town Stroll in Fairbank: If you're hankering for history visit the historic townsite of Fairbank, just 17 miles south of St. David. A railroad town founded during the 1881 silver boom, Fairbank is maintained by the U.S. Department of the Interior's Bureau of Land Management. Ramble through its buildings and schoolhouse on your own.
Gammons Gulch Movie Set and Museum in Benson: For a side adventure in Wild West folktales take a tour of a re-created 1880s town that opened in 1995. Jay Gammon's dad was a local deputy who doubled as John Wayne's bodyguard when the star was in town shooting movies. Western movie fever inspired Jay to build this town, filled with memorabilia and many authentic artifacts. For group tours and storytelling, call ahead, as this is still an active movie set.
Singing Wind Bookshop: Purposeful bibliophiles will like browsing this eccentric indie bookshop lauded for its ranch panorama and specialized collection of books on the southwest. A Thanksgiving Fiesta, with live music and refreshments, is set for Nov. 22. Although Singing Wind usually is open seven days a week, call for events and hours of operation (520-586-2425).
Events
Holy Trinity Monastery's Festival of the Arts, St. David. More than 100 local artists and performers gather for this annual festival. The monastery is located in a riparian area shaded by mammoth cottonwoods and a 70-foot Celtic cross. Year-round, you can visit the grounds, follow a bird sanctuary trail, sit in the chapel, or visit the shop for monastery-made breads and arts. 
Cascabel Community Fair, Cascabel. This annual event is held deep in a mesquite forest that threads along the San Pedro in a quasi-ghost town that awakens the first weekend in December. You'll find handicrafts, live music, and food booths. Directions: Take I-10 through Benson to exit 306. Head north through Pomerene. Follow the signs for 20 more miles (the last five of which are unpaved).