Some 150 years ago, prospectors flowed into southeastern Arizona seeking copper, silver, and gold. The mines have since played out, but a road trip from Tucson to Bisbee still promises gems. The southern Arizona grasslands hold a particular beauty, while the flat valleys and craggy mountains provide a stunning backdrop for superb sunsets, Wild West towns, and a host of natural wonders.
Once you've left Tucson behind, you'll reach Vail, a small town beneath the Rincon Mountains. Vail serves as a gateway to the Arizona National Scenic Trail, an uninterrupted 800-mile path that stretches from Mexico to Utah. Enter from the Gabe Zimmerman Davidson Canyon Trailhead, and you'll catch valley views from the agave- and saguaro-fringed path. Want to see some wildlife? Apply online for a permit to visit Cienega Creek Nature Preserve, a portion of the trail that's home to horned lizards, javelinas, and more than 150 bird species, including roadrunners.
Underground treasures await at Kartchner Caverns State Park in Benson. Over 250,000 years, water shaped this limestone cave, creating thousands of ivory-hued stalactites and stalagmites. On the 90-minute Rotunda–Throne Room tour, you can gape at a 21-foot, three-inch-long soda straw stalactite—the world's longest. While you're in the neighborhood, drive the half-mile dirt road to Singing Wind Bookshop, self-proclaimed "Headquarters for Books about the Southwest," where tomes line shelves hewed from local mesquite wood.
Down the road sits St. David, an ancient lake bed that now hosts Holy Trinity Monastery. The 150-acre grounds are full of surprises, from the tidy rows of pecan trees to the peacocks roaming the meditation garden. Visitors can relax by the koi ponds, check out the 10,000-volume lending library, or swing by the gift shop to buy bags of locally grown pecans.
The wild and woolly days of the Old West come alive along the wooden sidewalks of Tombstone. Local re-enactors channel Doc Holliday and the Earp brothers dueling on the dusty streets near the O.K. Corral, while nearby, hardworking editors churn out fresh editions of the 140-year-old Tombstone Epitaph. Tombstone Courthouse State Historic Park showcases mementos of Tombstone's history, such as a tax license for operating a brothel. After your visit, wind down with a bite at the beautifully restored Crystal Palace Saloon.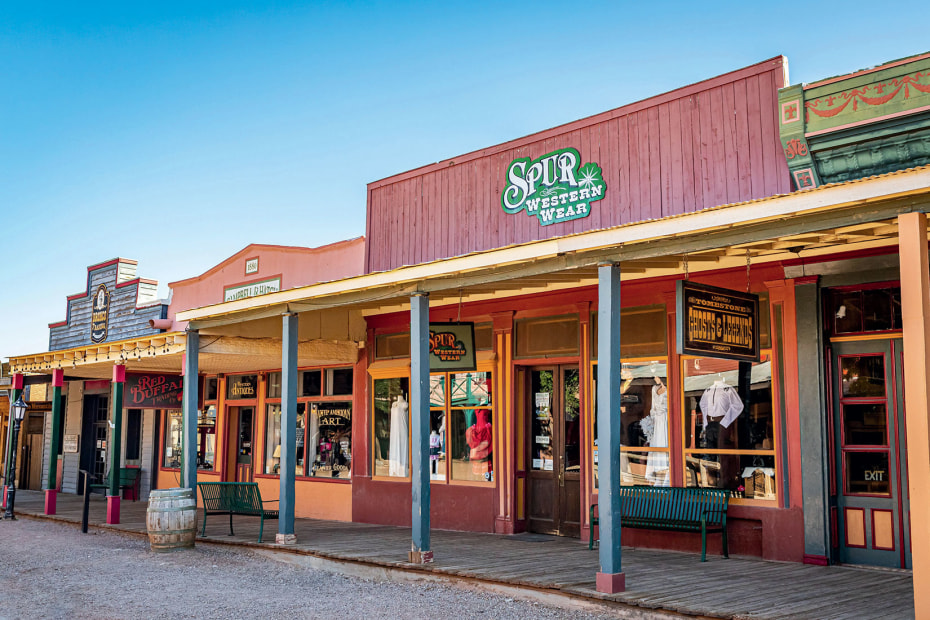 Nestled in the Mule Mountains, Bisbee gained fame for its rich copper and gold mines. The mines have closed, but the town is still booming, with a rich art, live music, and food scene. Today, saloons once again line the hilly streets of Brewery Gulch, while a dozen nearby galleries display paintings, pottery, sculpture, and jewelry. No place better fuses the town's past and present than Café Roka. Housed in an early 1900s building with hardwood floors and pressed-tin ceilings, the eatery provides thoughtful entrées (artichoke and portobello mushroom lasagna with ricotta, mozzarella, and Roka red sauce) along with views of Bisbee's bustling downtown. And if you want to dig into the area's subterranean past, tour guides at the Copper Queen Mine will take you 1,500 feet underground.