Summer in Arizona is often more likely to signal heat-enforced hibernation than liberation. But the season is still meant for fun, carefree escapades beyond your backyard. Unconvinced? Here are 10 day trip ideas—all within two hours of Phoenix, Tucson, or Flagstaff—that might just rekindle your summer spirit.
Day Trips From Phoenix
Tonto Natural Bridge State Park
Time to destination: 2 hours
Cost: $7 for adults, $4 for children ages 7 - 13, free for children 6 and under

Hours: Open 9 a.m. to 5 p.m. daily, with last entry at 4 p.m.
Said to be the largest natural travertine bridge in the world, the striking landmark just north of Payson stands 183 feet high over a 400-foot long, 150-wide tunnel. Several overlooks offer outstanding views of the natural wonder, or bring hiking shoes with good traction to journey down the steep trails and experience the beauty below. (As of August 2020, some trails and viewpoints at Tonto Natural Bridge State Park are temporarily closed due to construction.)
Apache Trail Scenic Drive
Time to destination: 45 minutes to reach the start of the historic road in Apache Junction
Teddy Roosevelt's alleged obsession with Arizona may have been spawned on this road. The historic highway, now known as AZ-88, winds through a stunning spectacle of saguaros and mountainous desert wilderness. Stop at Canyon Lake for a 90-minute scenic tour aboard the Dolly Steamboat, then journey up to Tortilla Flat if you're hankering for saloon days and prickly pear gelato. Drivers who aren't squeamish about precipitous inclines and hairpin turns should proceed (slowly) past Apache Lake for jaw-dropping (and knuckle-whitening) canyon views. If finding a spot for boating, hiking, and picnicking is your day trip mission, the 22-mile-long Roosevelt Lake makes for an ideal stop toward the trail's end.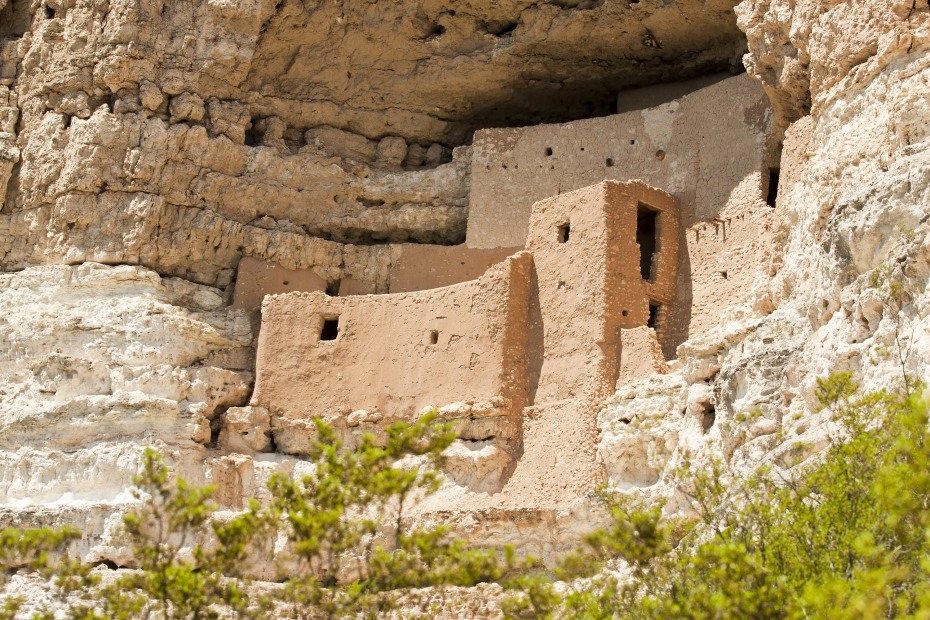 Montezuma Castle National Monument
Time to destination: 1 hour, 30 minutes
Cost: $10 per person
Hours: Open 8 a.m. to 5 p.m. daily
Address: Montezuma Castle Road, Camp Verde
Impressive high-rises might not be the first landmarks that come to mind when you picture Arizona, but one of the first national monuments in the United States was in fact a 20-room high-rise apartment embedded in a limestone cliff outside Camp Verde. Built by the Sinagua people in the early 1100s, Montezuma Castle National Monument remains one of the best-preserved cliff dwellings in North America. While the ladders that lead inside the ruins were closed to tourists in 1951, today's visitors can explore the museum, picnic at Beaver Creek, and admire lofty cliffs while wandering through the sycamore grove.
Prescott Valley
Time to destination: 2 hours
Courthouse Square's early 1900s architecture ensures the Old West's lasting legacy in this town. Once frequented by miners and cowboys seeking refreshment in one of its 40 saloons, the town's Whiskey Row still charms tourists with its taverns, but also boasts a series of antique shops, art galleries, candy shops, and cafes. You're bound to encounter a festival or art walk nearly every weekend of the year, and history buffs can take walking tours to learn about the former capital city's historic buildings (many on the National Register of Historic Places). Outdoor lovers can rent a canoe or kayak at Watson Lake, the granite-lined photographers' paradise on the northeast edge of town.
Day Trips From Tucson
Kartchner Caverns State Park
Time to destination: 1 hour
Cost: $23 for adults, $13 for children ages 7 - 13, $5 for children under 7; Reservations required
Hours: Summer gate hours are 6 a.m. to 10 p.m. Discovery Center hours are 8 a.m. to 6 p.m.
Address: 2980 AZ-90, Benson, 85602
If "escape the sun" is your main goal for summer travel, these living caves should top your destination wish list. Captivating formations with quirky monikers — like "cave bacon," "soda straw stalactites," and "turnip shields" — have been growing beneath the desert surface for tens of thousands of years. The park's Rotunda/Throne Room tour features the original trail of the spelunkers who discovered the caverns in 1974, guiding you to the imposing "Kubla Khan," the largest underground column in the state.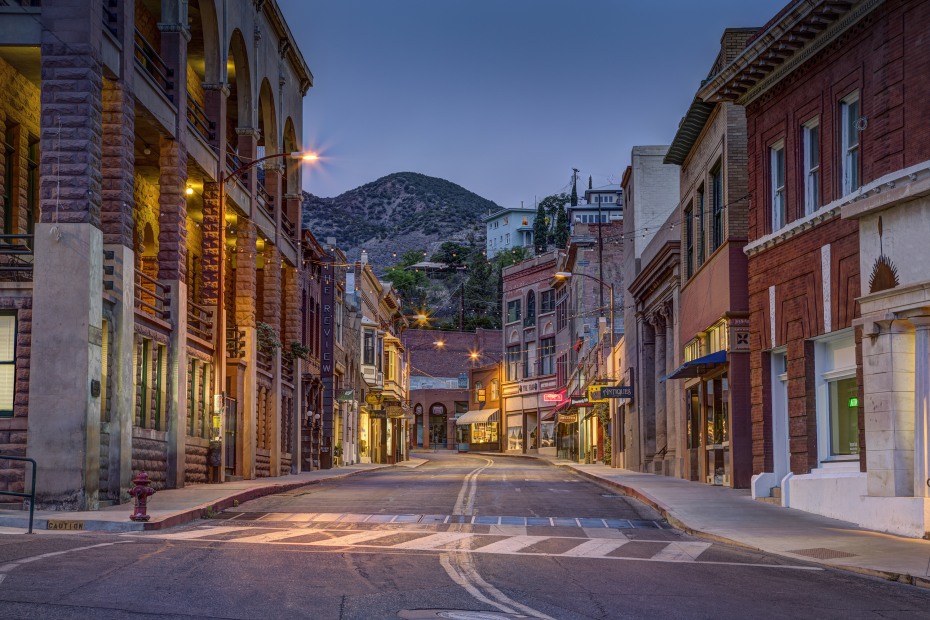 Bisbee
Time to destination: 1 hour, 40 minutes
Once the largest city between St. Louis and San Francisco thanks to its mineral-rich mines, the mile-high small town of Bisbee, Arizona is nestled in the Mule Mountains, now known for its vibrant music and arts scene. For a look at the place that forged the town's reputation as one of the richest copper sites in the world, take a tour of the Queen Mine (bonus for those looking to beat the heat: the mine stays a chilly 47 degrees, even in the summer). The town also claims more than its fair share of quaint cafes, art galleries, and historic architecture, such as the thousands of Depression-era concrete stairs that line the canyon, the Warren Ballpark (purportedly the nation's oldest baseball field) and Copper Queen Library (Arizona's first public library).
Ramsey Canyon Preserve
Time to destination: 1 hour, 40 minutes
Cost: $8, $5 for Nature Conservancy members and Cochise County residents, free for children under 13
Hours: Summer hours are 8 a.m. to 5 p.m., Thursday through Monday
Address: 27 E. Ramsey Canyon Road, Hereford, 85615
This southern Arizona canyon has been dubbed the hummingbird capital of the nation. Summer is actually a great time to visit, since the best months for birding in the preserve are April through September. (Plus, high canyon walls keep temperatures relatively cool.) Home to the San Pedro River, one of the last free-flowing rivers in the southwest, the area is lush with a variety of plant and animal life, including butterflies, 84 species of mammals, and 41 species of reptiles and amphibians. Guided nature walks offer an expert's perspective on the wildlife, and kids can play in the preserve's designated "splash zone." (Access to Ramsey Canyon Preserve, which is managed by the Nature Conservancy, is temporarily closed due to the Covid-19 pandemic.)
Day Trips From Flagstaff
Jerome
Time to destination: 1 hour, 20 minutes
Billed as the "largest ghost town in America," this quaint and allegedly haunted town on Cleopatra Hill is a relic of Old West mining history that's evolved into a thriving artists' community. Visit the 100-year-old mansion at Jerome State Historic Park to see memorabilia from the town's mining prime. Though its copper heyday is done, its reputation as a culinary hotspot and Arizona wine mecca has just begun to flourish. Foodies and oenophiles alike will go home with pleased palates.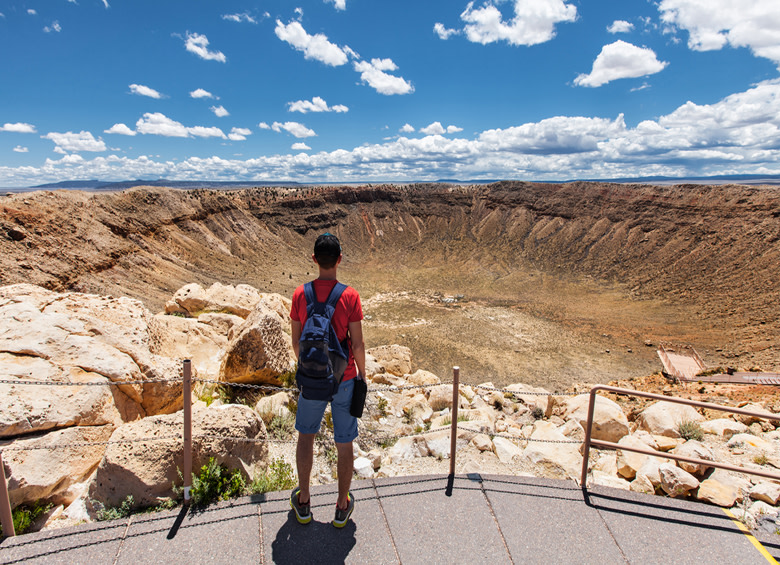 Meteor Crater
Time to destination: 45 minutes
Cost: $22 for adults, $20 for seniors over 60, $13 for children ages 6 – 12 (discounted tickets are available online)
Hours: Summer hours are 7 a.m. to 7 p.m.
Address: I-40, Exit 233, Winslow, 86047
Wander off the beaten path for a view NASA has endorsed as out of this world. Just outside Winslow is the best-preserved impact site on Earth, a 2.4-mile, 550-foot deep crater created approximately 50,000 years ago by a meteor traveling at 26,000 miles per hour. The landscape resembles the lunar surface so closely that astronauts used it as a training site for the Apollo missions. Visitors can use telescopes to zoom in on the crater's floor, take a tour along the rim, explore three different lookout points to view the crater, and check out interactive exhibits at the Discovery Center.
Route 66
Time to destination: 1 hour to the start of the historic route in Seligman
For a joyride that will let your sedan pretend it's McFly's Delorean, take this definitive tour de midcentury nostalgia. The route is celebrating its 90th anniversary this year. A westbound path from Flagstaff will bring you past Williams — a town that blends Old West and retro 1950s styles and is best known as a gateway to the Grand Canyon — toward the longest continuous stretch of the old route. This section runs from Seligman to Kingman and is dotted with historic diners, roadside attractions in varying degrees of preservation, vintage signage, and features the Historic Route 66 museum.