Cooler temperatures, blue skies, and vibrant foliage are just some of the many reasons now is the perfect time to head out for a drive. Whether it's a quiet hike, haunted tour, or incredible leaf-peeping you're after, these day trip destinations are sure to please. Not only do they fully embrace seasonal delights, but each is within a 2-hour drive of a major metro area in the West.
Laramie, Wyoming
Less than an hour-drive west of Cheyenne, this vibrant university town features mountain views and a dozen or so museums. Don't miss the Laramie Plains Museum, which is housed within a late-19th century Victorian-style mansion. Tours of the property delve into early local history and include displays of opulent era furnishings and historic textiles. While you can tour the Wyoming Territorial Prison State Historic Site, a former U.S. and state penitentiary that once housed outlaws and desperados, year round, candlelight exploration of the property, including its furnished cells, are only available around Halloween with Ghost Tours of Laramie City. For striking foliage and wildlife, drive along the Snowy Range Scenic Byway, or lace up your sneakers for an easy 3-mile trek around Turtle Rock in the nearby Vedauwoo Recreation Area for a chance to see pronghorn and prairie dogs.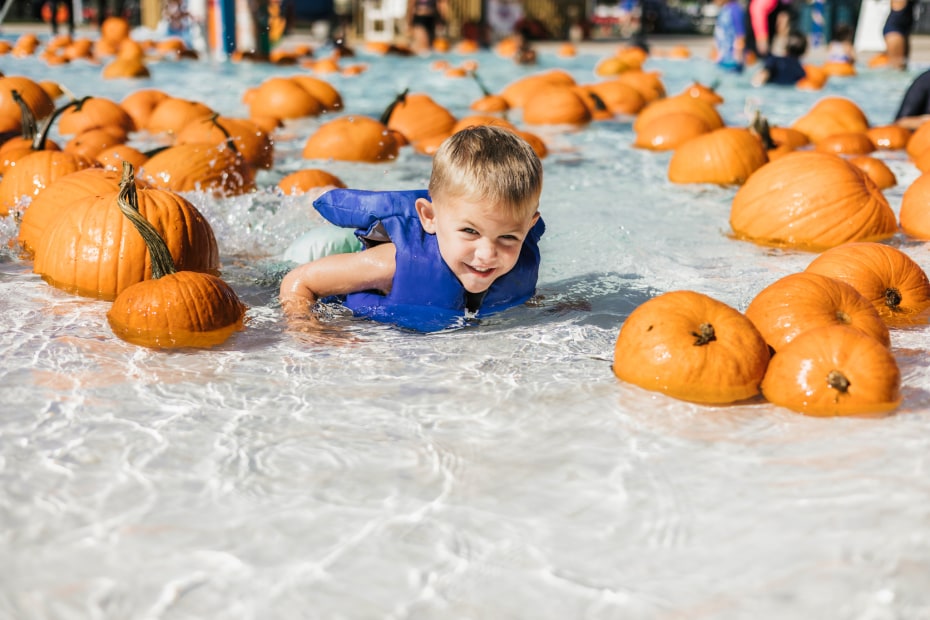 Elk Grove, California 
Just 16 miles south of Sacramento, Elk Grove makes for an ideal autumn escape. Browse its historic downtown brimming with antique stores and vintage homeware shops, or dine on braised meatballs and pesto seafood pasta at the Brick House Restaurant. The area overflows with festivities throughout October. Elk Grove's Wackford Aquatic Complex hosts its annual Pool of Pumpkins, complete with a floating pumpkin patch in the shallow pool, games, and decorating stations. (For a more traditional pumpkin patch experience, visit nearby Fog Willow Farms.) At the Elk Grove Giant Pumpkin Festival, farmers bring their heaviest gourds—some weighing over a ton and so huge they require a forklift to move them—to compete for top prize. Later, brave souls hollow-out their massive produce to create makeshift vessels to race across the lake in the Pumpkin Regatta.
Cottonwood, Arizona
This red rock town is best known for its spot on the Verde Valley Wine Trail and ample tasting rooms, but that's not all Cottonwood has to offer. Peruse the many art galleries and specialty shops lining Main Street and its surrounds. Afterwards, head over to Dead Horse Ranch State Park to spot migratory birds such as goldfinches and western bluebirds as you hike among riverside cottonwood, willow, and Arizona ash trees, their leaves an ever-changing spectacle of yellows, oranges, and golds. Climb into the saddle with Trail Horse Adventures and ride the park's Outlaw Trail. When you're done adventuring, satisfy your appetite with smoked chicken or brisket sandwiches at Colt Grill.
Watsonville, California 
Celebrate harvest season in Watsonville, which is centrally situated between Santa Cruz and Monterey. At Gizdich Ranch, more than a dozen varieties of pick-your-own apples, including Honeycrisps and Royal Galas, await. Once you've gathered your bounty, settle in for a picnic under the trees. Headquartered in Watsonville since 1868, Martinelli's company store and tasting room offers free tastings of its non-alcoholic sparkling apple cider. For more hands-on learning, head to Watsonville's Agriculture History Project (open every second Saturday of the month) to try your hand at 'milking' wooden cows or explore an exhibit highlighting the area's apple industry.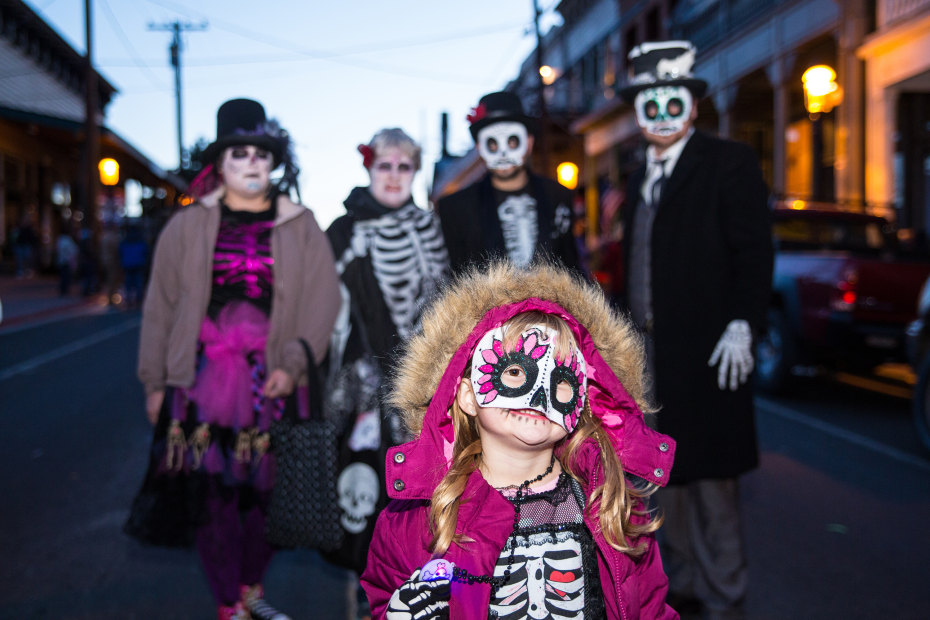 Virginia City, Nevada 
Throughout October, Virginia City celebrates "Hauntober" with everything from weekend train rides aboard the Virginia & Truckee (V&T) Railroad that take riders to a pumpkin patch to Bats in the Belfry's guided walking tours that highlight some of the most haunted spots in the legendary frontier mining town. Embark on a daytime tour or a more paranormal-centric evening tour of the historic Mackay Mansion, or explore Piper's Opera House, where ghouls and ghosts are said to roam. Looking for laughs instead of goosebumps? Cheer on your favorite porta-potty at Virginia City's annual World Championship Outhouse Races (Oct. 7–8), or don your finest costume as part of the evening Hauntober Parade on Oct. 31, intended for kids, adults, and pooches alike.
Butte, Montana 
Take a stroll among Victorian and early 20th century architecture in this former copper mining capital situated 85 miles northwest of Bozeman. Rather spend time in nature? Hike the 4.5-mile Maud S. Canyon Loop trail, an uphill workout that rewards with fall colors and spectacular views of the Continental Divide. Settle in for some nostalgic comfort at Sparky's Garage Bar & Grill II, where bowls of french onion soup and plates of pulled pork with cornbread are served among vintage roadside decor. Test your navigation skills (and choose a gourd!) at the Beaverhead Maze and Pumpkin Patch in nearby Dillon, open throughout October. South of the city, the Pioneer Mountains Scenic Byway in Beaverhead-Deerlodge National Forest is the place for local leaf-peeping. 
Lehi, Utah
About 25 miles south of Salt Lake City, Lehi was once a stopping point on the Pony Express. These days the bustling city is better known for its easy access to the outdoors, including the Alpine Loop Scenic Byway—a 20-mile drive that winds through rugged canyons and provides spectacular views of mountain peaks and aspen groves. Along the way, take in the oaks and maples draped in exquisite shades of red and orange. Back in town, Thanksgiving Point celebrates autumn in style with its annual Ashton Gardens' Scarecrow Festival where community-made scarecrows—each with its own style and personality—can be found scattered throughout the 50 acres. In late September, Cornbelly's family-friendly corn maze, haunted trails, pumpkin picking, and more than 60 other games and attractions open at Thanksgiving Point. Before heading home, fill up on chicken enchiladas at Strap Tank Brewery or swing by Cubby's for tri-tip tacos.