Thanks to Arizona's diverse landscapes, you can drive from sweltering desert to alpine comfort in an hour or two. With these stress-free escapes, you'll be e-biking around a stunning lake, getting soothed by singing bowls in the mountains, making butter in an ice cream shop, and jamming to music among the pines.
Mount Lemmon, 40 miles northeast of Tucson
There's a reason the town at the top of Mount Lemmon is called Summerhaven: Temperatures are typically 30 degrees cooler here than in neighboring Tucson. The one-hour trip from the center of the Old Pueblo along the Sky Island Scenic Byway climbs 6,000 feet, zipping through several mini-ecosystems, from saguaro-studded desert to boreal forest. As you drive, you can learn about the mountain's geology and life zones with the Mt. Lemmon Science Tour audio app, produced by researchers at the University of Arizona.
The drive culminates in Summerhaven and Mount Lemmon Ski Valley, the southernmost ski destination in the continental United States. Hop on a lift that rises between ponderosa pines as you dangle your feet above a wildflower meadow and bask in views of multiple mountain ranges. Back in town, ramble the 3.5-mile Mint Spring Trail through archways of aspens and a sea of ferns. Indulge in a poutine-themed burger topped with cheese curds and gravy at Sawmill Run, then share a plate-sized treat from Mt. Lemmon Cookie Cabin. Feeling tense after the drive and hike? At Massage in the Pines, Tami Arthur offers massage, Thai foot reflexology, and aromatherapy consultations (book ahead).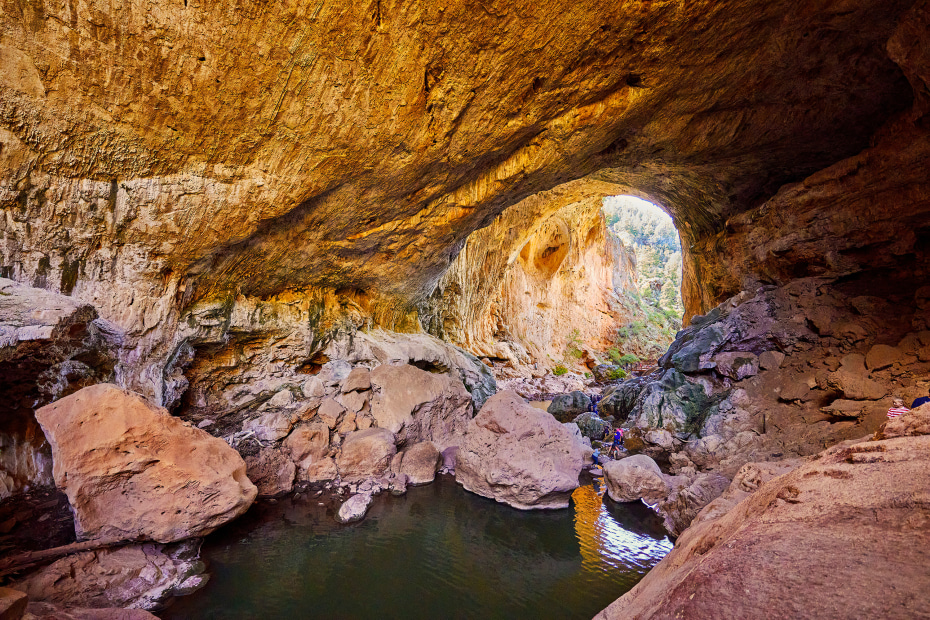 Payson, 85 miles northeast of Phoenix 
Nestled in a conifer forest on the edge of the high-altitude Mogollon Rim, Payson welcomes heat-weary travelers with lakes, creeks, and pine-crisp air. On Saturdays, join Rim Country residents at the Payson Farmers Market to shop for all-local produce and meats and try your hand at quirky events like cantaloupe bowling or a tomato launch. At Danzeisen Dairy Creamery Store, take a class to learn a magically easy method of making butter. Sweeten the experience with a s'mores or salted caramel milkshake, blended with homemade ice cream from the dairy's Arizona-based cows.
For a refreshing foray into nature, cruise northwest of town to Tonto Natural Bridge State Park, where water spurts over a huge travertine arch into a creek. Lace up your hiking boots and follow the short but steep Anna Mae Trail and Waterfall Trail, clambering over multicolored boulders and drinking in the sight of fern-draped cliffs and the sounds of trickling water.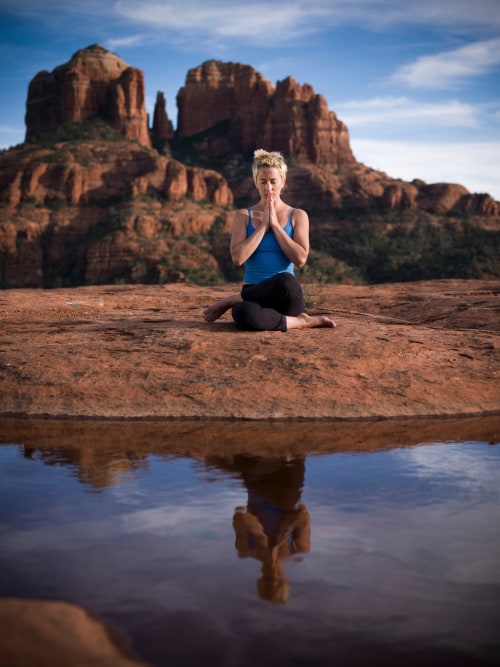 Sedona, 116 miles north of Phoenix
When you're in need of a spiritual reboot as well as a break from 115-degree temps, Sedona hits the spot. Aumbase Sedona offers several ways to revive the soul amidst the red rocks, including yoga hikes, shamanic breathwork on a vortex, outdoor sound healing rituals, and forest- or star-bathing sessions. With Sedona Meditation Experiences, guests are immersed in scenic sandstone settings during guided meditations on themes of loving-kindness, ancestral healing, chakra balancing, and more. 
Between de-stressing sessions, nourish your body at ChocolaTree with a gluten-free avocado sandwich and a latte infused with mushrooms and Chinese herbs. Thanks to the eatery's plant-filled patio and soothing music, you can maintain your meditative mood all day.
Flagstaff, 144 miles north of Phoenix 
In summer, Flagstaff barely lets a weekend go by without throwing a festival in the pines. Whether you're into folk music, Navajo art, or men in kilts, there's a day trip waiting for you in this 7,000-foot-high city. June kicks off with Hullabaloo, featuring music, giant puppets, and a bike parade. Next on tap are Blues and Brews, the Folk Festival, Pride in the Pines, and the Heritage Festival—celebrating the Indigenous cultures of the Colorado Plateau. July ushers in Art in the Park, the Fourth of July parade, and the Celtic Festival—featuring Highland Games, bagpipes, and scads of plaid. August continues strong with the Chili Festival, the Barks and Brews doggie pub crawl, the Route 66 Car Show, and the Hopi Arts and Cultural Festival.
Round out your day's itinerary with a relaxing foil to the festive atmosphere. Perhaps peer through a solar telescope at Lowell Observatory, where Pluto was discovered. Or watch the sunset from a gondola at Arizona Snowbowl. Or play disc golf backdropped by views of the San Francisco Peaks at Northern Arizona University's free course. Then dine alfresco at Pizzicletta, tucking into mascarpone and lemon pizza, followed by surprisingly sweet-savory olive oil gelato.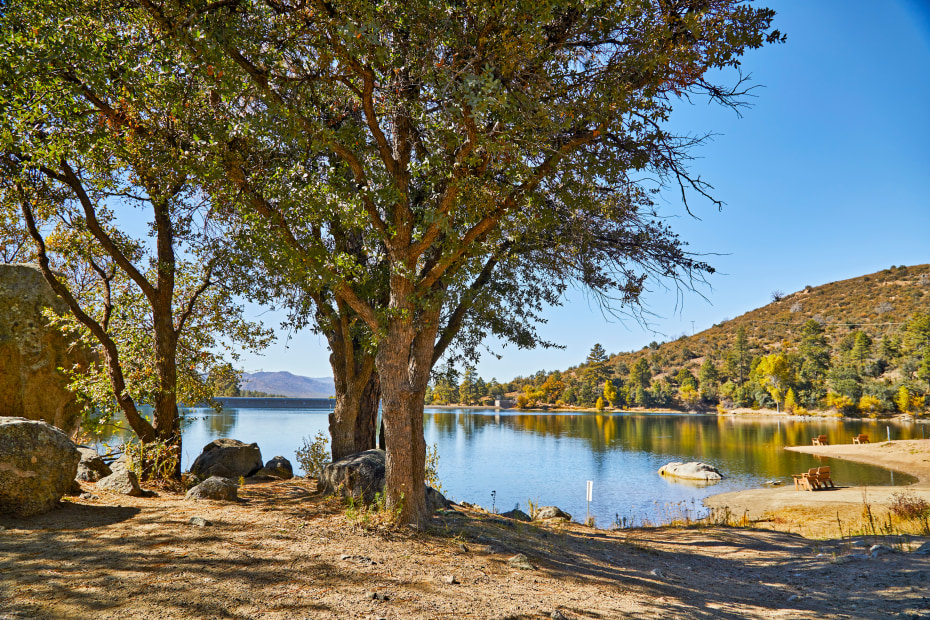 Prescott, 100 miles north of Phoenix
With so many options for hiking, kayaking, and biking, Prescott feels like a choose-your-own- adventure book, writ large. Thankfully, a few tour companies make outdoor activities a breeze. Reserve ahead, and Prescott Ebike will meet you northeast of town at the Peavine Trailhead and give you a primer on e-bike operation. Then you'll cycle alongside Watson Lake and the gorgeous, golden Granite Dells before connecting with the Iron King Trail to see ghostly old railroad cars up close and rolling hills in the distance. At the end of the two-hour ride, your hosts will meet you back at the trailhead.
For a close-up view of Watson Lake, rent a kayak, canoe, or standup paddleboard from Prescott Outdoors, located lakeside. Alternatively, Born to be Wild Adventures delivers rental kayaks to forest-fringed Goldwater Lake or birding hotspot Willow Lake, then picks up the boats whenever you're ready. Refuel in town at Farm Provisions or BiGA, both of which serve a variety of vegan and carnivorous farm-to-fork dishes. Cap off the day in historic, leafy Courthouse Plaza, where the city hosts frequent, free summer evening concerts featuring jazz, big band, classic rock, and more.