A decade ago, Tucson's core was marked by vacant storefronts and empty sidewalks. Then in 2014 the streetcar arrived, bringing with it new cafés, coffee shops, and bars. Today, the area beckons with colorful murals, casually cool eateries, and a siesta-slow pace.
In this reborn downtown, it's apt that the year's big event, the All Souls Procession (always the first week in November), focuses on death and renewal. Born in 1990 out of a small private gathering, All Souls has grown into a citywide celebration. Now the event draws thousands, who gather to watch a haunting, sage-scented stream of revelers—clad in luminous wings and other costumes—march alongside skeleton-faced drummers.
Homes in hues of mint and cornflower line Barrio Viejo and El Presidio, Tucson's oldest neighborhoods. Savor the movable feast on a 2½-hour ride with Tucson Bike Tours. En route, you'll pass between 11-foot-high fangs and into the mouth of Rattlesnake Bridge.
Hundreds of murals tattoo the city, adorning hotels, homes, and stores. At North Seventh Avenue and East Sixth Street, the Goddess of Agave emerges from a wall, a Technicolor ode to tequila. Nearby, in a magical realist work outside Epic Rides, a woman's hair becomes the night sky, her dress a vibrant landscape.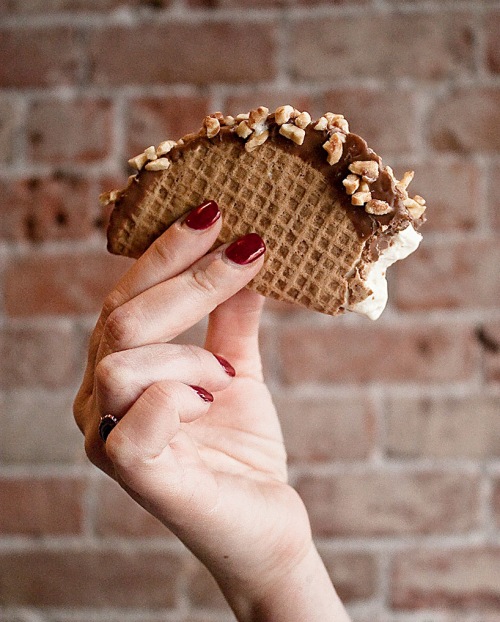 Last year, celebrated chef Maria Mazon brought Boca Tacos y Tequila to funky chic Fourth Avenue. The shop slings two dozen taco varieties, from carne asada to rajas, a mélange of creamy roasted chiles and crunchy corn. Not your kind of taco? Head over to Hub Ice Cream Factory for that most nostalgic of treats: the choco taco.
Recently, the number of craft breweries in Tucson has soared. Taste the trend at Pueblo Vida, where the sudsmakers use native ingredients such as prickly pear. The Breakfast Stout is a true neighborhood blend, made with local coffee and aged in barrels from a nearby distiller.