Arizona has yielded more than its fair share of mining camps turned buzzing artists' colonies. Since its mining operations ceased in the mid-1970s, former "Copper Queen" Bisbee has cultivated a unique brand of tourist-tempting honey, attracting folk singers and history buffs, gallery hoppers and ghost hunters, beer snobs and foodies—and since 1991, runners.
The recent spike in Nike-clad feet on Bisbee's streets can be explained in part by the town's pre-automobile roots. With a growing need for homes near the booming copper mine and no room to spread outward, the canyon-cradled city climbed upward. Switchback-heavy dirt paths provided access to the town's hillside homes before evolving into wooden ladder-like thoroughfares. Thanks to a Works Progress Administration effort to put miners back to work during the Depression, concrete staircases were built over the paths, becoming one of Bisbee's defining architectural features and, later, inspiration for one of the country's most spirited fitness challenges.
The 4.5-mile Bisbee 1,000 race—named for the 1,034 stairs its runners surmount—takes place the third weekend in October every year. It's one of the only outdoor stair climbs in the United States, and thanks to 145-year-old Bisbee's historic charm, it's arguably the most scenic. The race begins in front of the "Iron Man," a 9-foot tall Depression-era concrete sculpture plated with a layer of copper to immortalize the town's miners. Runners then wind past live musicians, puzzlingly stacked turquoise and poppy-colored homes, and Mule Mountain overlooks that almost make the sprint to the top of each staircase worth the pain.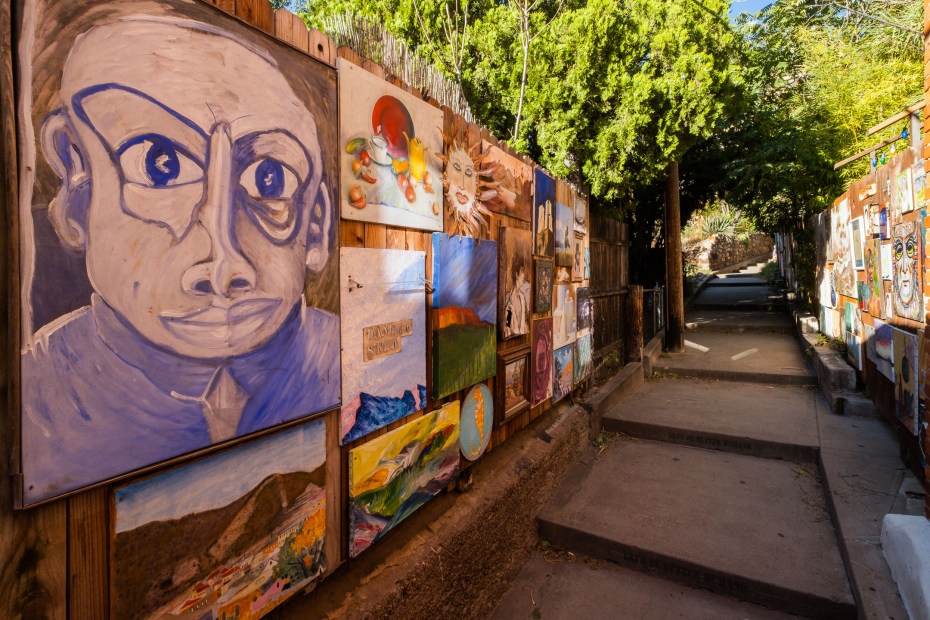 Stroll Downtown Bisbee
Peppered with galleries, shops, and ample evidence of its early years as one of the most cultured cities in the western United States, Bisbee's streets are worth revisiting at a slower pace. The town is home to several Arizona firsts, including Warren Ballpark, purported to be the nation's oldest ballfield and Copper Queen Library, the state's first public library. The fascinating Bisbee Mining and Historical Museum is the country's first rural affiliate of the Smithsonian Institution.
Sip and Savor
During Bisbee's mining heyday, Brewery Gulch was allegedly home to more than 50 saloons. Though the number of drinking establishments has dwindled with the population, the area offers more than a few praiseworthy options for indulgence.
Less masochistic travel companions will find the front patio at Screaming Banshee Pizza an ideal sideline spot on race day. Its bar opens early to accommodate spectators with breakfast margaritas and Bloody Marys. Wait for the kitchen to open for a satisfying (and atypically topped) wood-fired pizza. High Desert Market and Cafe makes for another perfect patio vantage point, with homemade pastries and a gourmet grocery featuring imported and local cheeses, wine, and crafts.
Make dinner reservations at Café Roka for upscale dining that fuels international flavors with locally sourced ingredients.