Break away from the well-known and highly visited tourist destinations and instead explore these unexpected, under-the-radar gems around the world.
Europe's Less-Traveled Wonders
Tromsø, Norway
Come winter, the sun barely peeks above the horizon in Tromsø, Norway, yet every day seems full. Tucked on a small island in the Norwegian Sea, ringed by fjords and mountains, the Capital of the North still charms even as darkness falls and temperatures hover near freezing. Light, music, and chatter spill from downtown doorways as shoppers browse knitted mittens and dried fish snacks, while friends catch up over aquavit. Nearby, wooden houses—in shades of lemon yellow and brick red—add a homey touch to the city center. Across the water, the Arctic Cathedral shines, its triangular silhouette echoing the surrounding peaks. Step inside to marvel at the blue-and-gold mosaic windows and the 2,940-pipe organ with bellows made of reindeer hide. Then take the cable car up Mount Storsteinen to see the city, sea, and hills aglow in the dim light. Once night creeps in, you might catch the elusive aurora borealis, shimmering in electric shades of green and red—the perfect northern show in a truly northern destination.—Chris Woolston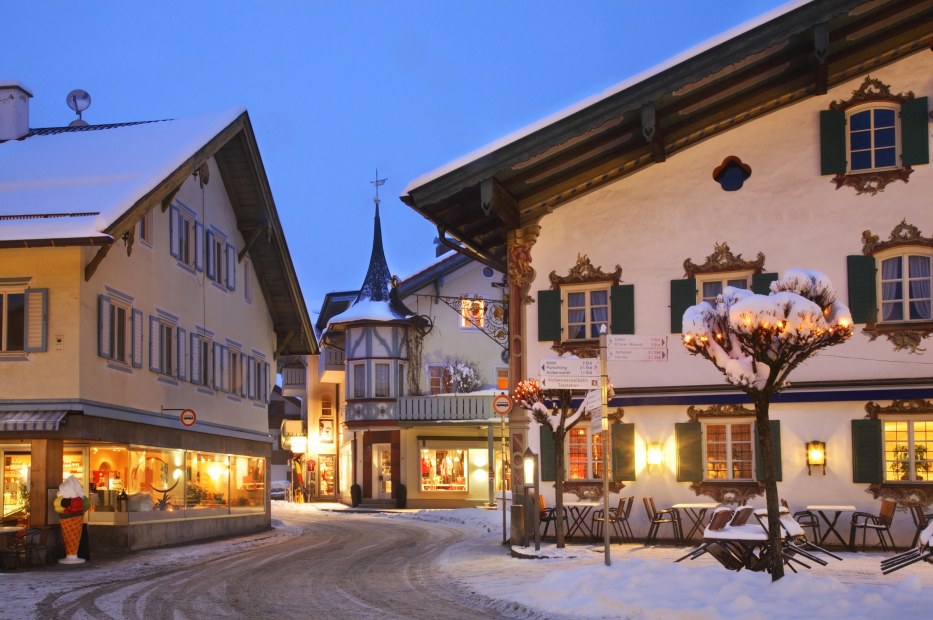 Oberammergau, Germany
From afar, Oberammergau—a red-roofed village high in the Alps, some 60 miles from Munich—looks like any other Bavarian hamlet, perhaps a place to sip a fresh wheat beer or explore a glorious hiking trail. And while brews and views abound here, the town is famed for something else: the Passion Play.
Every 10 years, Oberammergau continues a tradition that began in 1634. It mounts a re-creation of the trial, crucifixion, and ascension of Jesus. The 42nd iteration, slated to run from May through October 2020, is expected to draw nearly half a million travelers, with tickets selling out well in advance. Performed in German, the five-hour epic packs pageantry that transcends barriers of language and religion. The play has long defined the town, but the image hasn't always been positive. Past versions were downright anti-Semitic, but the modern edition highlights Jesus' own Jewish heritage. At one point, Jesus holds up the Torah while a chorus sings a Jewish prayer. The play has now become a redemption story—in more ways than one.—Chris Woolston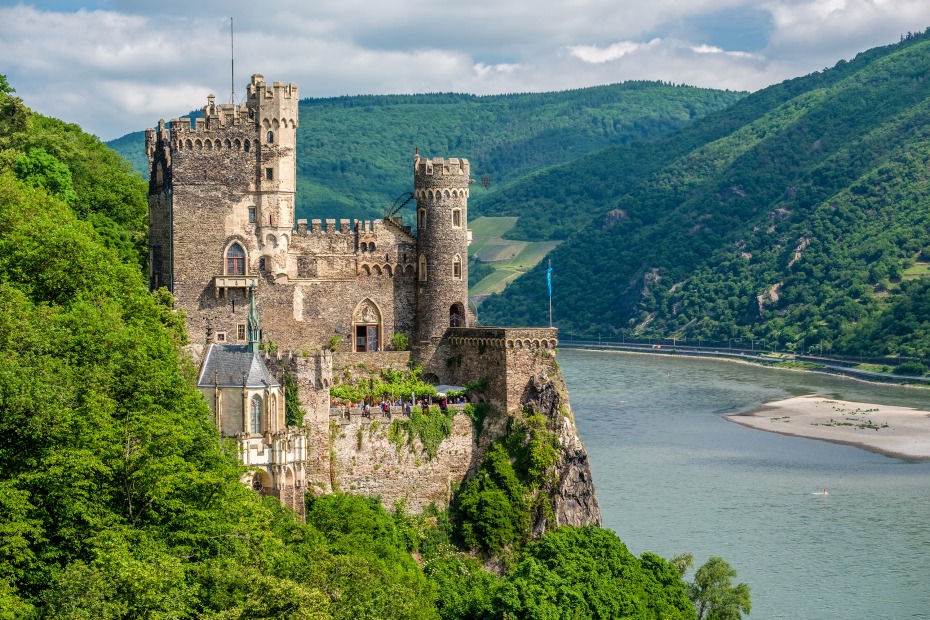 Rheinstein Castle, Germany
Stained glass and stone walls, turreted towers and suits of armor, a drawbridge and a portcullis—Rheinstein Castle has all the features you'd expect from a picturesque medieval fortress.
Built in the late 13th century on a steep, rocky hillside above the Rhine River west of Frankfurt, Rheinstein was home to a centuries-long succession of archbishops whose legacy lingers in the site's neo-Gothic chapel. Burgundy grapes, once used to make sacramental wine, still grow on the 200-year-old vines in the garden.
The castle endures as a symbol of strength and solitude after being restored and rebuilt in the 1820s by the prince of Prussia. (He and his family reside in the royal crypt.) Docent-led or self-guided tours transport visitors to an era before the Gutenberg Bible and Martin Luther's theses.—Chris Woolston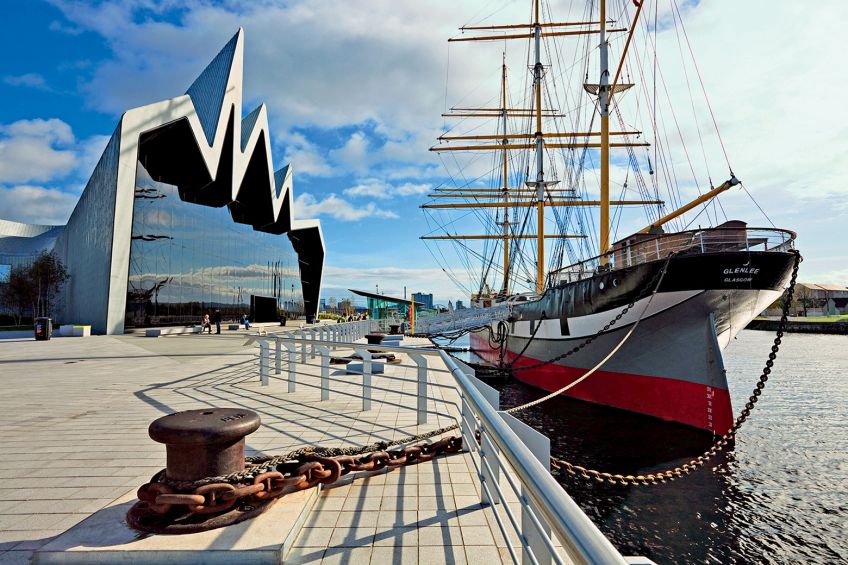 Glasgow's Riverside Museum, Scotland
Renowned for its architecture, museums, and music scene, Scotland's most populous city can draw extra summertime crowds for a spot of golf. For a moving experience that does not require quiet clapping, check out the Riverside Museum, a celebration of transportation, design, and ingenuity on the banks of the River Clyde.
The building itself—part of the legacy of the late architect Zaha Hadid—amazes with massive windows, a soaring zigzag roof, and interiors large enough to display stacks of cars on the walls and a fleet of bicycles on a velodrome suspended overhead. Highlights of the 3,000-item collection include a behemoth 1945 locally built steam locomotive, a dress worn by Audrey Hepburn in Two for the Road, and a re-creation of a 19th-century Glasgow street scene, complete with a trolley and a saddlery shop. Large interactive touch screens connect visitors to the stories behind the vehicles. Moored outside, the Glenlee, a well-traveled tall ship first launched in 1896, welcomes walk-aboards. Honored as European Museum of the Year in 2013, Riverside is the United Kingdom at its most transporting.—Chris Woolston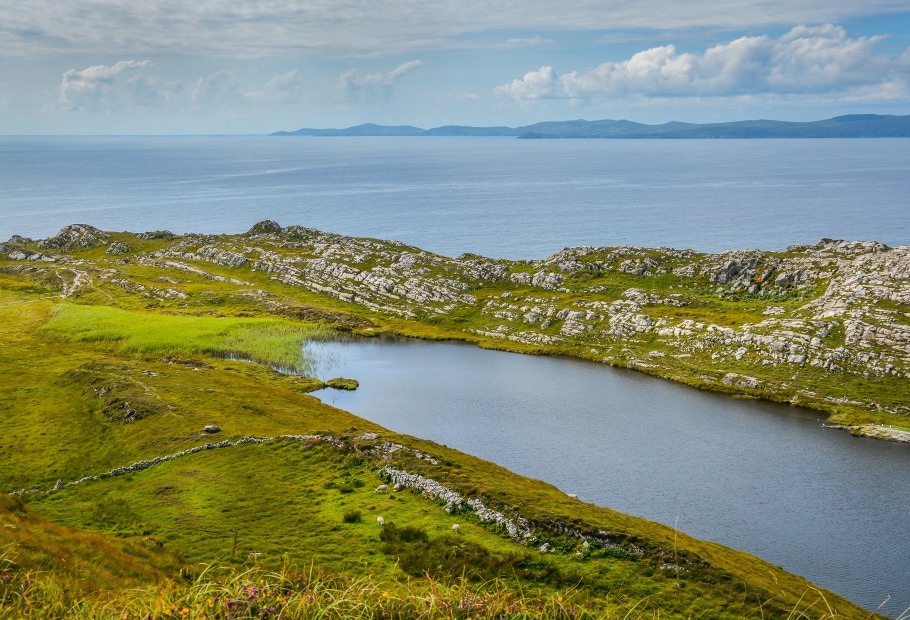 Sheep's Head Peninsula, Ireland
This is how you pictured Ireland before you even arrived: green pastures and windswept hills rolling away to a rocky coast, villages centered around pubs, friendly locals in no particular hurry. Sheep's Head peninsula fits the bill, stretching about 15 miles from County Cork out into the North Atlantic, creating a pristine space for hikers, cyclists, and sightseers.
The 2.5-mile Lighthouse Loop trail, starting at the parking lot behind the Sheep's Head Cafe in Tooreen, takes walkers past craggy sea cliffs, the azure waters of Lough Akeen, fields of purple heather, and more than a few curious sheep. Drivers can experience the essence of the peninsula with a short trip through the hamlets of Bantry, Kilcrohane, Ahakista, and, finally, Durrus, home of an award-winning namesake cheese.
Officially recognized in 2009 by the European Commission as a Destination of Excellence, the peninsula makes a pleasant day trip from the southwestern town of Cork.—Chris Woolston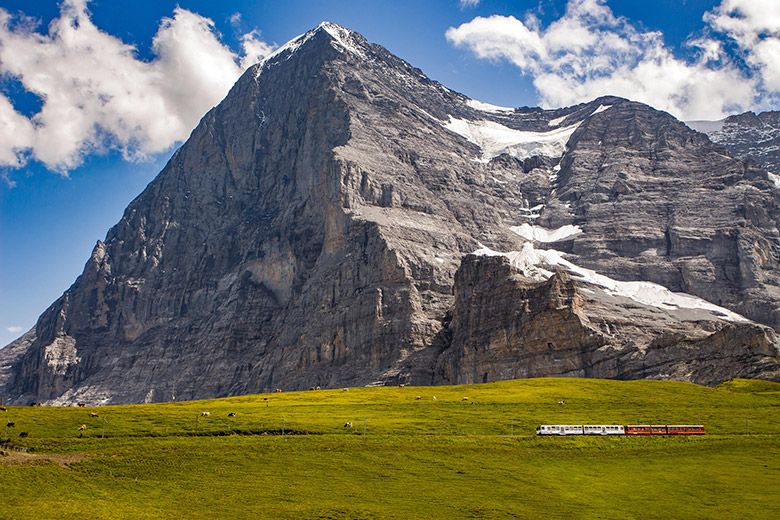 Jungfraujoch, Switzerland
Step off the train at Jungfraujoch mountain pass, and you'll find yourself deep in the heart of the Alps. The train station here, some 15 miles from Interlaken, Switzerland, is carved into solid rock 11,330 feet above sea level. Completed in 1912, the railway snakes through more than four miles of tunnel on the half-hour trip from Kleine Scheidegg to the Top of Europe. From the station, a passageway leads to the sleek slopeside building with great glass windows. Gaze out, and you'll see the Alps unfold in every direction, a serene landscape of snowcapped summits and billowy clouds rendered in blue and white.
An elevator bored into the mountain can whisk you to even greater heights at the Sphinx Observatory, a weather research station. Once you arrive, step out onto the open platform to feel the cold, clear air on your cheeks and admire soaring views of the surrounding peaks. Even in summer, winter worshippers play at the nearby Snow Fun Park, skiing, snowboarding, and gliding on inner tubes down gentle slopes. Some 1 million people visited Jungfraujoch in recent years, cementing its reputation as one of Switzerland's top tourist destinations. Sitting pretty at the crown of the Swiss Alps, this magnificent spot will always beckon those looking for lofty adventures.—Chris Woolston
Insider's tip: Not looking for an international trip? Get a taste of Switzerland in Midway, Utah.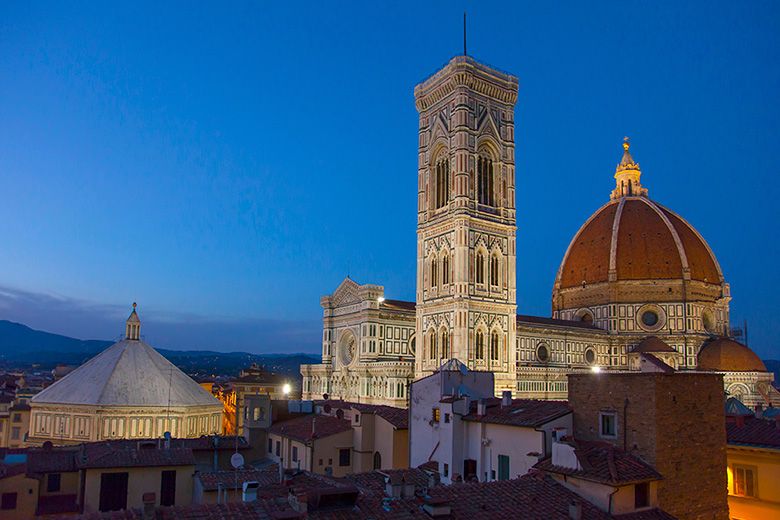 Giotto's Bell Tower in Florence, Italy
Leaning towers get more press, but this masterpiece remains beautifully upright. Giotto's bell tower, built in the 1300s, rises 278 feet above central Florence. An ornate patchwork of green, white, and light-red Italian marble brightens the Gothic facade, and the seven bells still ring. Two were recast from the originals, the oldest and largest of them in 1705. 
Brave the 414 steps to the tower's top, and you'll get a well-deserved panoramic view of the city, including the stunning Duomo cathedral next door. Climb while the bells are ringing—at noon, sunset, and during certain church celebrations and special occasions—and you'll feel the vibrations from your eardrums to your toes.
A series of 21 marble carvings adorns the tower's base, representing the story of humankind's creation and evolution. Other scenes depict skills, including blacksmithing and the art of building. That last one may be redundant: The tower itself, straight and sound, stands as tribute to architects.—Chris Woolston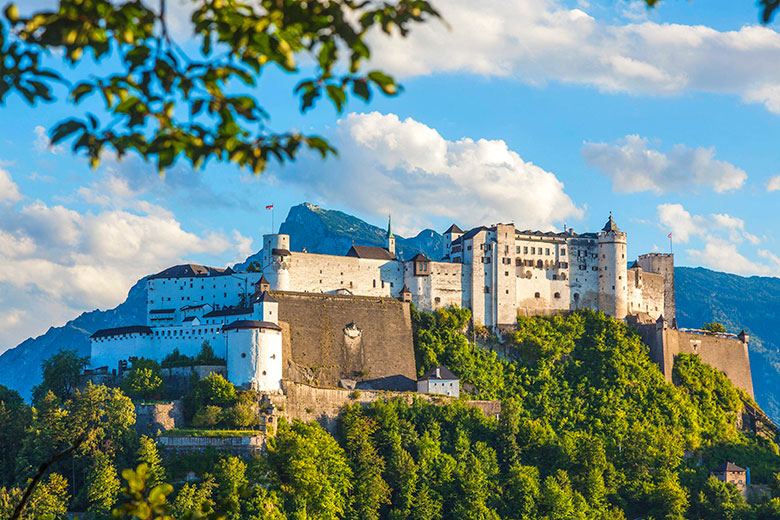 Hohensalzburg Fortress in Salzburg, Austria
Peering up at the towering rock walls of the Hohensalzburg Fortress, one of Europe's largest and best-preserved castles, you can understand why it has never faced serious attack in 900 years. What would be the point?
Built on a commanding hill overlooking Salzburg, Austria, the impenetrable citadel—which has served as a prison, barracks, and home to archbishops—is now open to the world.
A funicular cable car carries visitors to the entrance, a modern way to storm the castle. You can gaze out on fellow invaders from the watchtower, contemplate piety amid the art and statuary in the St. George Chapel, bask in the opulence of the living quarters with gold-leaf decor, and listen to ancient chords from the 1502 Salzburg Bull, a self-playing organ that works like a giant windup music box. The museum displays medieval armor, swords, gilded furniture, and instruments of punishment.
Look out from a parapet, and the city of Salzburg stretches below you with the Alps beyond. It's a view for the ages, medieval and otherwise.—Chris Woolston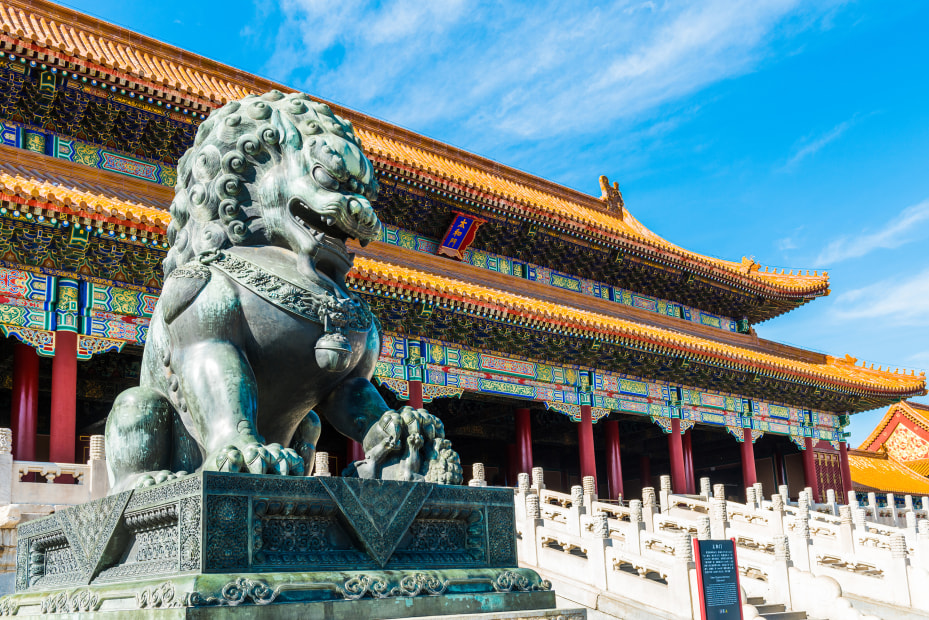 Must-See Asian & Southeast Asian Destinations
Beijing's Forbidden City, China
The moat, the high walls, and the ominous name notwithstanding, you are actually permitted to enter the Forbidden City. If you're visiting China, a more appropriate name might be the Mandatory Stop.
Formerly the home of 24 emperors whose collective rule spanned two dynasties and more than 500 years, the Forbidden City is now an unparalleled epicenter of ancient Chinese architecture and art. The Palace Museum displays 8,000-year-old painted pots; bona fide Ming vases; and jaden carvings of horses, camels, and smiling Buddhas.
Climb the steps to the Hall of Supreme Harmony where the throne room, once the seat of Chinese power, shines with imperial reds and golds. Looking down at the crowds in the courtyard, you'll feel the urge to make your own decrees. Rule with wisdom.—Chris Woolston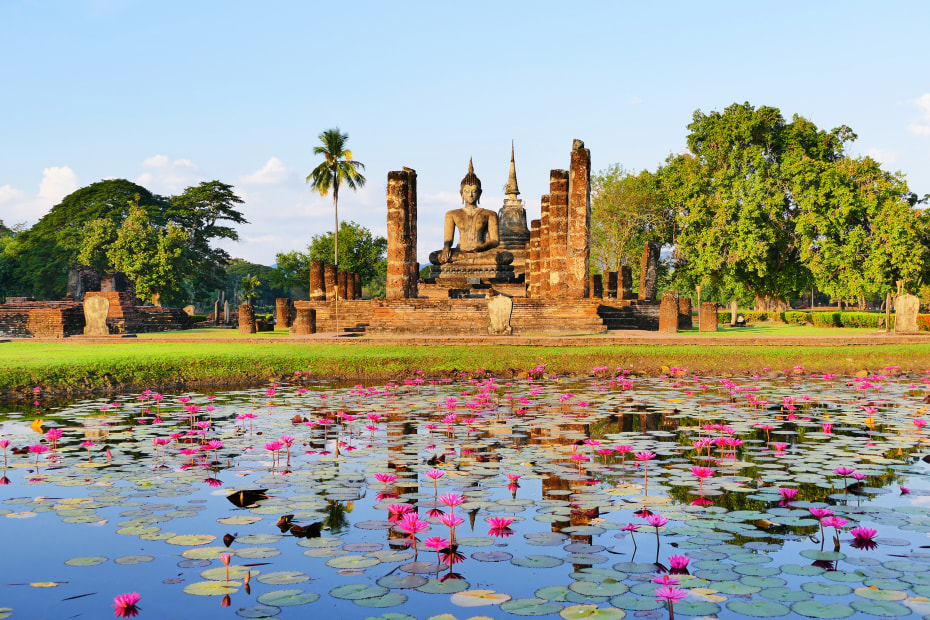 Sukhothai, Thailand
"The world, indeed, is like a dream," said Buddha—words that seem to convey the grandeur that existed in Sukhothai from 1238 to 1376, when it was the bustling capital of Thailand's first kingdom. There is a Through the Looking-Glass surrealism to peering into Wat (Temple) Si Chum and discovering a 48-foot Buddha gazing enigmatically back, legs folded in an eternal lotus position, slender fingers tipped in gold. Or turning to find 24 white stucco elephants trumpeting from the base of Wat Sorasak, as if conjured from the stone.
Today the city's 193 restored structures—along with the temples at neighboring Si Satchanalai and Kamphaeng Phet historical parks—offer windows into this golden era. The perfect time to visit: November's Loy Krathong festival, when floats topped with thousands of flickering candles are launched at night onto Sukhothai's ponds and waterways to bring good luck.—Kristina Malsberger
Delhi's Khari Baoli Market, India
The largest spice market in Asia, Khari Baoli hums with a mélange of voices and color. Visit the Old Delhi landmark and travel back to a time when spices were the currency of the world.
As you walk past heaping bags of cinnamon, cumin, chiles, cardamom, and saffron, you'll sense their fragrances in your lungs, not just your nose. Many vendors speak English, so feel free to ask about those unusual dried fruits or jars of chutney. You can buy hot naan (flatbread) from a food cart and wash it down with Darjeeling tea.
Adventurous shoppers might duck into the alluring maze of stalls off the main drag. You'll want to take pictures of the spice piles and the lively bustle, but there's no way to capture the aromas—unless you buy a few bags of spices to take home.—Chris Woolston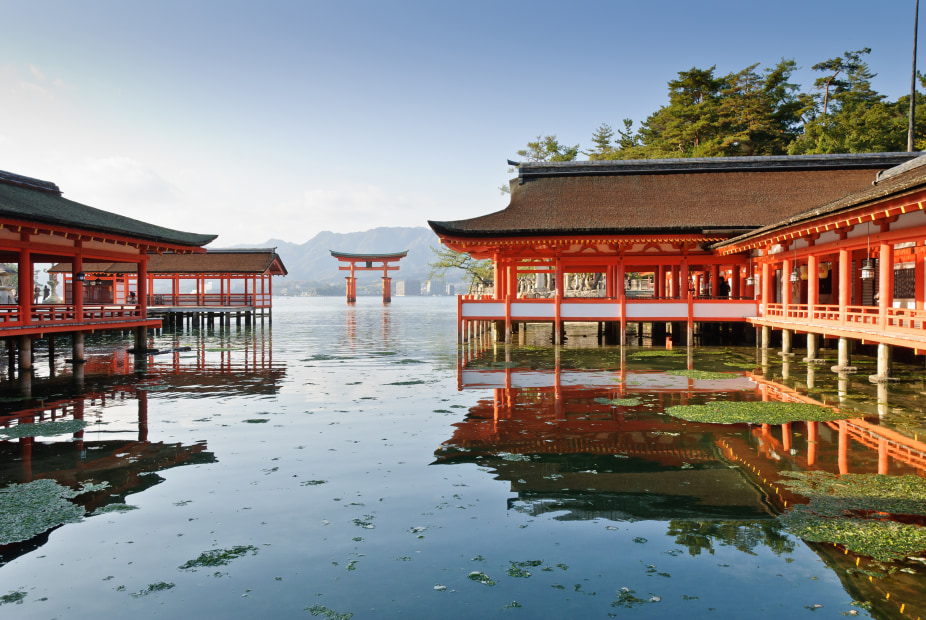 Itsukushima Shrine, Japan
Imagine hearing this Jeopardy clue: "This iconic structure, with its orange red hue, contrasts dramatically with the surrounding green hills and blue water below." You might say, "What is the Golden Gate Bridge?" For a Japanese contestant, though, the response is obvious: the O-Torii gate, believed to have been first erected in the 12th century, at the entrance to the sacred island of Itsukushima.
Today, high-speed ferries connect Itsukushima with the bustle of nearby Hiroshima, but much of the island remains untouched. Deer and monkeys roam the forests, Japanese maples blaze crimson each autumn, and robed Shinto priests preside over ceremonies in the main temple complex—a cluster of buildings that extend on stilts over the sea. Other highlights include a five-tiered pagoda and the vast Hall of One Thousand Tatami Mats, but the main draw is the torii itself. When the tide is out, visitors can cross the exposed mudflats to leave coins for good luck. International Icons for $400, anyone?—Kristina Malsberger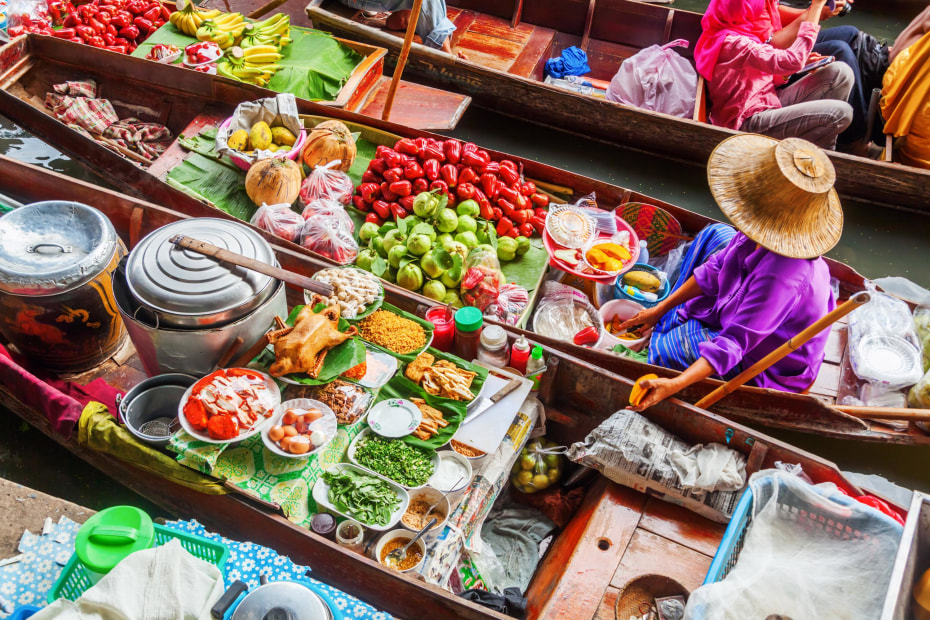 Damnoen Saduak Floating Market, Thailand
To a first-time visitor, the Damnoen Saduak Floating Market looks like colorful chaos. At the popular spot about 60 miles southwest of Bangkok, dozens of small boats—some no bigger than a bathtub and packed to the brim with mangoes, bananas, or boiling pots of noodles—jostle down a canal lined with haggling shoppers and camera-toting tourists from Thailand and beyond. But the guidebook raves are well deserved: Catching a boat ride for a water-level view of the bustling market and quieter surrounding neighborhoods makes for an unforgettable travel experience.
The vessels seem to move with all the purpose of driftwood, but the buyers and sellers unerringly make their connections. Back on dry land, waterside souvenir stands sell the expected stuffed animals and T-shirts, but hungry visitors can also find food vendors serving up crispy pancakes filled with coconut cream.
Many guided tours head here from Bangkok, so this must-see spot is easy to reach. Given that it's one of Thailand's most photographed scenes, you'll want to arrive early in the day to beat the heat and the crowds, and to encounter the market at its bountiful best.—Chris Woolston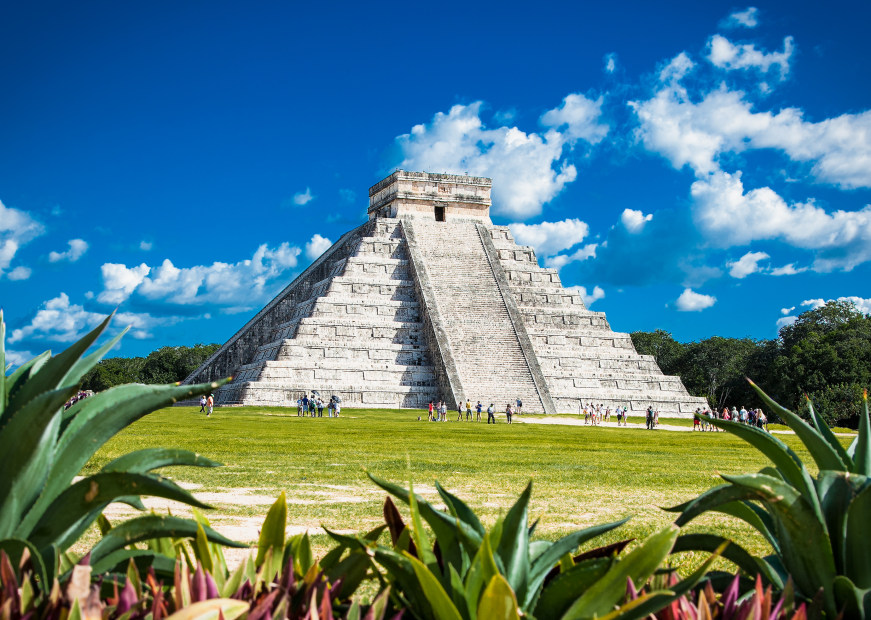 North and South American Gems
Chichen Itza, Mexico
Forget King Tut and camels. The pyramid at Chichén Itzá is plenty awesome, a marvel of Maya architecture built around the year 1000, rising nearly 100 feet above the jungles of Yucatán in southeastern Mexico. Known as El Castillo (The Castle), it draws huge crowds at the spring and autumn equinoxes, when the afternoon sun sends seven triangular shadows slithering down to join a giant serpent's head at the bottom, like a scene from an Indiana Jones movie.
Stand at its base and you'll see why Chichén Itzá is considered one of the New Seven Wonders of the World. The ruins of the once great city stretch over six square miles and include platforms, temples, carved pillars, a sacred cenote (waterhole) almost 200 feet across, and a vast ball court where—some archaeologists suspect—the captain of the losing team was ritually decapitated. (Perhaps sore loser comes from Maya times.) Visitors can also explore an observatory in which early astronomers charted the stars, moon, and planets to create astonishingly accurate calendars. One of these, the Long Count, predicted the end of our era on December 21, 2012. After that, who knows? Better visit Chichén before it's too late.— Kristina Malsberger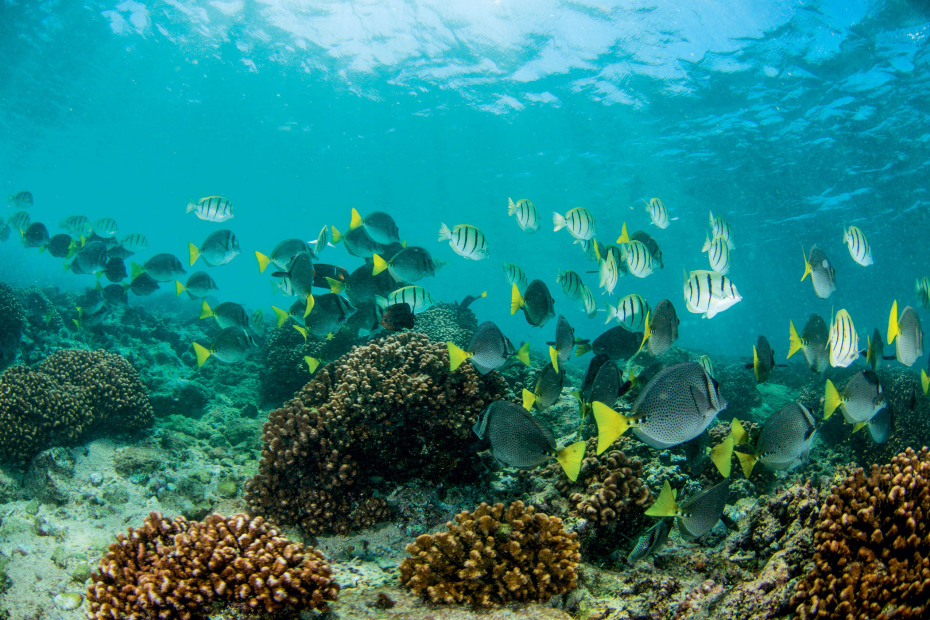 Chileno Beach, Mexico
Time can pass quickly in Los Cabos, the municipality at the southern tip of the Baja peninsula. After all, many pleasures await. You might cabana hop through the ritzy resorts; dance in low-lit nightclubs; or tuck into a high-end tasting menu. But you'll want to save time for the outdoors, because no trip to Cabo would be complete without experiencing the area's natural splendors.
Nestled along the coast not far from Cabo San Lucas, Chileno Beach beckons with sparkling turquoise water, gorgeous coral reefs, and a decidedly mellow vibe. Sit a spell, and you might see dolphins and sea turtles swim peacefully past. For a closer look, don snorkel gear and head to the shallow reef. Schools of sapphire-blue damselfish and polka-dotted puffer fish hurry by, and neon sea stars cling to rocks below.
If lounging is what you came for, the velvety sand is prime for sunbathing, and the beach is uninterrupted by the boisterous bars that line some of Cabo's more crowded shores. Instead, the occasional fruit vendor might saunter through with a cart full of cut mango, sliced watermelon, and cups of agua fresca. For heartier fare, the neighboring Chileno Bay Resort serves fried chicken and fresh-caught tuna on tostadas at its beachfront bar, TnT. —Marie Salcido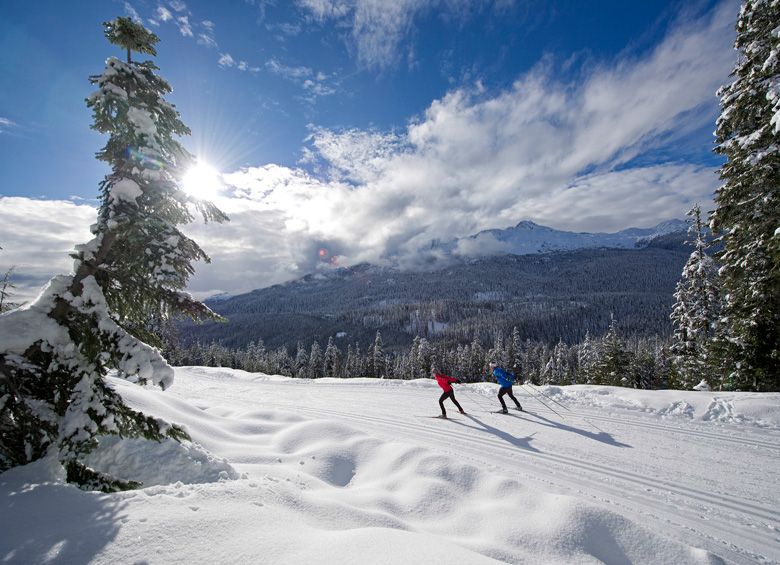 Whistler Olympic Park, B.C, Canada
Some Olympic venues lose their shine after the torch flickers out, but Whistler Olympic Park—home to ski jumping, cross-country skiing, and biathlon events at the 2010 Winter Games—keeps the spirit alive amid the soaring, snowcapped peaks 75 miles north of Vancouver, B.C.
Today, any visitor can strap on cross-country skis and follow in the tracks of Petra Majdič, the Slovenian skier who gutted out a bronze medal despite breaking four ribs in training. Those who want to chase Olympic velocity can try baseboarding: a lie-down, face-first, hang-on-tight sled ride that can reach speeds of 40 mph. If you'd prefer to admire the cedars, firs, and valley views at a more relaxed pace, you can snowshoe across the soft powder or ride a toboggan on a mellow hill just down the slope from the Olympic ski jumps, where elite leapers still take flight in occasional competitions.
Although the cheering throngs have departed and the medals have already been handed out, snow lovers of all stripes can still win the day.—Chris Woolston
Insider's tip: Frequent visitor to Whistler? Enjoy a winter wonderland in Banff, Alberta instead.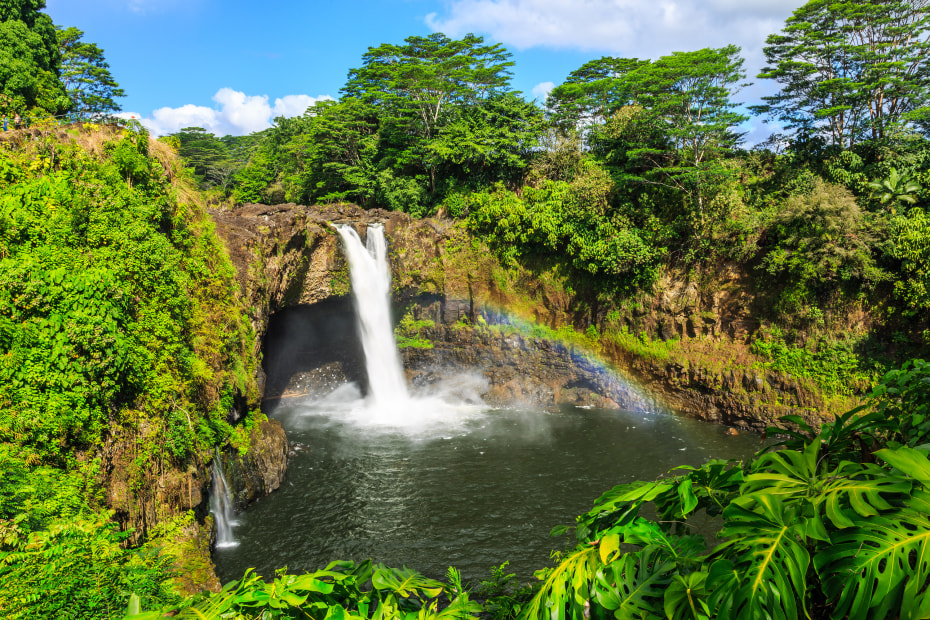 Rainbow Falls, Hawaii
Every Hawaiian Isle offers sunsets, surf, and sand. But if you're enjoying the view from 13,800-foot Mauna Kea, driving a road that dead-ends at an old lava flow, or sipping the harvest at a Kona coffee farm, you must be on the Big Island. Home to rain forests and ranch lands, coral reefs and mountain snows, the island of Hawaii takes everything to extremes.
You'll find one such superlative on the east side of the island, where frequent showers feed Rainbow Falls, an 80-foot cascade just minutes from downtown Hilo in Wailuku River State Park. When sunlight hits the spray just right, prisms appear against the lush green surroundings and the lava cave behind the falls, said to be the home of the Hawaiian goddess Hina.
Hilo is a vibrant town with a zoo, museums, galleries, and gardens. It's also the gateway to Hawaii Volcanoes National Park, where visitors can traverse lava fields and catch sweeping ocean views. Volcanic activity has made the Big Island bigger, but it could hardly get better.—Chris Woolston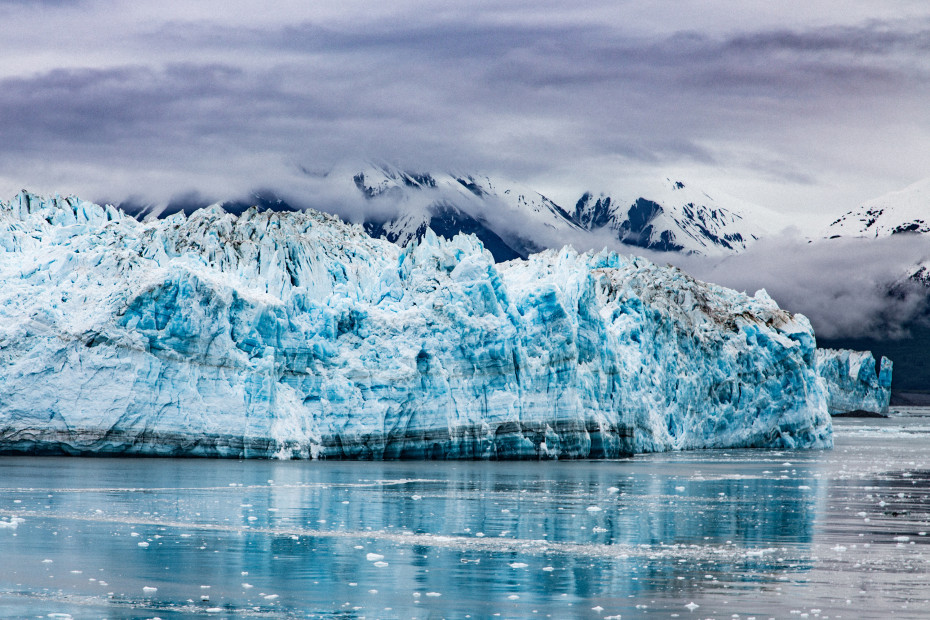 Hubbard Glacier, Alaska
Most of Alaska's glaciers are in full retreat, but 200 miles northwest of Juneau, Hubbard Glacier is still charging forth into the sea from its source high in Canada's Yukon. This river of ice doesn't just flow; it crumbles and cracks, dropping chunks of blue ice the size of cars, houses, or even apartment buildings into Disenchantment Bay. The biggest slabs unleash waves of water and sound that rock all the cruise ships or kayaks nearby.
The glacier measures seven miles wide at its foot and 76 miles long, making it the largest tidewater glacier in North America. It's old, too: The ice along the glacier's 600-foot-high face first formed before the time of the Pilgrims. When a chunk calves into the ocean, it's the endpoint of a long trajectory. If you're lucky enough to watch it happen, you'll view ancient beauty and explosive change in one sweep.—Chris Woolston
Insider's tip: Hoping for something closer? Visit Alaska's Exit Glacier, one of the state's most accessible glaciers, or Montana's Glacier National Park.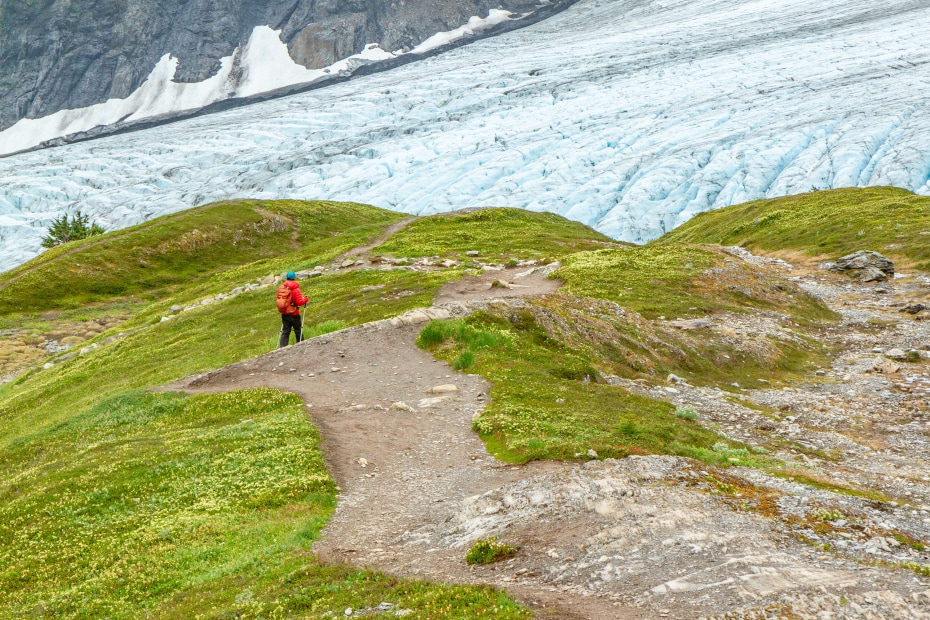 Exit Glacier, Alaska
Located in Kenai Fjords National Park, Exit Glacier is one of Alaska's most accessible ice flows. Just 12 miles from the popular tourist town of Seward, Exit is among a handful of glaciers that visitors can step right up to; in summertime you reach it by walking about a mile from the road.
Because the road closes around mid-November and reopens in late May, a winter or springtime visit requires more creative transportation: You can rent a dogsled, snowshoes, or a snow coach in Seward. But the benefits this time of year are enormous.
Going off-season means smaller crowds in a serene winter wonderland. The monumental valley glacier—flowing down from a huge ice field and terminating on land—seems to glow a deep, vivid blue, with enormous crevasses sunk in every surface. Wildlife is more active at this time of year, so you might spot a moose, and the days are starting to get longer.
Want to stay the night? Contact the park to reserve the Willow Public Use Cabin, a remote, rustic spot with propane lights, heater, and stove. It'll be just you, the park steward, and a whole lot of ice.–Aaron Carnes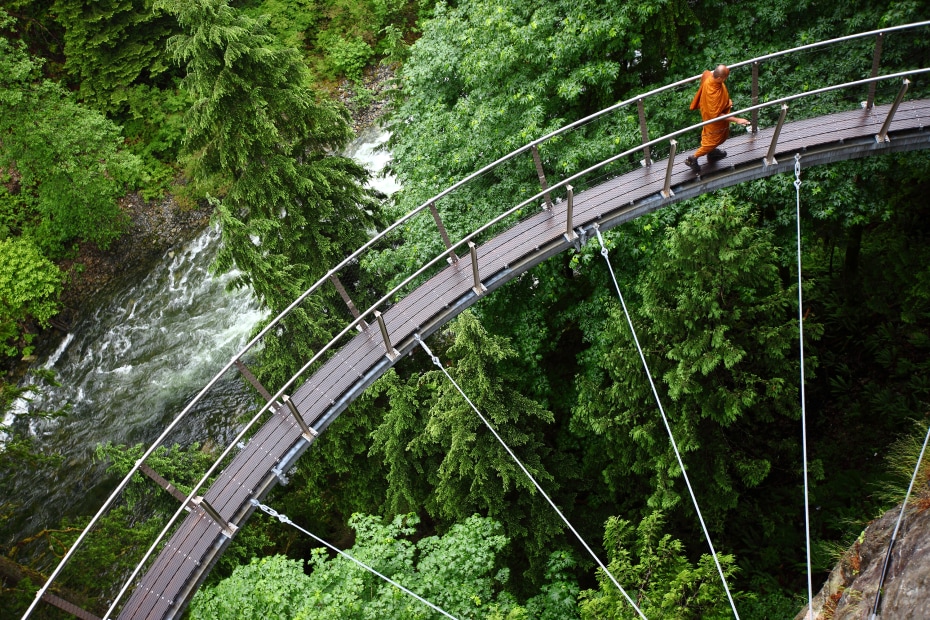 Capilano River Cliffwalk in North Vancouver, B.C.
For visitors strolling the trails under red cedars and Douglas firs by the pretty Capilano River or crossing the lofty Capilano Suspension Bridge in North Vancouver, B.C., the sights from the sheer canyon walls could only be imagined.
Now anyone can thrill to that view on the Cliffwalk, a 700-foot-long steel-and-wood walkway just 20 inches wide that snakes along the precipice, then swings out over thin air in a graceful arc. Trees creak and sway near your feet, while ferns sprout from fractures in the 160-million-year-old granite face that soars 300 feet above the rushing river. In places, thin steel cables are all that hold you up. "Until recently," says John Stibbard, the bridge and walkway's vice president of operations, "you couldn't get that feeling of clinging to the side of a cliff unless you were a rock climber."—Lori Henry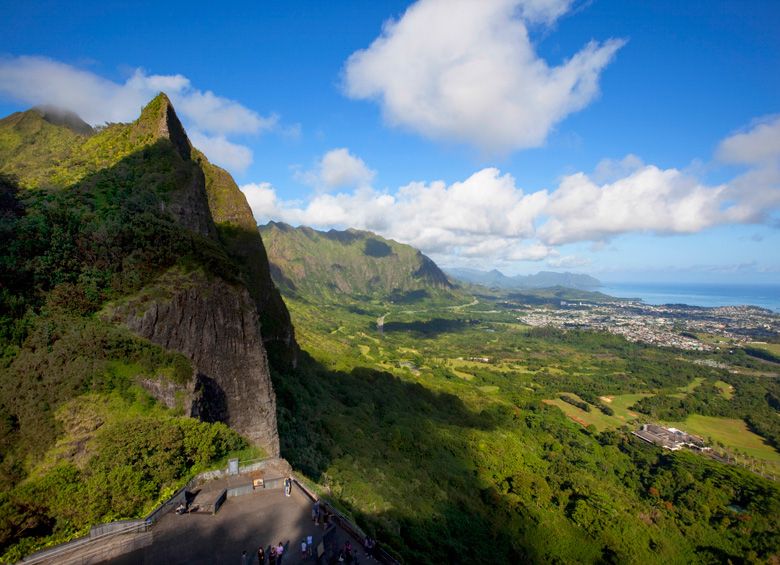 Nu'uanu Pali State Wayside, Hawaii
Hang on to your hat at Nu'uanu Pali State Wayside, a windy, eye-popping viewpoint high above the Oahu coast. Just five miles from downtown Honolulu, the spot offers visual thrill seekers a large platform for taking in classic Hawaii scenes: sheer volcanic cliffs, green lowlands, and turquoise waters dotted with islands.  
The peak also delivers a lesson in the state's bloody history. In 1795, an invading force of canoes carrying thousands of warriors under the command of Kamehameha landed on the nearby shore, setting off a fierce battle with Chief Kalanikupule and his huge army. With the help of English firearms and cannons, Kamehameha and his legion eventually drove the defenders into the Nu'uanu Valley and up to the cliffs, where hundreds of warriors either jumped or were pushed to their death on the valley floor below. The invasion helped consolidate Kamehameha's rule and eventually unite the islands.
Standing in the stiff breeze, you can still sense the power and passion that built Hawaii. Kingdoms don't come easily, even in paradise.—Chris Woolston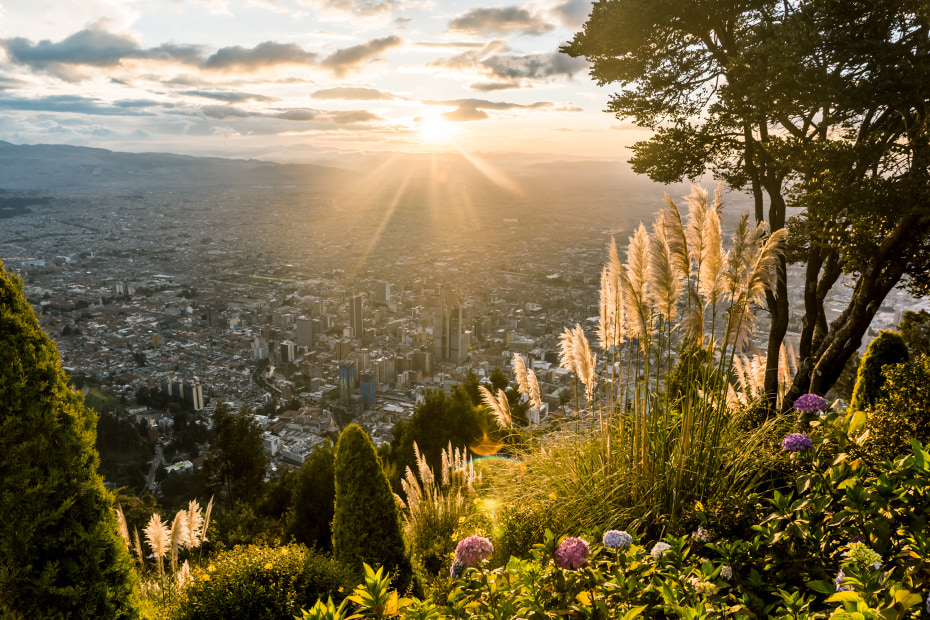 Cerro de Monserrate in Bogota, Columbia
For centuries, visitors to Bogota have been drawn to the top of Cerro de Monserrate, a gathering place for pilgrims and other seekers nearly 2,000 feet above the sprawling city. Whether you take a 4-minute cable car ride past the treetops, ride the funicular train, or climb the 1.5-mile cobblestone walking path past vendors selling snacks of cheese and guava paste, you'll know you've reached the height of your time in Colombia's capital.
On a clear day, the view encompasses a panorama that's 8 million people in the making. Gardens of hydrangeas, banana leaves, and lavender surround the white-steepled church of Monserrate, a sanctuary built in 1920 that draws thousands for services throughout the week. Past the church, you can wade through a bustling marketplace featuring sombrero vueltiaos (Colombian cowboy hats), woven bags, and soccer balls; or dig into local combinations like grilled beef with baked yucca at the Santa Clara restaurant. The air may be thin up here at more than 10,300 feet above sea level, but if you make it to Monserrate, your senses will be full.—Chris Woolston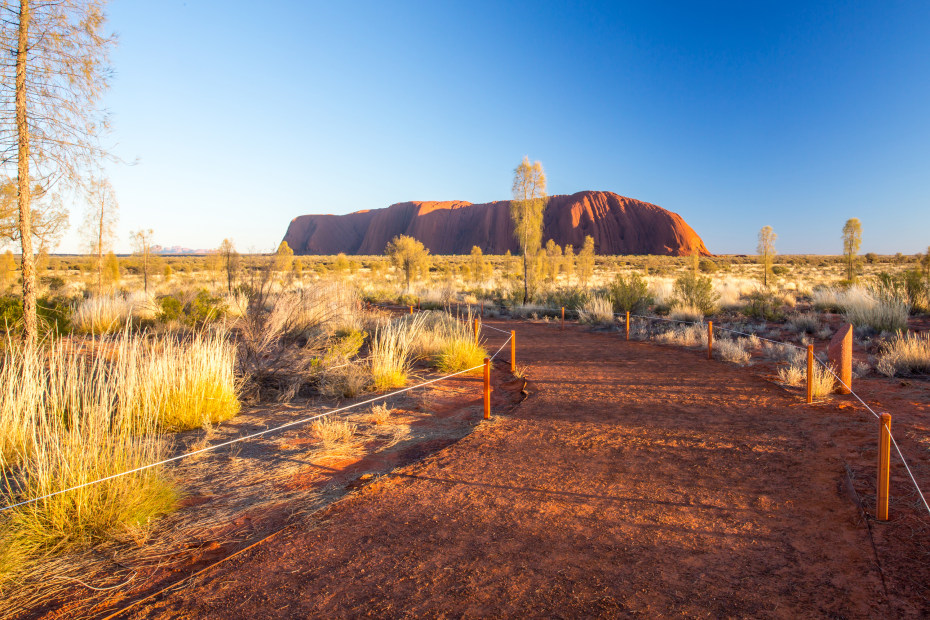 An Iconic Spot in Oceania
Uluru (Ayers Rock), Australia
How does a single chunk of rock become an icon for a whole continent, a sacred touchstone for Aboriginal culture, and a gathering place for visitors from all over the world? Uluru—also known as Ayers Rock—deserves its lofty status for myriad reasons.
Marvel first at its sheer size: The steep sides, grooved from rain, rise more than 1,100 feet above the central Australian desert, and the base measures nearly six miles around. Move in closer, and your vision is engulfed by blazing reds and oranges.
When you reach the rock itself, you see cave paintings and petroglyphs created by the Anangu people over millennia. Thorny devil lizards scurry near the pathways, Australian kestrels and peregrine falcons soar overhead, and dingoes prowl in the distance.
This World Heritage Site, now reachable by direct flights from Sydney, speaks to all of us.—Chris Woolston