Floating weightlessly in the bathtub-warm waters of Midway's Homestead Crater, it occurs to me that this underground grotto seems so tropical that I might just as easily be in Cancún or Costa Rica. Stepping outside, though, and turning in a circle to view the ice-capped peaks ringing the Heber Valley, I remember that I'm actually visiting an American version of the Swiss Alps in Utah. And what's the first thing I'd do at the end of a busy afternoon in the Alps? Have a hot chocolate—a ritual I happily observe at Zermatt Resort—accompanied by flaky éclairs from the resort's traditional European bakery.
Midway comes by its old-world ambience authentically; it was settled in the 1850s by Swiss and German immigrants on the run from religious persecution. These days this quiet town is an under-the-radar haven for fans of outdoor pursuits, with easy access to the protected wilderness of the Wasatch and Uinta mountain ranges that surround it on all sides. Eighteen miles away from the buzz and bustle of Park City to the north, Midway feels like that high-octane town's sleepier cousin. Visitors still have the world-class skiing—and plenty of other activities to choose from as well.
"You can be in the mountains in minutes with a horse or a fishing pole, or away from it all with snowshoes," depending on the season, says naturalist Kathy Donnell, of Wasatch Mountain State Park, just five minutes by car outside Midway.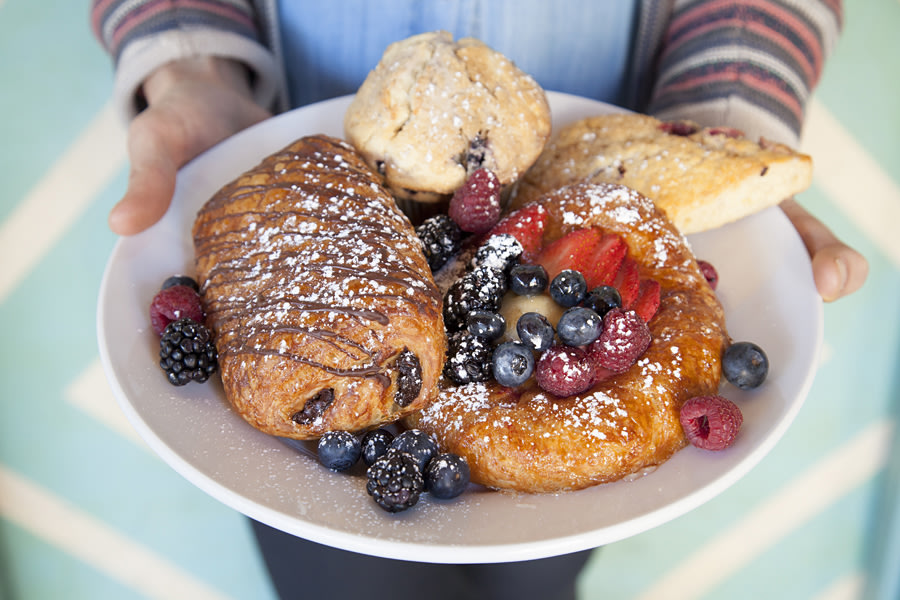 Spring in Heber Valley often features plenty of snow. Ski resorts and snow parks are typically open through mid-April, and people can still snowmobile, cross country ski, and snowshoe in the higher elevations even later in the year. Wasatch Mountain State Park's Soldier Hollow, site of the 2002 Winter Olympics, may be best known for cross country skiing and snowshoeing, but lesser known and just as much fun are the 1,200-foot tubing runs. A lift takes you back to the top after you've brushed off the snow. When there's sufficient snowmelt, you can hike on the Pine Creek Nature Trail, a well-marked 1.2-mile loop in a gently sloping canyon. Prefer to expend less energy? Rocky Mountain Outfitters offers sleigh rides and leads the area's only winter trail rides from Soldier Hollow. "Where else can you ride a horse through the snow?" Donnell asks.
Homestead Crater is a must for visitors. A 55-foot-high natural limestone dome protects this unusual geothermal hot spring from the weather. Sign up ahead of time to soak in the mineral-dense, 90-degree waters, colored an otherworldly aquamarine, or choose from activities such as snorkeling and paddleboard yoga. Fishing enthusiasts also come year-round to the nearby Provo River, a blue-ribbon fly-fishing destination that contains some 2,000 to 4,000 fish per mile.
Of course, there's no need to do anything other than relax and marvel at the pristine beauty of it all from the windows of a restored Heber Valley Railroad train, which travels along Deer Creek Reservoir. On the two-hour Lakeside Limited, you'll have picture-perfect views of Mount Timpanogos and possibly up-close glimpses of mule deer and bald eagles.
On the way back, visit Heber Valley Artisan Cheese. "When my great-great-grandfather and the other Swiss immigrants arrived, they brought their traditions of dairy farming and cheese making with them," says Russel Kohler, whose family has run the farm since 1929. Try the ever popular Swiss Girl cheese or the traditional Finnish juustoleipä, known for squeaking against your teeth. "We like to experiment and have a little fun," Kohler says of the constantly changing selections. Tours are available on Tuesdays and Thursdays around lunchtime or by appointment.
Keeping with a European theme, chef Eric May at the Blue Boar Inn & Restaurant serves Swedish meatballs (his are made with wild boar) and schnitzel. Or you can push the geographic boundaries and order the pork loin chile verde at Tarahumara or one of Café Galleria's wood-fired pizzas. And that's Midway—old-world charm with a dash of modern temptation.