White drifts sparkling under a blue sky, icicles hanging from fir branches, creeks crackling with fresh ice—you don't need skis or a lift ticket to enjoy the great outdoors during a cold Western winter. Whether you want to hop on a sled or take a backcountry tour, there are plenty of exhilarating ways to revel in the ice and snow.
Make snow tracks in Mammoth Lakes, California.
Across the West, cyclists are traveling wintry trails on fat-tired bikes that provide the right amount of grip and glide. Rent one with a helmet in Mammoth Lakes, a town in the eastern Sierra Nevada. Then explore the smooth, groomed trails in Shady Rest Park, where you can roll past big trees and mountain meadows.
Climb to a mountaintop meal near Sandy, Utah.
For a high-altitude thrill, board the aerial tram at Snowbird resort in the western Wasatch Range near Sandy. One of the most amazing scenes in Utah unfolds below with a vista that stretches from the mountains to the Salt Lake Valley. After a 10-minute ride to the top of 11,000-foot Hidden Peak, you can munch on artisanal pizza at the Summit restaurant. The food satisfies, but the sunlit view through the huge picture windows is the main attraction.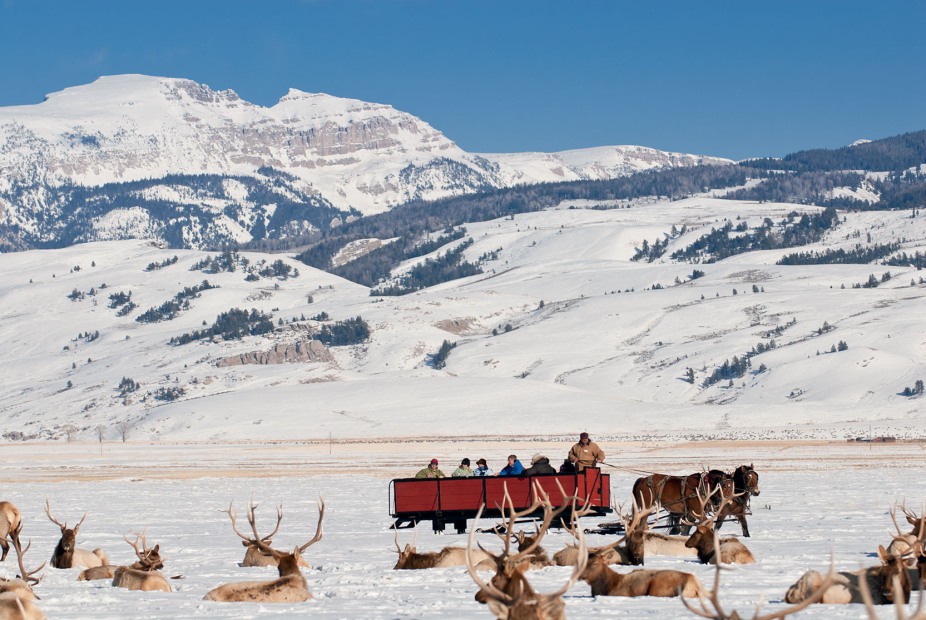 Mingle with elk outside Jackson, Wyoming.
Want a close encounter with wildlife? Bundle up for a horse-drawn sleigh ride in the National Elk Refuge, home to thousands of the resilient mammals at the base of the Tetons outside Jackson. "The elk aren't afraid of the horses or the sleigh," says Julie Stetson of the U.S. Fish and Wildlife Service. "You can get much closer to giant bulls in your seat than you ever could on two feet." Coyotes and the occasional wolf pack follow the herds while bald eagles and rough-legged hawks look on. Your sleigh driver is a naturalist who narrates the nearly one-hour trip, but the scene really speaks for itself.
Ride in a Bombardier in Yellowstone National Park.
You've never completely seen Yellowstone until you've seen it in winter: Geysers and fumaroles steam in the cold air, waterfalls turn to ice, and bison roam snow-covered empty roads. One of the bright red Bombardier snow coaches operated by Yellowstone Alpen Guides will deliver you from the town of West Yellowstone, MT., to Old Faithful or the Grand Canyon of the Yellowstone for a day trip. At either destination, you'll be right in the heart of the park during its most tranquil season.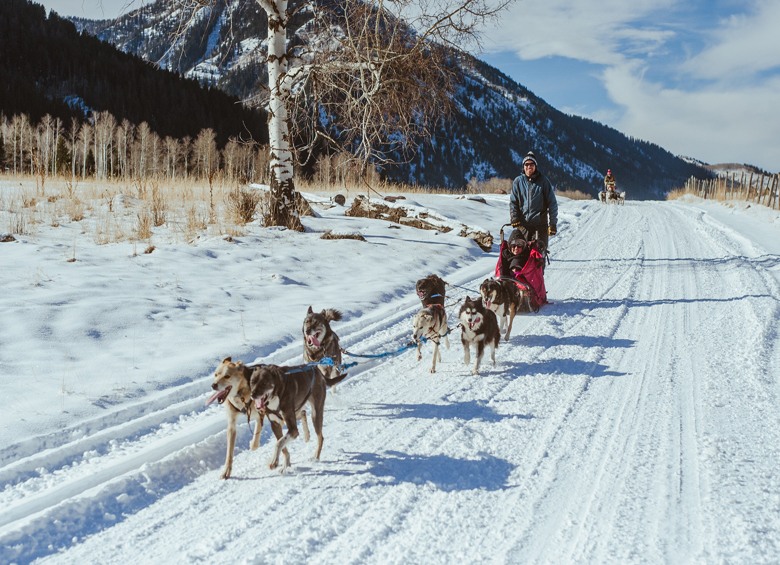 Mush like a master outside Park City, Utah.
You'll gain a new appreciation for teamwork with a squad of huskies and malamutes pulling you, a companion, and a musher along for a sled ride outside Park City. "When the dogs are hooked on, you're all connected," says Fernando Ramirez, musher and co-owner of the Luna Lobos dog-sledding company. "You can feel the enthusiasm, the drive, and the passion these dogs have." The animals—almost all of them rescues—relish the chance to run. As you travel at canine speeds on mountain paths winding through stands of aspen and pine, you'll leave your old life behind, at least for an hour or two. "It's a great escape," Ramirez says.
Warm up by a bonfire in Bend, Oregon.
After sundown in Bend, you can experience the dark side of winter with a half-mile snowshoe trek to a bonfire on Mount Bachelor. Guides with Wanderlust Tours carve snowy amphitheaters that reflect the flicker of the flames. While the guides point out highlights of the night sky, you can warm yourself with hot chocolate—with or without a touch of hazelnut espresso vodka. You'll have a headlamp for your trek, but you likely won't need it. "Even on a moonless night, the starlight alone can be enough to cast a shadow," says tour operator Dave Nissen. "It's really magical."
Play in desert snow in Nevada's Spring Mountains.
About 40 miles from the casinos and hotels in Las Vegas, the Spring Mountains offer an array of family-friendly fun. At Lee Canyon resort, a rope pull lugs you and your inner tube uphill again and again during a 1.5-hour session. Nearby, the littlest visitors can fling—or nibble on—snowballs at the Foxtail Day Use Snowplay Area, open on holidays and weekends. Catch a blue-sky day with fresh powder, and you'll feel luckier than a triple-seven winner on the Strip.
Spin around a rink in Sun Valley, Idaho.
While skiers carve down Idaho's best-known slopes, you can glide around the Sun Valley Outdoor Ice Rink—one of the few in the United States that operates year-round. The reliably perfect ice and views of the valley attract skaters of all levels, including world-class competitors. If your moves aren't quite Olympian, you can sign up for skating lessons. The rink stays open even on warm days, but skating on a chilly, see-your-breath afternoon just feels right.
Trek to a yurt near Flagstaff, Arizona.
If you can walk, you can snowshoe, the adage goes. See for yourself by renting some shoes at the Nordic Village in Coconino National Forest. It's at the base of Arizona's tallest mountain range, the San Francisco Peaks, 16 miles north of Flagstaff. Eight snowshoe trails wind through stands of pine and quaking aspen, some leading a mile or so to backcountry yurts that you can reserve for an overnight stay. Lanterns, sleeping pads, a gas grill, and wood for the stove are provided; you pack the rest.
Whip through the trees near Midway, Utah.
The speed and rumble of a snowmobile may intimidate first timers, but Midway Adventure Company makes it easy with a guided tour on the groomed forest trails and open meadows of the eastern Wasatch Range above Midway. Whether you go out for two or six hours, you'll be throttling and steering like a pro. You must be 16 years old and licensed to drive, but passengers—age 4 and up—are welcome on the shorter trips. Helmets are provided, and you can rent extra cold-weather gear if needed. At 11,000 feet, the views—and the snow—seem to stretch forever.
Choose your own sledding hill outside Carson City, Nevada.
Do-it-yourself sledding may be the purest joy of winter. Just put a sled in the trunk and find your hill. At Spooner Summit outside Carson City, toboggans and saucers take 50-foot runs down Sierra Nevada snow. There's no age limit: Put yourself on a sled, and you can feel like a kid all over again.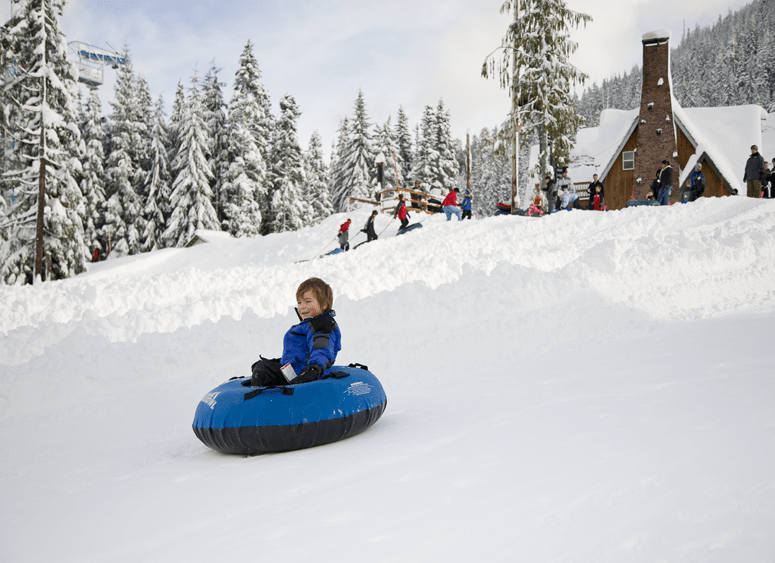 Go totally tubular on Oregon's Mount Hood.
Inner tubes and snowy slopes make for a classic winter combination. But the tubing runs at Skibowl on Mount Hood aren't like the hills of your childhood. With 14 separate lanes and two moving walkways to carry you back to the top, this is next level. Some of the tubes have room for four riders, so entire families can share a run. The brave can try Extreme Tube Hill, a steeper, faster run that will spray your goggles and test your grip. 
Snort at a snow dragon in McCall, Idaho.
Giant snow sculptures spring up all over McCall during the Winter Carnival, held at the end of January. The most elaborate creations arise in Depot Park, where artists from around the West compete for prizes. Past works have included a sphinx, castle spires, a tepee village, dragons, and leaping dolphins. For one week only, even marine mammals frolic in this snowy mountain town.