The World-Class Resort: Whistler, British Columbia
Taking the 2.7-mile ride on the Peak 2 Peak Gondola, the highest lift of its kind in the world, is a good way to understand why skiers from across the globe make the pilgrimage to Whistler Blackcomb, 80 miles north of Vancouver, B.C. Through picture windows a tableau of coastal rain forest, volcanic peaks, and the white ribbons of more than 200 ski runs unfurls below. Welcome to one of the continent's largest ski areas.
The superlative resort is part of an even deeper draw: the town of Whistler, a pedestrian-only village with a festive vibe that attracts a diverse international clientele. And, thanks to the 2010 Olympic Games, a long menu of unusual off-slope activities entices visitors as well. The Whistler Sliding Centre offers bobsled rides—driver included—that whip passengers around 10 turns at over 75 miles per hour. Whistler Olympic Park maintains more than 50 miles of tree-lined cross-country ski and snowshoe trails and gives biathlon lessons. For a mellower escape, enjoy the hot baths, waterfalls, and steam rooms of the Scandinave Spa.
Come evening, people congregate in Whistler's packed center. Bars such as the Longhorn Saloon & Grill and Garibaldi Lift Company Bar & Grill ("GLC" to locals) teem with tuckered vacationers. La Cantina serves fancy tacos with fillings such as pork cochinita sprinkled with spicy pickled red onions. Even a simple stroll through town, maple shave ice in hand, makes a fun diversion. "It feels like you're walking through a snow globe," says Olympic snowboarder and Whistler resident Mercedes Nicoll. Happily, these tidy homes and picture-perfect mountains aren't make-believe.—Kate Siber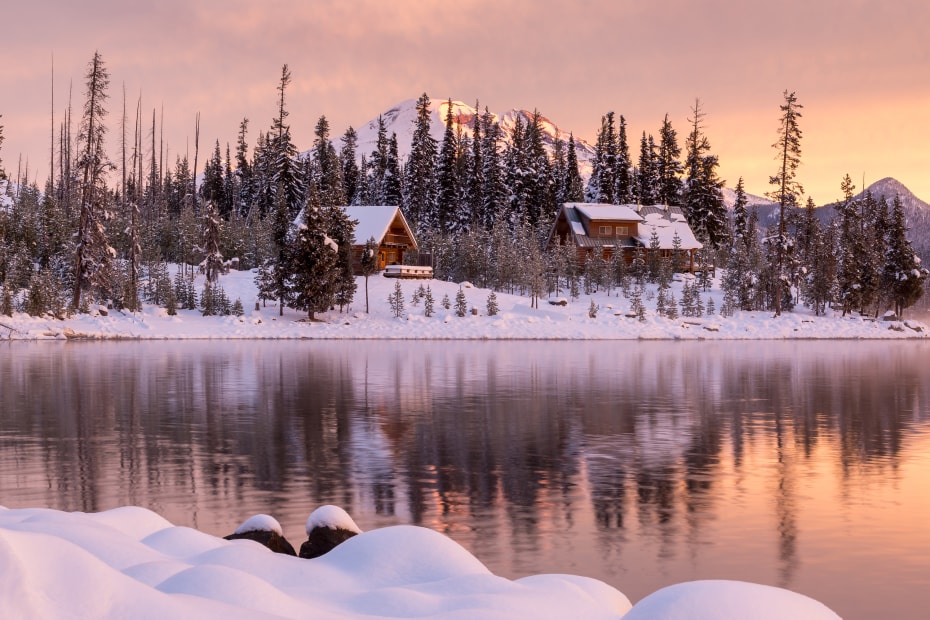 The Riverside Respite: Bend, Oregon
Known for its exceptional access to the outdoors, this microbrew capital is very much a destination in its own right. Home to taverns with crackling fireplaces and plenty of good restaurants, Bend offers enough to do that visitors can take their snow in doses large or small. Just 22 miles away, Mount Bachelor boasts one of the country's longest ski seasons, and its many trails get an average 462 inches of powder annually. To reach Elk Lake Resort, a forest lodge facing a string of cabins, guests travel 12 miles of unplowed scenic byway in burly trucks fitted with caterpillar treads, then warm up with hot chocolate.
But walks in downtown Bend by the banks of Mirror Pond and the Deschutes River are just as rewarding, as is the view of the Cascades through the windows of the Row, where the New York strip and black ale pair well. 
Meanwhile, craft cocktails have taken root at Stihl Whiskey Bar, which boasts 400 brands of whiskey, and at the Dogwood Cocktail Cabin, where the delicious sidecar comes dressed with a sumac rim. The Hideaway Tavern serves IPA-battered onion rings with chipotle ranch that taste like a reward well earned, no matter how you spent the day.—Tim Neville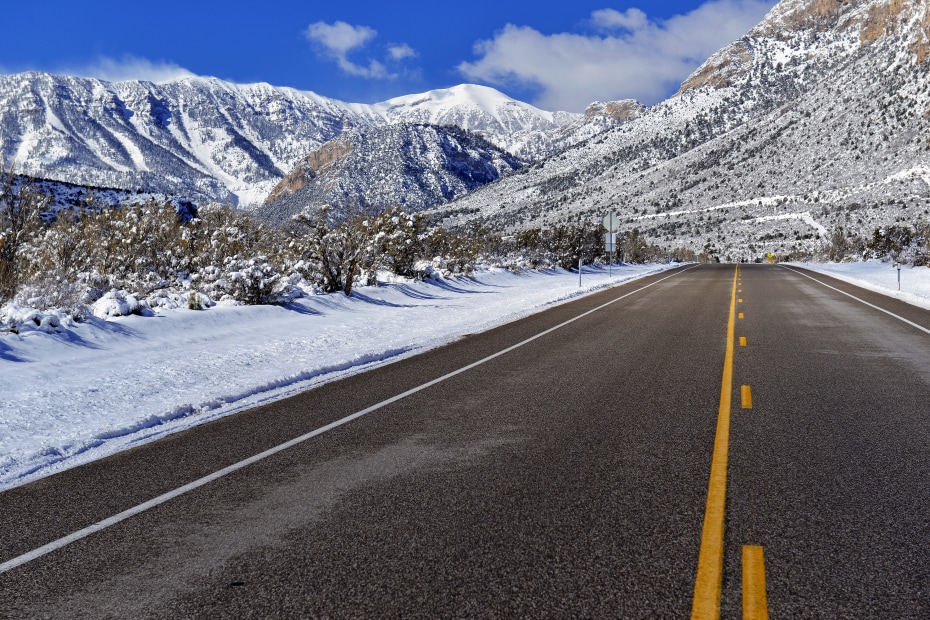 The Rustic Retreat: Mount Charleston, Nevada
Looming nearly 12,000 feet above the Mojave Desert, Charleston Peak seems as surreal as the Vegas Strip an hour to the east. This centerpiece of the 316,000-acre Spring Mountains National Recreation Area is an alpine beauty primed for winter sports—Las Vegas Ski & Snowboard Resort features a speedy lift—and ideal for outdoor exploration.
The range's slopes support six ecosystems, with Joshua trees in proximity to bristlecone pines. "In the span of 25 minutes you go from the desert all the way to an environment you might find thousands of miles to the north," says Dion Nicolas, a former U.S. Forest Service volunteer. "Species thrive there that would not survive in the lower elevations."
At the Spring Mountains Visitor Gateway, kids can learn to identify the tracks of mountain lions, elk, coyotes, and other wildlife with the help of discovery packs that are free to borrow. Snowshoers can get directions for walks such as the Lower Bristlecone Trail. At the butterfly-roofed visitor center, hikers can park their cars and walk right onto the trails surrounding it.—Laura Read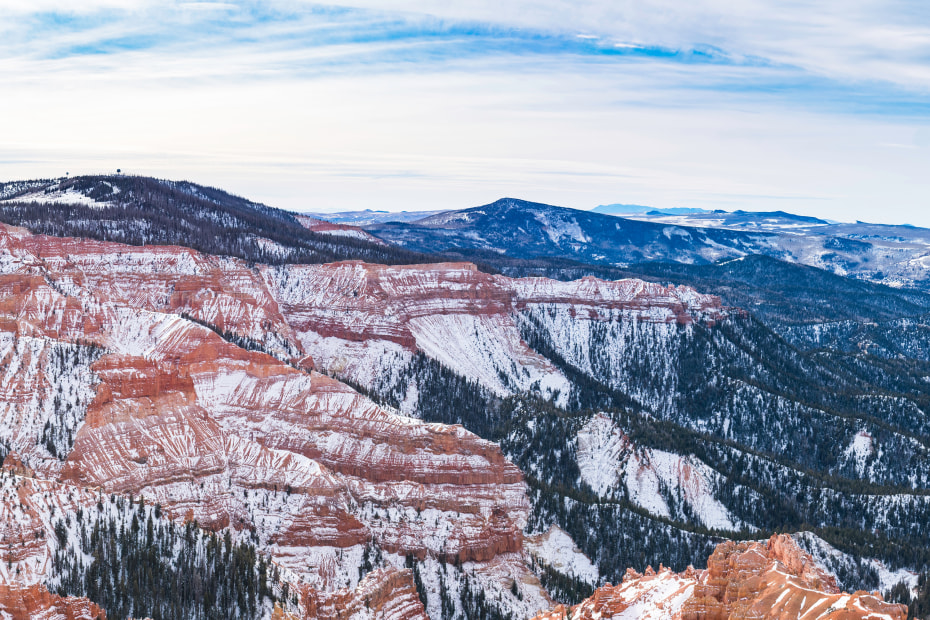 The Red Rock Hideaway: Brian Head, Utah
This mountain may sit far from the mega resorts near Salt Lake City, but don't let its southern Utah location fool you. Perched on the same sandstone upland that's home to Zion and Bryce Canyon National Parks, Brian Head tops out at around 11,000 feet and wrings plenty of snow from storms that arrive after speeding across the desert below.
Thanks to its remove, this ski area maintains a laid-back atmosphere. Its parking lot is calm enough that parents pause there to rub sunscreen on their children. Because of its quiet runs and uncomplicated terrain, Brian Head is approachable for beginners. "Kids ski without adult supervision and it's a safe place for them to do that," says former instructor Maggie Lamb. Families also enjoy the 11 tubing lanes that zoom squealing riders through a series of undulations, contrails of snowflake pixie dust hanging in their wake.
Beyond the slopes, the Restaurant at Cedar Breaks Lodge & Spa serves plates of fettuccine alfredo with creamy clam sauce. And hundreds of miles of scenic trails crisscross the surrounding Dixie National Forest. From nearby Thunder Mountain Motorsports, guides lead snowmobile tours through forests of aspen and past ancient bristlecone pines, with views of Cedar Breaks National Monument, where the blanket of white snow throws yellow, orange, and red rock formations into stark relief. It's beautiful country that visitors often have all to themselves.—Jim Harris