Southern Nevada offers plenty more than the dazzling lights and glitzy casinos of the Vegas Strip, as I recently discovered on a solo, three-and-a-half-day road trip along Death Drive. The approximately 365 mile, looped trip takes travelers from Las Vegas through Spring Mountain Ranch State Park, Death Valley National Park, and Mt. Charleston. What's even more remarkable: it can all be done on one tank of gas. Despite its ominous moniker, this desert route is brimming with life—especially as temperatures drop during the cool seasons.
Smart Tip: There aren't a ton of food and drink options along the way, so pre-stock plenty of snacks and water to enjoy between evening stops. And make sure to map your drive before you leave. (Check out the map below to see the writer's route.)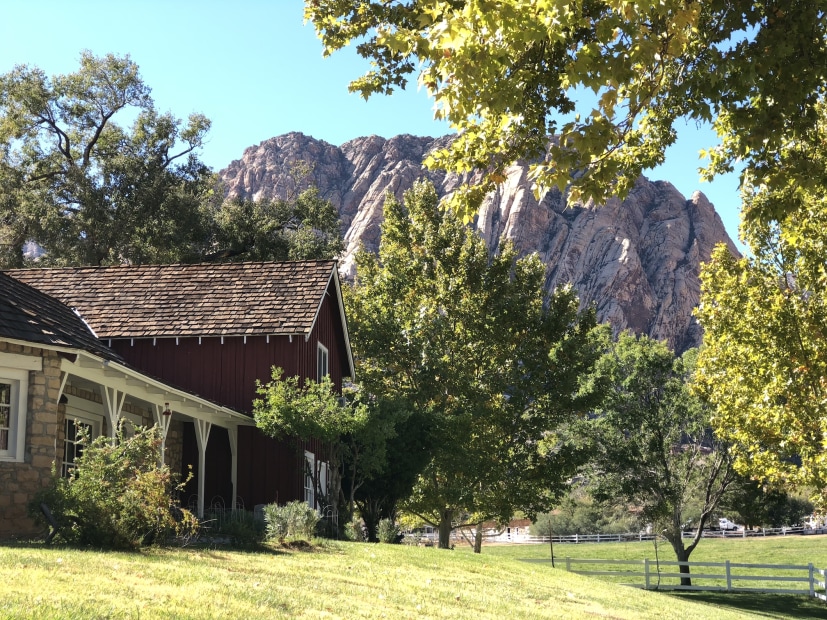 Day One: Las Vegas to Pahrump
Just 25 miles southwest of Las Vegas, Spring Mountain Ranch State Park feels a world away. A $10 entrance fee paid my way to 528 acres of ranch land and spring-fed meadows with shady picnic areas and several short hikes, all surrounded by rocky red-and-orange-colored mountains. The property's main house serves as visitor center, museum, and gift house. Built in the 1940s as a country-style vacation retreat, the home had a string of famous owners, including Lum and Abner radio personality Chester Lauck (1948–1954), the colorful German actress Vera Krupp (1955–1967), and millionaire Howard Hughes (1967–1972).
After visiting the museum and the main house, I wandered the park's National Historic District, home to some of Nevada's oldest structures, and walked a trail lined with native plants like Mojave yucca, indigo bush, and brittlebrush while roadrunners and lizards scuttled nearby.
Approximately 50 miles from Spring Mountain Ranch, Pahrump provides several overnight options on either side of Highway 160. The town is also home to two of Nevada's four wineries, with white-linen Pahrump Valley Winery serving up a menu of delectable dinner items such as filet mignon and chicken Tuscany with mushrooms in a marsala-sherry sauce. The winery is especially known for its Symphony blend, an aromatic white with hints of honeysuckle and apricot.
Smart Tip: If you have daylight to spare before settling down for the evening, drive the Red Rock Canyon Scenic Loop, approximately eight miles north of Spring Mountain. It's a 13-mile winding route ($7) among crimson-hued canyons, natural chimneys, and impressive peaks, with pull-over vistas and trailheads along the way.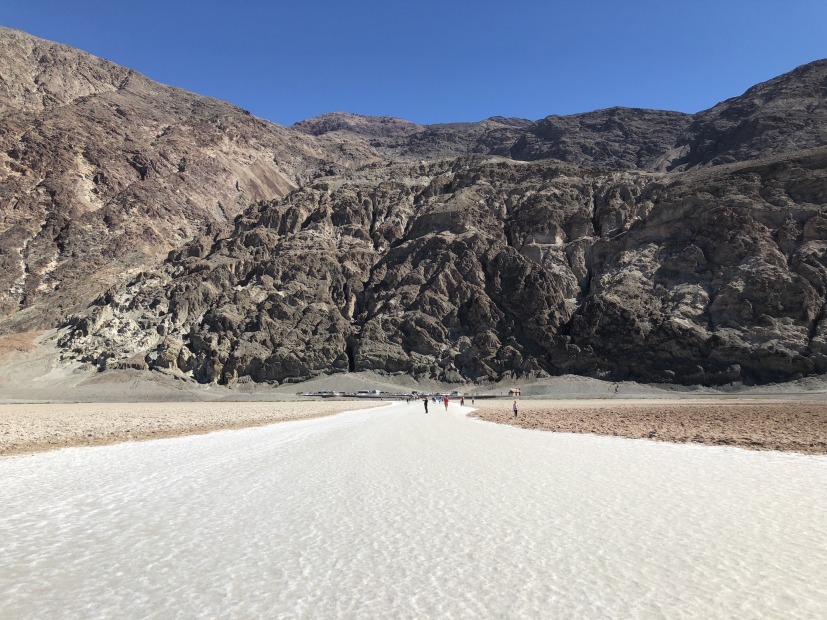 Day Two: Pahrump to Beatty
The hour-long drive from Pahrump to Death Valley National Park is a mostly two-lane stretch on Highway 190, with wide-open desert and undulating peaks for miles. It passes both the 23,000-acre Ash Meadows National Wildlife Refuge—home to the country's highest concentration of endemic species (like the Ash Meadows gumplant and Crystal Springs snail)—and Death Valley Junction's Amargosa Opera House, which hosts operas and other events from late-October through May, plus includes a daytime cafe serving up coffee, breakfast sandwiches, and pizza Fridays through Mondays.
Death Valley is both the driest place in the U.S. and officially the hottest place on Earth, though life still thrives in the forms of species such as ancient bristlecone pine trees along the park's high mountain summits and kangaroo rats that burrow beneath the valley's sandy floor. After a brief stop at the park's popular Zabriskie Point to take in panoramic views of the surrounding badlands, I swung by the Furnace Creek Visitor Center, where I paid the $30 entrance fee and tried the ranger-suggested nearby, three-mile out-and-back Golden Canyon Trail. The same main road that leads to its trailhead also took me to Badwater Basin, five miles of barren salt flats and home to North America's lowest point, 282 feet below sea level. A sign warns against walking the almost mirage-like flats after 10 a.m. due to extreme heat, but the season's cooler temps had dozens of people exploring.
Smart Tip: Even during the cold seasons, weather can fluctuate drastically in the arid desert climate. Be sure to bring layers and plenty of water, and call ahead to inquire about anticipated temperature highs and lows.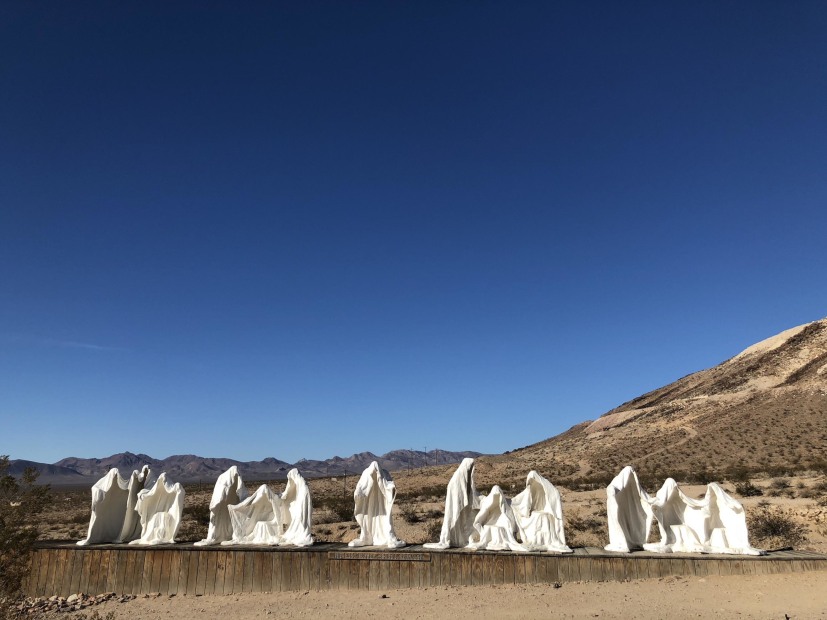 At 2:30 p.m.—and 94 degrees—I departed for my next stop: Goldwell Open Air Museum. The 15-acre outdoor sculpture park in Nevada's Amargosa Valley is best known for Belgian artist Albert Szukalski's The Last Supper: 12 life-sized ghostly figures made of plaster-soaked fabric and coated in weatherproof fiberglass rising out of the desert like ethereal apparitions. The piece is just one of a dozen or so artworks added since the free, 24-hour museum first welcomed visitors in 1984.
Several hundred more feet up the road from the museum is Rhyolite, one of the West's infamous ghost towns. The short-lived boomtown reached nearly 8,000 residents in the early 1900s, but registered only 14 by 1920. Its hodgepodge of ruins now includes a former train depot, school, and a residence once thought to be a brothel. There's also the Tom Kelly Bottle House, a restored three-room abode made of thousands of bottles, which the prospector had in spades.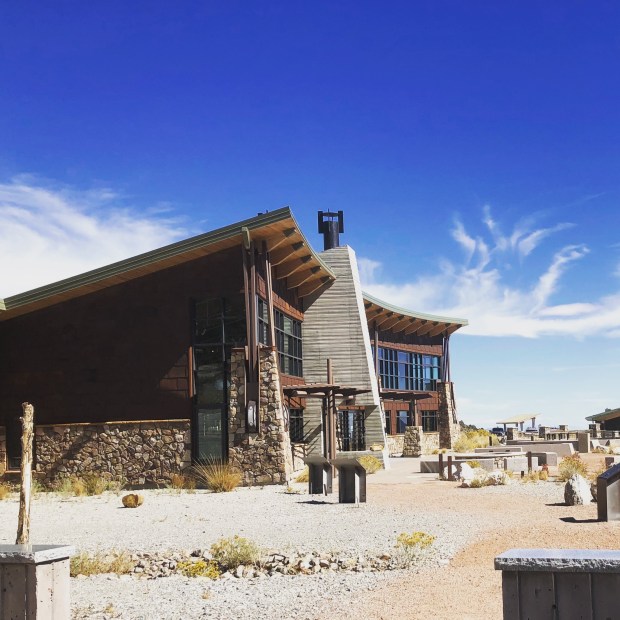 Day Three: Beatty to Mount Charleston
Nearby Beatty provided my overnight lodging before a two-hour drive southeast to Mt. Charleston, just west of Vegas. A winding road up the mountain took me past rock formations and bristly flora in shades of green, yellow, and gold. At an elevation of 11,916 feet, Mt. Charleston is the highest peak in the Spring Mountains National Recreation Area, known for its skiing and snowboarding in early December through late March, as well as its golden-leafed quaking aspens—which make the area a prime spot for leaf-peeping mid-October through mid-November.
The 3.2-mile out-and-back Fletcher Canyon Trail—one of the area's many great hikes—is a moderate dog-friendly route of loose gravel, pinyon pines, and flaxen-hued Gambel oak trees rewarding in stunning canyon views. I followed the trek up with a visit to the Desert View Overlook, where—from 1951 to 1963—picnickers came to watch more than 900 atomic bombs explode in the nearby desert.
Returning to my night's lodging, I passed two burros feeding along the roadside and realized this is my kind of Vegas experience.
Smart Tip: Consider camping to take in the desert's vast stars and crisp evening air. A good option near Pahrump is Shoshone Village Campground, just a half-hour drive west in Shoshone, CA. Tent sites include access to showers, laundry, and a year-round warm springs pool. Reserve early for Death Valley National Park's Furnace Creek Campground, a great substitute for spending your second night in Beatty. In this case, it'd be best to visit Rhyolite and the Goldwell Open Air Museum on the morning of your third day, before continuing to Mt. Charleston. Indoor lodgings are also available en route.