Sights and Events Around Banff, Alberta
The eight-minute ascent of Sulphur Mountain on the Banff Gondola carries you 2,900 feet above the town. At the summit terminal, soak up 360-degree views of Banff National Park and six snow-clad ranges. You can also grab a bite at one of two restaurants or join a stargazing party.
Mounted elk and trout, jelly bean–size speckled bird eggs, petrified wood, and 5,000 other Victorian-era botanical and zoological curiosities fill the Banff Park Museum. The 1903 multilevel masterpiece—a wonder of log construction, with a honey-toned Douglas fir interior—is the oldest surviving federal building in a Canadian national park.
Shops
Hand-thrown ceramic vases, intricate sterling silver rings, linocut prints of birch trees in winter: Virtually all the unique household decor and gift items at Branches Marketplace were designed or crafted in Canada.
Looking to cozy up when the thermometer dips? A jacket lined with faux Sherpa fur or a set of plaid sheets should do the trick. At the Rocky Mountain Flannel Company, the cotton apparel and bedding is all designed in-house.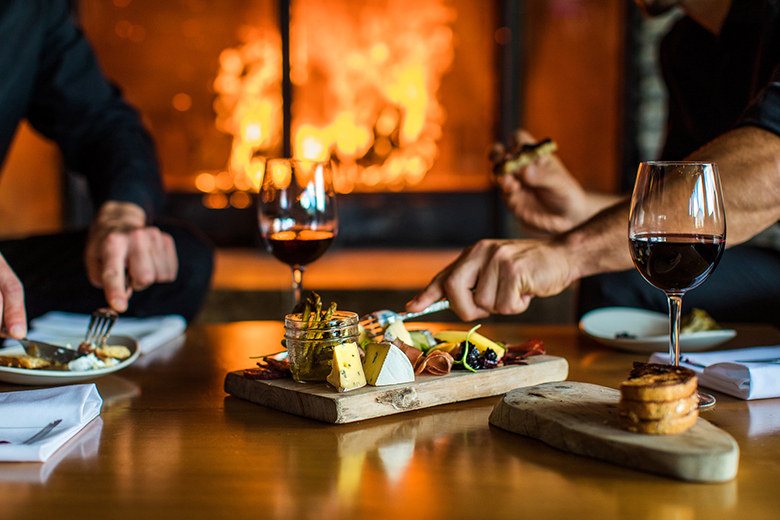 Where to Eat Around Banff
Start the day with a ginger-peach-blueberry muffin at Wild Flour, a popular bakery-café that also cranks out some of the best espresso drinks in town. The lunch menu might include panini of grilled cheese, spinach, and green apple, or a rich Thai coconut soup.
Comfort food gets an update at the Juniper Bistro, serving three meals daily—as well as après-ski snacks and drinks—in a chic space overlooking the mountains. The kitchen shines in the evening, when dishes such as pan-seared duck breast with smoked beet purée, quinoa, and baby fennel spotlight seasonal Canadian bounty.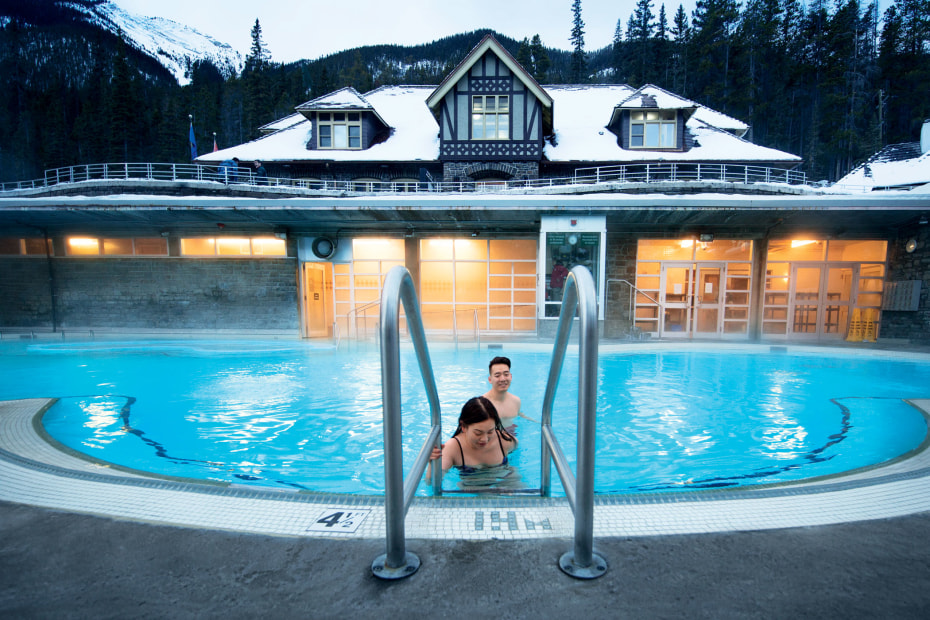 Winter Outdoor Fun Around Banff
Whether you've spent the day on the slopes or in the shops, a soak in the open-air pool at Banff Upper Hot Springs is sure to induce a state of bliss. Bathers gaze at forested peaks while submerged in 100-degree water.
In winter, Johnston Canyon, a narrow cleft carved deep into limestone, transforms into a fairyland of glistening white trees and frozen waterfalls. Go on your own or hire a guide for the easy three-quarter-mile hike to Lower Falls, or continue on a steep climb to Upper Falls. Bring plenty of warm layers and be prepared for icy conditions—traction devices can be rented in Banff.
Strap on ice skates (rentals are available in town) to glide around Waldhaus Rink, behind the Fairmont Banff Springs resort. A warming hut, open fire, and German pub make the pond one of Canada's most civilized spots for free outdoor skating.