There's nothing quite like skating on natural or "wild" ice: that thrill you feel while gliding across its surface among spectacular settings. In fact, from Anchorage, Alaska, to Evergreen, Colorado, the West is home to some of the most exquisite natural ice skating spots. They're typically open for skating from mid-December through March or mid-April, though seasons will vary depending on weather—and have been shrinking in recent years. In general, ice should be at least four to six inches thick to support a person, but the thicker, the better. 
While our favorite wild ices are well-maintained, remember that conditions change daily, so always check the most up-to-date resources (either a hotline, website, or Facebook group) before heading out. Having an ice buddy is also a good idea, as is protective gear such as helmets and even a personal flotation device (PFD). 
Ready to get your skate on? Here are five incredible natural ice skating spots in the West. 
Westchester Lagoon in Anchorage, Alaska
Westchester Lagoon sits just outside of downtown Anchorage, a 50-plus acre body of water with the dramatic Chugach Mountains as a backdrop. The Anchorage Parks Department monitors the thickness of the ice during winter, allowing skaters to take to a temporary quarter-mile-long oval rink that's maintained throughout the season and free to skate on. There are also cleared areas where you can play a game of hockey or practice skating backwards and bunny hopping. Saturday afternoons in January and February are geared toward families, with perks such as free hot chocolate and warming barrels for gathering around. 
If you don't have skates of your own, the Anchorage REI and locally owned-and-operated Play It Again Sports offer rentals. 
Lake Louise in Alberta, Canada
Take in the beauty of Banff National Park and its snow-capped Rocky Mountain peaks while gliding on this legendary lake's frozen waters. The Fairmont Chateau Lake Louise maintains the ice, keeping it smooth for skaters. Along with lights for night skating, the chateau offers a seasonal outdoor ice bar—perfect for toasty cups of mulled wine and cozy vodka- and chocolate-infused cocktails. Skating on the ice is free, with equipment rentals available at both the Chateau and Wilson Mountain Sports in Lake Louise hamlet's Samson Mall. 
Smart Tip: For a real treat, visit during SnowDays, an annual January festival brimming with artisan snow and ice sculptures, including a giant castle on the lake.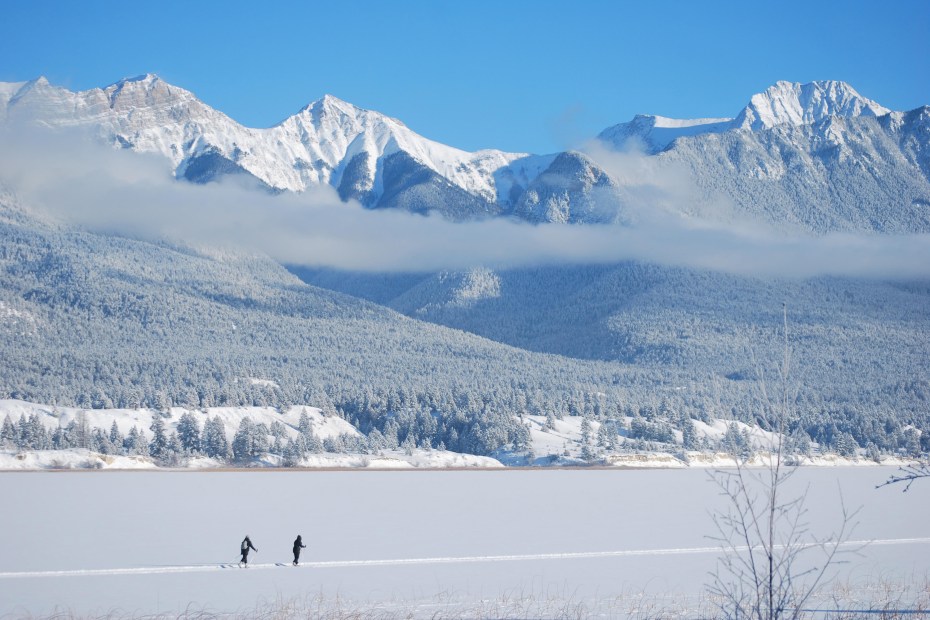 Lake Windermere Whiteway in British Columbia, Canada
The Lake Windermere Whiteway is one of the longest skating trails on the planet: a 21-mile-long groomed multitrack in B.C.'s Columbia Valley that runs the entirety of the lake. It connects the towns of Invermere and Windermere, and each of its entry points features user info, maps, and a donation box for the Toby Creek Nordic Ski Club, who maintains the Whiteway. In addition to skaters, the trail is open to skate-skiers and cross-country skiers as well. The club asks for a $5/per use donation or $20 for a punch pass that gets you six days on the ice for the price of four. 
Canyon Ferry Lake in Helena, Montana
Canyon Ferry is one of Montana's largest lakes—an approximately 27-mile-long reservoir that formed with the damming of the Missouri River. Skating is BYO and most participants head to the lake's southwest side, 30 miles southeast of Helena, the state capital. Here you'll find the hard, strong, and smooth ice known as "black ice," resulting from the region's dry air and lack of snow. It's ideal for speed skating and sports such as ice-yachting—sailing across frozen rivers and lakes on a boat with metal runners instead of a hull—and ice-kiting, aka kiteboarding on ice. In nearby Townsend, cap off your experience with a donut, hot chocolate, or salted caramel chai from Mountie Moose Bakery.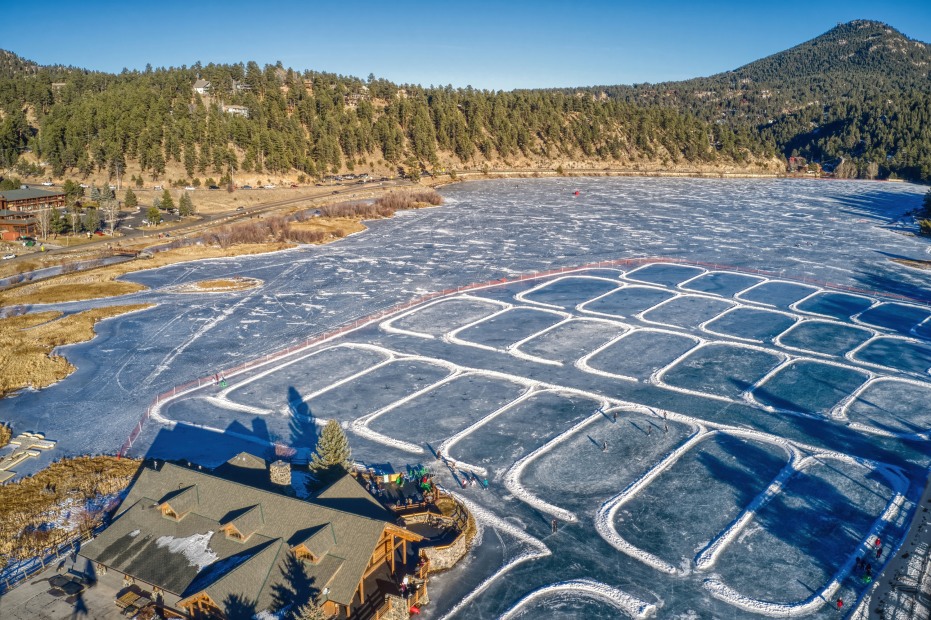 Evergreen Lake in Evergreen, Colorado 
Less than 30 miles southwest of Denver sits North America's largest Zamboni-maintained outdoor ice rink, an 8.5 acre playground of groomed ice that is part of Evergreen Lake's 40 acres. The lake itself is part of the City and County of Denver Mountain Parks system, and skate rentals, skate sharpening, and even equipment for playing broomball—a sport that's similar to hockey but with balls and broom-like sticks—are all available for a fee onsite. You can even reserve a section of the lake for your own private game or party. While parking is limited, there is a shuttle that runs from Stagecoach Park (two miles north of the lake) on weekends. BYO ice skating runs $15/person for full-day access to the lake; $20/person with skate rentals included. 
Smart Tip: The annual Skate the Lake festival takes place each New Year's Eve afternoon, complete with fire pits, hot chocolate and marshmallow roasting, and a learn-to-skate workshop for kids.