Hit the ice this holiday season at one of the many pop-up rinks that create mini winter wonderlands in unexpected places. Or channel your inner figure skater or hockey pro beyond the new year at a fully equipped year-round spot.
Where to Ice Skate in Northern California
Downtown San Francisco
Safeway Holiday Ice Rink in Union Square: A San Francisco holiday season tradition in the heart of the city's downtown shopping district. Events include the "Polar Bear Skate" (the wilder the beach attire for this one, the better) on New Year's Day. Open through January 15.
Yerba Buena Ice Skating and Bowling Center: San Francisco's only year-round skating facility hosts private lessons, public skate sessions, and drop-in hockey games for adults.
Oakland/San Jose
Oakland Ice Center: Operated by Sharks Sports & Entertainment, the parent company of the National Hockey League's San Jose Sharks, this large, multi-sport facility accommodates everything from curling to speed skating. Winter skating lessons begin the first week of January.
Downtown Ice: A seasonal ice rink located within San Jose's historic Circle of Palms, Downtown Ice is known for its special events. Come for Sunday Showtunes, when guests can coast and glissade to their favorite Broadway tunes. On your way out, grab a churro and walk the perimeter of Plaza de Cesar Chavez Park to see the community-decorated Christmas trees dressed up in their finest. Open daily through January 15.
Contra Costa County
Walnut Creek on Ice: Take to the ice on a tent-covered outdoor rink that offers glider rentals for beginners and private lessons for those looking to perfect their form. Open through January 15.
Kristi Yamaguchi Holiday Ice Rink: The Olympic champion figure skater lends her name to this seasonal pop-up at San Ramon's City Center Bishop Ranch shopping center. Rent a private rinkside cabana for your party and keep warm by the fire pit. Open through January 7.
Wine Country
Merry Meritage Holiday Ice Rink at Meritage Resort & Spa and Vista Collina Resort: Practice your pirouettes at Napa Valley's only holiday ice rink, complete with falling snow, weekend carolers, , rentable "igloos," and theme nights that include Tinsel Tea with a visiting princess and adults-only Bubbles & Blitzen wine tasting. Open through January 7.
Sacramento
Downtown Sacramento Ice Rink: Running for more than 30 years, Sacramento's seasonal outdoor skating rink hosts public skating sessions daily through January 15. It's also within easy walking distance to the Old Sacramento Waterfront's Theatre of Lights, a free 20-minute live-action retelling of "'Twas the Night Before Christmas" that takes place on the balconies above K Street.
Lake Tahoe
South Lake Tahoe Ice Arena: An indoor arena with an NHL-size rink, South Lake Tahoe's year-round facility features a variety of programs, including public skate sessions, youth and adult ice hockey, and freestyle ice time for figure skaters.
Heavenly Village Ice Skating Rink: From November 1 through the Easter holiday, enjoy open-air skating in South Lake Tahoe after hitting the slopes. Then refuel on pizza, tacos, or burgers at one of the village's many eateries.
Truckee Ice Rink: Practice your forward glides and backward wiggles while basking in the beauty of the surrounding pine trees. This seasonal outdoor rink is located just a half-mile south of downtown Truckee and features public skate times on Wednesdays, Fridays, Saturdays, and Sundays.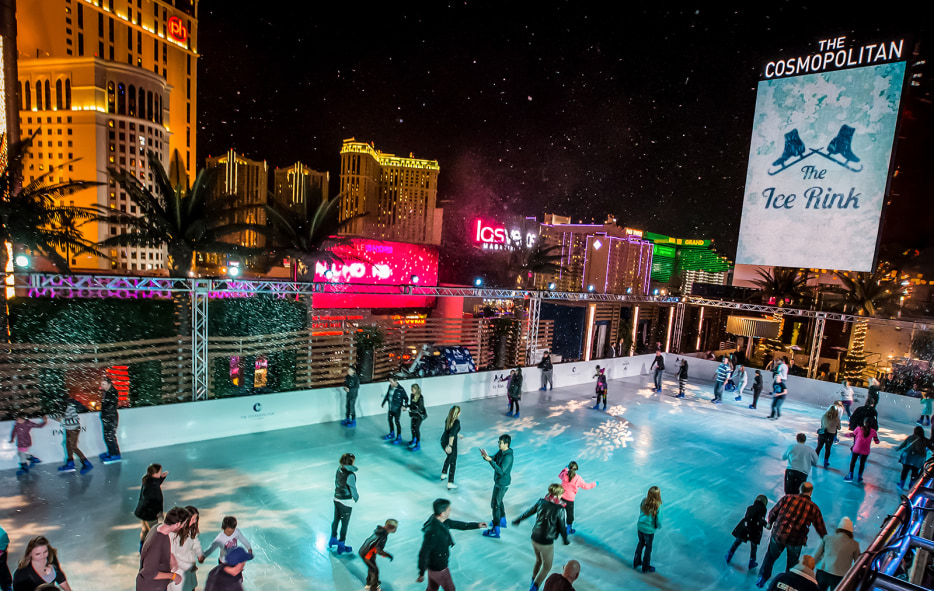 Where to go Ice Skating in Nevada and Utah
Las Vegas
The Ice Rink: Each holiday season, The Cosmopolitan in Las Vegas transforms its outdoor Boulevard Pool into a 4,200-square-foot ice skating rink, complete with wintry snacks, fire pits, and views overlooking the Strip. Evening 'snow showers' also take place every 30 minutes. Open through January 2.
Las Vegas Ice Center: The year-round center is home to two rinks, as well as public skate sessions, workshops to learn how to curl and improve figure skating footwork, and on-ice hockey programs for all ages and levels.
Reno
The Ice Rink at the Grand Sierra Resort and Casino: Book an hour-long public skating session at this seasonal outdoor rink, or watch the on-ice antics from one of the cozy fireplaces with a hot cocoa (or a hot toddy) in hand. Open through March 3.
Salt Lake City
Gallivan Center: Skate, sip hot cocoa, and snack on churros and soft pretzels at downtown Salt Lake City's seasonal outdoor ice rink, located in East Gallivan Plaza through March.
Salt Lake City Sports Complex: Spread your wings on one of the two Olympic-sized rinks located in what was the official training center for the 2002 Winter Olympics. Along with regular public skating hours, the complex also hosts hockey tournaments and figure skating competitions.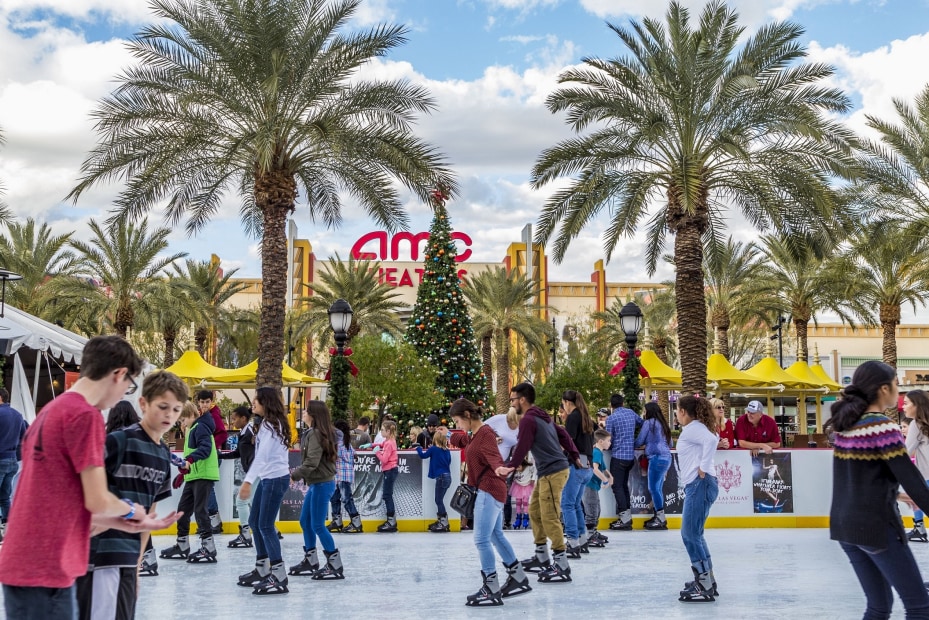 Where to Ice Skate in Arizona
Enchanted Plaza: Roast marshmallows, watch dazzling light shows, and glide on 6,000-square-feet of real ice at this holiday desert oasis. The Fairmont Scottsdale Princess transforms itself into a winter wonderland—complete with millions of sparkling lights.
AZ Ice: Coast, slide, and glide to the tunes of today's top hits at a year-round indoor rink, in Phoenix, Gilbert, or Peoria, Arizona. The times for public skating sessions vary daily, so call ahead.
Skate Westgate: An annual holiday tradition that runs through January 15, Glendale's Westgate Entertainment District—where the seasonal outdoor rink is located—also features visits with Santa and a spectacular holiday tree.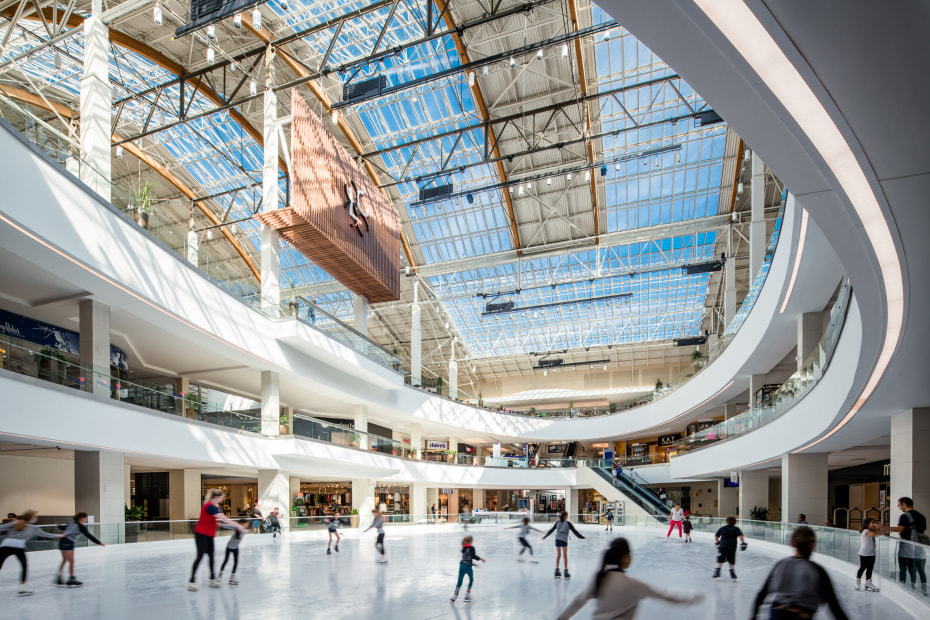 Where to Go Ice Skating in the Pacific Northwest
Portland
Lloyd Center Ice Rink: The first-ever 'skating rink in a shopping center' when it opened in 1960, Portland's beloved (and recently renovated) rink is still going strong with beginner-to-advanced skating lessons, broomball (which is basically ice hockey in sneakers) games, and hours of open skating.