Get everyone out of the house and into the holiday spirit with a tour of the most dazzling lights in town. From the warmth and safety of your car, turn your radio to some cheerful tunes and drive through one of these six winter spectacles in the West.
Arizona
World of Illumination's Rockin' Christmas, Glendale
Just 13 miles northwest of downtown Phoenix, a retro Santa will be rocking out every night from November 6 to January 3. Along a mile-long drive, this animated show is a sight and sound spectacle with life-sized musical notes, Kris Kringle spinning some old school jingles, Christmas trees, and millions of colorful lights. Online reservations are required. World of Illumination also has an Arctic Adventure display in Tempe with a 32-foot-tall Sunny the Snowman and his tundra-bound friends. Tickets from $29.
Cruise ZooLights, Phoenix
Even the animals are in the holiday spirit at the Phoenix Zoo, which is opening up the park to vehicles for the first time. In addition to sparkling lights, this driveable event promises animal sculpture sightings—the real animals will be sleeping in their homes—through the Wildlife Lantern Safari, Outer Tropics Trail, and Polar Paradise in the Forest of Uco. Kettle corn, hot chocolate, and souvenir photos are available for pre-purchase. The zoo is open for cruising on select nights in November, December, and January. Tickets are $60 for zoo members and $75 for general admission. Tickets must be purchased in advance.
Ahwatukee Foothills Festival of Lights, Phoenix
Cacti and other desert foliage glow with a million white lights during the Ahwatukee Foothills Festival of Lights, a free display that stretches nearly two miles along the Chandler Boulevard medians. The landmark started in 1995 as a community-powered and -funded initiative when a developer in the area discontinued the festive lighting. The lights turn on in late November and turn off the first week of January. To donate or learn more, visit the nonprofit's website.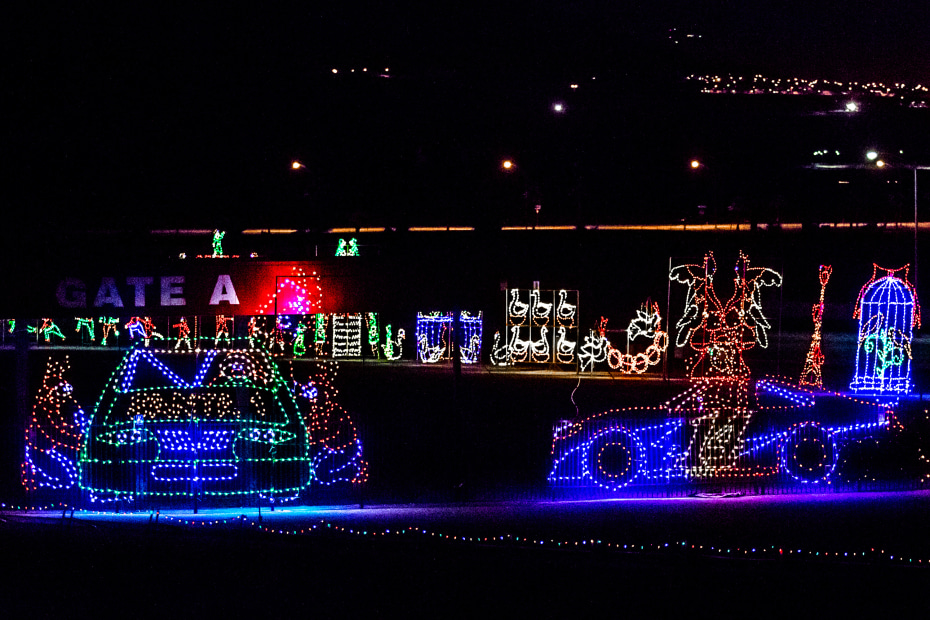 Nevada
Glittering Lights, Las Vegas
In a city known for its glowing neon signs, you can get lost looking for the best displays during the holidays. But this 2.5-mile stretch through the grandstands of the Las Vegas Motor Speedway is by far the most glorious, and it's only 10 minutes from downtown. The drive-through experience features more than 5 million twinkling lights strung over your pathway and 500 seasonal displays, including a nativity scene with live actors. The experience is open from November 13 until January 10. Tickets from $25 per vehicle. Season passes and fast passes to skip the line are also available. Purchase tickets online or upon arrival.
Santa's Drive-Thru Village, Carson City
V&T Railway's popular Polar Express train ride has been cancelled this year, but guests won't miss out on the fun with this magical driving tour of the North Pole. Dress in your coziest matching pajamas and pack a thermos of hot chocolate for a behind-the-scenes glimpse of Santa, Mrs. Claus, and dozens of elves preparing for Christmas at the Eastgate Depot in Carson City. The experience will also feature a mesmerizing light show. The village is open from 6 to 9 p.m. December 11 to 13 and December 18 to 24. The entry fee is $20 per vehicle. Reserve tickets online.
Utah
Christmas in Color, Salt Lake City
Listening to carols on the radio is one thing, but listening to them while they're synchronized with a flashing light show is another. Load up your car with the kiddos and flip your radio to the designated station for this mile-long extravaganza with dancing snowflakes, trees, snowmen, and 1.5 million lights in the Salt Lake County Equestrian Park. It's open from November 20 to January 2, but closed on Sundays, Thanksgiving, and Christmas night. Tickets cost $30 per vehicle and a portion of the proceeds benefit the Make-A-Wish Foundation.