Looking for a little illumination this season? You're in luck. From Petaluma to San Jose, the San Francisco Bay Area is bringing on the cheer (not to mention brightening up the nights) with an array of drive-through holiday light displays. Not only do they provide socially-distanced fun, but they're also guaranteed to thrill, delight, and uplift the whole family.
San Francisco
Illuminate SF, Festival of Light
This creative show brightens the city's skies from Thanksgiving through January 23, 2021 with more than 40 works of public art that shine and sparkle. An online map shows their locations throughout the city, including favorites like the permanent Bay Lights of the San Francisco-Oakland Bay Bridge and Hope Will Never Be Silent in the Harvey Milk Plaza. The dedicated Light Art Trail showcases 10 distinct art works that can be seen from the road, including the luminous Word Family Tree on the western facade of the Bill Graham Civic Auditorium and the changing hues of the Moscone Center's Point Cloud, made up of 858 steel rods and 28,288 LED bulbs that switch colors every 30 seconds.
North Bay
City of Lights Driving Tour, Petaluma
Once the sun goes down, the lights come on along this self-guided driving tour through picturesque Petaluma, in Sonoma County. About 20 or so homes go all out for the holidays, with festive décor ranging from candy cane–lined walkways to trees decked out in bright lights and baubles. Simply download this year's map on Visit Petaluma's website and set out at your convenience. Lights typically run December 1 through December 26.
East Bay
Christmas Tree Lane, Alameda
While several of Alameda's holiday events are on hold due to the coronavirus pandemic, the spectacular yuletide pageanty of its Christmas Tree Lane (located along the city's 3200 block of Thompson Avenue) will continue to delight hundreds of onlookers with wondrous lights, decorations, and ornaments December 5 through January 1. Visitors are encouraged to take in the lane's magical décor, which typically includes handmade wooden cutouts like The Grinch and Rudolph's Abominable Snow Monster, from the comfort of a vehicle. Kids can also still drop letters into Santa's mailbox and, with a legible return address, even receive a reply from the man himself. 
Vista San Ramon Luminary Night, San Ramon 
Marvel at the ethereal glow of hundreds of luminaria, or small candle-lit paper lanterns, lining the streets of the Vista San Ramon community beginning at dusk on December 19. While this in-car event is one night only, most of the neighborhood's 161 homes feature holiday lights and décor throughout the bulk of December. Alcosta Blvd. and Woodland/Overlook Drives.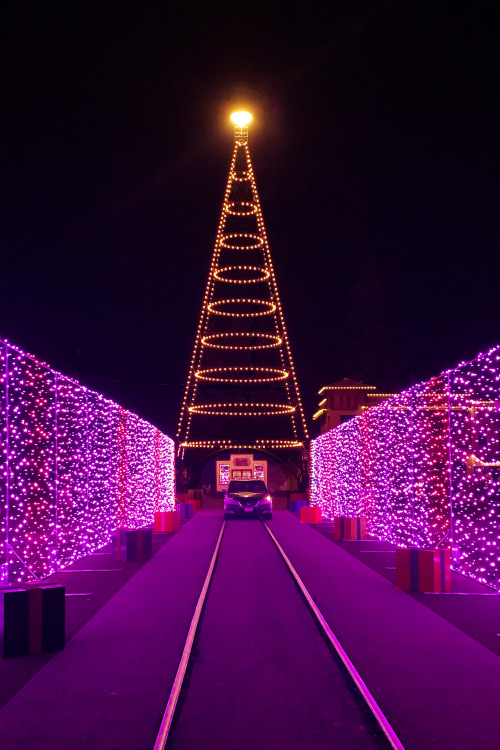 South Bay
Fantasy of Lights, Los Gatos
Each evening between December 4 and December 30, Santa Clara's Vasona Lake County Park springs to life with more than 50 illuminated displays featuring everything from fantastical dinosaurs to an all-new camping Santa. While the Fantasy of Lights' annual walk-through portion is on hold, all size vehicles are welcome along its 1.5-mile drive-through route, which includes a spectacular tunnel of lights and a dedicated radio station for drivers to tune in to, replete with holiday tunes. Tickets from $20 per vehicle.
Christmas in the Park: A Drive-Thru Holiday, San Jose 
For more than four decades, the heart of Silicon Valley has drawn wide-eyed wanderers to its annual Christmas in the Park, with hundreds of community-decorated trees and whimsical animated light displays. Although the event has relocated to San Jose's History Park for 2020 and is strictly drive-through, these beloved favorites remain. There are some new editions as well, including a colorful pixel forest and leaping reindeer arches. The holiday spectacle runs from November 27 to January 3. Tickets from $10.  
Holiday Lights, Watsonville
Embark on an enchanted holiday cruise through the Santa Cruz County Fairgrounds, taking in everything from giant Christmas trees that glisten and glow to twinkling displays of Santa and his reindeer. The half-mile-long route culminates with a selection of drive-through food stands, perfect for rounding out the evening with some festive eats. Brand new for this year, Holiday Lights takes place Friday, Saturday, and Sunday evenings from November 27 through December 27 (closed on Christmas). Advance tickets are $15 per vehicle, $20 at the gate.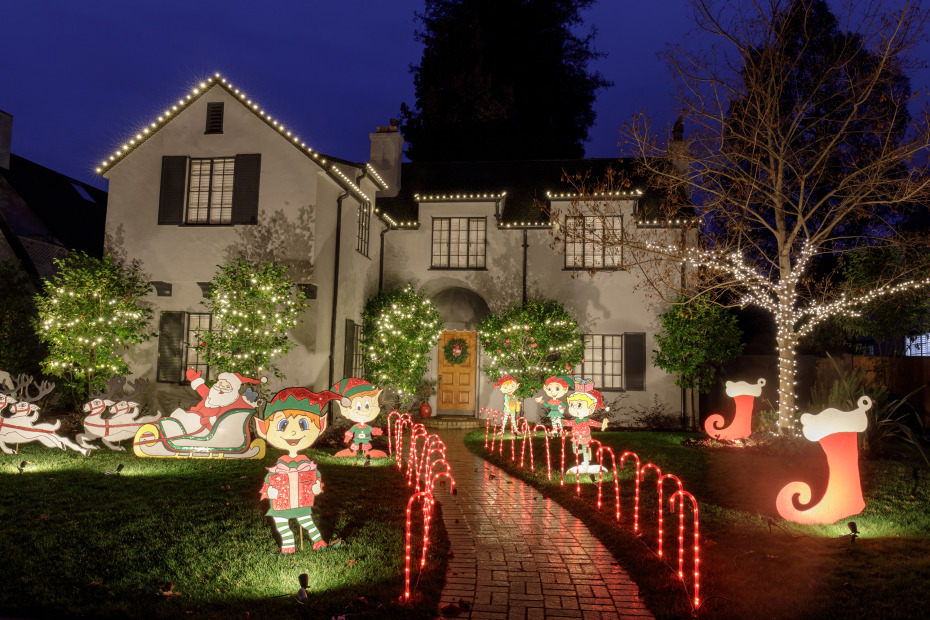 The Peninsula
Christmas Tree Lane, Palo Alto
It may not be the 80th anniversary that organizers imagined, but that won't stop the homes along Palo Alto's Fulton Street, off Embarcadero Road, from dazzling passengers with a seemingly endless array of lights, decorations, and good ol' holiday cheer. You might spot a plywood Santa making his way into a chimney, see a row of hand-drawn snowmen, and marvel at a life-sized horse-drawn carriage display illuminated in white. The nightly event on Christmas Tree Lane shines between 5 and 11 p.m. from December 12 through December 31.