Each spring, the East Bay's bright green, oak tree–dotted hills beckon hikers. More than 120,000 acres of protected parkland present 1,200 miles of trails. So, lace up your hiking boots and explore these four Contra Costa County parks.
Hike + History Lesson: Black Diamond Mines Regional Preserve
This 6,000-acre park south of Antioch gets its name from the coal-mining towns that flourished here in the late 1800s. Four million tons of coal—or "black diamonds"—were extracted from the hills during the region's heyday; later, from the 1920s to 40s, sand-mining operations moved in, pulling silica for making glass jars.
Naturally, the best place to start a visit to Black Diamond is inside a mine: Guided public tours run weekends from March through November. Don a hard hat and step carefully along train tracks more than 1300 feet into the Hazel-Atlas silica sand mine. You'll see old equipment and a preserved shifter's office, and touch the sandstone walls that seem to crumble under your fingertips.
Back outside, hit the Chaparral Loop Trail. After a steep but brief scurry up smooth sandstone, your hard work is rewarded along the Ridge Trail, with expansive views of a lush, green valley. Loop back to the parking lot via Stewartville and Pittsburg Mine Trails and look for Rose Hill Cemetery in the distance, the last remnant of Contra Costa's bustling coal settlement.
Parking is accessible through the entrance on Somersville Road ($5 on weekends and holidays). For tour reservations ($5 per person), call 1-888-327-2757.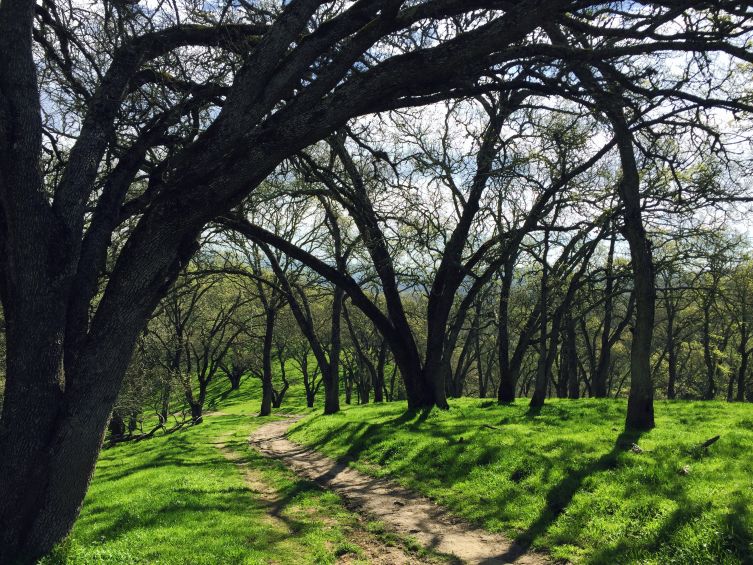 Hike + Good Eats: Las Trampas Regional Wilderness
Spring presents a great opportunity to explore Las Trampas' eastern edge, which rises above San Ramon, Danville, and Alamo.
For an urban hike into the wilderness, pick up the Iron Horse Regional Trail at the Museum of the San Ramon Valley in downtown Danville. You'll walk a wide, well-traveled path, before turning west on residential Camille Avenue, which meets the Briones to Mount Diablo Trail at the park's edge. After meandering through a eucalyptus grove, the path quickly ascends and connects with the Madrone Trail. As it turns east, Mount Diablo comes into view, framed by oaks and chaparral. The trail then follows a creek and traverses a meadow, before delivering you into Eugene O'Neill's backyard. Here, in 1941, he wrote the Pulitzer Prize–winning play Long Day's Journey into Night. Advance reservations are required for tours of the National Historic Site, except on Saturdays, when hikers are welcome for self-guided tours.
Continue on Madrone to Starview Drive, a steep route back down to the Iron Horse Trail. Before you reach your car, reward yourself with a full belly at one of several restaurants around Railroad Avenue, like an egg scramble and pour-over coffee on the cozy patio of Sideboard.
Free public parking is available in the Museum of the San Ramon Valley lot.
Hike + Flora and Fauna: Briones Regional Park
In 6,117-acre Briones, just south of Martinez, a large network of hiking, biking, and equestrian trails forms multiple loops. And in the spring, the rolling hills and deep canyons of this former cattle-ranching land put on quite a flower show.
For a roughly five-mile loop, start at the Bear Creek Staging Area and take Old Briones Road Trail, which follows Bear Creek to the right. To the left are steep hills dotted with bright California poppies. Turn onto the Valley Trail—where you might spot a coyote hopping through the brush just above—then Briones Crest Trail, for a steep incline to 1,483-foot Briones Peak. From here, take in panoramic views of Mount Diablo and much of Contra Costa County.
Head northwest on Briones Crest Trail and the Suisun Bay comes into view. Soon, you'll reach the Sindicich Lagoons, stock ponds covered in lily pads, with black and white ducks bobbing on the surface. From winter to early spring, brown and orange California newts can be spotted on their journey to find a mate. To loop back, take the purple lupine-lined Mott Peak Trail to the Abrigo Valley Trail, shaded by giant oaks.
Parking is available at the Bear Creek Staging Area, in Lafayette ($3).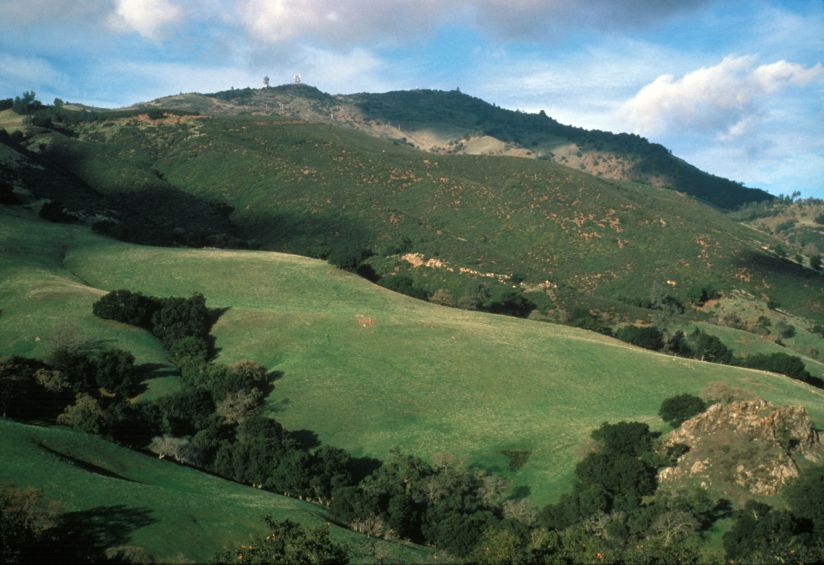 Hike + Rock Climbing: Mount Diablo State Park
The East Bay's tallest landmark, the 3,849-foot Mount Diablo, can be seen from most of Contra Costa County. Depending on the season, the surrounding 20,000-acre State Park offers waterfalls, wildflowers, and red-legged frogs.
About a mile north of the South Gate Road entrance in Walnut Creek is Rock City, a group of sedimentary sandstone boulders and caves popular with climbers of all ages. Shaped by wind and water, the small caves invite children to crawl through and explore. Teens and adults should take the short trek downhill to angular Sentinel Rock. Stairs carved into the sandstone lead to a small platform at the top with sweeping valley views. More savvy rock climbers will enjoy the Boy Scout Rocks southeast of Rock City, with several top-roping and bolted climbs.
If you still have the energy, head for the summit. The steep but direct Summit Trail is challenging, but the views atop Mount Diablo are worth it. On a clear day—best just after a winter or spring storm—you can spot the Golden Gate Bridge, the Sierra Nevada mountain range, and Mount Lassen.
Parking is available at Rock City, inside the South Gate Road entrance ($10).