There is no road more thoroughly alive—more colorful, vigorous, unpretentious, and underappreciated—than the southern stretch of Highway 99 as it bisects the Central Valley from Modesto on down to Bakersfield.
The route marked out in the early 1900s along this corridor was initially paved with a single 15-foot-wide strip of concrete. As the region's farm economy burgeoned, the little road grew to link big cities with small, isolated agricultural towns like Hughson, Le Grand, Tulare, Selma, and Hilmar. In John Steinbeck's Grapes of Wrath, it is on Hwy. 99 that the fictional Joads travel, as did so many real-life Dust Bowl migrants looking for work in the fields. Today, hardly a nectarine, cotton ball, or walnut exits the Central Valley without being ferried up or down 99.
But the road has never ranked high on sightseers' agendas. Most people who drive Hwy. 99 these days do it because they have to—truck drivers delivering goods, people visiting relatives. As Joan Didion wrote in "Notes from a Native Daughter" 36 years ago, "99 would never get a tourist to Big Sur or San Simeon, never get him to the California he came to see."
This may be the key to its charm. Driving along Hwy. 99 today, you'll find a vibrant, unfussy, authentic California, a fitfully lovely landscape of almond orchards, mangy farmyards, rusty train works, peach trees, Depression-era hamburger stands, and Dairy Queens from more recent days. The highway passes some of the state's fastest-growing towns; with their handsome old Main Streets and messy, sprawling outskirts, they offer a rich array of attractions.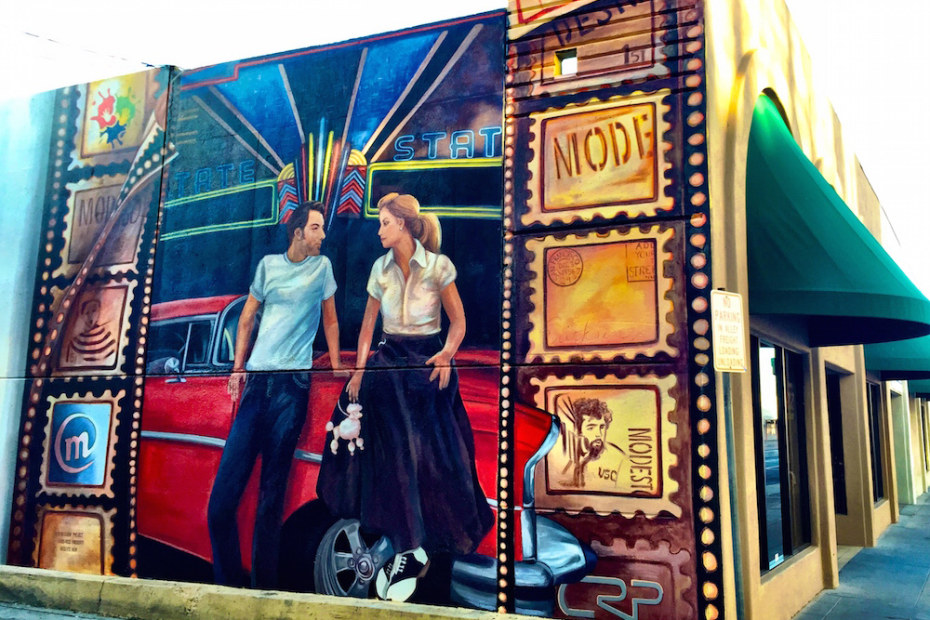 Where to Stop Along Highway 99 in the Central Valley
Modesto Historic Cruise Route
Modesto's greatest claim to fame may be its role in George Lucas's 1973 cult classic American Graffiti. With the Modesto Historic Cruise Route, you can follow in Lucas's footsteps to 25 downtown markers showcasing sites of inspiration for the film, which was based on Lucas's teenage years in Modesto and the town's 1950s cruising culture. From 10th Street Plaza, the route covers Modesto's music scene, downtown art, and drag racing history through marker explanations and QR code-embedded videos.
Dust Bowl Brewing Co. (Turlock)
Since opening a downtown Turlock taproom in 2011 and a 30,000-square-foot brewery in 2016, Dust Bowl Brewing Co. has been a staple of the Stanislaus County craft beer scene. The massive, industrial-style taproom has 18 Dust Bowl brews on tap, plus a full food menu and guest cider and wine offerings. Book a 45-minute, behind-the-scenes brewery tour to see production in action, settle in at the dog-friendly beer garden, or try your hand at bocce ball and corn hole on the patio.
Castle Air Museum (Atwater)
Just 10 minutes off Hwy. 99 at the former Castle Air Force Base, the 25-acre Castle Air Museum offers the opportunity to stretch your legs among 80-plus historic military aircraft. Highlights include an impressive collection of U.S. Air Force fighter jets and an array of war-time military memorabilia. The stand-out VC-9C, which served as Air Force One for U.S. presidents Ronald Reagan and Bill Clinton, is open for weekend tours, and the Castle Air Museum RV Park offers six hook-up spots for travelers needing a place to land for the night.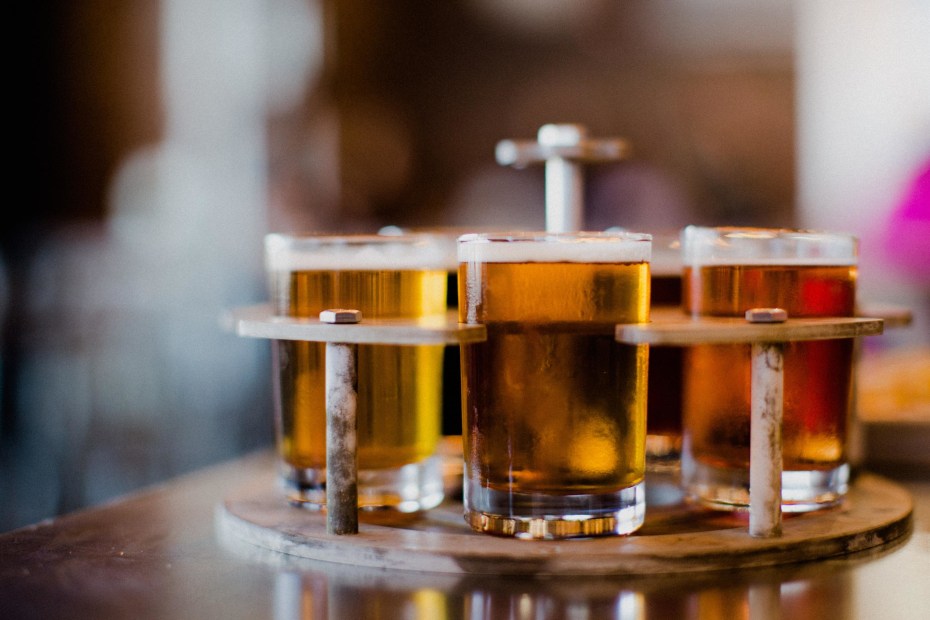 Fossil Discovery Center of Madera County (Chowchilla)
It wasn't until 1993 that scientists discovered Madera County's bounty of Pleistocene fossils at the Fairmead landfill. Following numerous excavations, the nearby Fossil Discovery Center opened to highlight the area's prehistoric past. Browse fossil exhibits to see and learn about the creatures that roamed Hwy. 99 some 700,000 years ago, including dire wolves and saber-toothed cats. Don't miss the 13-foot mammoth replica, inspired by an ancient tusk found at the landfill, or the mock dig site where you can excavate your own Ice Age fossils including replicas of dire wolves, giant sloths, and camels.
Forestiere Underground Gardens (Fresno)
The Central Valley heat can be intense, and perhaps no one knew this better than Baldassare Forestiere. An aspiring citrus farmer at the turn of the 19th century, he spent 40 years single-handedly creating an underground network of stone passageways and courtyards to grow fruit in a cool environment. Tour the subterranean complex at Forestiere Underground Gardens between April and November to learn about Forestiere's feat and take in the fruit trees with a guide.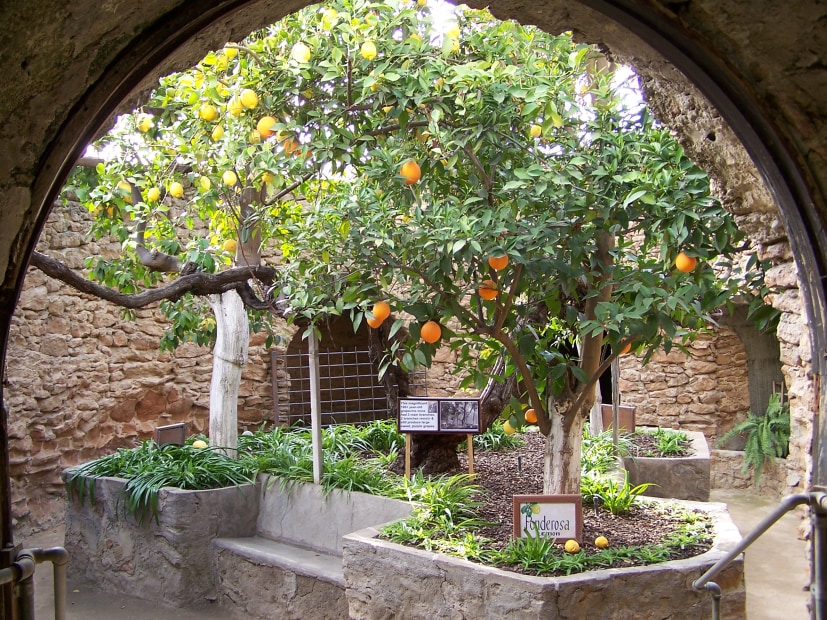 Kingsburg
Roadtrippers may stop in Kingsburg for the Sun-Maid headquarters, home to a fruit-filled gift shop and the world's largest box of raisins, but there's another reason to brake in this historic town. Thanks to its original founders, you'll also find a slice of Sweden here. The town got its start in the 19th century when Swedish immigrants from Michigan migrated to the valley, and you can still see their influence today. Look for Scandinavian architecture, wooden dala horse statues, the iconic pancakes, and the landmark water tower modeled after a Swedish coffee pot. At the downtown Svensk Butik gift shop, T-shirts even proclaim Kingsburg as "the California town with a Swedish accent."
Bravo Farms (Traver and Tulare)
Bravo Farms is a Central Valley highlight with two locations for travelers driving down Hwy. 99. In Traver, hunt for antique treasures in the gift shop, grab Tex Mex barbecue at Wild Jack's, and peek inside the onsite Vintage Cheese Company factory to watch milk get turned into creamy cheeses available for purchase. Parents will also appreciate the seven-story treehouse and mini golf course, both opportunities for kids to burn off some energy. The original Bravo Farms at the Tulare Outlets features a restaurant and gift shop.
Buck Owens' Crystal Palace (Bakersfield)
Pay homage to country music icon Buck Owens at his Crystal Palace, an all-encompassing music venue, restaurant, and museum that celebrates all things Bakersfield sound. Live performances run nearly every night, while the menu features dishes such as Brad Paisley's fish and chips and Cryin' Time jumbo onion rings. Stop by the museum to see mementos from Owens's decades-long career, including custom Fender Telecaster guitars, 1960s performance-worn suits, and Buckaroos memorabilia.