Heading north from San Francisco, Highway 101 takes drivers across the Golden Gate Bridge—and the scenery only gets more epic from there. As the road winds through Sonoma, Mendocino, and Humboldt Counties, big-city bustle becomes a distant memory as thick stands of impossibly tall, awe-inspiring redwoods tower above the asphalt. Make a day of the drive to newly renamed Sue-meg State Park, and you'll be rewarded with sensational wine, charming small towns, and a windswept beach along the way.
Downtown Healdsburg might just be the perfect blend of city and country. Surrounded by vineyards and centered on a tree-shaded square, the small town encourages a slower pace, but still offers the sophisticated shopping and dining (fine leather goods, Michelin-starred chefs) that you'd find in a big city. At Banshee Wines' tasting room, for instance, wine lovers can sip pinot noir perched on a cozy easy chair while enjoying tunes spinning on the record player. Nearby, celeb chef Charlie Palmer's Dry Creek Kitchen—the restaurant that turned the town into a culinary destination 20 years ago—is still sending out inventive seasonal fare, such as roasted eggplant casoncelli with tomato conserve, sweet orange peppers, balsamic vinegar, and fresh mint. As for pairing, diners are spoiled for choice, with a wine list 500 bottles deep.
Of all the small towns tucked into the trees, Leggett (population: 83) earns the title of most intriguing. Exploring the clutch of houses and shops along the highway, you'll come to the Chandelier Tree, a 276-foot redwood with a six-foot tunnel carved into the base that you can drive through, and Confusion Hill's Gravity House, where you feel you have to lean to stand up straight, even if your posture is perfect. Don't miss the Peg House, a wood-paneled store hawking T-shirts, mugs, and the most delicious salmon burgers on the planet. Order from the handwritten menu, then post up on the patio, where you might hear live music.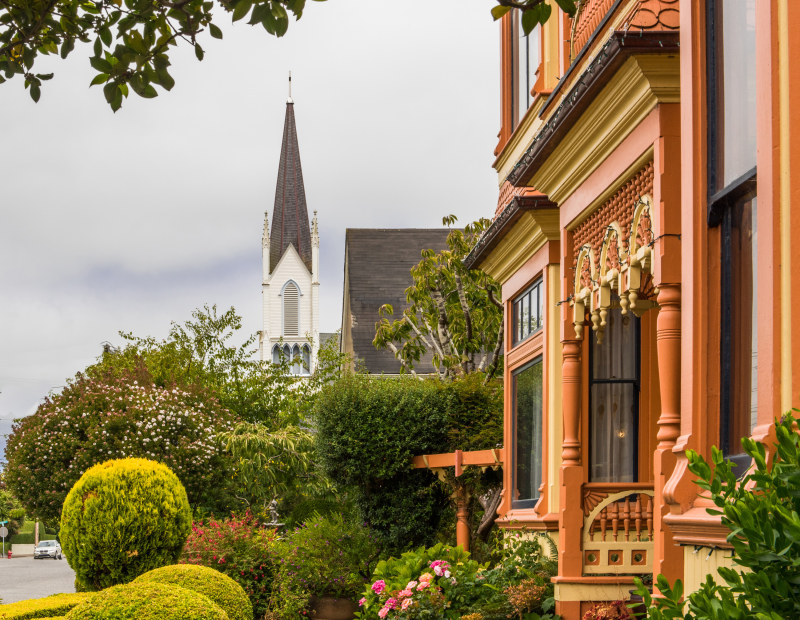 When you stroll through Ferndale, you could think you're stepping back in time. And, in a sense, you are: Many of the perfectly preserved Victorians—"butterfat palaces," in local parlance—have been here since the 1890s, when early settlers earned fortunes in the dairy business. On historic Main Street, the beautifully restored storefronts house art galleries, a bookstore, clothing boutiques, and specialty shops such as Sweetness & Light, where visitors line up to buy handmade salted chocolate caramels and cappuccino chocolate truffles. Just down the street, acoustic and electric guitars gleam on the shelves at Ferndale Music Company. The locally loved shop also puts on live shows in the adjoining historic church building—and hosts the famous Owl Cam, a live feed starring the barn owls in the bell tower.
Home to Humboldt State University, Arcata caters to college students, who flock to Tin Can Mailman, a used bookstore literally packed to the rafters with hardbacks and paperbacks, and Los Bagels, a Jewish-Mexican bakery that tops its organic bagels with freshly made guacamole and "Slug Slime," a savory, crunchy mixture of roasted garlic, onions, and seeds. But the town also retains its hippie credentials with its essential oil emporiums and vegetarian restaurants, especially near the charming town square, which hosts rollicking hacky sack games. Order a latte and a croque madame on fresh-baked levain at Café Brio, grab a table on the patio, and take it all in.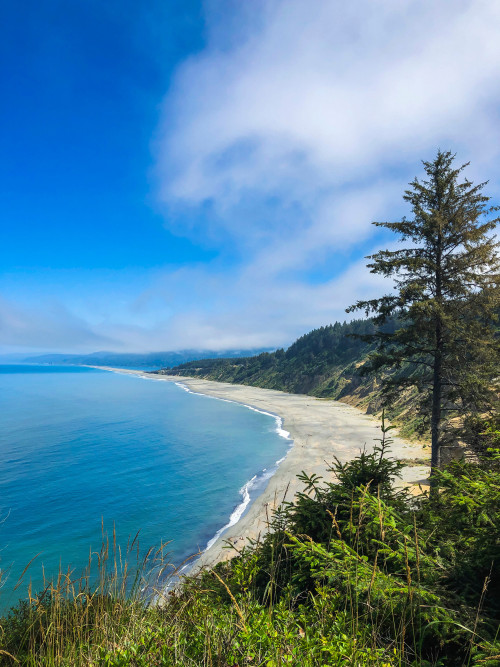 The redwoods meet the ocean at Sue-meg State Park (formerly known as Patrick's Point State Park), a small nature reserve perched on the craggy bluffs some 20 miles north of Arcata. Six miles of trails run through the quiet park; the easy, relatively flat two-mile Rim Trail offers the best mix of forest and coastline, passing through thick stands of Sitka spruce and leading to several spur trails down to the wild, windswept black-sand beach. Save time for a side trip to Ceremonial Rock, where a staircase chiseled into the rock takes you to the top of a 107-foot-tall former sea stack. The reward: sweeping views of the lovely, lonely Lost Coast.