Summer may be drawing to a close, but much of the West boasts blue skies and fewer crowds come late August and September, making it a prime time to get out and explore. These seven day trips will help you make the most out of the final days of the season without creating a staggering gas bill or requiring much advanced booking.
California
Sacramento River Delta, approximately 75 miles northeast of San Francisco; 54 miles south of Sacramento
A mix of historic towns and a river that runs roughly parallel to I-80, the Sacramento River Delta is best known for its rich agriculture. Stop by u-pick farms where Golden Bosc and Bartlett pears are at their peak in August and September, or bring home a bottle of chenin blanc or syrah from a wealth of wineries to keep that vacation feeling alive long after you've returned home. Wander the wetlands of the 16,000-acre Yolo Bypass Wildlife Area, home to residents and migratory birds, such as yellow-billed magpies and marsh wrens, or explore local waters with Delta Kayak Adventures. 
Founded by Asian immigrants who settled here to work on the farms, towns such as Walnut Grove and Locke—a National Historic Landmark that's the country's largest surviving example of a historic rural Chinese-American community—are well worth a visit. Don't miss the Locke Boarding House Museum, a 1909 building that was once home to Chinese men who constructed the Southern Pacific Railroad line. 
Dine where the Sacramento and San Juaquin river meet. Smith's Landing Seafood Grill in Antioch serves up pan-seared scallops and shrimp tacos right on the waterfront.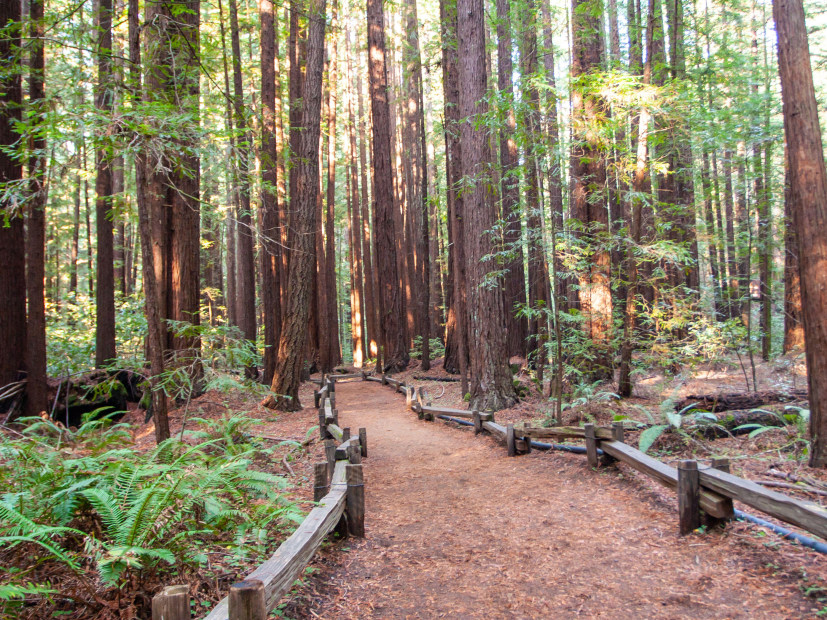 Guerneville, 75 miles north of San Francisco 
Long a hub of day-trippers looking for a break from the city, Guerneville is Sonoma County wine-country with an edge. This rustic, LGBTQ-friendly small town sits along the cool, ripping waters of the Russian River. Laid-back, quirky, and colorful, its Main Street is a one-stop shop for everything from breakfast biscuits to river floats.
Stop by Big Bottom Market for prosciutto and fig sandwiches on ciabatta bread, or the landmark Guerneville 5 & 10 for vintage candies and kitschy souvenirs. Then take your eats over to downtown's Johnson's Beach for picnicking, swimming, and sunning. The beach also rents out watercrafts ranging from four-person canoes to inner tubes that are ideal for a lazy float down the river. 
Guerneville boasts more than 50 wineries within a 20-minute drive, as well as some impressive nature. The 805-acre Armstrong Redwoods State Natural Reserve is just two miles from Main Street and home to soaring coast redwoods. End your day with a burger at Stumptown Brewery or a farm-to-table polenta lasagna at Boon Eat + Drink before driving home. 
Nevada
Boulder City, 26 miles southeast of Las Vegas
Boulder City got its start in the 1930s as a company town for workers building the nearby Hoover Dam, and the free Boulder City/Hoover Dam Museum is an ideal first stop to learn about the dam's construction. It's located within the historic Boulder Dam Hotel, once a hotspot for Hollywood luminaries the likes of Bette Davis and Howard Hughes, and a destination in itself. 
When you've had your fill of the past, stroll among the 30-plus sculptures peppered throughout downtown or meander among the local flora, colorful rock gardens, and statues on the kid-friend Nature Discovery Trail in the city's Bootleg Canyon. 
To see the sites from a new angle, embark on a pedal-powered, four-wheel bicycle ride along repurposed railroad tracks with Rail Explorers Las Vegas, take a guided tour of the Hoover Dam, or set out on a half-day kayaking adventure through Black Canyon with Blazin' Paddles. Looking to cool off? The 1.5-million acre Lake Mead Recreation Area offers swimmable waters, and its mile-long Boulder Beach is a quiet and shady reprieve. Pick up pork tacos at Fox Smokehouse BBQ or freshly baked cinnamon rolls at the Coffee Cup for the ultimate lakeside picnic.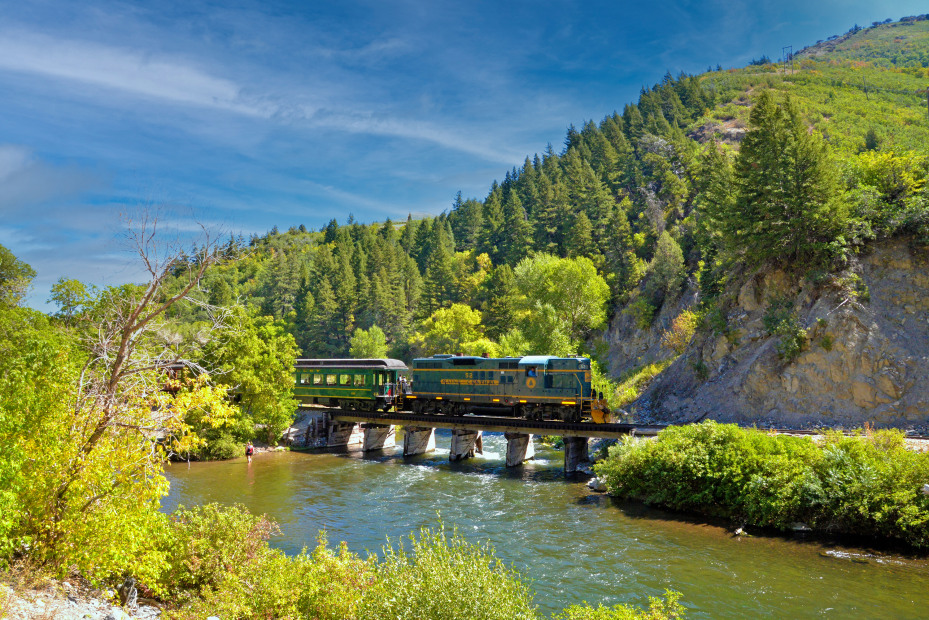 Utah
Heber Valley, 48 miles southeast of Salt Lake City
Situated in the foothills of the Wasatch Mountains, the picturesque Heber Valley is an excellent place to spend a day unwinding. Play a round of golf at one of Wasatch Mountain State Park's four courses, or rent a fat tire bike at the park's visitor center to explore a plethora of trails. (You can also rent games such as bocce ball and corn hole.)
Take a guided tour of Heber Valley Artisan Cheese in Midway, one of several dairy farms in the valley, and pick a selection of charcuterie board delights from the farmstead store before you go.
In Heber City, a small town with a historic Main Street, load up on thick marshmallow shakes at Dairy Keen, a family-owned stalwart since 1946, before going to the Heber Valley Railroad for a mid-day, 90-minute ride through the open vistas of Deer Creek Reservoir. Finish off the day with dinner at Back 40 Ranch House Grill, where you can choose between dishes such as grilled salmon, green enchiladas, and St. Louis barbecue ribs. 
Wyoming
Thermopolis, 132 miles northwest of Casper
Looking to relax? More than 8,000 gallons of natural hot spring water flow over Hot Springs State Park's colorful riverside terraces daily. Soak in the soothing waters at the free public bath house, or seek out the park's herd of bison, often grazing in the pastures near Monument Hill, on an early day hike.
If you're traveling with kids, the Wyoming Dinosaur Center is a must-visit. Through mid-September, visitors can participate in an active fossil dig (advanced reservations are required). The world-class museum also features a Hall of Dinosaurs home to a Supersaurus named Jimbo, one of the largest mounted dinos in existence. 
Montana
Bighorn Canyon National Recreation Area, 114 miles southeast of Billings
Straddling the border between Montana and Wyoming, the best way to reach the country's third-largest canyon from Billings is via US-310 though Lovell, Wyoming. The southern portion of Bighorn Canyon National Recreation Area includes high desert, juniper and spruce forests, and the waters of Bighorn Lake, as well as four historic ranches that are now in the hands of the park service. Visitors can wander among their grounds, including one once belonging to novelist Caroline Lockhart, and learn about the legacy and mysteries of the open range. It also boasts 12 miles of hiking trails, ranging from the easy quarter-mile Two Eagles Interpretive Trail to the 4.6-mile round-trip Skyes Mountain Trail, which culminates with mountain views overlooking the Bighorn Basin. The area is home to the largest herd of wild horses. Swing by the Pryor Mountain Wild Mustang Center in Lovell for maps and updated viewing suggestions. 
Back in Lowell, Hidden Treasure Charters runs two-hour scenic boat tours into the canyon from Horseshoe Bend Marina (also a great spot for a picnic lunch and swimming). Guides bring the local ecosystem to life while passengers keep an eye out for bighorn sheep on the surrounding cliffs. 
Heading home along US-310, make a pit-stop at the Bull Pub in Cowley for delicious bites of herbed grilled chicken or fish and chips.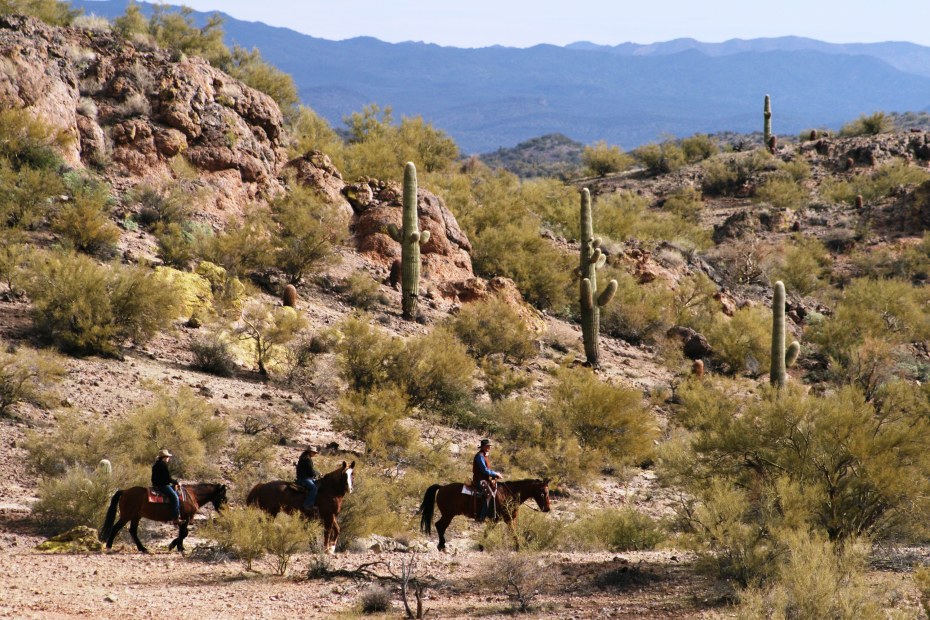 Arizona 
Wickenburg, 66 miles northwest of Phoenix
Resting on the northern edge of the Sonoran Desert, just below Arizona's mountainous country, Wickenburg is full of saguaro cacti, dude ranches, and Old West history. While most dude ranches require overnight stays, the Flying E Ranch offers daily horseback riding excursions for non-guests in the mornings to beat the heat. You'll have the rest of the day to explore the area, whether it's on a guided four-wheel-drive jaunt through the desert with BC Jeep Tours or a self-guided stroll through Vulture City, a dilapidated former gold rush town abandoned in 1942. 
In Wickenburg's historic town center, the fabulous Desert Caballeros Western Museum displays C.M. Russell paintings, ranching artifacts including spurs and saddles, and even a recreated Old West town in its basement. Nearby, the Wickenburg Visitor Center is housed in the restored Santa Fe Depot from 1895.