When I was first invited on a railbike excursion, I envisioned those two-person pump cars made famous by Mickey Mouse. Luckily, my image was wrong. Railbikes have come a long way since the 1800s, when rail workers seesawed their way to a broken track using just strong biceps. In fact, since 2015, technological advancements have transformed this once outdated method of transport into a hot ticket for folks of all ages and cycling abilities. Today, outdoor lovers in the West have a multitude of opportunities to explore historic, now vastly underutilized railways, both with and without breaking a sweat.
Whether you're looking for a five-hour, heart-pumping adventure through the redwoods, a quick all-electric chug up the eastern Sierra Nevada foothills, or some romantic stargazing just outside Vegas, railbikes offer a new and exciting way to commune with nature.
What are railbikes?
Back when trains delivered everything from wheat to mining byproducts, hobos to Douglas fir logs, a German named Baron Karl Drais invented the dandy horse by propping up two bicycle frames atop a couple slabs of metal and having them turn locomotive wheels. Fast forward to 2012, when Mary Joy Lu saw a couple riding a railbike in a Korean soap opera, and flew to Korea to meet the designer. She eventually created an updated design for an 800-pound railbike on steel cast wheels. Lu opened Rail Explorers with her husband, Alex Catchpoole, in New York's Adirondacks three years later. Her vision sparked an explosion of railbike companies in the United States. Today bikes are fitted with seatbelts, brakes, and baskets for water bottles, and can carry two to four people—some can even attach a dog cage to tow your pooch.
For most adventurers, what sets these machines apart from mountain biking is the symbiosis between pedal power and electric-motor-assisted technology. Hard-core cyclists can pump their legs to press the vehicle uphill without any motor assistance, while less able-bodied folks can turn up the engine and casually pedal up steep 2 percent grades, letting the machine do the work.
According to Vincent Ficchi and Todd Lozo of Freedom Rail, which has an outpost in Carson City, Nevada, railcycles pretty much remained under the radar until Covid-19 halted most traditional closed-car train excursions in 2020. No longer could travelers journey on historic tracks through Mendocino's redwoods, nor could they ride the rails along the historic Virginia and Truckee Railroad northern Nevada route, or along the Sacramento River. Because railbikes are officially a 100 percent open-air, socially distanced adventure, even with a guide, the popularity of these machines exploded around the world, and especially in the United States.
Railbike Experiences in the West for all Types of Travelers
The West's jaw-dropping scenery makes for some spectacular railbike experiences. Whether you want to explore the forest, journey back in time, travel deep into the desert to spot wild horses, or spend a romantic night pedaling under the Big Dipper, it's possible you'll join the ranks of railbike enthusiasts journeying around the country. While there's buzz that railbike adventures might pop up in Santa Cruz, California, and in Colorado, here are some of our favorites currently being offered in the West.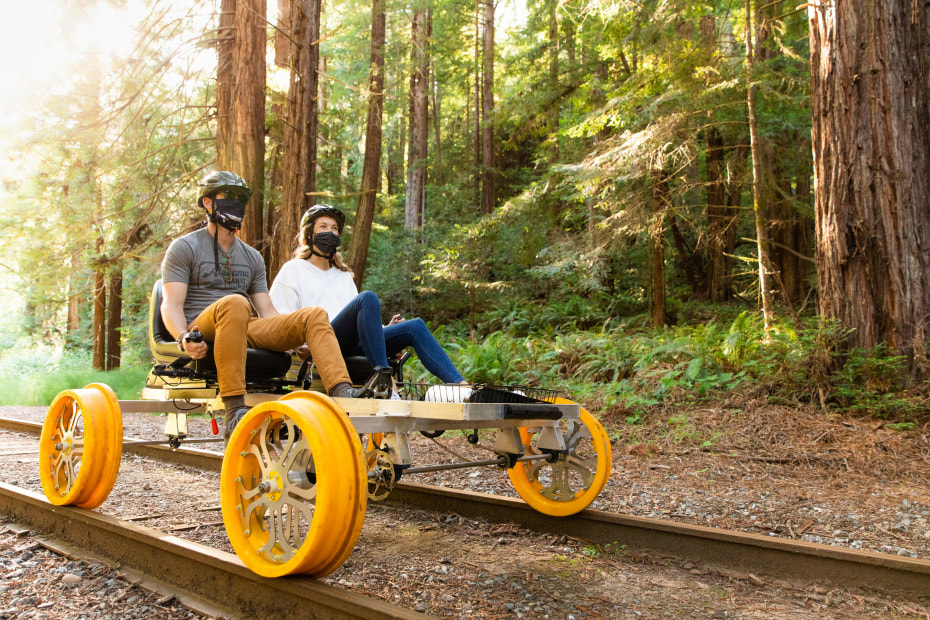 For Adventurers: Mendocino County's Skunk Train
Folks itching for adventure will find much to appreciate about the Skunk Train's railbike experience. Journey into the towering redwoods on the historic track that dates back to 1885, when it was used to transport loggers and their bounty between Willits and the California coastal community of Fort Bragg. The stench of the self-propelled motorcars, which had gasoline-powered engines and pot-bellied stoves to keep passengers warm, created a very pungent odor. This skunk-like smell inspired the train's less-than-savory nickname, which the railroad now embraces with pride.
A tunnel collapse in 2015 shortened the Skunk Train's popular passenger excursions and halted passenger and freight transport over the mountain. But that didn't stop Mendocino Railway (which owns and operates the Skunk Train) from figuring out ways to continue luring tourists to Fort Bragg. In addition to providing train aficionados with short rides into the redwoods, they also patented their own railbikes.
Today, they offer two motor-assisted railbike excursions and will unveil an evening ride, Railbikes by Moonlight, in April. The most popular trek is along Pudding Creek, a two-hour seven-mile roundtrip pedal on their two-person railbikes. On a rainy December morning, my family and I fastened our helmets, clicked the seatbelts, and headed out on our first railcycle excursion.
Led by two guides (one at the front of the pack and another at the back), we cycled along Pudding Creek and journeyed past redwood forests. As we spaced out from other riders (this wasn't a bumper car excursion, our guide explained), I told my teenage son to turn off the electric motor and stop pedaling, so we could take in the scenic views of Pudding Creek. When I didn't break a sweat, my teenager was quick to remind me that it would be harder when we trekked back up to town.
At the collapsed tunnel, also a historic rail stop, we snacked and then hiked about a mile into the redwoods while our guides turned the bikes around. Out here, what surprised me most was the quiet. Unlike trains, railbikes allowed us full immersion in nature: the wind (and, in our case, light rain) on our faces, the breeze on the redwood needles, the creek trickling, the birds tweeting from the madrones. On the way back, that sense of peace lessened a bit as I tried to pedal uphill without the engine. Turns out my son was right—enabling the engine at its lowest power and both of us pedaling got our adrenaline going, but not so much as to feel winded.
The Skunk Train's more rigorous excursion is a 25-mile roundtrip pedal along the Noyo River. Beyond the collapsed tunnel, guests hike a mile down to the tracks to pedal through dramatic old-growth redwoods and over 11 wooden trestles crossing the river. These five-hour trips include pre-ordered lunches of gourmet sandwiches, chocolate, potato chips, cans of wine (or juice), and water.
If you're still itching for adventure after your railbike trip, sign up for a guided kayak trip to spot harbor seals in Noyo Harbor and sea lions in the Pacific with Liquid Fusion Kayaking. If you'd prefer to remain in the forest, trek the 2.5-mile ecological staircase at Jug Handle State Natural Reserve to view the Monterey pines and pygmy cypresses before meandering back down to the dramatic windswept coast. Cap off your day with locally caught petrale sole at Little River Inn, local wine at the Waiting Room, or the rich Brazilian fish stew at Mendocino Café.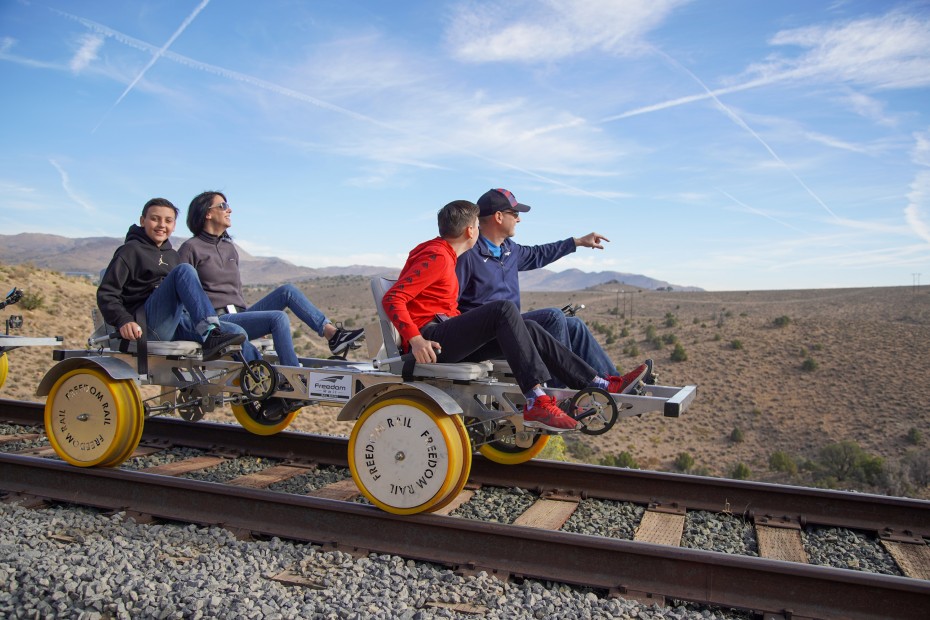 For Multigenerational Families: Freedom Railbikes at V&T Railway
Popular with history buffs, active kiddos, and folks wanting to get a taste of the Old West, Freedom Railbikes' Nevada desert excursion brings families together for a soft adventure. Even though these 70-minute rides on four-person bikes meander deep into Carson River Canyon, the electric engines and light metal design make this quick zip palatable for armchair explorers, even with the 2 percent–grade return trip. Some say the design of these bikes (which are open on the bottom so riders can see the ties) offers a more immersive experience of riding through the Western desert.
Along the ride, be on the lookout for wild mustangs, jackrabbits, scorpions, tumbleweeds, and striking views of the Carson River. At the bottom of the canyon, snack on granola bars at the Eureka Mill, the largest mill site in the 1880s and '90s. You might use this half hour to brush up on Nevada history—this was a key processing site during the gold and silver boom—or hike along the river, marveling at the way nature has reclaimed the ruins of this once imposing concrete and wood structure.
Other highlights of this trek include riding across Highway 50 on the V&T Railway highway bridge, viewing the Halfway House Stagecoach Stop (where Gold Rush travelers fed their oxen and horses), and visiting the Depot Museum at the end of the trip. Rides reopen for the season in spring.
If you're hankering for a deeper dive into northern Nevada's past, head over to the Nevada State Museum. Adults and kids dig the underground mine tour. Or head to the silver-colored dome of the Nevada State Capitol Building, and take a stroll through Carson City's architectural gem constructed of native sandstone in the early 1870s.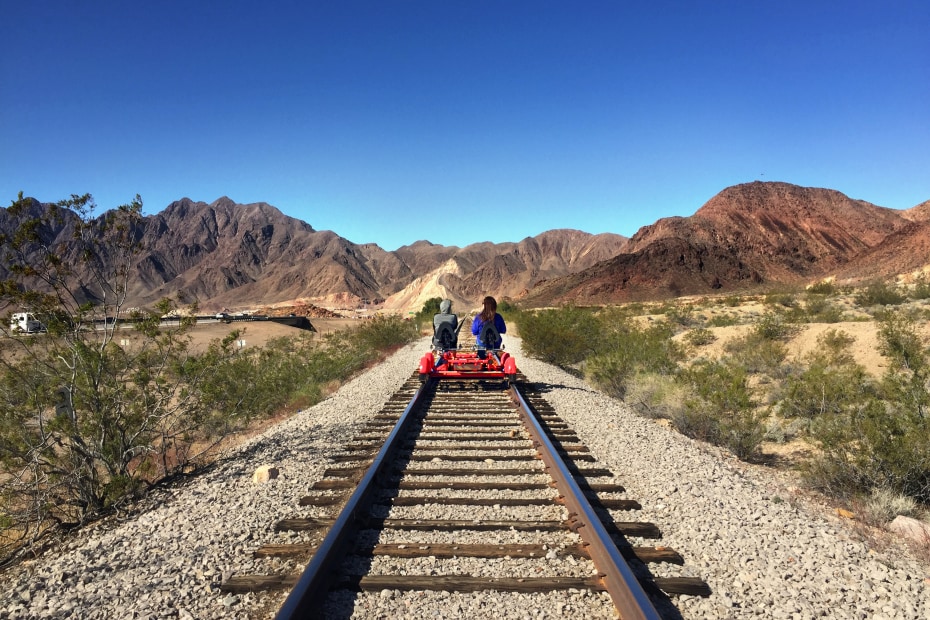 For Romance: Las Vegas Rail Explorers
About 30 minutes from the strip, just outside of Lake Mead, southern Nevada's Rail Explorers (the oldest commercial railbike company in the country) is offering travelers a chance to ride the historic rails. From Boulder City's Nevada State Railroad Museum, hop on a two- or four-person railbike for a ride through the sagebrush. There are two tours available: pedal-powered or state-of-the-art bikes that boast electric motors and a sleek updated design that's considered the gold standard for U.S. railbikes.
The outfit offers four different experiences. During the day, the traditional rides range from more strenuous eight-mile tours of the Mojave Desert (best enjoyed in spring and fall due to heat concerns) to a four-mile downhill pedal that gets the wind in your hair (and includes a return train ride up to the station). What sets this company apart from the others is its offer of two evening rides—great choices for summer visitors who want to escape the heat. The 1.5-hour sunset tour sets the tone for a sweet date night, leaving you plenty of time to head back toward the Strip area for a romantic alfresco dinner paired with live jazz at Casa Di Amore.
Romance seekers looking for a centerpiece experience can sign up for the Fireside Starlight ride. On this 1.5-hour outing, couples pedal under the night sky trying to spot the lovers Perseus and Andromeda's stars twinkling above. At the four-mile turnaround point, relax around a firepit on Adirondack chairs, eyeing the sky for shooting stars.
Hoping to dial up the romance even more? Venture out on a daylong Hoover Dam kayak trip to explore this hydroelectric marvel and the fittingly named Emerald Cave, then hike to natural hot springs with Evolution Expeditions. Once you're back on the Strip, share some oysters and truffled mac and cheese at Park MGM's Chicago-style Bavette's Steakhouse. Afterwards, pop open the champagne and soar 550 feet above the glittering lights in a private compartment on the High Roller Observation Wheel at the LINQ Promenade.